Blonde espresso is a lightly roasted coffee and it's one of the espresso options at Starbucks. See the difference between blonde roast and dark roast and how to make it at home.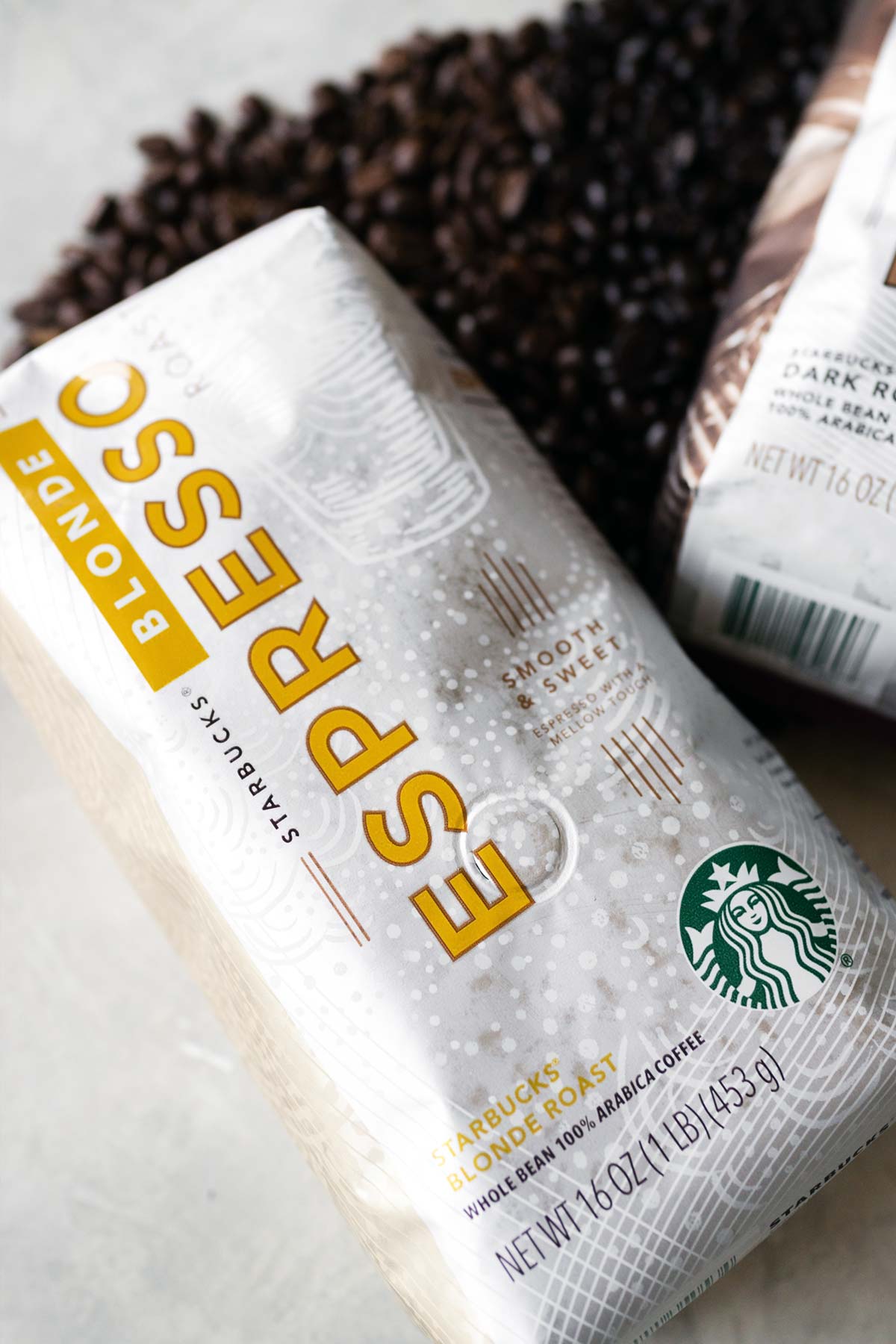 What is Blonde Espresso?
Blonde espresso (also known as blonde espresso roast, blonde roast, and light roast) is the name given to lightly roasted coffee.
It's called blonde since you can usually tell how long a coffee has been roasted by looking at the color and the light roast is lighter in color compared to dark roasted coffee.
The shorter roast time with blonde espresso roast gives it a slightly sweeter, smoother, more mellow coffee taste.
Any drink that is made with espresso can be made with blonde espresso.
RELATED: Starbucks Blonde Vanilla Latte Copycat
Differences Between Blonde Espresso Roast and Dark Espresso Roast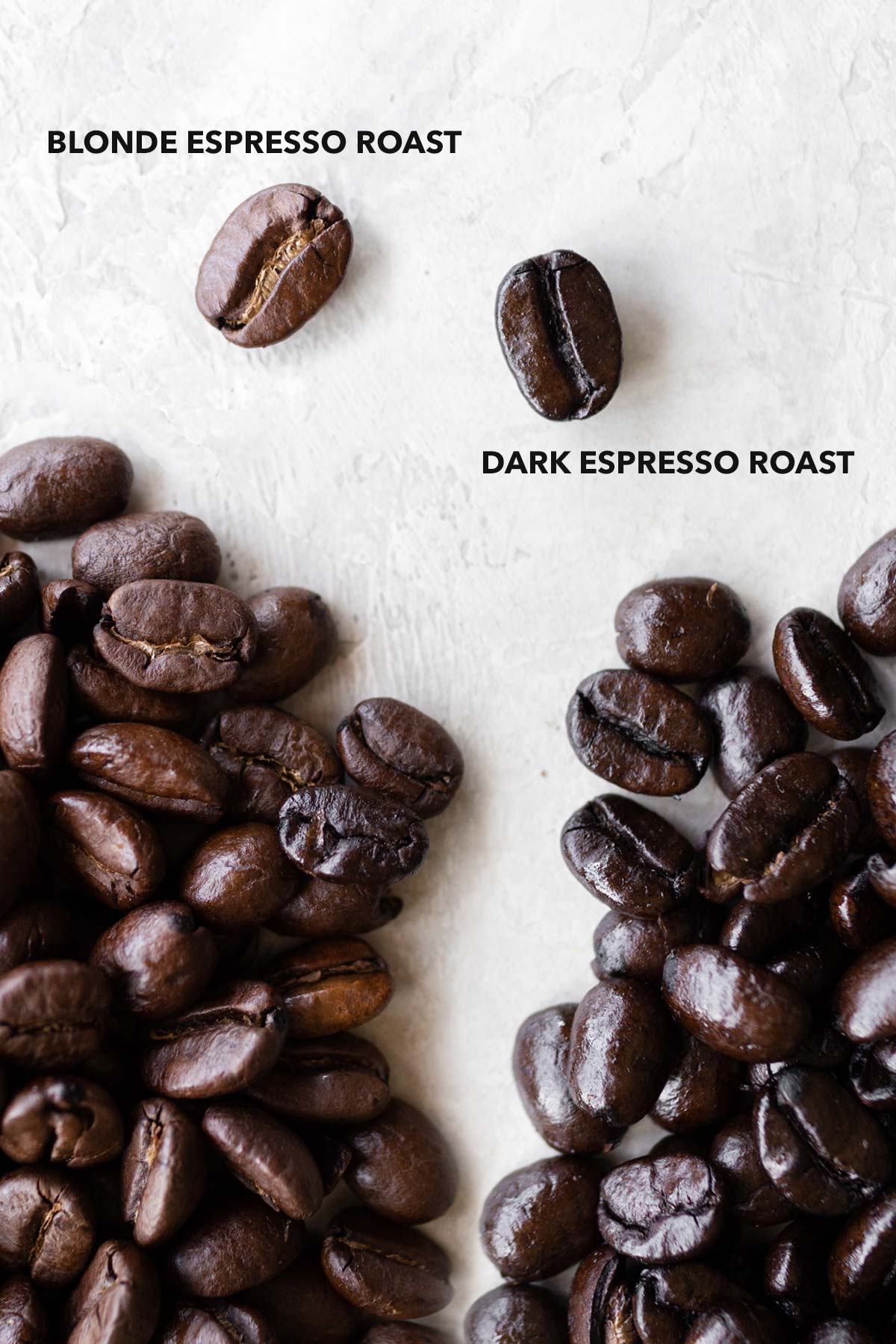 ColorBlonde roasted coffees are light in color while dark coffee roast are a few shades darker. Very dark roasted coffee will have an oily layer around them, giving it a shiny appearance. You won't see oil around a blonde roast, so it has a matte look.
Roast LevelCoffee starts out green before it's roasted, and will go from green to brown as the roaster applies heat. A blonde roast will be roasted for a shorter period of time at a lower temperature while a dark roast will be roasted for longer.
Caffeine LevelThe lighter the color of the coffee bean, the more caffeine it has. At Starbucks, a grande blonde espresso drink has 360 mg of caffeine, while their dark roast has 260 mg.
TasteBlonde espresso tends to taste more softer, slightly sweeter and mellower. Dark roasts are more roasty, with a bold flavor.
Blonde Espresso at Starbucks
When Starbucks added blonde espresso to their menu in 2018, it was the first time in 40 years Starbucks has added a new espresso to their menu. Starbucks roasts their coffee darker, so their blonde espresso is closer to a medium roast.
Any drink that's made with regular espresso can be made with blonde espresso so an Iced Vanilla Latte can be made into an Iced Blonde Vanilla Latte. Blonde roast is also offered as brewed coffee.
Blonde espresso drinks are the same price as any of the regular espresso drinks. There's no extra charge for replacing espresso with blonde espresso.
If you find espresso to be too strong or bitter, but you want the caffeine, replace espresso with blonde espresso the next time you're at Starbucks.
You can order any espresso or brewed coffee drink with blonde espresso or blonde roast, but Starbucks has a few that are made specifically using this lighter roasted coffee:
Blonde RoastBrewed coffee in a drip coffee machine using lightly roasted coffee beans.
Honey Almondmilk Flat White Blonde espresso, almondmilk, and honey blend create this creamy drink.
Iced Honey Almondmilk Flat WhiteIced version of the hot coffee drink, also made with blonde espresso.
Starbucks Blonde Vanilla LatteBlonde espresso, 2% milk, and vanilla syrup creates a twist on the popular Vanilla Latte.
Iced Starbucks Blonde Vanilla LatteAn iced version of the classic Vanilla Latte made with blonde espresso.
Iced Chocolate Almondmilk Shaken EspressoIce, blonde espresso, and chocolate malt powder are shaken, then topped with almondmilk.
What You'll Need to Make a Blonde Espresso
Espresso machine To make authentic espresso, you'll need an espresso machine but you can also use a Nespresso which will give you good results.
Coffee grinderYou'll only need this if your espresso machine doesn't come with one.
Blonde espresso coffee beansUse Starbucks blonde roast if you want it to taste like their coffee. It's a blend of coffee beans from different countries, so getting a light roast from another coffee company won't taste the same. If using Nespresso, they have Starbucks Blonde Espresso for original machines and Vertuo machines.
Filtered waterAlways use good quality water to make any coffee drink.
How to Make Blonde Espresso at Home
For full ingredients and instructions, scroll down to the recipe.
Fill and tamp your portafilter with finely ground blonde roast coffee.
Pull 1-2 shots of blonde espresso.Serve and drink immediately.
Expert Tips
Blonde espresso goes well with almond milk and vanilla syrup, which is why Starbucks makes the blonde drinks on the menu with those ingredients.
Aside from espresso, use blonde espresso roast in drip coffee machines to make brewed blonde coffee for a smoother and more caffeinated cup. Whole blonde espresso coffee beans can be used in drip machines even though it says espresso. Just make sure to grind beans for drip machines, not for espresso.
Blonde roast coffees can be difficult to grind. If you have a hand grinder, you'll notice that the beans are more dense than dark roasted beans.
Questions You May Have
Related
Starbucks Iced Honey Oatmilk Latte Copycat
Easy Starbucks Copycat Recipes
Starbucks Iced Chocolate Almondmilk Shaken Espresso Copycat
Every Starbucks Drink Ranked by Caffeine Content
47 Best Starbucks Drinks
Want to save this blonde espresso guide for later? Pin this to your Pinterest board now!
Please see more list about How much caffeine in starbucks blonde roast
Detail: 🔗