This BLT Pasta Salad has a classic combination of bacon, lettuce, and tomatoes tossed in a creamy Ranch dressing with pasta and optional additions like avocado and cheese! It's the BEST side dish idea for a Potluck or BBQ.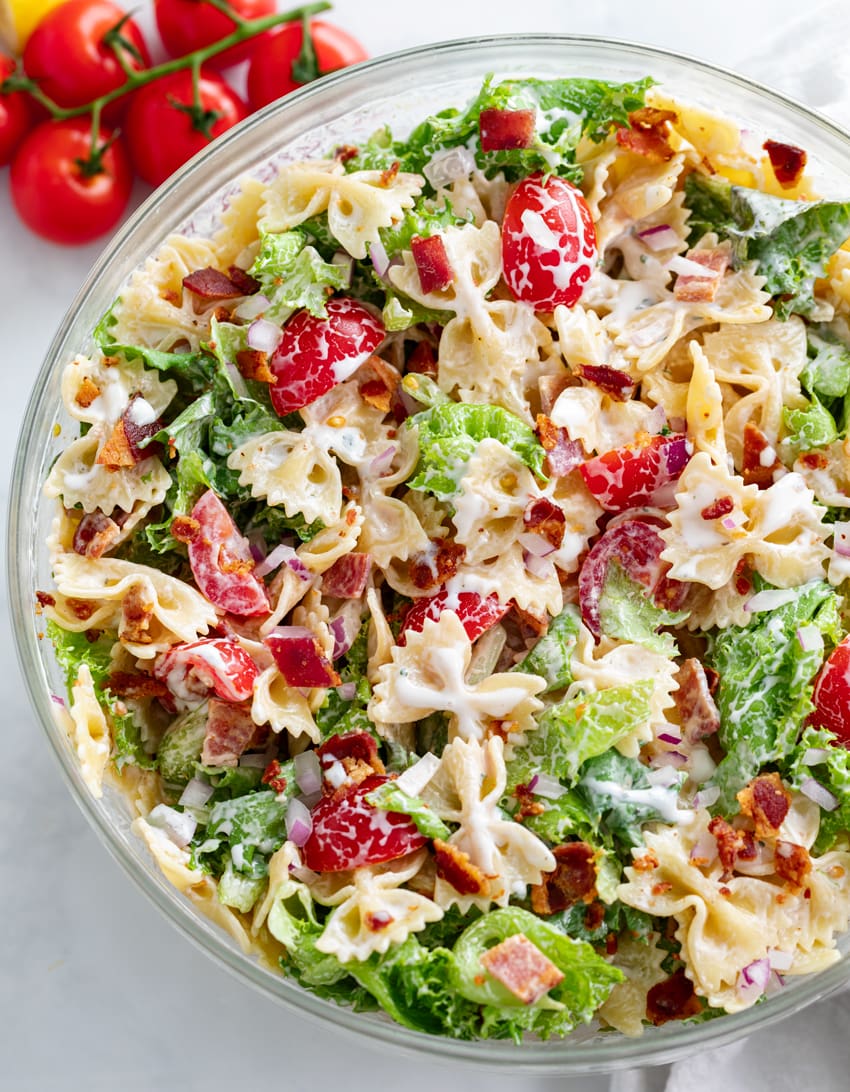 BLT Pasta Salad
When it comes to summer recipes, you can't beat a classic pasta salad, and I love the simplicity of this BLT Pasta Salad. It's so easy to make, and it's loaded with flavor from crispy thick-cut bacon, fresh lettuce and tomatoes, and perfectly cooked pasta tossed in creamy ranch dressing. These are all of the fresh flavors of summer in a single side dish!
I love using Ranch seasoning combined with sour cream and milk for the dressing. I find it much tastier than bottled Ranch dressing, and the personal bonus for me is that there's no mayo! 😁
How to Make It
See recipe card below this post for ingredient quantities and full instructions.
Fry the bacon slowly over low heat until crispy on each side. Set aside and chop once cooled. Meanwhile, cook pasta to al dente. Drain and drizzle with a little olive oil, let cool. Toss with 1/2 cup Ranch dressing.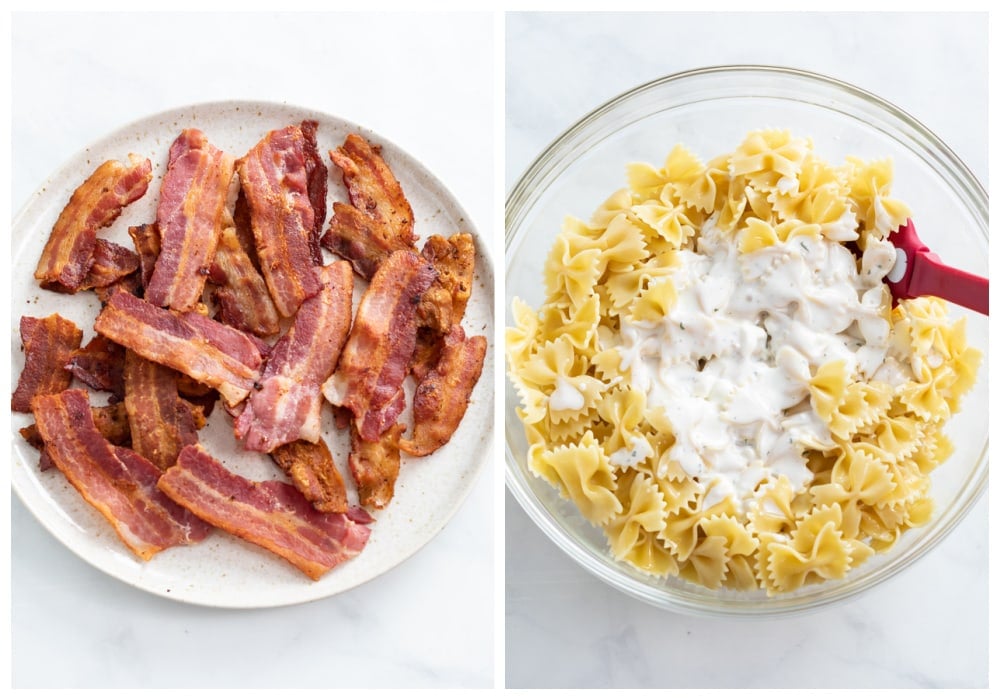 Add the lettuce, tomatoes, onions, ¾ of the bacon, another ½ cup Ranch dressing, and BBQ sauce. Toss to coat evenly. Top with remaining bacon and serve!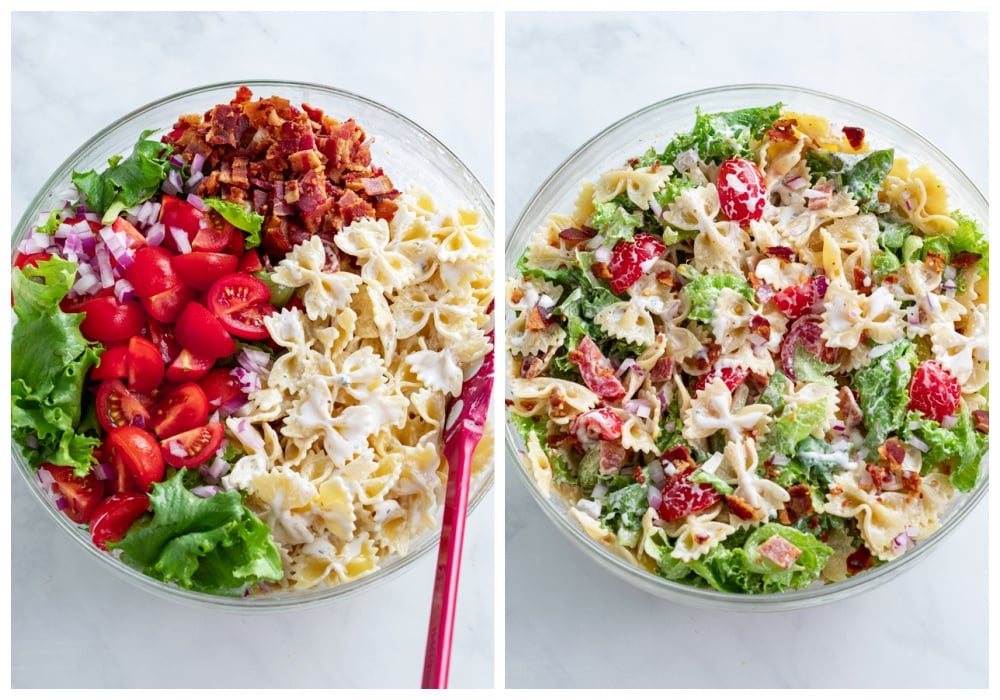 Make Ahead Method
This pasta salad can be assembled 3 hours ahead of time. Note: The pasta will absorb some of the dressing during this time, so you may need to add more prior to serving. This recipe leaves you with an extra cup of dressing so that you can adjust it to your needs!
To make this up to 12 hours beforehand:

Prepare the Dressing and refrigerate.
Cook the bacon and chop it up. Store in an airtight container until ready to use.
Cook the pasta, let it cool, and toss with some of the dressing. Refrigerate in an airtight container overnight.
Store the cleaned/cut lettuce in a freezer bag with the air sealed out.
Dice the onions and store in an airtight container.
Combine all prepared ingredients within 3 hours of serving.
Pro Tips

Bacon: I use Oscar Mayer Thick Cut Bacon. High quality makes a big difference.
Dressing: I use Hidden Valley Ranch Salad Dressing and Seasoning Mix, combined with sour cream and milk. I like it better than using bottled dressing for this recipe, but my backup recommendation would be to use 2 cups of Ranch dressing, Marie's is my brand of choice.
I use Sweet Baby Ray's for the BBQ sauce. The BBQ sauce is optional but adds a nice subtle tang and contrast to the Ranch.
Optional Additions to this salad include: Avocado, hard boiled eggs, English cucumbers, cheese, chives, and even corn!
Tips for the Pasta:
Be sure to use a timer when you boil your pasta to ensure that you don't overcook it. I like to cook it for 30 seconds less than al dente, as it cools gradually, during which time it finishes cooking.
Salt the pasta water well to ensure that the pasta itself has plenty of flavor. I use 2 tbsp. kosher salt.
Don't rinse your pasta with cool water after it's drained. Drizzle it with a little olive oil and let it cool on parchment paper or a tray on the counter. The starch on the pasta helps it cling onto the dressing.
Other pasta options include rotini and penne.
Storage
Store in an airtight container and refrigerate for up to 3 days. Note that the consistency is ideal when served fresh.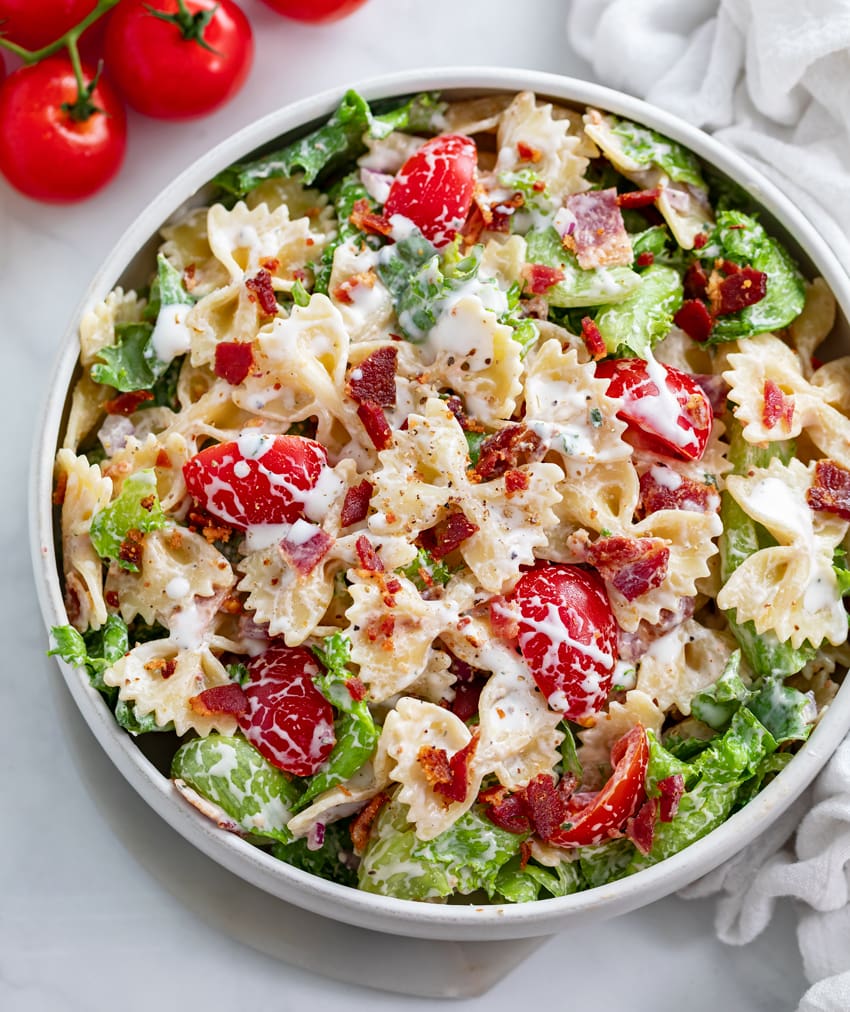 Tools For This Recipe

(Amazon affiliate links)- Check out all of my kitchen essentials here.

Salad Spinner
Pasta Strainer- This is the one I use, it's the perfect size.
Cutting Boards
My Favorite Chef Knife
Glass Serving Bowl
Try These Next
Get My Free Meal Plan
I've got a Free Meal Plan with 7 of my super popular recipes (complete with grocery list)! Sign up for my email list and I'll send it over now along with weekly dinner recipes!
And follow me on Facebook, Instagram, and Pinterest!
Tried This Recipe?
Leave a review, I love hearing your feedback! ⭐⭐⭐⭐⭐
For more information, please see more information about Recipe for blt salad with pasta
Detail: 🔗