I don't take stating that this is the best meatloaf recipe lightly. I've made many meatloaf recipes over the years. This meatloaf has a blend of beef and pork, plenty of fresh herbs and vegetables and is baked to a moist perfection. It's the tangy glaze that makes this meatloaf so popular with my family. It's so good, that you really don't need gravy- and if there are any leftovers, you've got yourself an incredible meatloaf sandwich!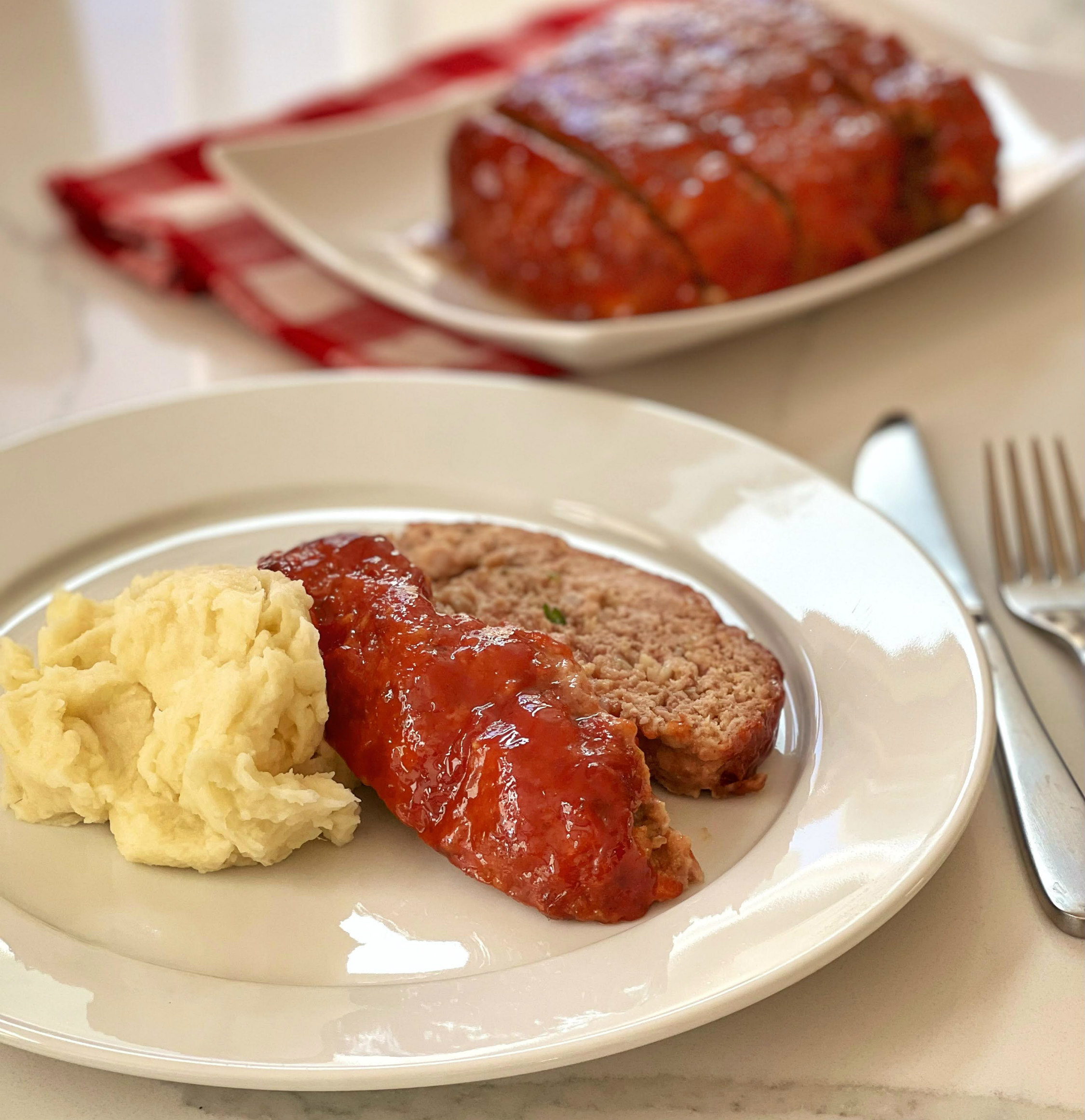 If this recipe seems familiar, that's because I first posted it in 2009- and the recipe became one of my most popular. There's a good reason for it. It's truly the best meatloaf I've ever made or eaten!
Reading: Best meatloaf recipe ever food network
I had no idea that this meatloaf recipe would become my #1 most viewed blog post of all time! Every day, people are internet searching for "The Best Meatloaf Recipe" and this is where they end up. I'm so glad that you found me! I have made so many different meatloaf recipes, over the years.For years, I made the Quaker Oats version, with canned cream of mushroom soup. Truth be told… I think it's yummy. But that was BEFORE I swore off processed foods and canned cream soups.
This recipe is one I've made for several years. It's from Food Network, "Sarah's Secrets". Unfortunately Sarah Moulton's show is no longer on the air, but I still love this recipe!
The secret is using a mixture of beef, veal and pork. NOTE: I understand if you don't want to use veal. I only buy grass fed, free-range red meat, these days. If you don't want to use veal, use beef and pork. There is such a different flavor and texture, compared to using just ground beef. If you use all-beef, then the meatloaf tastes like a big burger. If you use turkey, the meatloaf will be very dry- unless you use a panade. At that point, you've changed the recipe so much, that I cannot guarantee success! What makes this recipes so full of flavor is the marjoram and thyme. I like the idea of cooking the onion and garlic, instead of adding them to the mixture raw. I'm not wild about hot sauce, but it works in this recipe.
If you hate meatloaf…. I hope you will reconsider this version. If you have your own recipe, and believe yours is the best ever-stick around. I want to share a tip that I learned on America's Test Kitchen (Cook's Illustrated). It changed how I cook my meatloaf, and it makes cleanup so much better.
Instead of using a loaf pan, you get better results by using a baking sheet, baking rack and foil. Why? Think about it! The warm air circulates all around the meatloaf, so that it doesn't steam. Also, the delicious tangy glaze gets coated all around the top and the sides!
Read more: Best Food Trucks in Las Vegas
In a skillet, with a little olive oil, you cook 1 1/2 cups onion and 3 garlic cloves, until tender- about 5 minutes. Set it aside to cool. One of the secrets to a moist meatloaf is to make a "panade". That's a fancy word for bread and milk paste. With this recipe, I made combined milk, eggs and hot sauce (hold that thought on hot sauce). See that photo (above) of a Calabrian Chili Paste? I've grown to love it as a way to add some "zip" to recipes, without being fire engine hot. I prefer it over hot sauce. Either one works well, though.
Sooooo, let's talk about the "meat" in meatloaf. Please, don't use 100% ground beef! Years ago, a person left me a rude comment that the meatloaf tasted so bad, she threw it all out. (Fortunately, I was defended by other commenters that the meatloaf was delicious). Wow! It turns out, said person used only ground beef. What she made was a giant hamburger! You really want the combination of ground beef AND pork. Adding ground veal is entirely up to you, but I understand this is a touchy subject for some people. Personally, I've switched to only lean ground beef and pork.
After combining the liquid mixture and the cooled onion and garlic, add the meat mixture and fresh parsley.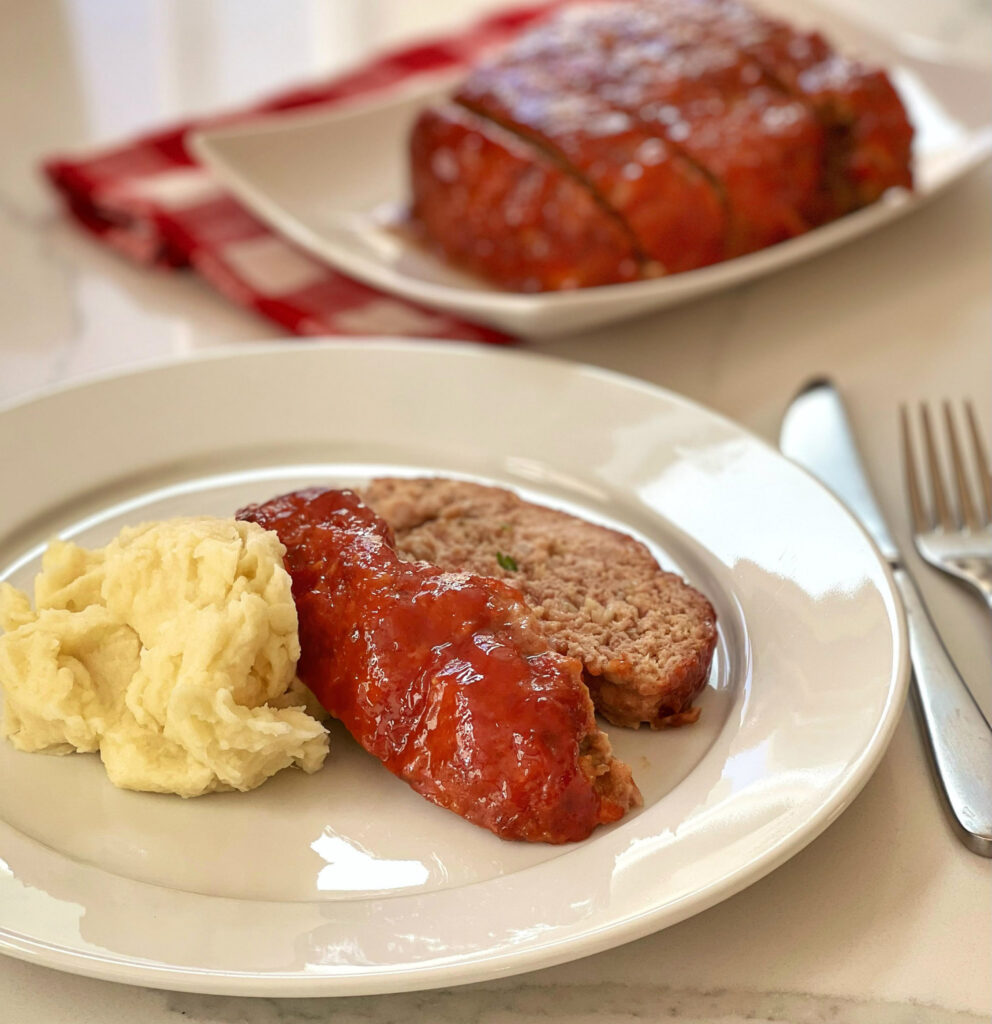 There. I'm ready to make the glaze. All it takes are three ingredients- ketchup, brown sugar and apple cider vinegar.
Whisk it together, and… glaze that meatloaf! Now that I'm not using a pan, I can glaze it all over!
Read more: Best Dog Food for Australian Cattle Dogs (Heelers)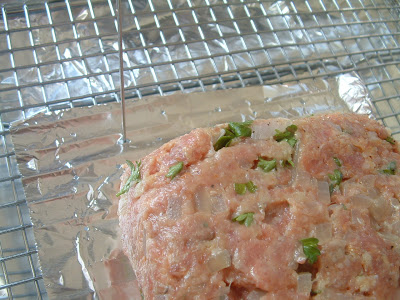 Bake this at 350F for 45 minutes, and then glaze it again about halfway through. In the meantime, I made garlic mashed potatoes and glazed carrots).
The meatloaf should be ready when it reaches an internal temperature of 160F. Mine took one hour and 15 minutes, unlike the original recipes says to cook for an hour. Plan for that, okay?
Slicing the meatloaf, the aroma of herbs and that tangy glaze was intoxicating. There was plenty of juice oozing out- in a good way. The meatloaf was bursting with moisture. My husband and I could hardly wait to dig in!
TASTING NOTES: Where is the gravy, you might be wondering? We don't need it! The glaze is what really makes this meatloaf "shine". The slices were moist. I have a ritual of one forkful of mashed potatoes, meatloaf and a little extra glaze dip. Yum!! I promise you. You will love this recipe. Trust me, and make the recipe just as written. I've made this so many times, and it always turns out perfectly.
I can also attest to the fact that leftovers make excellent Meatloaf Sandwiches. I love mine on Whole Wheat Bread, a little mayo, Dijon mustard, lettuce and pickled red onion. Amazing!
Recipe has been updated with new photos from the original 2009 post.
Read more: 4 Ways to Preserve Food At Home – Vegetarian Times
For more information, please see more information about Best meatloaf recipe ever food network
Source: https://afeastfortheeyes.net/2022/05/the-best-meatloaf.html