Easy Breakfast Fruit Salad with Orange Syrup is full of fresh luscious berries and seasonal fruit, including blackberries, peaches, grapes, and strawberries. Besides being delicious, this good-for-you, low-calorie, fresh fruit salad is kid-friendly and the perfect dish whether you are serving it for a casual breakfast at home or feeding a crowd for brunch.
Like my Old-Fashioned Southern Ambrosia, Watermelon Feta Salad with Basil and Blueberries, or Southern Grape Salad with Pecans, homemade fruit salad also makes a light and refreshing dessert or side dish for lunch or dinner. Because it can be made ahead and travels well, it's an ideal dish to take to a potluck.
While this mixed fruit salad is delicious on its own, I've added a simple orange syrup topping made with orange juice and a hint of vanilla. This fruit salad dressing adds a citrusy sweetness and is what kicks this dish up a notch and makes it truly unique.
This recipe is very adaptable, and it can be made with whatever fresh fruits and berries you have on hand. Besides the blackberries, peaches, grapes, and strawberries, blueberries, raspberries, melon, oranges, pineapple, kiwi, cherries, nectarines, apples, pears, bananas, and mango would also be delicious.
There are no rules with this easy recipe, and you can use what you have on hand or fruit that your family likes. It's a simple and versatile recipe and tasty however it's served.
Directions – here's how to make it:
To make the orange syrup, use a sharp knife to carefully split the vanilla bean down one side of its length to expose the seeds and open it up like a book.
Add the split vanilla bean or one teaspoon of vanilla extract, sugar, one-half cup of water, orange zest, and orange juice to a small pan over medium heat. Bring this mixture to a boil and turn the heat to low. Simmer the mixture for about 15 minutes or until it has thickened to the consistency of light syrup. Remove the vanilla bean and set it aside to cool.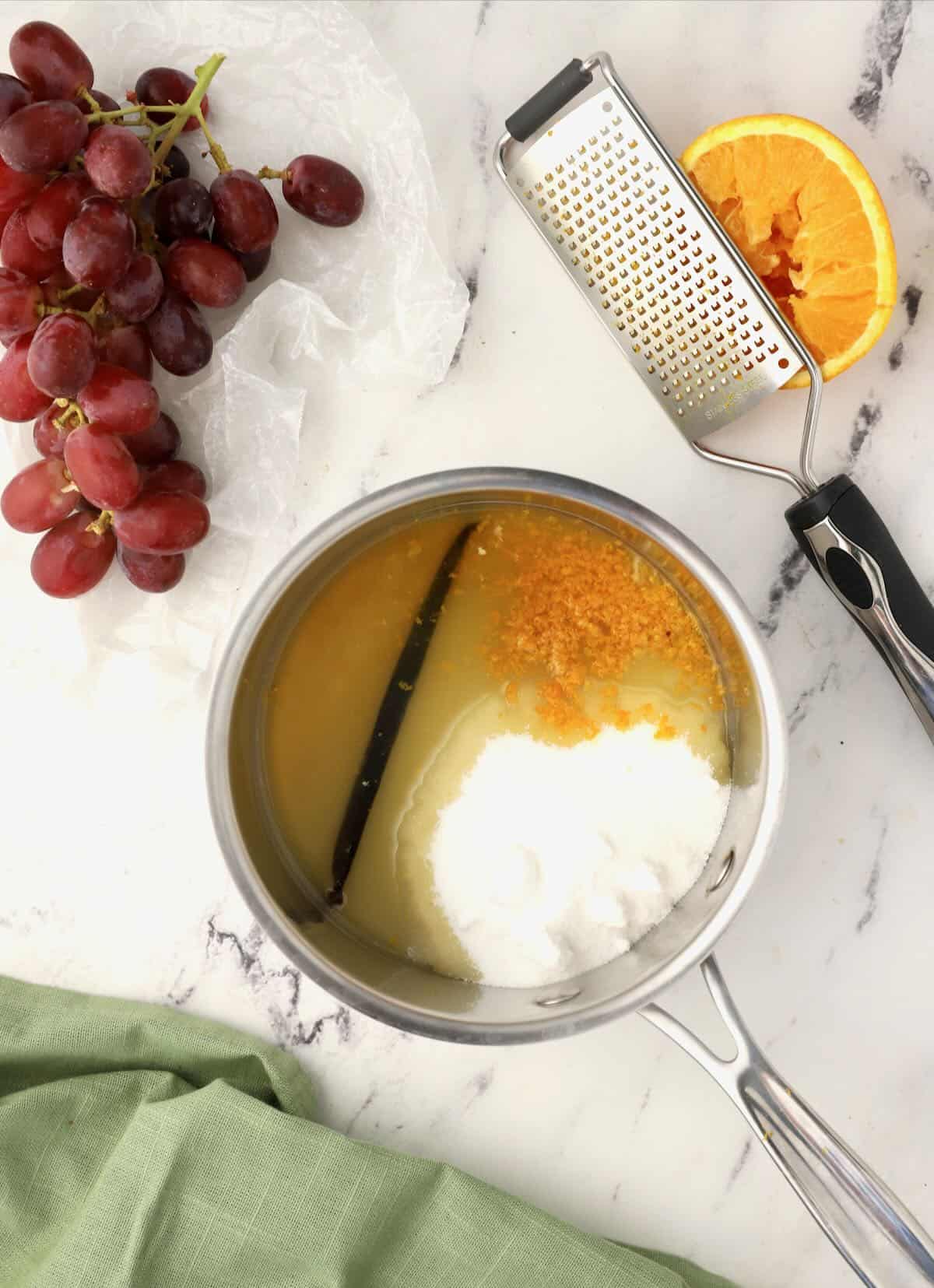 Place all of the fruit in a colander and rinse thoroughly under cold running water. Let it drain and pat dry with a paper towel. Slice or chop as directed.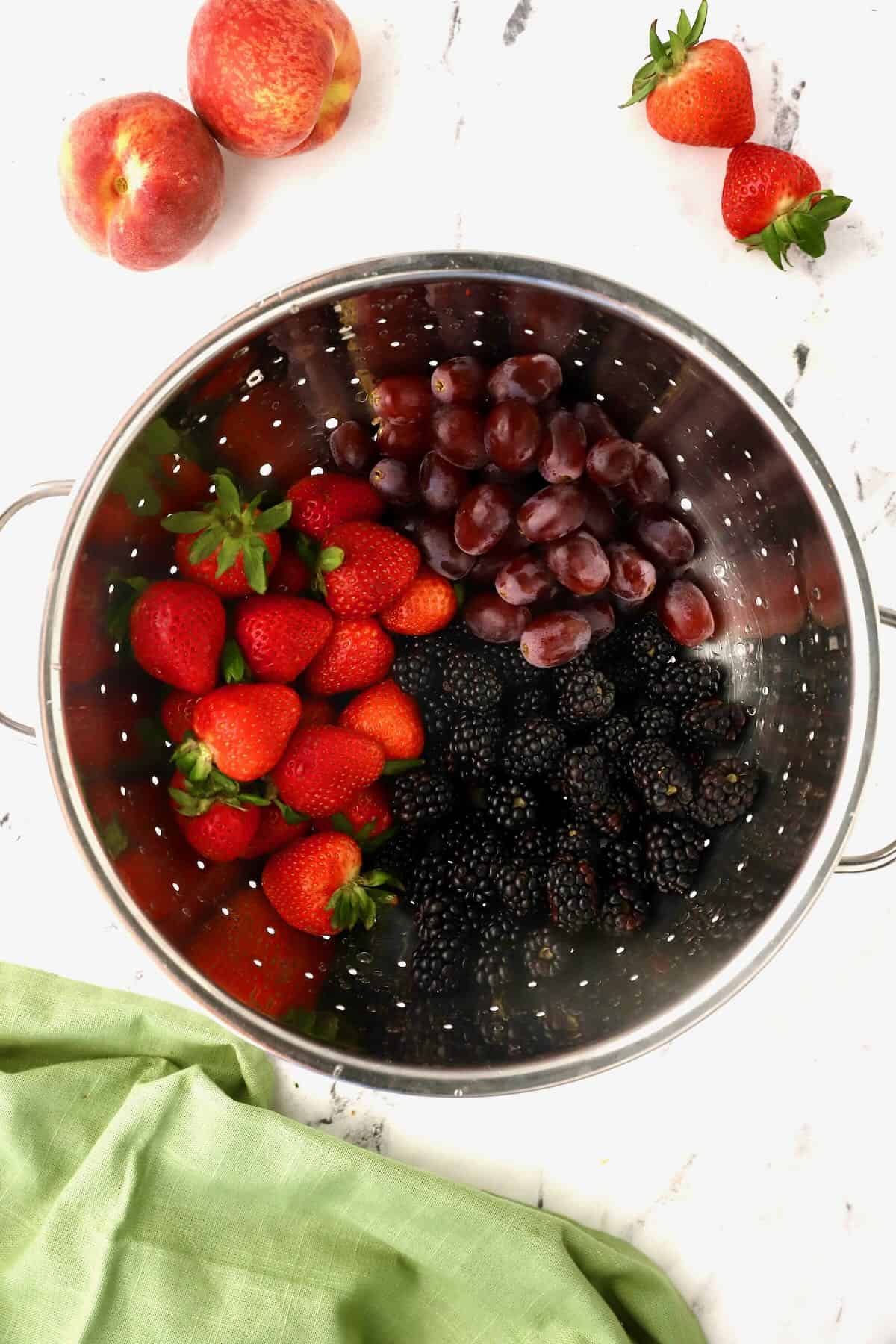 Place all of the prepared fruit in a large bowl and gently toss to combine.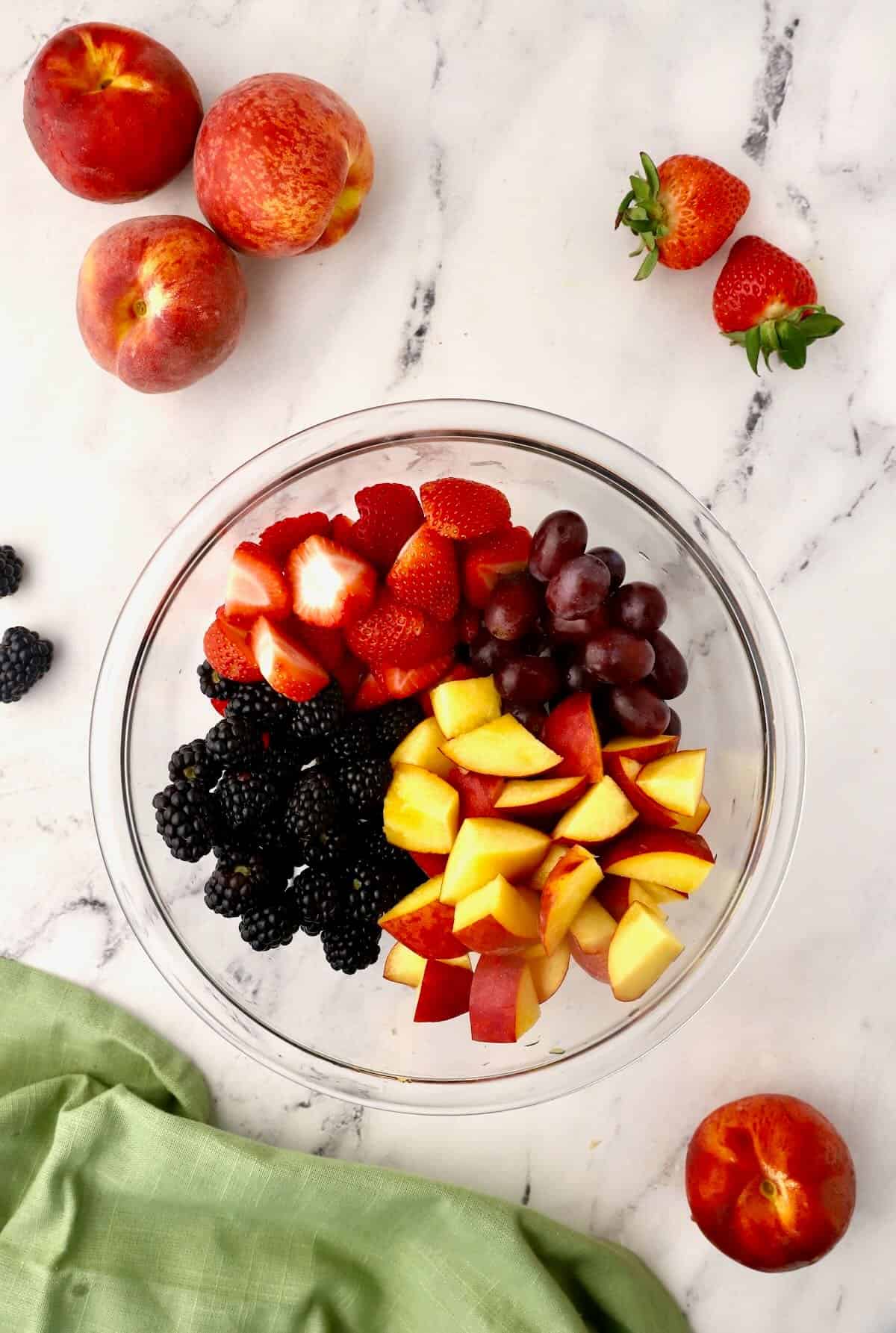 Pour about half of the cooled orange syrup over the mixture and gently toss to combine. Save the rest for another use.
Cover and refrigerate until you are ready to serve. Optional – before serving garnish with a sprig of fresh mint.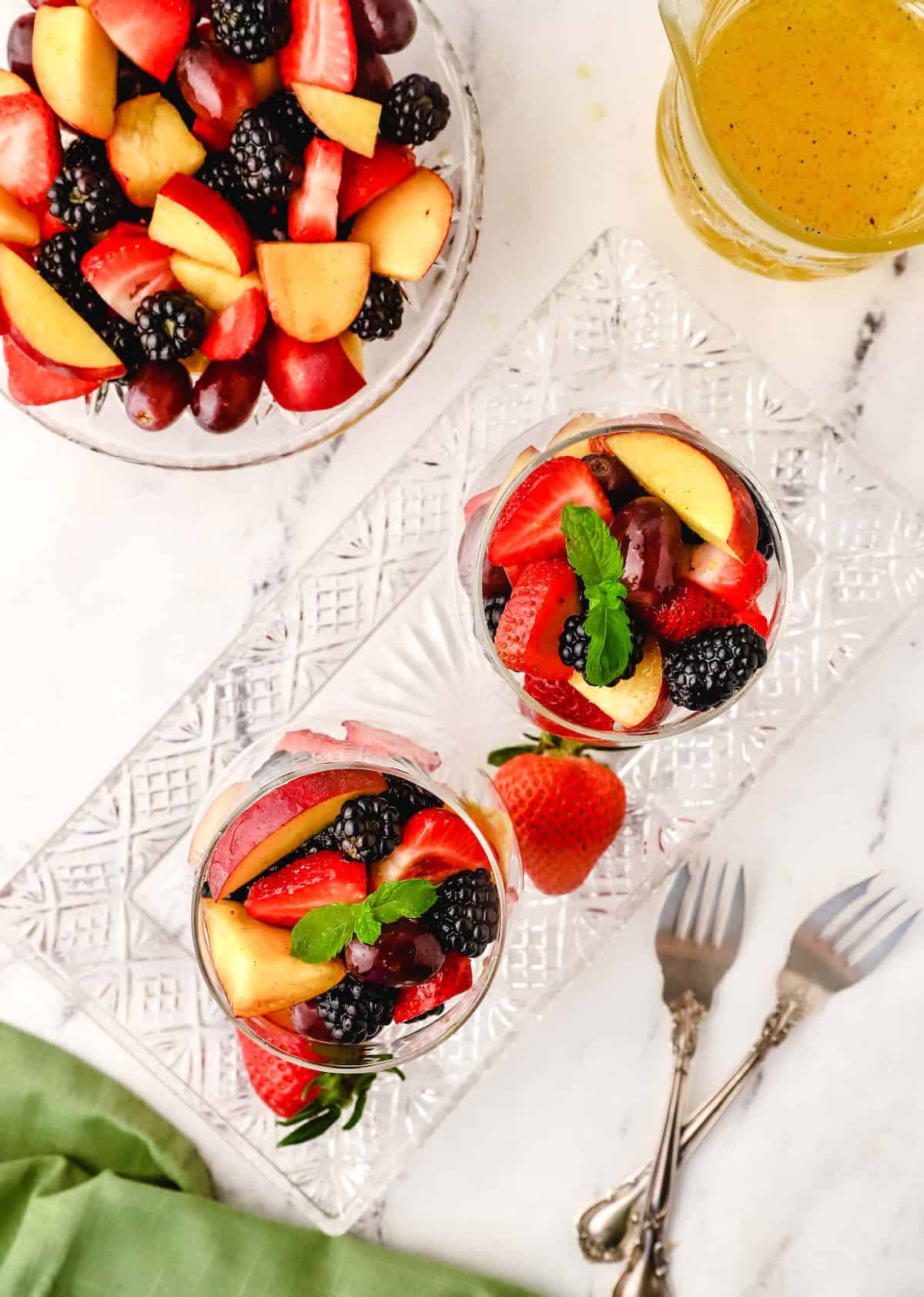 Frequently asked questions:
Sharon's tips:
If you use bananas in this recipe, do not add them until you are ready to serve the fruit salad.
To shake things up a bit, instead of combining the fruit in a bowl, you can thread it on skewers to make fruit kabobs, layer the fruit in jars for serving on the go, or place the fruit in ramekins to make fruit cups.
There should be enough orange syrup for two salads, and it should be fine for a week or longer if you keep it in the refrigerator.
More fruit recipes:
If you are a fan of recipes that feature fruit, check out these popular sweet and savory recipes on my blog:
Southern Fresh Peach Salsa
Peach Glazed Chicken
Old-Fashioned Strawberry Pie
The Best Apple Dumplings
Old-Fashioned Blackberry Pie
Pork Tenderloin with Blackberry Sauce
Looking for more breakfast recipes, check out all of my breakfast and brunch recipes or my roundup of 30 Mother's Day Breakfast and Brunch Recipes!
Through this article, we hope to help you understand Fruit salad with orange juice
Detail: 🔗