I'm often asked what my favorite cookbooks are and invariably I pull out a copy of The Zuni Cafe Cookbook by Judy Rodgers. It's one of those rare books where you learn something from every sentence on every page, and in every recipe that you make from it. Judy was an amazing cook and whatever she made was unusually good, in spite of its (seemingly) relative simplicity, ranging from the lightest ricotta gnocchi you'll ever have to the legendary Zuni roast chicken, which was worth the one-hour wait after you ordered it at the restaurant. It gave you plenty of time to have a margarita, a pile of shoestring fries, and a classic Caesar Salad. (Fun fact: I worked at Zuni Cafe when I first moved to San Francisco and made a lot of Caesar Salads, which, if I may be so bold, were excellent and the recipe is in the book.)
Judy was a big proponent of salting and brining meat, which should be done 2 to 3 days before you plan to cook it. The idea of salting meat, which I do as soon as I get it home, isn't new but every few years, someone comes out with more or additional information about the flavor benefits of salting and brining, which brings the technique back to the forefront.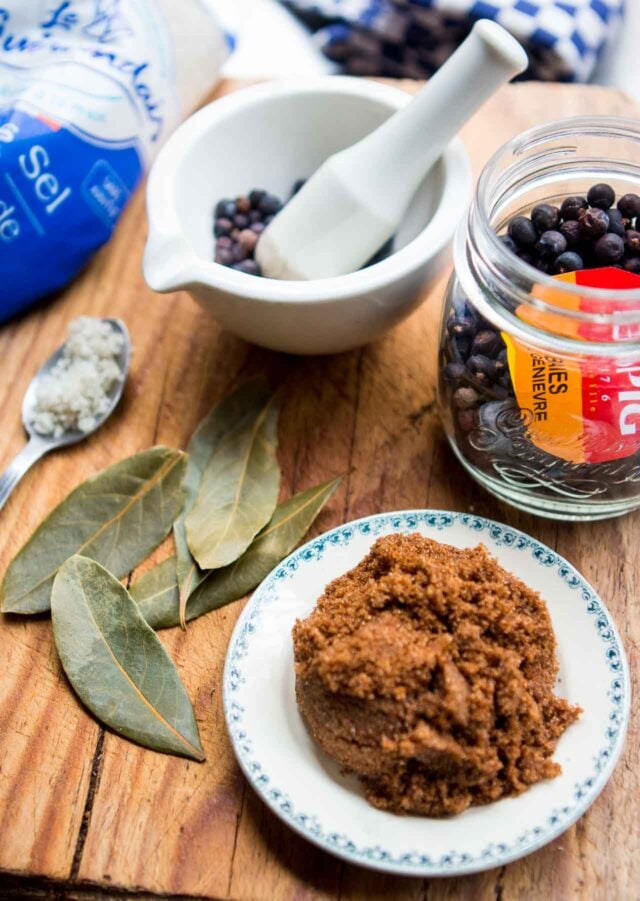 Some people think that salting meat draws moisture out, which is true…in the short term. But if you let it rest for longer, as food science writer Harold McGee says, salt helps cells hold on to water. (There's a more complex discussion about it here, along with other types and ratios for brine.) However I've been using a variation of this simple brine for decades with great results.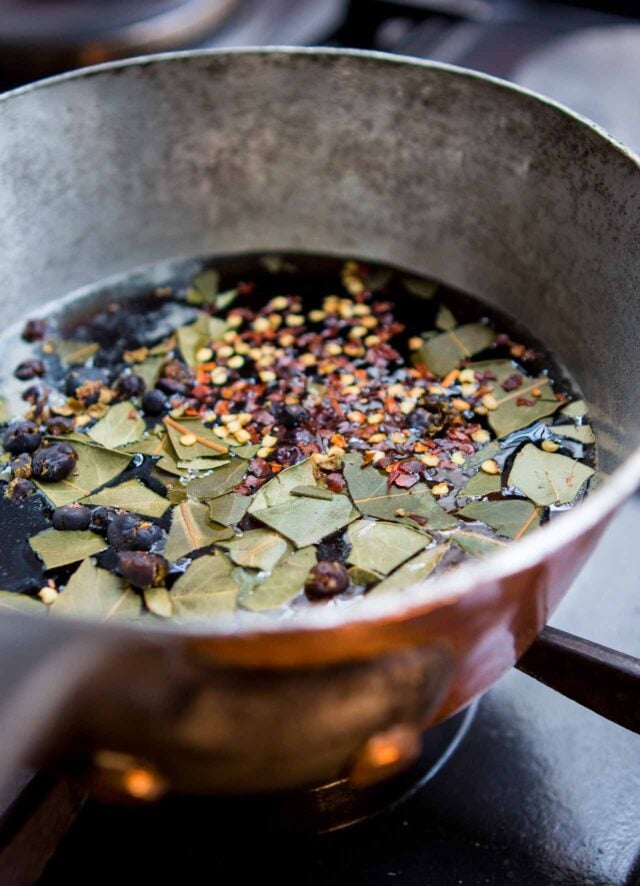 Pork is a lot leaner and has less-flavor than it used to. While it's more of a challenge to find it, "heritage" pork tastes better than standard supermarket pork. Whole Foods and nose-to-tail butcher shops in the U.S. are best bets, as are Terroirs d'Avenir, Biocoop, and Viande & Chef in Paris. I'll admit that I often go to my local charcuterie at the outdoor market and buy from them. Wherever you shop in France, butchers offer pre-brined pork (demi-sel) or fresh (frais) and I buy fresh, and brine it myself.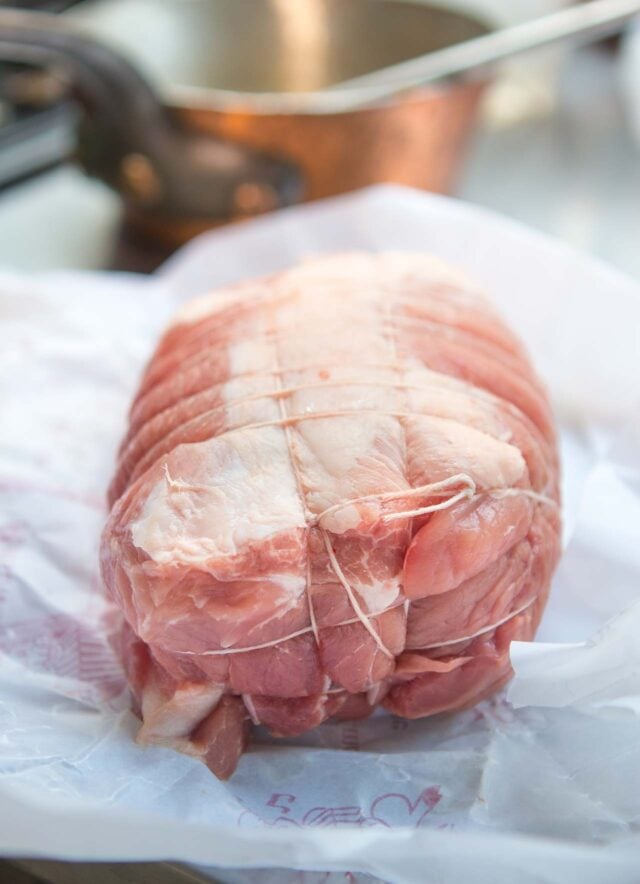 Those who like to customize recipes will be happy to hear you can add any aromatics you'd like. You want to "go big" and use things with lots of flavor, such as crushed allspice or juniper berries, bay leaves, cracked black pepper, dried chilis, and chili flakes. What I give below in the recipe is just a suggestion. I do like the juniper berries with pork but if you can't find them, you could add a pour of gin – a tablespoon or two – to the cooled brine. Or you can skip the aromatics and just go ahead and make the simple brine with salt and sugar and use that.
Many of the French cuts of pork correspond with American cuts, unlike beef which is prepared differently. French butchers offer pork like the roast below, which is called a rôti de porc. Pork tenderloin is called filet mignon (but sometimes filet mignon de porc), which confuses Americans who associated filet mignon with beef. What I use is called pork loin in the U.S. There's a good explanation of the various types of pork loin available in the States here. You can brine pork tenderloin if you wish, but you should skip the finishing in a hot oven as it's quite lean and may dry out. I answered some FAQs just after the recipe about what types of pork I recommend using, and more.
In France, people tend to braise pork either on the stovetop or in the oven, which results in tender meat and works very well for brined pork. I gave oven-roasting a go this time around, using the method outlined here, which yields a beautiful crust, and used some hard apple cider in the cooking liquid.
A few years ago pork was branded as "the other white meat" but it could also be called "the most misunderstood meat," in terms of cooking temperatures. People get spooked when pork has any rosy color to it at all, although ham gets a pass. The pork board and USDA recommend cooking pork to an internal temperature of at least 145ºF (63ºC) and this article, the case for rare pork, goes into more depth on that topic. I cook it to the minimum temperature as I like it moist inside, but you're welcome to cook it longer.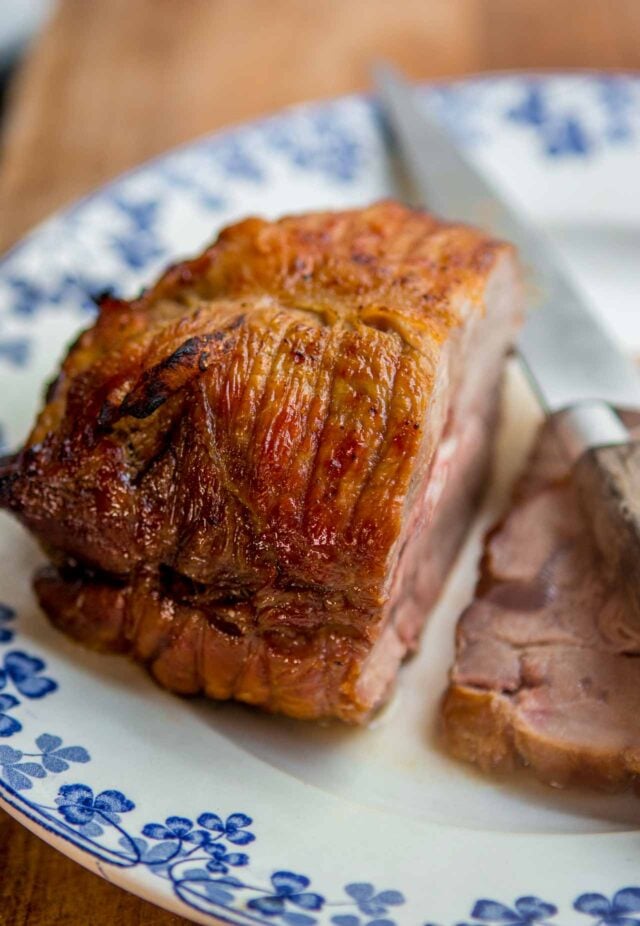 A few FAQs
Can I use this brine for pork chops or pork tenderloin?
Yes, the brine works very well with pork tenderloin. Because it is leaner, I would only brine it 1-2 days, then bake as you normally would a pork tenderloin. You can brine pork chops the same way and either rinse and pat dry, then pan fry or grill them. I have also used this with boneless pork loin roast and it works well. For these leaner types of pork, omit the final finishing in a very hot oven.
Can I use this brine for chicken or turkey?
Yes, Judy recommends increasing the water to 6 cups and decreasing the sugar to 3 tablespoons and letting the chicken brine 2-3 days. For turkey, increase the water to 7 1/4 cups and decrease the sugar to 3 tablespoons, or using those proportions to make enough brine to submerge your turkey, letting the turkey brine 5 to 6 days. Deb of Smitten Kitchen has a recipe for brining boneless skinless chicken breasts here.
I have another size pork roast. Can I use that?
Sure. I used a 2-pound (~1kg) pork roast but you can use whatever size you'd like. If using a large pork roast, you may need to cook it longer than indicated in the recipe and make more brine to cover it.
How do I get crisp skin?
You'll notice the pork roast I used doesn't have a lot of fat on the outside, which makes the crispy skin in dishes like porchetta. Mine was dark with some texture but not shatteringly crisp. That requires a different cut of pork and a specific recipe.
Can I reuse the brine?
Nope. The brine shouldn't be reused.
For more information please see the list of Brine for pork loin roast
Detail: 🔗