The ultimate broccoli salad is made with crunchy almonds, bacon, sunflower seeds, tart cranberries, and a creamy citrus poppyseed dressing! Easy to make ahead (in fact it tastes better that way), it's great to make for potlucks, bbq's and other Spring/Summer gatherings!
This Broccoli Salad is one of those recipes we have with so many of our family potlucks and bbq's. We also love easy side dish recipes like my Fail-Proof Roasted Corn on the Cob and Best Potluck Pasta Salad. This is one of my Side Dishes I know you'll want to keep on hand!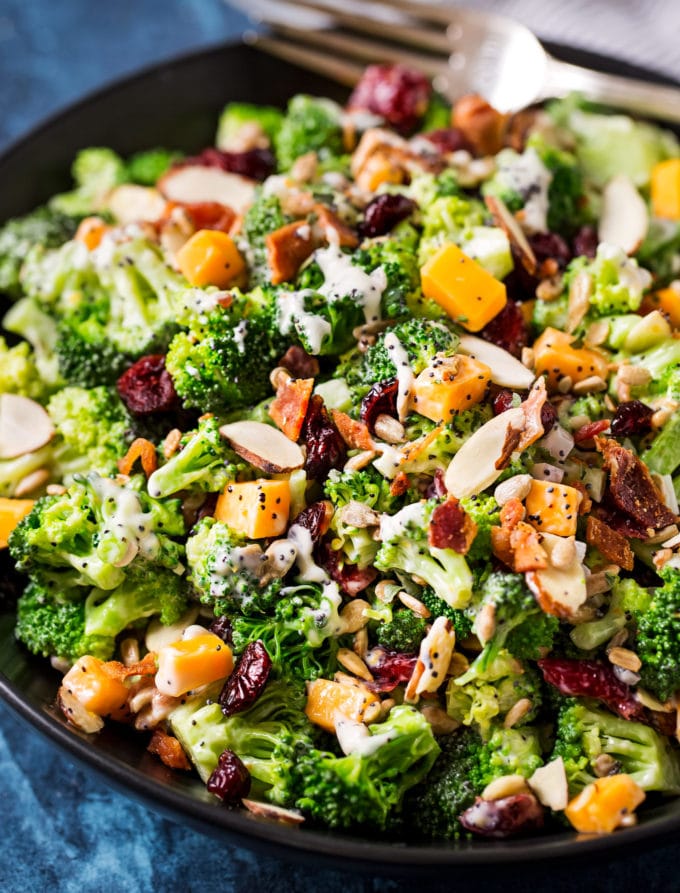 BROCCOLI SALAD
Broccoli salad is a very popular Spring/Summer side dish, and everyone usually has their own way of making it.
My version uses dried cranberries, sliced almonds, roasted sunflower seeds (although pumpkin seeds would be yummy as well), sharp cheddar cheese cubes instead of shredded cheese, and is all tossed together in a lightened up creamy citrus poppyseed dressing.
Every bite of this broccoli salad will be full of great flavors and textures, which all compliment one another beautifully!
My Grandma always used to make a fabulous broccoli salad, and it was always one of my favorite side dishes when we'd get together.
This isn't her recipe, but based off of it, with some added crunch, and a citrusy spin on the dressing!
HOW TO MAKE BROCCOLI SALAD
Briefly blanch broccoli florets, then cool in ice bath and dry off. This helps soften the broccoli just slightly, as well as flavor it a bit. I'll go into this more below.
While broccoli is drying, add chopped red onion to a bowl of cold water and let sit 5 minutes. Drain and pat dry. Soaking the onion in the cold water helps take some of the "bite" out of the raw onion.
Combine mayo, cider vinegar, sugar, citrus zest, citrus juice, poppyseeds and pepper. Set dressing aside.
Add broccoli florets, red onion, crumbled bacon, cranberries, almonds, sunflower seeds and cheese. Toss with dressing. I like to toss the salad with about half of the dressing, and add more if I want it. You can always add more, but can't take any away! Plus you can save any extra dressing for tossing right before serving.
Cover and refrigerate for at least 30 minutes. This helps all the flavors really combine, and lets the dressing really soak into the salad ingredients.
Toss and serve cold. Right before serving, I like to toss the salad with some of the leftover dressing to freshen it up.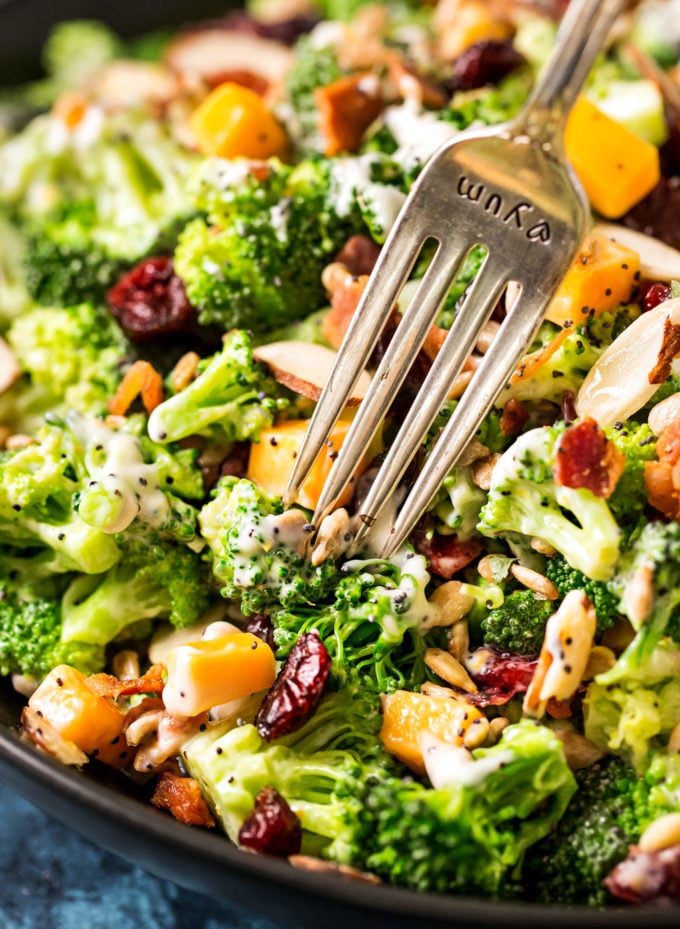 ADDITIONAL COOKING TIPS FOR THIS RECIPE
BLANCHING THE BROCCOLI – as I mentioned above, it does help soften the crunchy raw broccoli slightly, but it also flavors it from the inside out – like when you boil pasta! Just bring some water to a boil, add the chopped fresh broccoli and boil it for about 20 seconds. Then transfer the broccoli to a bowl filled with ice water to stop the cooking process. Drain the broccoli on paper towels, and allow it to continue to air dry while you make the dressing and chop other ingredients. If the broccoli isn't dry when you try to toss the salad with the dressing, it'll slide right off the broccoli and won't be nearly as flavorful.
VARIATIONS OF THIS RECIPE
TOPPINGS – this is your broccoli salad, so feel free to add in whichever toppings sound best to you!
DRESSING – a lot of broccoli salad recipes call for more sugar, so feel free to taste the dressing and adjust per your tastes!
VEGETARIAN – you can omit the bacon for a vegetarian-friendly version of this recipe.
MAKING BROCCOLI SALAD AHEAD OF TIME
I love making this broccoli salad ahead of time for parties! It can be made up to 24 hours ahead of time – just keep it refrigerated in an airtight container.
STORAGE
Leftovers should be refrigerated in an airtight container and consumed within 5 days.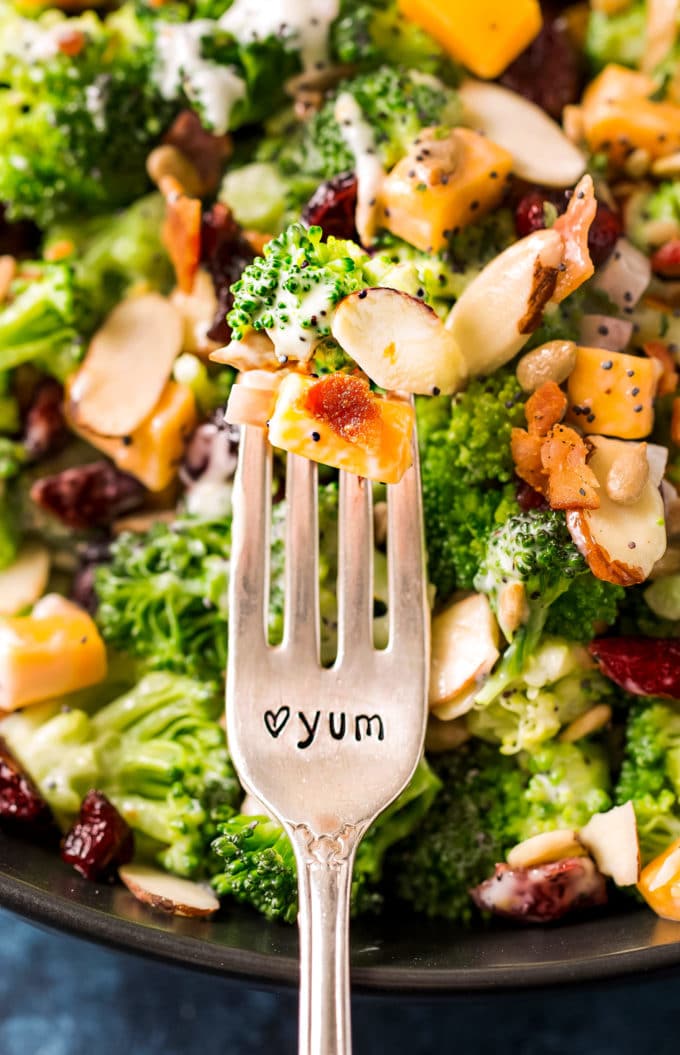 This broccoli salad is one of those recipes that's great for parties, potlucks, and even a summer dinner… but also for holidays! Easter is a great time to break out a dish like this one!
Speaking of Easter, some other dishes that would be perfect alongside this salad are:
Copycat HoneyBaked Ham
Cheesy Brussels sprouts with Bacon
Garlic Parmesan Cheesy Scalloped Potatoes
No-Boil Mashed Potatoes
Cheesy Funeral Potatoes
My Mom's Classic Carrot Cake
Peach Raspberry Lemonade
Peanut Butter Cup Cheesecake Dip

BE SURE TO SCROLL DOWN TO CHECK OUT OTHER READERS' COMMENTS FOR TIPS AND REVIEWS.
AND DON'T FORGET, IF YOU'VE MADE THIS RECIPE, LEAVE A COMMENT AND PLEASE GIVE IT A STAR RATING LETTING ME KNOW HOW YOU ENJOYED IT!
Recipe originally published in Mar. 2017, and has been updated in Mar. 2020 with additional information.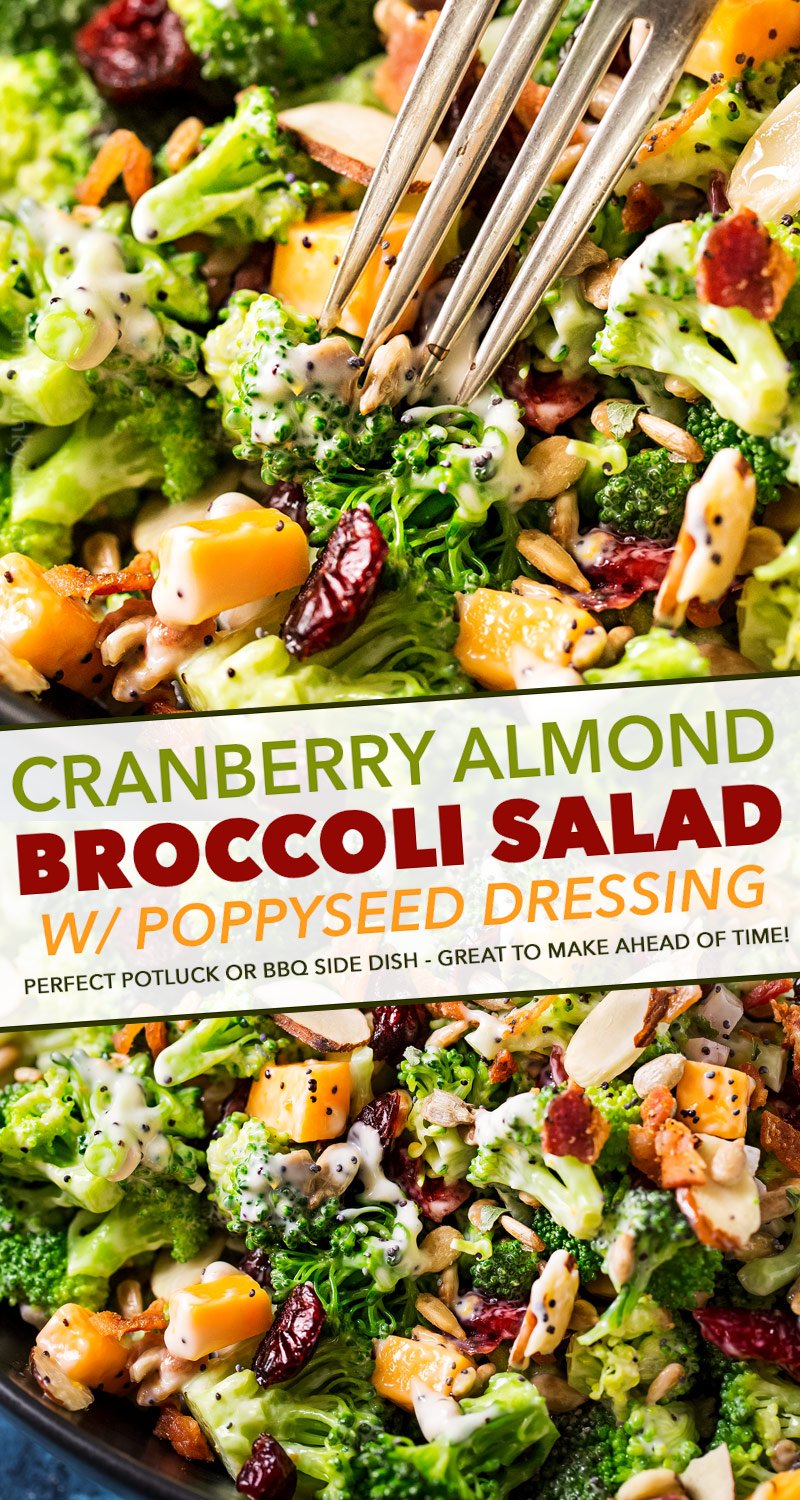 Please see more list about Broccoli salad with poppy seed dressing
Detail: 🔗