A cajun potato salad made southern style with eggs, sweet relish and cajun seasoning. Perfect to pair with gumbo!
Potato salad is thought to have first been introduced to the US by the early European settlers. We have everything from the very bulky German potato salad, where the use of small waxy potatoes are left whole to the Southern US version where it's almost like mashed potatoes, to everything in between! I think each family has their own cherished recipe that they will swear by.
Potato salad is one of those dishes that is so versatile, you can almost add anything and it still be good. This Cajun Potato is a great base to start with.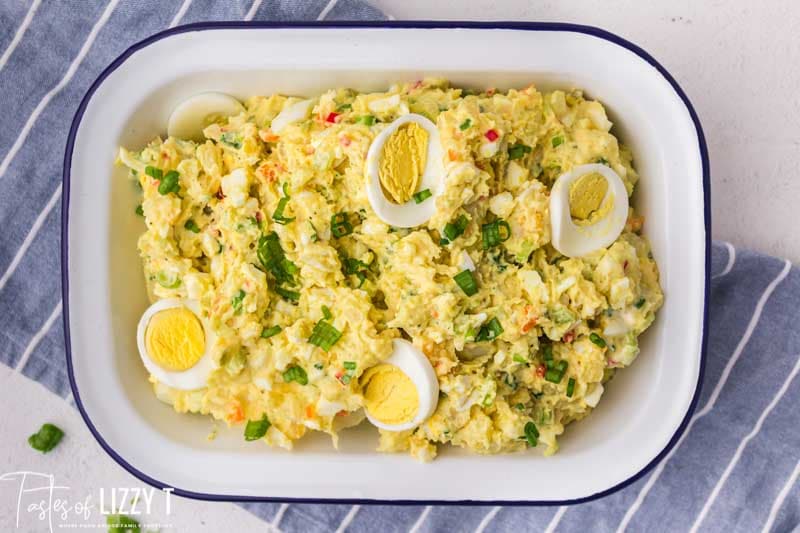 Why you'll love this cajun potato salad recipe:
This particular potato salad recipe is my favorite by far. It's a good mix of all things good from the other versions.
It is a soft potato salad so it has a creaminess, yet it's not quite mashed potato.
The added mini sweet peppers are so delicious and add a really prominent sweet taste that I just love – as do my kids.
Vinegar is typically used to add a good flavor, however I prefer to use sweet relish for that same astringent flavor.
The sauce is mayo based with a touch of mustard for a pop of flavor.
Use as much cajun seasoning as you'd like to get the spice level and kick you'd like.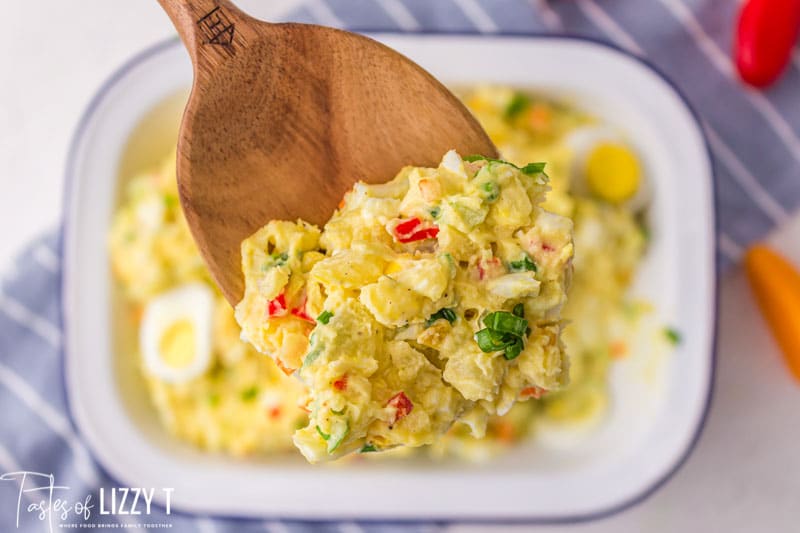 How to Make Cajun Potato Salad
Peel the potatoes and place into a large pot over medium-high heat for boiling, along with the eggs and salt. If you'd like, you can cube the potatoes before boiling to make them cook faster.
Cover with enough water to boil for 30 minutes. 8 minutes after the water has come to a boil remove the eggs and put straight into cold water (this will help them to peel easier). Continue to boil the potatoes until fork tender (approximately 25-30 minutes).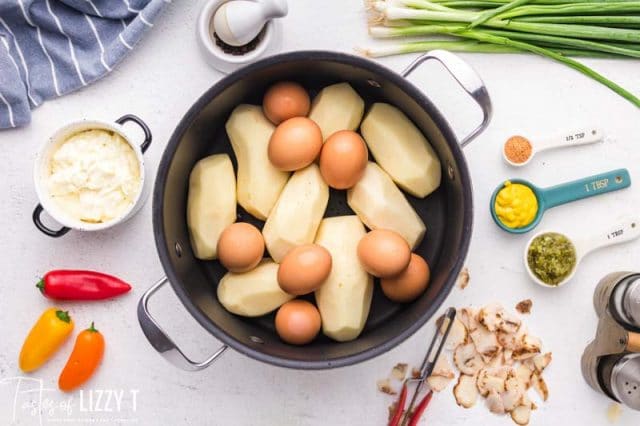 Drain the potatoes and allow them to cool.
Finely chop the celery, green onions and sweet peppers.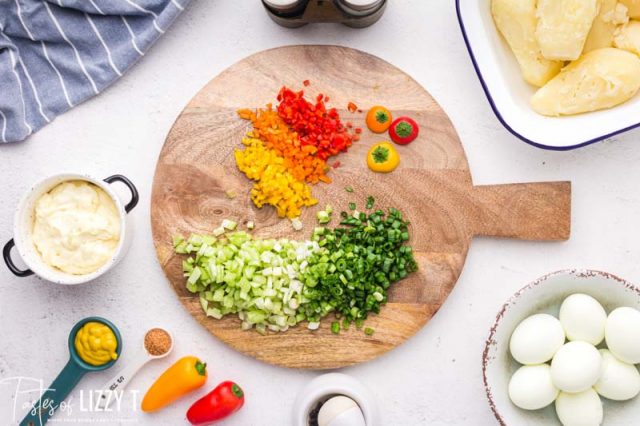 Peel and chop the eggs, then mix with the vegetables in a large bowl.
Chop the potatoes into 1 inch cubes then mix all together with the vegetables.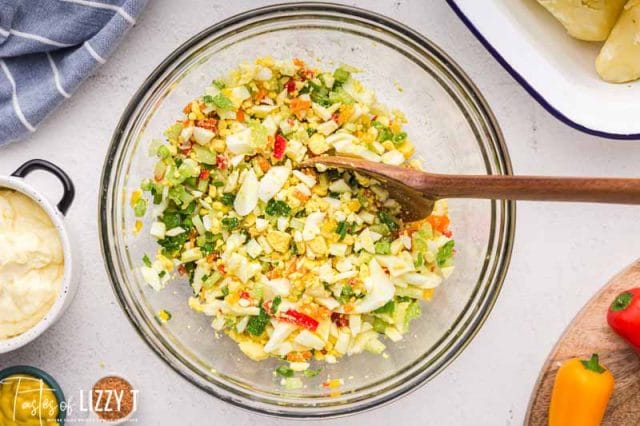 Add the mayonnaise, sweet relish, mustard and Cajun seasoning and stir well.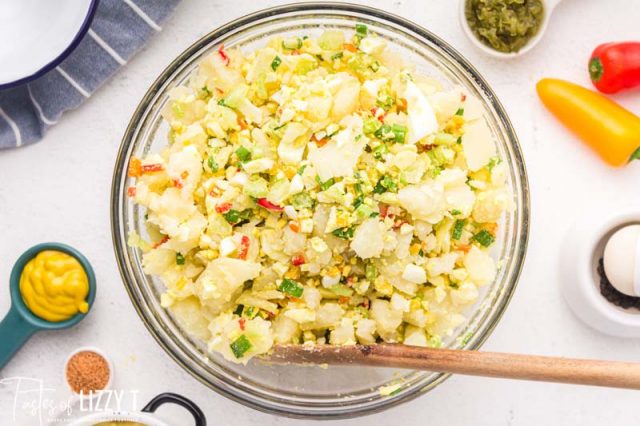 Do you have to use cajun seasoning?
No. You can use whatever type of seasoning you'd like in the potato salad mixture, even simply salt and pepper. But if you want great flavor, add as much cajun seasoning as you'd like.
Can you use dill pickles instead of sweet relish?
Definitely. You won't have as much sweetness to your potato salad, but dill pickles or dill pickle relish gives that tangy taste that is so good in potato salad.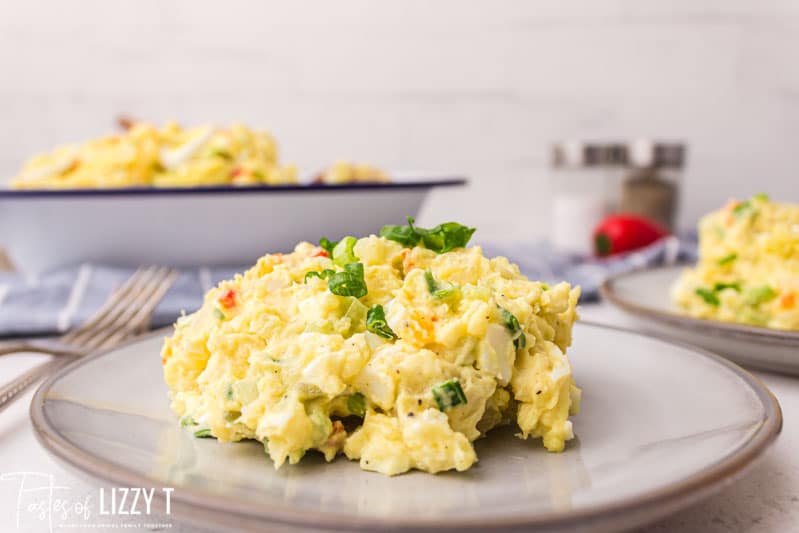 Other Potato Recipes
Find a new potato recipe to love: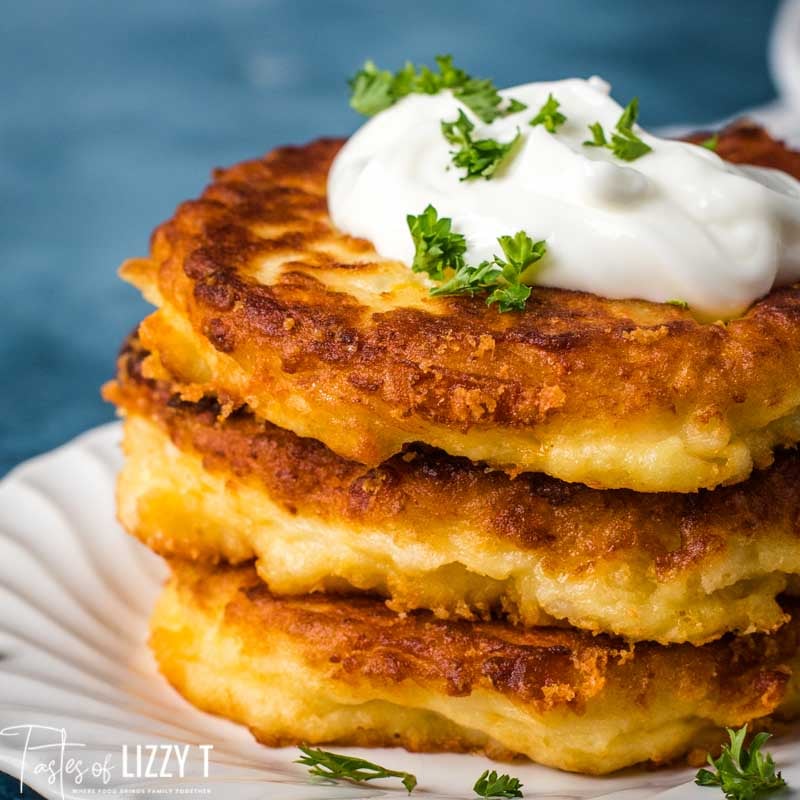 For more information please see the list of Gumbo with rice or potato salad