Are you craving a delicious and quick dessert? Look no further than this incredible Vanilla Mug Cake recipe! Made with simple ingredients and cooked in the microwave, it's the ultimate dessert for those times when you need a sweet treat in a pinch. Trust us, this is the BEST mug cake recipe you'll ever come across!

Image Source: fantabulosity.com
What is a Mug Cake?
A mug cake is a single-serving cake that you can whip up quickly whenever you're craving something sweet. Using just a few basic ingredients and a microwave-safe mug, cup, or small bowl, you can have a perfect dessert all to yourself in minutes!
Why You'll Love This Recipe:
Single serving desserts don't get any better than this! Mug recipes might just become your new favorite thing.
The best part? You can mix and microwave this vanilla mug cake right in the mug, so you won't have to dirty any extra dishes except your measuring cups and spoons.
It's the perfect treat for when your little ones have a sweet tooth and want to try their hand at baking.
How to Make a Vanilla Mug Cake from Scratch:
Making this vanilla mug cake is a breeze, and chances are you already have all the ingredients in your pantry and refrigerator. Here's what you'll need:
Ingredients:
2 tablespoons of melted butter
1 teaspoon of vanilla extract
1/4 cup of milk
2 tablespoons of granulated sugar
1/4 cup of all-purpose flour
1/4 teaspoon of baking powder
1/8 teaspoon of salt
Note: You can use any type of milk you have on hand, whether it's whole, skim, or almond milk.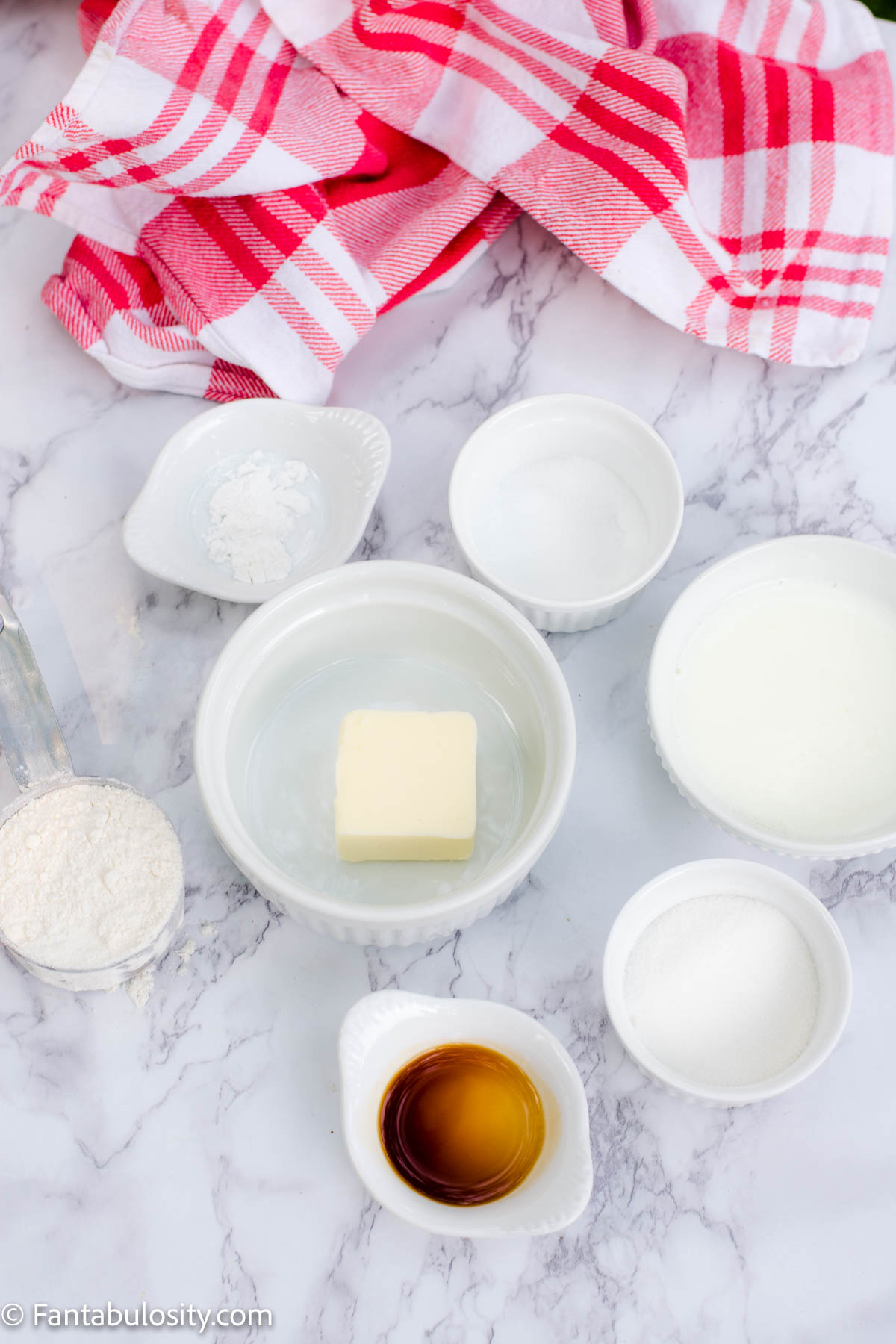 Step by Step Directions:
Add the melted butter to your mug and microwave until it's completely melted.


Stir in the vanilla extract, milk, and sugar into the melted butter.

Add the flour, baking powder, and salt, and stir until just combined.


Microwave the mug cake for 1 1/2 to 2 minutes. Be cautious when handling the hot mug.
Light and Fluffy Vanilla Cake
You'll be pleasantly surprised by the texture of this mug cake. Rather than being weird, chewy, or spongy, it turns out light and fluffy. The key to achieving this super light and fluffy texture is to mix the batter just until it comes together. Overmixing could result in a tough or gummy cake.
Packed with Vanilla Flavor
This easy vanilla mug cake is bursting with incredible vanilla flavor. The recipe calls for a whole teaspoon of vanilla extract to make sure that the flavor shines through. If you have vanilla bean paste on hand, feel free to use it to enhance the flavor even more. You can find it on Amazon or in the cake decorating section of some grocery stores.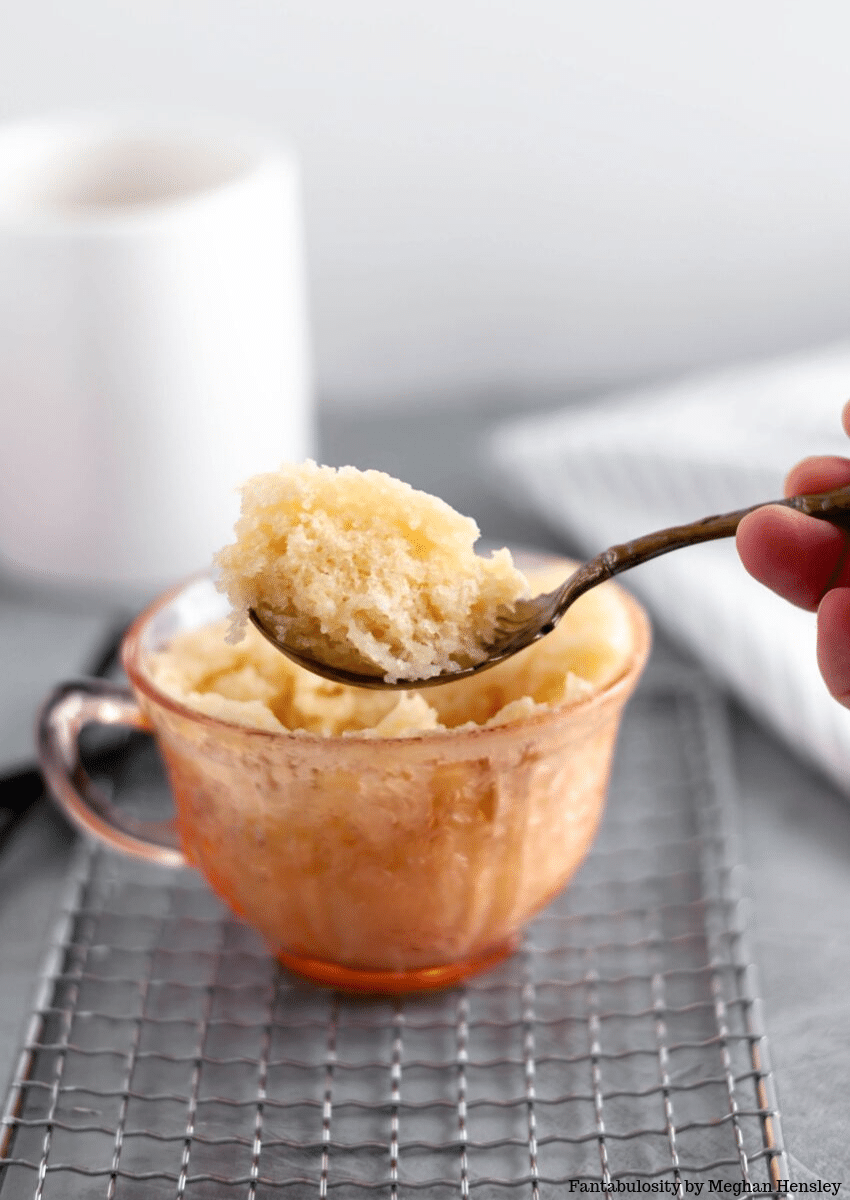 Vanilla Cake Topping Ideas
While this vanilla mug cake is delicious on its own, you can take it to the next level by adding some fun toppings. Here are a few ideas to get you started:
A scoop of vanilla ice cream
Mint buttercream frosting or chocolate buttercream
Strawberries and whipped cream
Fresh fruit
Sliced bananas
Peanut butter
A dollop of whipped cream
Chocolate chips
Nuts
Brown sugar
A drizzle of chocolate sauce
Salted caramel drizzle
Just imagine setting up a topping bar for movie night or your kid's birthday party! Alternatively, you can turn it into a baking party where everyone can make their own mini mug cakes. It's sure to be a hit!
More Cake Recipes You'll Love
If you're a fan of easy dessert recipes, we've got you covered. Check out these top fan favorites:
Milky Way Cake
Easy Carrot Cake
7Up Pound Cake
Easy Pound Cake
We would also like to thank Meg's Everyday Indulgence for sharing this delightful dessert recipe with us!
For more fantastic recipes and culinary inspiration, visit Family Cuisine!