I believe in smoothies: fruity or vegetabley, thick or thin, chunky or smooth. In fact, I've written about smoothies a lot on the blog (here, here, and here, for example) since I rely on them for breakfast so often. But I have never chatted with you about a smoothie topic like this before.
Joining the likes of Blue Apron and Plated dinner kit delivery services, but with a focus on your first meal of the day instead of your last, Daily Harvest will ship smoothies to your door. Well, the ingredients anyway: single serve smoothie kits, already portioned, frozen, and cozily nestled in a cup. You do the actual smoothie making by dumping it all in the blender, adding liquid, and pushing "power." That means you get a healthy breakfast without any of the recipe hunting, or the shopping, dicing, peeling, juicing, seeding, measuring, and dirtying of many dishes during the morning rush. With Daily Harvest, you blend, pour it all back into the paper cup it came in, and just rinse out the blender. No muss, no fuss.
Reading: calories in daily harvest smoothies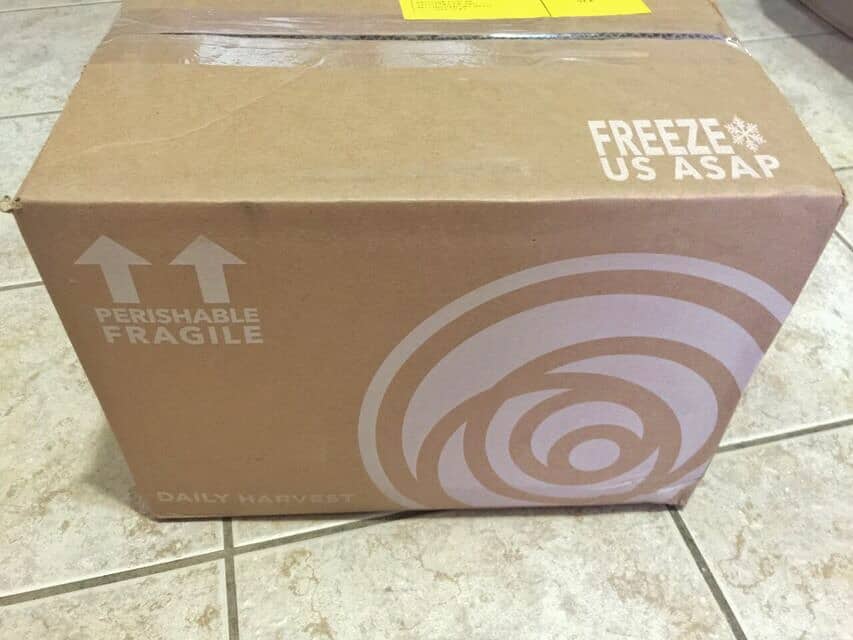 Is all this convenience worth it? I signed up for 2 weeks of the service to find out. Actually, I intended to sign up for 2 weeks but didn't cancel before the deadline so ended up with 3 weeks or 18 smoothies. One week's order got repeated the next week, so I got two tries at the tasting of those particular flavors, and felt like a doofus. This actually highlights one of my struggles with these delivery services. You often have to know a week ahead of time that you want to pause or cancel your subscription, and if you miss that cut off you get an unintended delivery. I mean, I drank 'em. I'm not saying they were wasted. And I guess I'd have to say I had 18 darn convenient breakfasts.
Let's consider the cost: $47.94 for 6 smoothies means you're essentially paying $7.99 for each one, which seems a little pricey. OK, a lot pricey. Maybe that's why they call them "premium smoothies?" For comparison, the Evolution Fresh smoothies at Starbucks are $5.95, and the Jamba Juice equivalent ranges from $4.80-5.65.
It would be hard to do a direct price comparison with making them on your own at home since for example, for the watermelon smoothie, I'd have to buy a whole watermelon when I only need 1 cup. But I feel fairly confident I could recreate them, at least those with the simpler and shorter ingredient lists, for less than eight bucks a cup, especially if I batched it and made several of the same kind at once. Like with most similar products you're paying for the time savings and the convenience of having them delivered essentially right into your freezer.
Each smoothie from Daily Harvest is vegan with mostly all organic ingredients. It's pretty much exclusively real, whole foods and if they use a sweetener in a particular recipe, it's always dates. Whether you're instructed to add water, coconut water, or a creamy liquid like almond milk depends on the individual smoothie. They come packed on dry ice and keep in the freezer for up to 3 months, but each delivery only lasted 1 week at my house.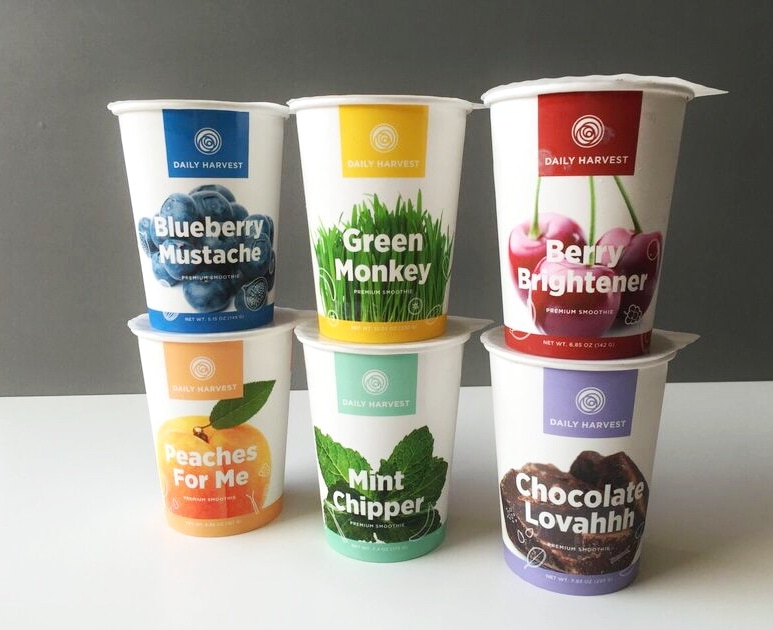 The fact that they're made from seeds, vegetables, fruit, and nut butter means they're a pretty nutritious way to start your day. But beyond that, the actual nutrient content varies incredibly widely from smoothie to smoothie. Depending on the particular mix of ingredients, they are all over the map in terms of calories, protein, fat, etc. so it pays to read each label before the frosty beverage goes down the hatch. At the low end, Green Monkey a has 100 calories (or 150 once you blend it with coconut water). This is so low in fact that I'm not sure it would constitute an entire breakfast all on its own. On the high end Chocolate Lovahhh has 410 calories (or 440 with almond milk). Protein content ranges from 2 to 14 g before blending, and fat from 1 to 28 g. Keep in mind the nutrition facts on the label are for just 1 cup, so I've doubled the values assuming you'd drink the whole thing. Who are we kidding? You are going to drink the whole thing.
Now on to the important part…what did they taste like? In order of preference, I've listed them here starting with not delicious and progressing to terrific. Nutrition info is for the whole portion, or 16 fluid ounces, as packaged and without added liquid.
12. What A Melon
Totally boring with soymilk, and totally boring with coconut water. I didn't even want to finish it.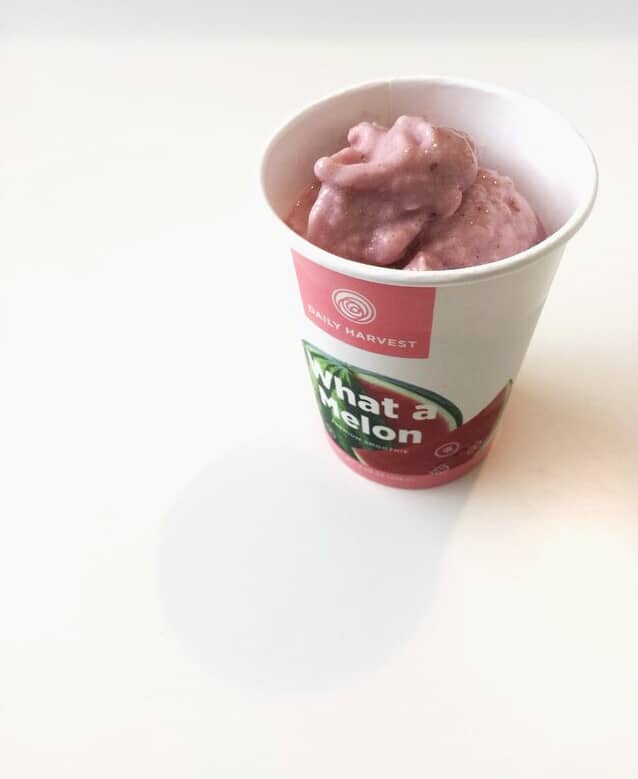 Ingredients: watermelon, organic cucumbers, organic raspberries, organic evaporated coconut water, lime juice, chia seeds
110 calories, 1 g fat, 24 g carbohydrate, 4 g fiber, 2 g protein
11. Dr. Mango
This was better with coconut water than plain water but had an odd powdery aftertaste that I'm attributing to the camu camu.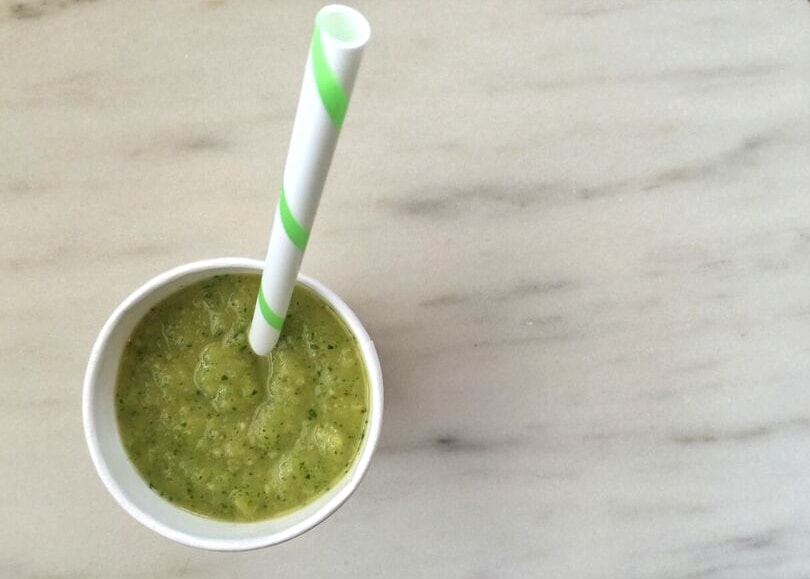 Ingredients: mango, organic cucumbers, organic spinach, organic evaporated coconut water, organic coconut oil, lime juice, camu camu powder
150 calories, 5 g fat, 30 g carbohydrate, 4 g fiber, 2 g protein
10. Matcha Colada
A good mix of lime and coconut flavors, this one was also noticeably better with coconut water than plain water. But overall it kind of left me underwhelmed.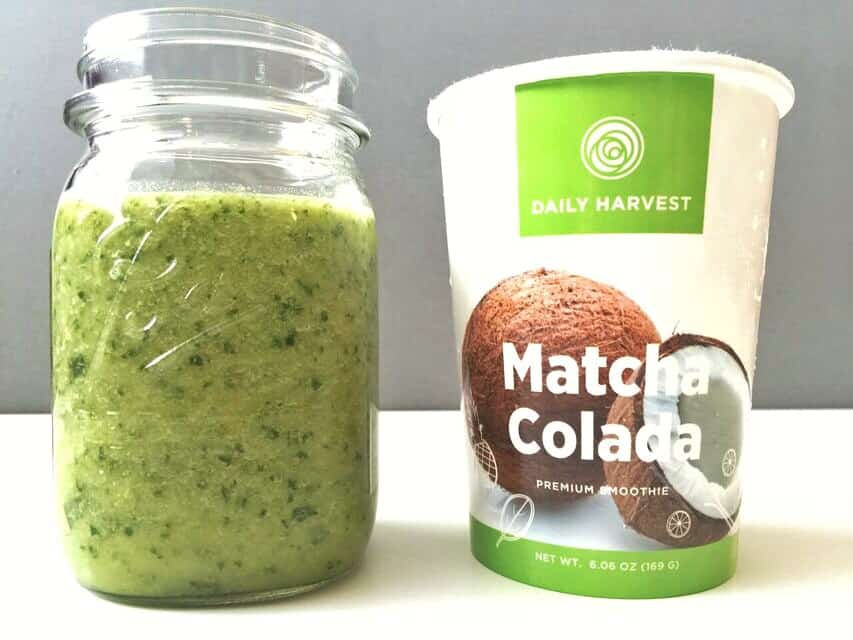 Ingredients: pineapple, organic kale, coconut, lime juice, organic coconut oil, Japanese matcha, vanilla bean
160 calories, 8 g fat, 22 g carbohydrate, 4 g fiber, 2 g protein
9. Peaches for Me
I love peach smoothies, but this particular mix didn't charge up my taste buds. Each ingredient is rather mild in flavor and together they didn't elevate each other. My immediate thought was that it needed some lemon juice to brighten things up.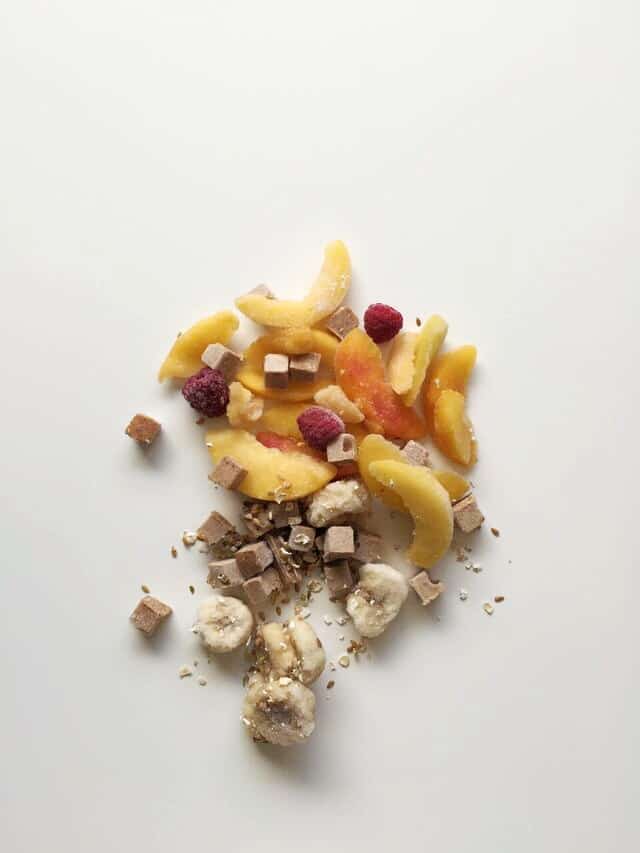 Read more: How to make spice tea with tang
Ingredients: organic peaches, organic bananas, raw almond butter, organic raspberries, organic gluten-free oats, organic flax seeds, vanilla bean, pink Himalayan sea salt
150 calories, 4 g fat, 26 g carbohydrate, 4 g fiber, 4 g protein
8. Mint Chipper
The pale green color, hint of mint, and chunks of cacao nibs are subtly reminiscent of chocolate chip mint ice cream, but otherwise there's not a lot of supporting mouthfeel or taste to adequately be compared to its frozen dessert namesake.
Ingredients: organic bananas, organic spinach, raw cashew butter, organic cacao nibs, organic chlorella, vanilla bean, mint extract
190 calories, 6 g fat, 28 g carbohydrate, 6 g fiber, 6 g protein
7. Green Monkey
A very refreshing green smoothie, with a touch of sweetness from the banana. I'm starting to think it's the acid I'm consistently wishing for. In this case, I need more lemon.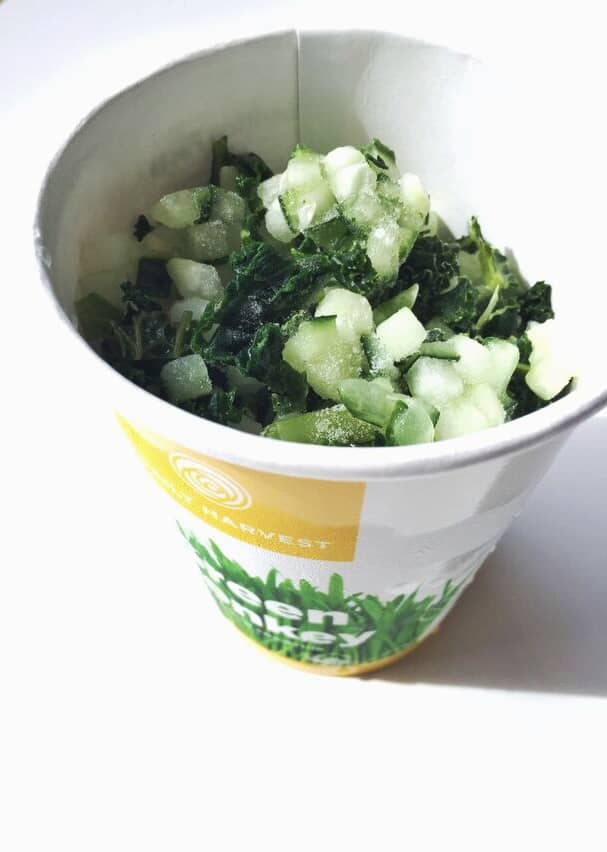 Ingredients: organic cucumber, organic bananas, organic kale, organic spinach, lemon juice, organic wheatgrass
100 calories, 1 g fat, 22 g carbohydrate, 4 g fiber, 4 g protein
6. Blueberry Mustache
The figs and ginger made this basic berry and greens smoothie a little more sweet and spicy. Again, the flavors are all very mild, but quite sip-worthy.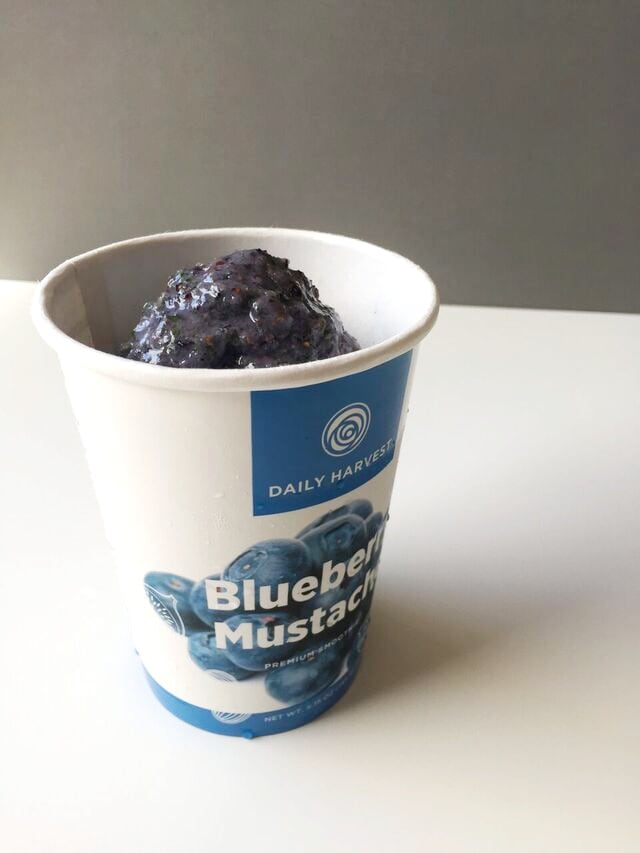 Ingredients: organic blueberries, organic spinach, organic kale, walnuts, golden figs, ginger, hemp protein
310 calories, 20 g fat, 30 g carbohydrate, 10 g fiber, 12 g protein
5. Berry Brightener
The name is spot on for this deep red concoction. My best guess is that the acai or possibly the cherries are responsible for the bright fruity taste. It reminds me of the powerfully flavored nondairy cherry ice our local ice cream shop serves up when those beauties are in season.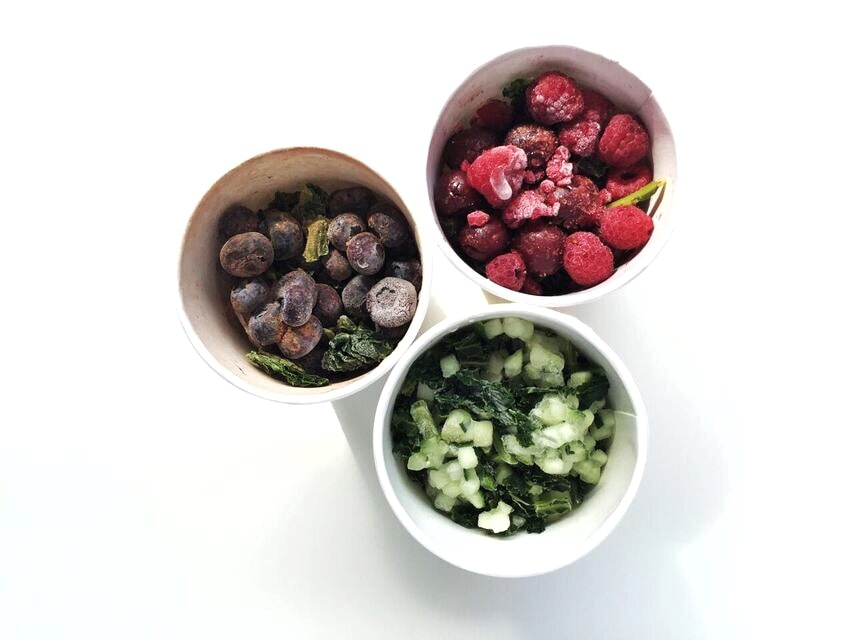 Ingredients: organic bananas, organic dark sweet cherries, organic kale, organic raspberries, organic blueberries, organic acai
120 calories, 1 g fat, 32 g carbohydrate, 6 g fiber, 2 g protein
4. Chocolate Lovahhh
Fruit + chocolate is always a winning combination, and Daily Harvest capitalizes successfully on that match here. The overall flavor and texture is reminiscent of chocolate soft serve ice cream, with a familiar and pleasing creamy milk chocolatey finish.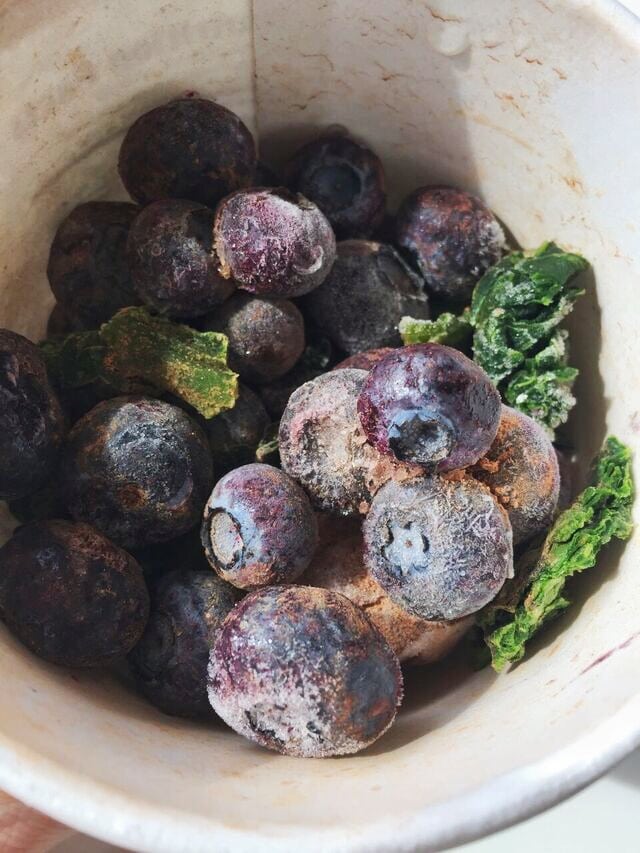 Ingredients: organic blueberries, organic bananas, raw almond butter, organic spinach, organic kale, dates, organic cacao, vanilla bean, pink Himalayan sea salt, organic maca
410 calories, 26 g fat, 44 g carbohydrate, 10 g fiber, 10 g protein
3. Mornin' MoJoe
Despite having no sweetener, this coffee extravaganza made my top 3. It's creamy, without an overly strong coffee flavor. I liked it better with the thinner, more watery almond milk rather than the thicker, richer soymilk since the coffeeness didn't get lost . I usually have a smoothie and green or black tea in the morning, but I can see having this all on its own and taking care of two morning beverages in one cup.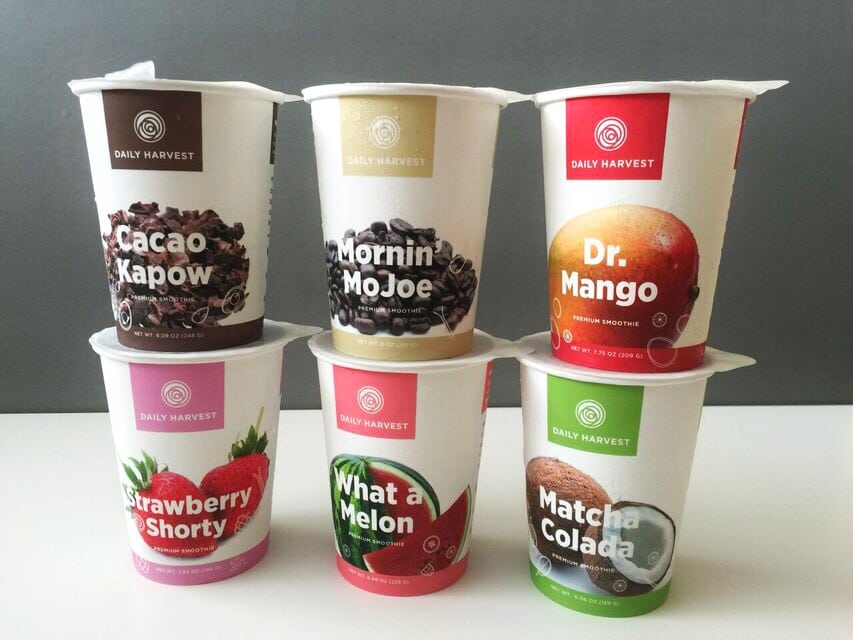 Ingredients: organic cold brew coffee, raw almond butter, organic bananas, organic cacao powder, organic coconut oil, green coffee beans, vanilla bean, pink Himalayan sea salt
Read more: 14 Deliciously Healthy Green Smoothie Recipes
325 calories, 24 g fat, 28 g carbohydrate, 8 g fiber, 8 g protein
2. Strawberry Shorty
This pale pink preparation was unexpectedly great, and I opted for soymilk to double the protein content. The cocoa nibs added a nice crunch nestled amid the cold creaminess.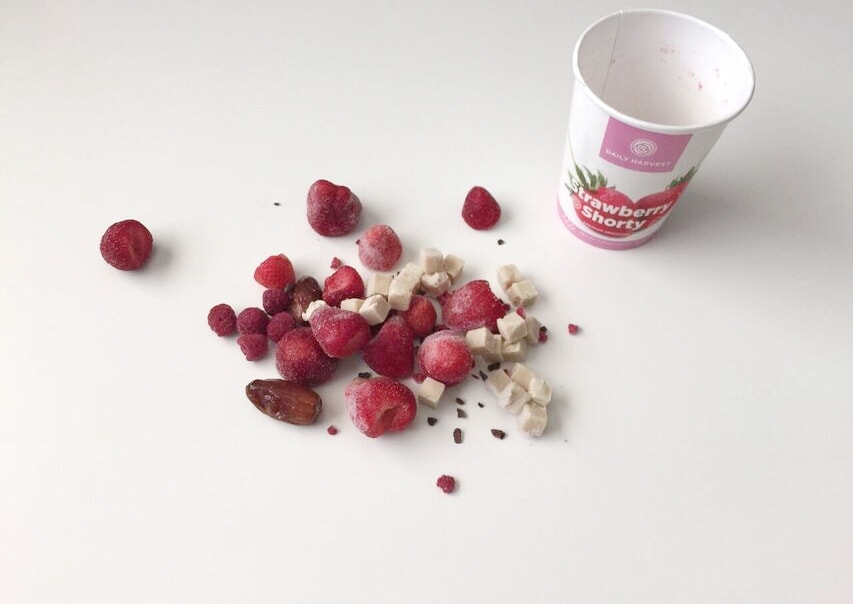 Ingredients: coconut milk, organic strawberries, organic raspberries, raw cashew butter, dates, organic cacao nibs, pink Himalayan sea salt, vanilla bean
350 calories, 28 g fat, 24 g carbohydrate, 6 g fiber, 6 g protein
1. Cacao Kapow
The. Best. One benefit of my doofus ordering mistake was that I got to enjoy this one twice. It had lots of texture, and I was pleasantly surprised since I've never thought to put pumpkin seeds in a smoothie before. And it was a lot…a full 1/2 cup, which is responsible for the outstanding protein content.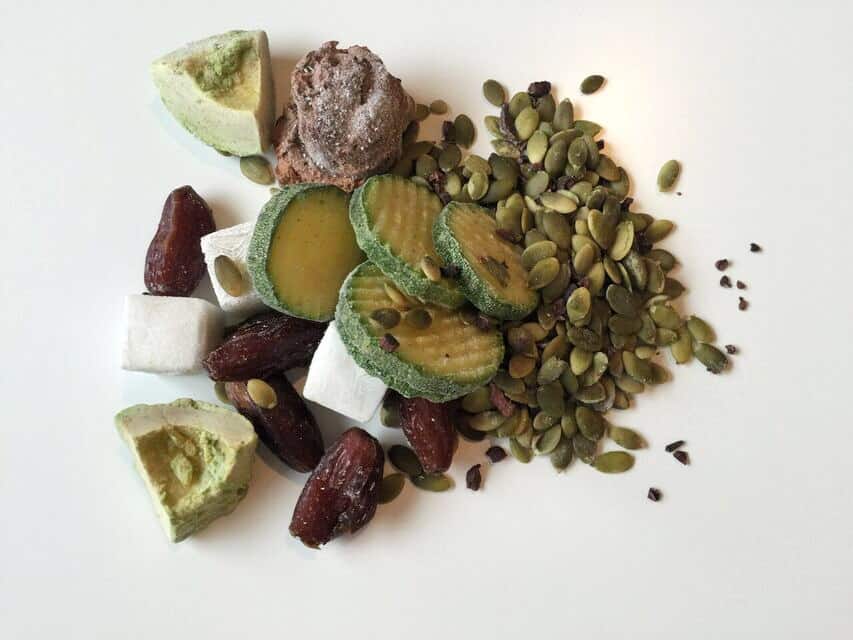 Ingredients: organic zucchini, avocado, pumpkin seeds, dates, organic cacao nibs, organic cacao, coconut oil, organic pea protein, vanilla bean, pink Himalayan sea salt
370 calories, 24 g fat, 30 g carbohydrate, 8 g fiber, 14 g protein*
You may have noticed that my highest rated smoothies are pretty much all the ones made with dates. And the highest calorie ones. They offered many more layers of flavor that made me want to keep slurping them up my straw. Since I consider a smoothie a stand-alone breakfast (beside a cup of tea), the calorie contribution of these heavy hitters is still within normal limits. 300-500 calories before I leave the house fits just dandy into my 2000 calorie target for the day.
One more note about these pesky numbers: nutrition facts will change with addition of 1 cup of required liquid (with the exception of water):
coconut water (C2O): 50 calories, 0 g fat, 13 g carbohydrate, 0 g fiber, 0 g protein
almond milk (Blue Diamond vanilla unsweetened): 30 calories, 2.5 g fat, 1 g carbohydrate, 1 g fiber, 1 g protein
soymilk (Kirkland organic plain): 100 calories, 4 g fat, 8 g carbohydrate, 1 g fiber, 8 g protein
For example, Cacao Kapow made with almond milk ends up looking like this when all is said and done:
400 calories, 27 g fat, 31 g carbohydrate, 9 g fiber, 15 g protein*
On the practical front, I found they all needed a little more than 1 cup of liquid to get to a pourable consistency. Also, it's best to use cold liquid, like refrigerated water, coconut water, or nondairy milk – not the room-temperature stuff straight from the tap or pantry.
At home I don't get too adventurous with add-ins when I assemble my own smoothies, except for maybe some chia or hemp seed. But Daily Harvest makes use of camu camu (a fruit), chlorella (a type of algae), and maca (a vegetable), all said to have particular health benefits. I'm not entirely on board with those claims, but if you want to know more about them follow the links I've included.
I sort of view this service like the dinner delivery kits. It's probably not feasible long term financially, but it might be nice to take advantage of every once in while to streamline your week. Or it might show you what's possible in terms of smoothie variety which could be a transitional step away from donuts or cereal for breakfast. Maybe their fancy formulations will inspire you to make a copycat version at home. (I measured out all the ingredients in the Cacao Kapow for this very reason, and now I've got a rudimentary recipe to experiment with.) Or in my case, it might motivate you to do a little batch smoothie prep on your own on the weekends to make the weekday mornings more efficient and delicious. Whatever the result, sampling and evaluating eighteen cups of fruity vegetabley goodness was an enjoyable exercise for this smoothie enthusiast.
UPDATE! If you'd like to read a more current review of this product, check out my October 2018 post: Daily Harvest Smoothies, A Vegetarian's Review Part 2.
How do you make your smoothie habit more convenient? Got any blender-friendly tips to share?
*Since this original post, I recreated the Cacao Kapow smoothie recipe. I'm wondering a bit now about the nutrition facts on the package from Daily Harvest. According to the label, this smoothie has 370 calories if you drink the whole thing (before adding milk). But, I measured out 1/2 cup of pumpkin seeds in their cup, which by itself has 360 calories. When I did my own analysis of my copycat recipe the numbers were considerably higher. It's entirely possible that I am wrong, as I am often wrong, but consider that there might be some variation in the numbers listed here.
As with my other reviews of delivery kit services, I paid for Daily Harvest on my own and received no free product from the company.
Read more: what drinks can you make with blueberry vodka | Family Cuisine