Are you searching for a simple and delicious fruit salad recipe that won't weigh you down with calories? Look no further! With just 65 calories per 2 cups, this easy-to-make fruit salad is a guilt-free treat suitable for any occasion. Whether you enjoy it as a snack, dessert, or side dish, this homemade fruit salad is sure to satisfy your cravings. So, let's dive into the world of healthy and flavorful fruit salads!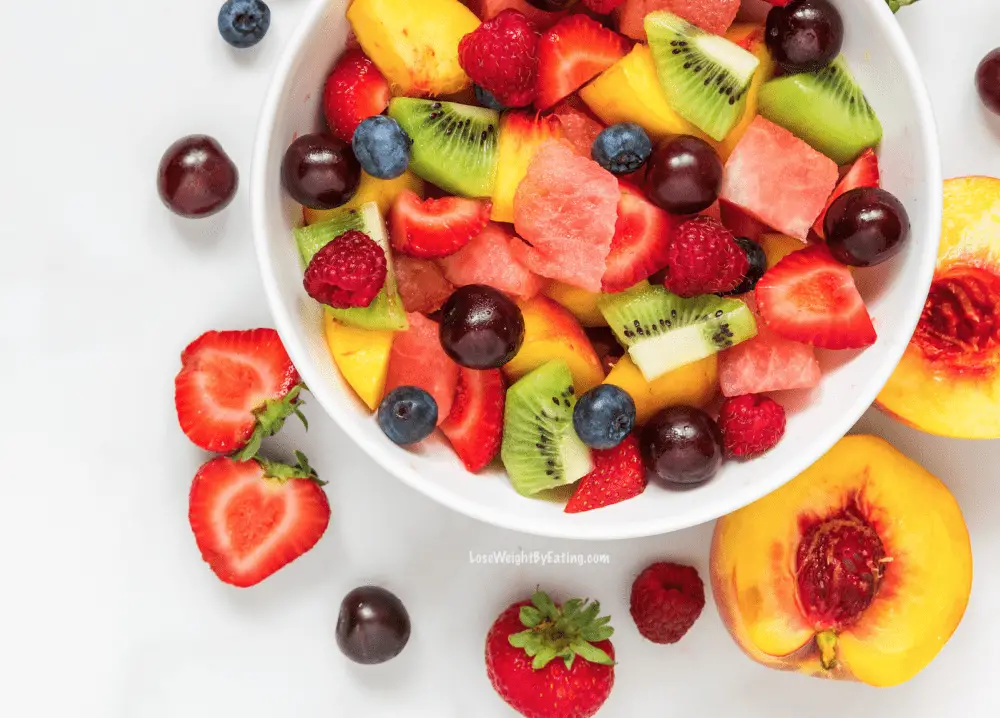 Discover the Magic of Fruit Salad
In this article, we'll not only explore how to make a delicious and low-calorie fruit salad but also delve into the incredible benefits of incorporating fruit salads into your diet. By carefully selecting the right fruits, you can boost your metabolism and even aid in fat burning. Say hello to healthy and refreshing fruit salad ideas that will truly support your dietary goals!
Simple Fruit Salad Recipe
To create this sensational fruit salad, we've provided you with a shopping list, printable recipe card, nutrition label, and more. The beauty of this easy fruit salad recipe lies in its versatility, allowing you to use a combination of your favorite fruits. For even more metabolism-boosting options, be sure to check out my best-selling cookbook, Lose Weight by Eating Detox Week. Let your imagination run wild as you whip up your personalized fruit salad masterpiece!
To make your fruit salad creation a breeze, we've gathered all the essential resources in the following sections. Feel free to peruse them for helpful tips and tricks, or skip ahead to the conveniently provided recipe card.
What You'll Find in this Article:
Fruit Salad Ingredients (shopping list!)
How to Make Fruit Salad
Simple Fruit Salad Recipe (recipe card!)
Nutrition and Calories in Fruit Salad
We've compiled a convenient shopping list with all the necessary ingredients for your fruit salad. Simply snap a screenshot on your phone, and you'll always have it handy whenever you're at the store. Additionally, we'll guide you through the process of creating delicious fruit salad recipes. You'll find a printable recipe card and a detailed nutritional label to help you make informed choices.
The Art of Fruit Salad Ingredients
When it comes to crafting a beautiful fruit salad, the possibilities are endless. However, for a true feast for the senses, aim to combine an array of vibrant colors like those of the rainbow. The best fruit salads also benefit from a light dressing that brings out the flavors of each fruit.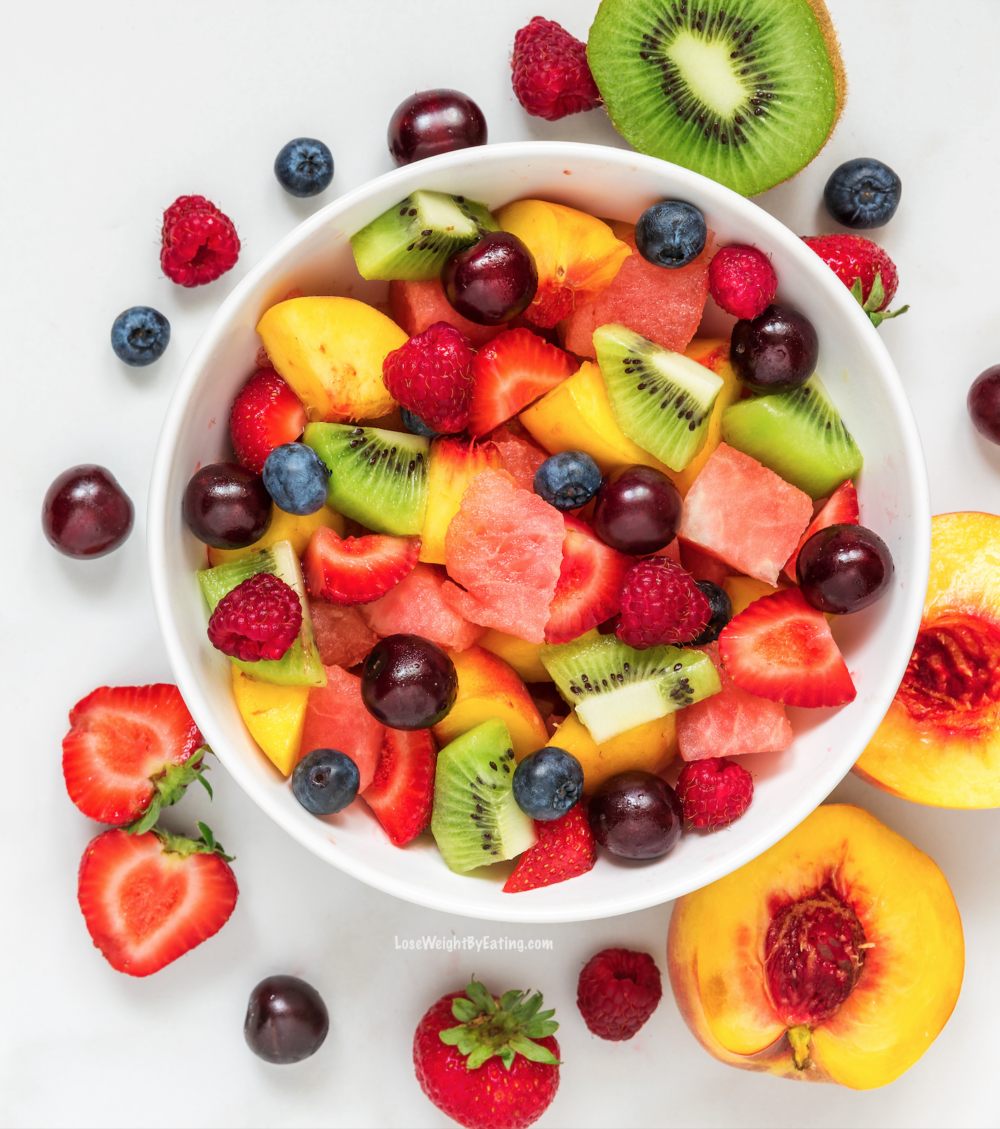 In our recipe, we've carefully selected fruits that provide both visual appeal and metabolic benefits. So, grab your shopping list and get ready to create a fruit salad bursting with colors and metabolism-boosting ingredients!
Shopping List for Fruit Salad:
Fruit Salad Recipe:
Strawberries
Peach
Kiwi
Blueberries
Raspberries
Grapes
Watermelon
Fruit Salad Dressing:
Orange
Champagne vinegar or apple cider vinegar
Honey
While frozen fruit can be substituted if necessary, we highly recommend using fresh fruit for the best results. Fresh ingredients always lend that extra touch of flavor.
Special Tip:
For detailed measurements and customized servings of this low-calorie fruit salad, refer to the printable recipe card below. It does all the math for you!
Let's Get Cooking: How to Make Fruit Salad
Creating sensational fruit salad recipes has never been easier. Our comprehensive guide takes all the guesswork out of the process. In this section, we'll walk you through the steps to make your own fruit salad. The best part? This low-calorie delight can even be frozen and added to your morning smoothies. We've got you covered on storage details too!
Making homemade fruit salad has never been simpler. Let this guide be your culinary companion as you embark on your fruit salad adventure.
How to Make Fruit Salad:
In a small bowl, whisk together the orange juice, champagne vinegar, and honey.
In a large bowl, combine all the fruit.
Pour the fruit salad dressing over the fruit, toss everything together, and serve.
If you have leftovers, cover with plastic wrap and refrigerate for up to 24 hours. You can also freeze any remaining fruit salad and add it to your morning smoothies for a refreshing twist!
Special Tip:
For precise directions, measurements, and additional nutritional information, refer to the shareable recipe card below. You'll find everything you need to know in one convenient place.
Personally, I like to freeze and store leftovers in 1-cup portions. This way, I can effortlessly add them to my homemade Frozen Fruit Smoothies later on.
A Simple Fruit Salad Recipe for All Occasions
Savor the goodness of 2 cups of this healthy fruit salad, without worrying about the calorie count. With just 65 calories, it's the ideal metabolism-boosting snack, dessert, or side dish. Additionally, this fruit bowl recipe is perfect for BBQ parties and potlucks. It's time to take your taste buds on an unforgettable journey!
Included with the recipe is a low-calorie fruit salad dressing that elevates the flavors and turns this simple recipe into something truly exceptional.
Nutrition and Calories in Fruit Salad
Not all fruit salads are created equal. Our carefully crafted low-calorie recipe boasts a mere 65 calories for two cups of pure fruity bliss. We've managed to reduce the calorie count while enhancing the nutritional value with metabolism-boosting and fat-burning ingredients. For more fat-burning foods, be sure to explore our Top 10 Superfoods for Weight Loss. If you're craving even more healthy fruit recipes, the next section is about to become your go-to resource. Get ready to indulge in our vast collection of fruit-packed dessert recipes!
Important Note:
At Family Cuisine, our mission is to provide you with healthier, all-natural versions of your favorite recipes. While not all recipes may align with every diet out there, we strive to offer alternatives that will satisfy your cravings and contribute to your overall well-being.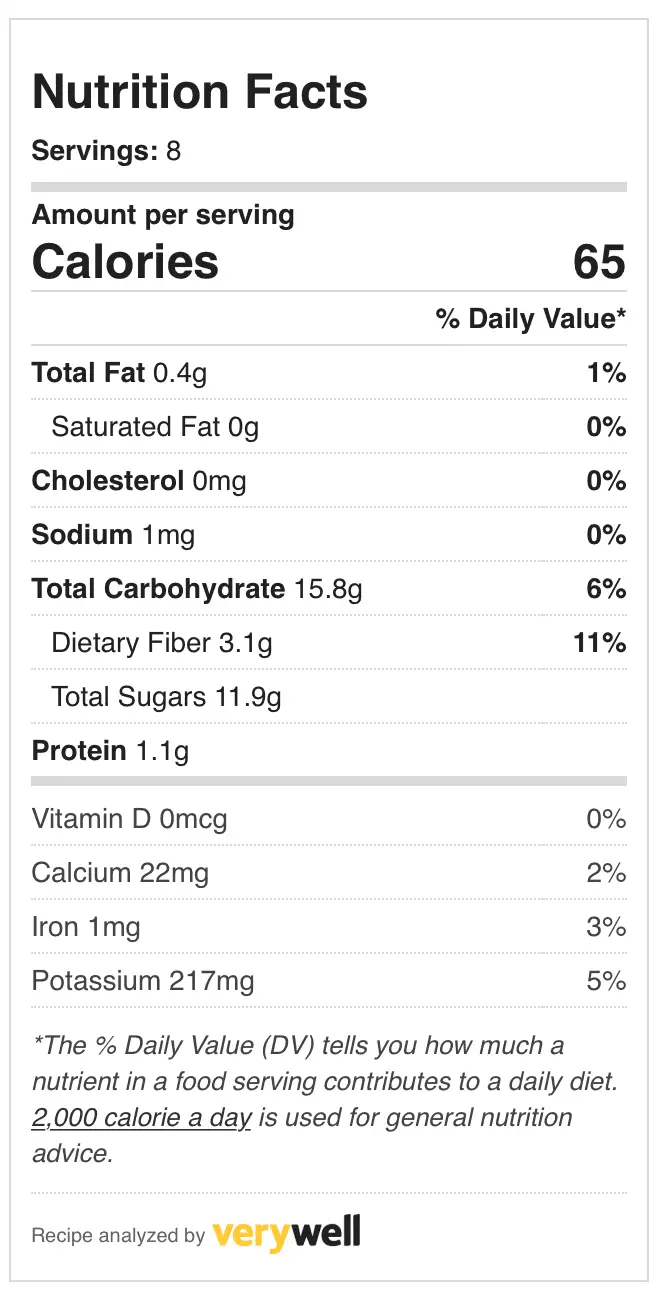 What to Read Next:



Lose Weight By Eating Cookbooks
Pin this Recipe to Pinterest: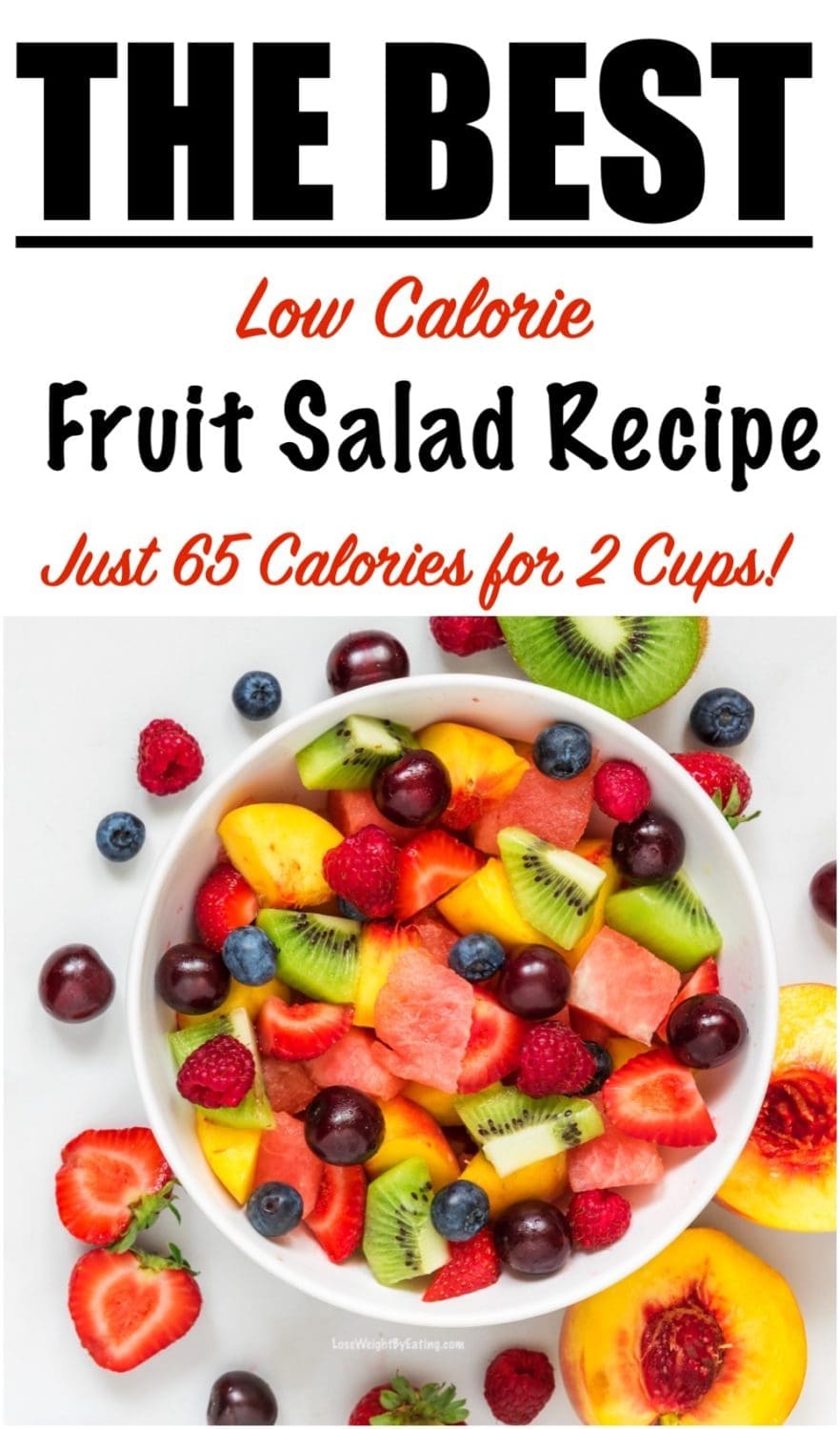 Article History:
Originally written and published on April 3, 2021 by Audrey Johns
Updated on March 15, 2023 by Audrey Johns
This article is brought to you by Family Cuisine.