Do you want a griddle AND a grill in one device? The Camp Chef Flat Top Grill gives you both, plus you get a large cooktop surface perfect for large groups or parties!
The Camp Chef 600 Lets You Grill & Griddle for Large Groups: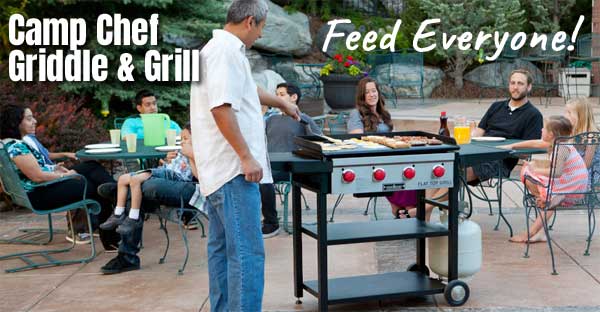 This Camp Chef Flat Top has a big advantage over other griddles: it comes with a griddle top AND and grill grates.
Therefore, you don't have to decide between the two devices, and you have more cooking options in your outdoor kitchen. Some people prefer paying a little more to have both a grill and griddle vs a Blackstone Griddle.
Not to mention you can save money by not having to buy 2 separate cooking tools for your outdoor kitchen. =)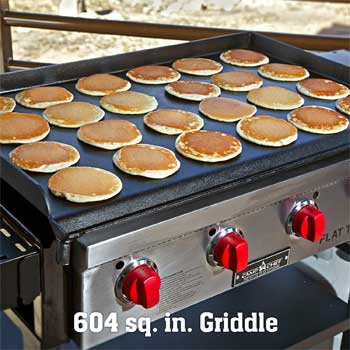 For example, you can still cook over an open flame and get those grill marks on your steaks and sausages.
However, you don't have to give up on pancakes, eggs or stir-fry dishes. (Griddles are great for cooking breakfast.) You get the best of both worlds!
Plus, the well-placed stainless steel burners heat up the griddle plate evenly. As a result, food cooks better with less effort.
In addition, you can divide the cooktop into multiple cooking zones with different temperatures. This feature comes in really handy when you're prepping different dishes at once.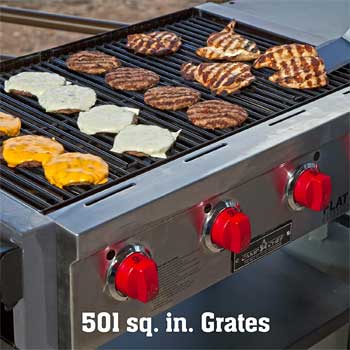 Note: By the way, you can get Portable Flat Top Grill in this same 600 size. Instead of wheels, this model comes with folding legs. Therefore, you can take it camping or to tailgaters much more easily.
How to Cook an Entire Meal at Once on a Flat Top Grill:
Check out the video below on how you can cook steak, potatoes and stir fry vegetables simultaneously – and with minimal effort. Plus, get some great cooking and flavoring tips.
In fact, you can easily steam vegetables on your griddle too! Just place a steamer pot directly on the griddle plate and use it just like you'd use your stovetop. Really versatile, right?
Note: As you can see, the Camp Chef includes 2 handy side tables and shelves underneath. Therefore, you get plenty of space for utensils, dishes, seasonings and food prep area. (This design makes creates an efficient workspace, with need to pull an extra table out!)
From fajitas to smoked wings to pizzas, crab cakes and plenty of game day appetizers, check out their plethora of mouth-watering recipe ideas.
Choose from 3 Griddle Sizes: 3, 4 or 6 Burners:
Choose from 3 sizes: 3-Burner (475) or the 4-Burner (600) or the 6-Burner (900)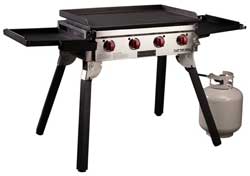 With the Camp Chef Griddle, you can choose from 3 different sizes. However, the 475 and 900 models don't come with interchangeable grill plates.
3-Burner Model: The 475 provides 468 square inches of cooking space and works best on smaller balconies or patios. Although this is the "small" version, the griddle plate still offers a good amount of cooking area. Plus, it has 3 separate burners which you can use to create multiple cooking temperature zones.
6-Burner Model: On the other hand, the Flat Top 900 offers 877 square inches for cooking. This larger model works great for big parties, cookouts and tailgaters. In addition, it allows you to prepare a large amount of food at one time.
Note: This griddle doesn't come with a lid. However, you can buy a stainless steel hard top to fit separately. Or, you can get a Camp Chef grill cover to protect the entire grill and side tables. (Some people do both.)
Specs for the Camp Chef Flat Top Grill:
Dimensions: 62.5″ Wide x 37″ Tall x 22″ Deep
Weight: 144 lbs
Griddle Cooking Surface: 604 Square Inches (31″ Wide x 20.5″ Deep)
Grilling Surface: 501 Square Inches
Griddle Material: Cold-Rolled Steel (comes pre-seasoned)
Heat Output: 48,000 BTUs
Fuel Source: Propane Gas Only
Color: Black
Matchless Ignition
Assembly Required
Instruction Manual (including how to assemble & parts list)
Brand: Camp Chef
Phone: 800-650-2433
For Sale: Flat Top 475 – Flat Top 600 – Flat Top 900
Note: Some people ask about warped griddle tops. Although most people will never come across this issue, the manufacturer does have some easy prevention tips.

First, warping can occur from uneven heat or heating the griddle to fast. Therefore, you want to start your griddle on medium heat before progressing to high heat. In addition, turn on all burners instead of just one. More information.
For more information, please see more information about Flat top grill combo with lid
Detail: 🔗