Disclosure: This blog post is sponsored by Hershey's Canada. I was compensated monetarily and with product. All opinions and experiences are my own.
Meet Reese Peanut Butter Pizza. It's made with pizza dough covered in a melty, wickedly sweet layer of the new Reese spread. I topped it off with Mini Reese Peanut Butter Cups. You will be in chocolate heaven with this dessert!
Reading: "can you make dessert pizza ahead?"
It's an exciting time for Canadians. Reese Peanut Butter Chocolate Spread is now in Canada. Sweet! It was introduced in the USA last year, but Canada has spoken up. Now we have it here too! If you are a fan of chocolate and peanut butter, you need to get your hands on a jar.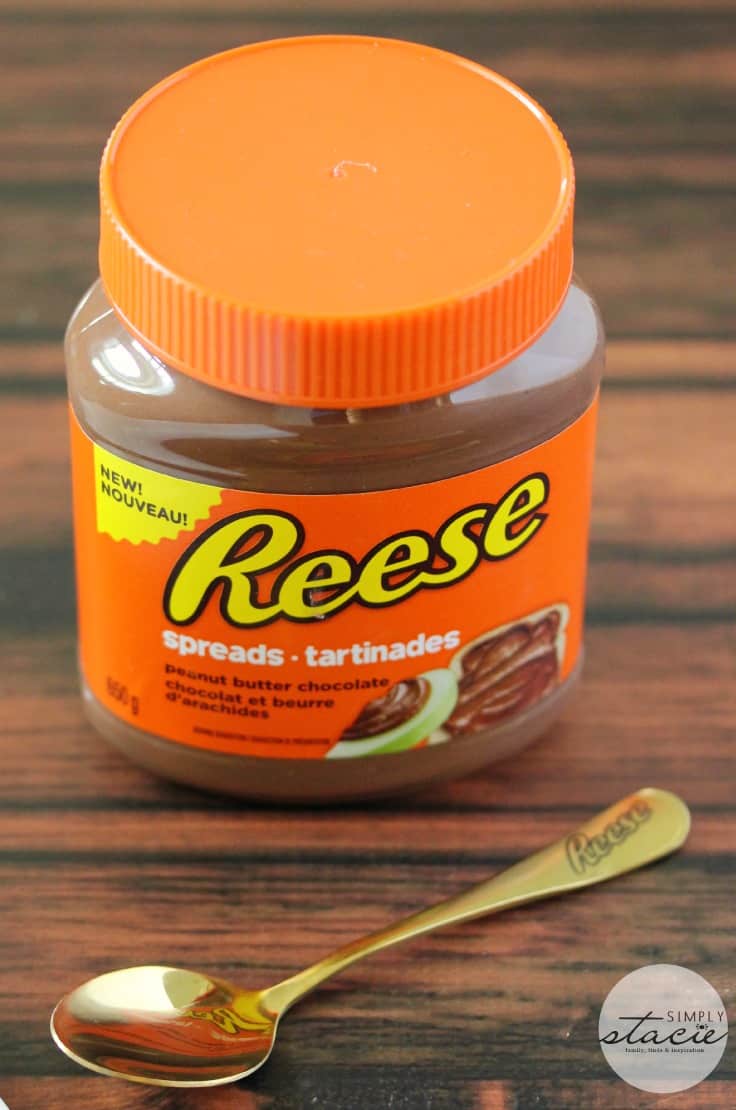 Reese Peanut Butter Pizza
John snagged the jar when I wasn't looking and ate several spoonfuls. I told him I wanted to use it for some recipes, but I guess he just couldn't resist! I can't blame him though. It is pretty tempting.
I've been doing a series of pizza recipes lately and wanted to incorporate it into a dessert pizza. This recipe is only three ingredients and is so easy. It's one that you'll remember after you make it the first time.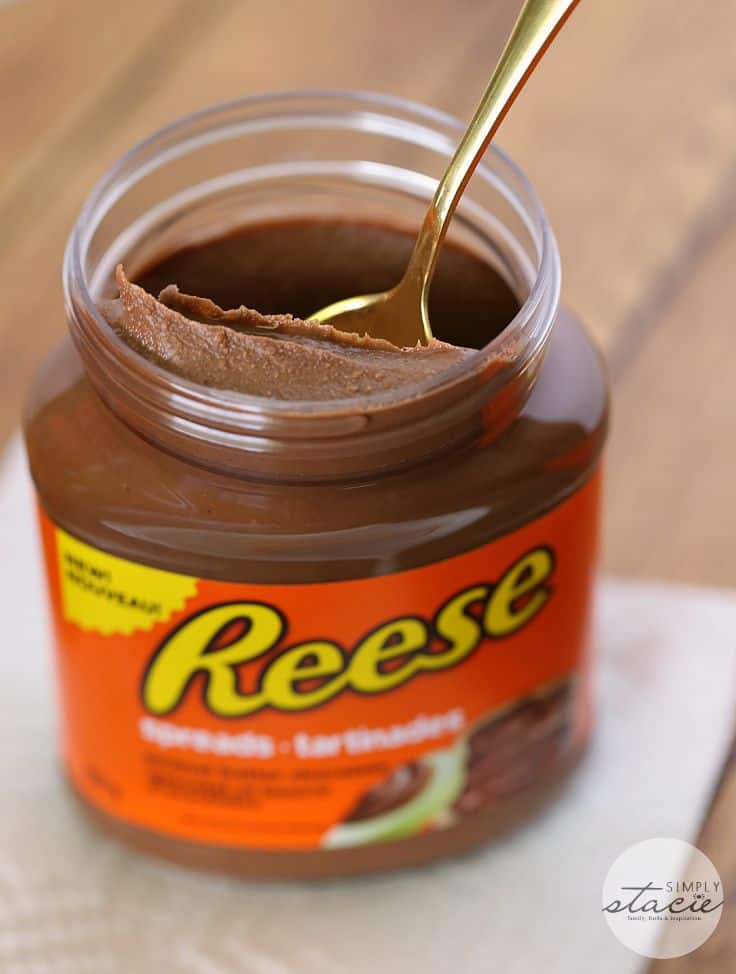 Reese's Melt Fast on Pizza
One suggestion – if you plan to take pictures, do it quickly! The peanut butter cups don't take long to melt into the chocolate layer below. I'm not complaining.
Read more: Easy Gluten Free Lemon Bread
Tell me what you would do with your jar of Reese Peanut Butter Chocolate spread. Would you eat it right out of the jar like my hubby did or save it for a yummy dessert recipe like me?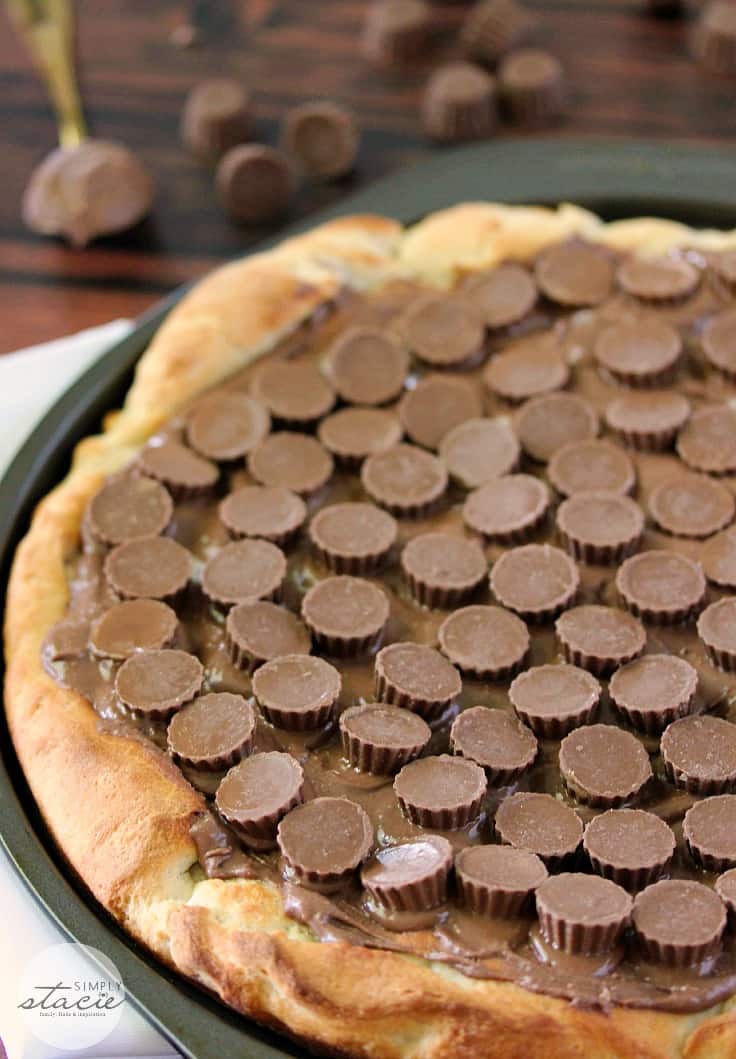 How to Make a Dessert Pizza Dough
Here is a secret! You can easily use store-bought Pillsbury pizza dough to give you that mild and tender pizza dough that is going to pair perfectly with your dessert toppings. No special crust is required. I find the regular pizza dough helps to tame down the sweetness on the recipe so that it isn't overly sweet. If you were to use a cookie crust, it might be overpoweringly sweet.
Can You Make Dessert Pizza Ahead of Time
I wouldn't suggest making this too far in advance. You will find if you place your Reese's on top of the pizza while hot they will melt super fast. If you want to prep ahead of time, then allow it to cool down, and then top with mini peanut butter cups so they will showcase in the presentation.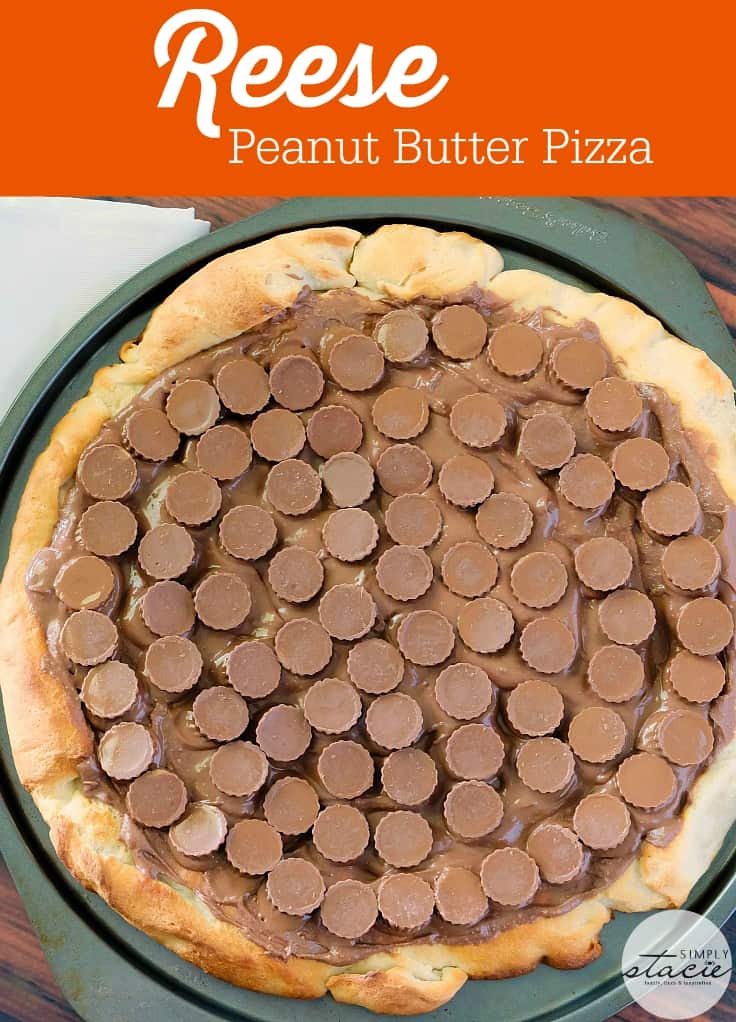 How to Make Reese's Pizza
Start by getting your oven preheated, and then work on prepping the dough. You will want to shape it out on a greased pan. Then bake until it is cooked through. Remove from the oven and take your chocolate peanut butter spread over the cooked pizza dough. It will be very hot so be careful. The peanut butter should soften and melt and be easy to spread. Leave a gap around the edge of the pizza.
Spread your mini peanut butter cups over top of the peanut butter. They will eventually melt into the chocolate peanut butter layer below. Refrigerate any uneaten portions.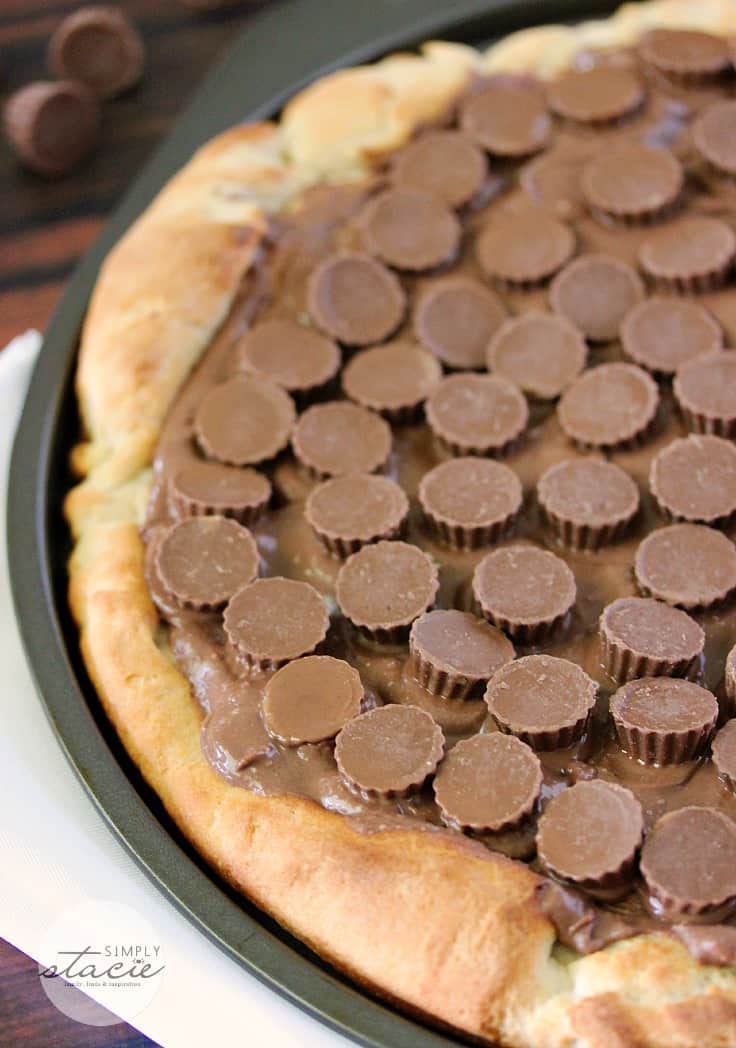 How to Store Reese's Dessert Pizza
Read more: what dessert to make with jumbo buttermilk biscuits
Any leftovers of this pizza need to be stored in the refrigerator. You want to make sure that you don't leave your pizza out for more than two hours or longer. The reason being is at that two-hour mark it will show that your pizza can hit an unsafe temperature and could develop bacteria at a faster pace.
I recommend if you plan to have this out for an extended time, toss in the fridge for at least 30 minutes before you hit that two-hour mark.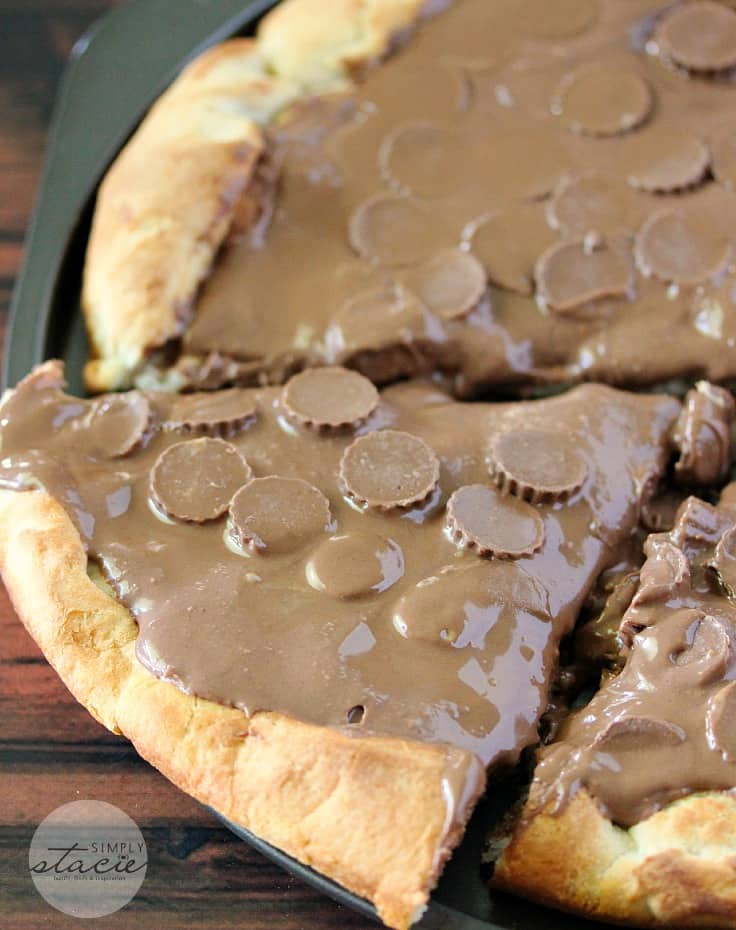 Searching for more dessert pizza recipes
Rocky Road Pizza | If you love rocky road, this is one pizza you need to add to your list. Such a sweet and delightful treat.
Caramel Apple Pizza | Here is an apple recipe that is loaded with apple and caramel. Such an easy recipe that will be a fun dessert for you and your family.
Cherry Cheesecake Pizza | Love cheesecake? Then give this pizza a try. All the flavors of that tangy cheesecake in a pizza form, that is scrumptious.
How to Warm Up Reese's Pizza
If you want to warm up this pizza you can pop a slice in the microwave for a quick reheat, but make sure not to overcook or it will burn the chocolate. Or you can opt to take a slice or two in a pan and heat very low and slow so it warms the crust up but keeps the chocolate from overcooking.
Can I Use Something to Replace Reese's Peanut Butter Spread
If you can't find this spread, don't worry, I used to be just like you. You could easily use a hazelnut spread, or even melt some peanut butter and chocolate chips together to create your own spread. It won't taste exactly the same but it would be similar to the peanut butter spread.
You'll also love Caramel Apple Pizza.
Give this dessert pizza a try, and let me know how you like it.

Read more: using canned biscuits to make dessert