This Carne Asada is a steak lover's dream come true! Melt-in-your-mouth, juicy and bursting with flavors from a citrusy marinade. So good that you will want to have it on rotation all summer long!
For more summertime cooking inspiration, check out my All-American Potato Salad, Grilled Cheese Skewers and Berry Sangria.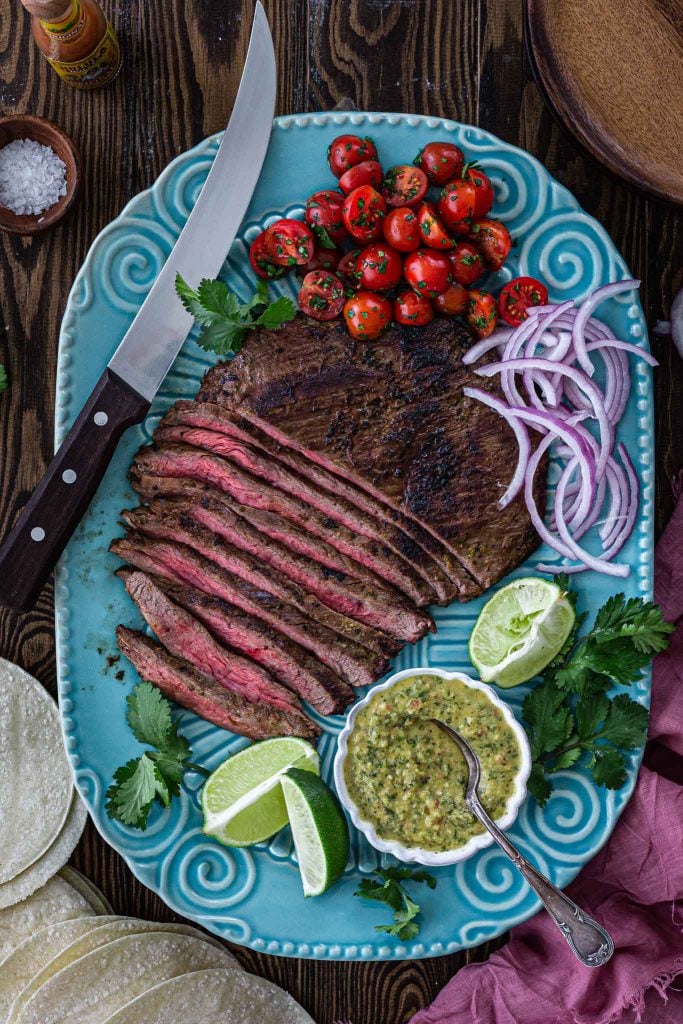 An authentic carne asada recipe!
It's officially grilling season and our grill has been working hard pretty much every night!
Nothing beats a summer backyard grilled dinner. Bonus points if it's steak! If you want to win my family's heart, serve us steak. 😍😍😍
So, as you can imagine, this carne asada recipe is a family favorite and it is made quite often in our house, either served by itself (with vegetables) or in tacos and burritos.
The marinade ingredient list might seem like a lot, but it's all easy to find ingredients that might already be in your pantry!
Whatever you do, please don't skip marinating your carne asada. The marinade is what transforms this dish from a simple grilled steak into a juicy explosion of flavors!
In this post, you will learn:
What is Carne Asada
Ingredients that you will need
What cut of steak is used for carne asada
How to make carne asada
What is the recommended internal temperature for best results
Serving suggestions
Carne Asada FAQs
Also read: Mexican Cuisine: How to Grill Carne Asada?
Plus a printable recipe!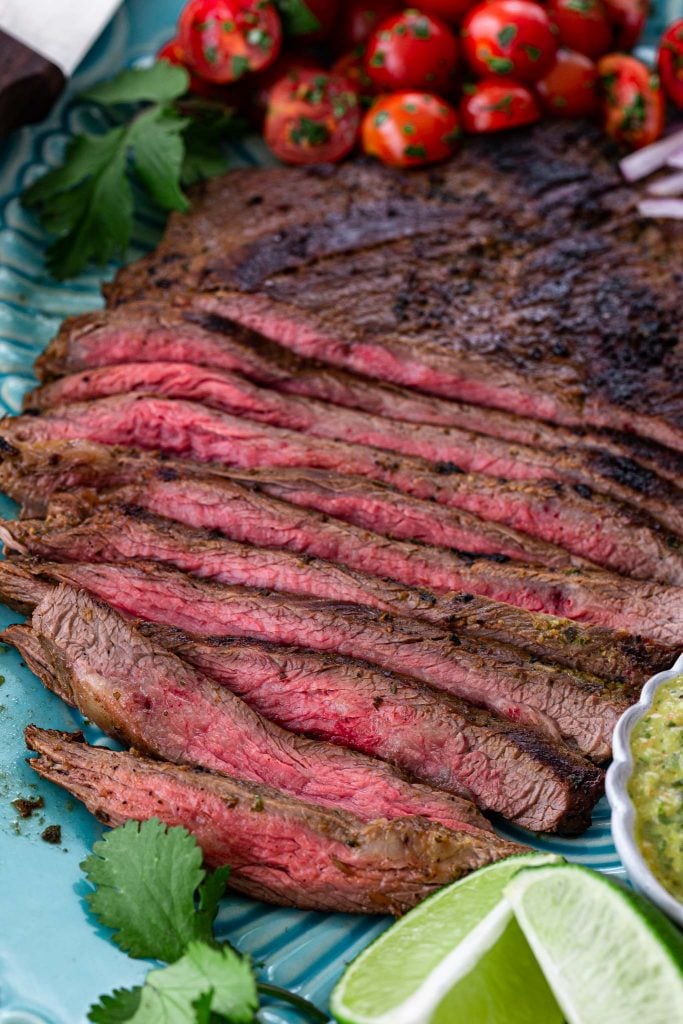 What is Carne Asada?
Carne Asada, which means "grilled meat" in Spanish, is exactly that: marinated and grilled steak that is sliced thin and served on tortillas or as an ingredient in other dishes.
It is enjoyed throughout Central America, but is particularly popular in Mexico, especially in northern Mexico, where it is considered a staple food and served at parties and celebrations.
Not to be confused with asado, which is the word used for "barbecue" (as both the technique and the social event) in South America. But that will be the subject of another post!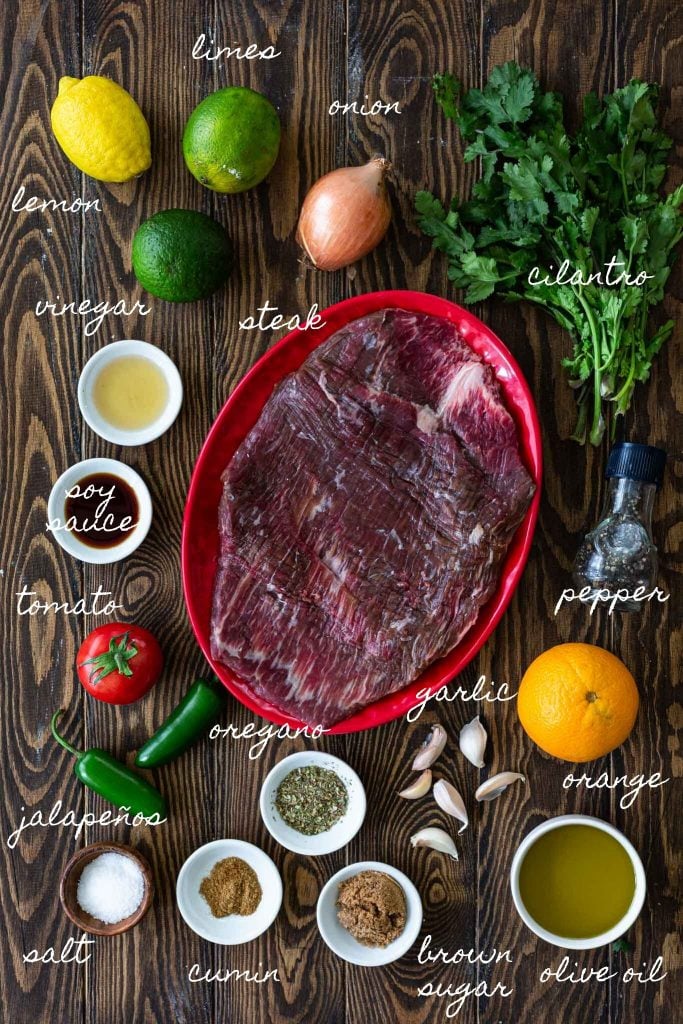 Ingredients
Here's what you'll need to make this carne asada recipe:
STEAK – I use flank steak.
MARINADE – A marinade made of onion, garlic, a roasted tomato, roasted jalapeños, orange juice, lime juice, lemon juice, white wine vinegar, soy sauce, brown sugar, oregano (preferably Mexican), cumin, salt, pepper, olive oil and fresh cilantro.
What kind of meat is carne asada?
Also read: Grilled Carne Asada – Tasty and Easy to Make
Carne asada is traditionally made with skirt steak, flank steak or flap meat. These are all similar cuts, so feel free to choose your favorite one!
That being said, you can make carne asada with almost any type of steak. But I would leave the ribeyes and strip steaks – aka "the expensive stuff" – alone. After all, it's almost an heresy to marinate these cuts!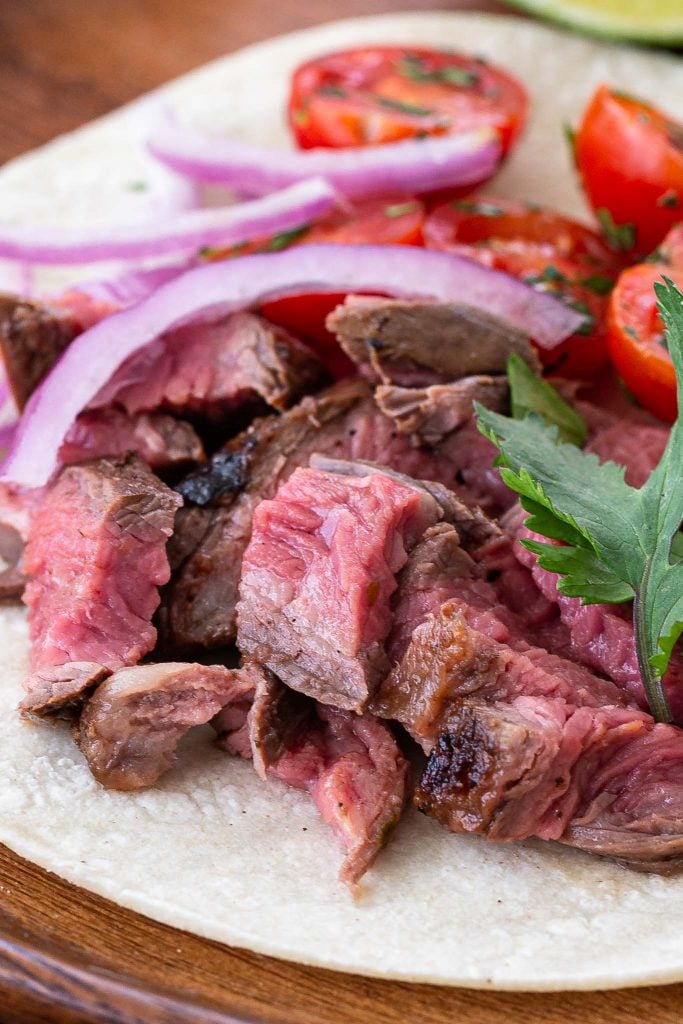 How to make Carne Asada
While the marinade for carne asada varies greatly depending on region and preferences, almost all the recipes will ask you to cook the steak on the grill.
I am including instructions for both the grill AND the stovetop, using a cast iron skillet. After all, grilling season eventually ends and I want you to be able to cook this indoors when the cravings strike!
A few tips:
If using flank steak, marinate for at least 3 hours, or up to overnight. If using skirt steak, you can get away with a shorter marinate, at least one hour!
Always clean and lightly oil the grates of your grill before cooking to prevent the steak from sticking when cooking. I like to dip a piece of paper towel in a bit of oil (not too much or you can start a flare-up) and use tongs to wipe it over the grate.
If using the cast iron skillet, let it preheat for at least 5 minutes over medium-high heat. You want the pan to be sizzling hot when you add the steak, so you can get that nice char that is characteristic of carne asadas!
Do not cut your steak right away! Resist the temptation and allow it to rest for 5 to 10 minutes, because the juices need time to redistribute.
And, finally, always slice your steak against the grain. The grain is the direction that the muscle fibers are aligned in a piece of steak. When you cut the meat against the grain, you shorten these fibers, which makes for a tender bite.
Recommended tools and equipment: baking sheet, blender or food processor, gallon sized ziploc bag, meat thermometer, charcoal or gas grill, or cast iron skillet.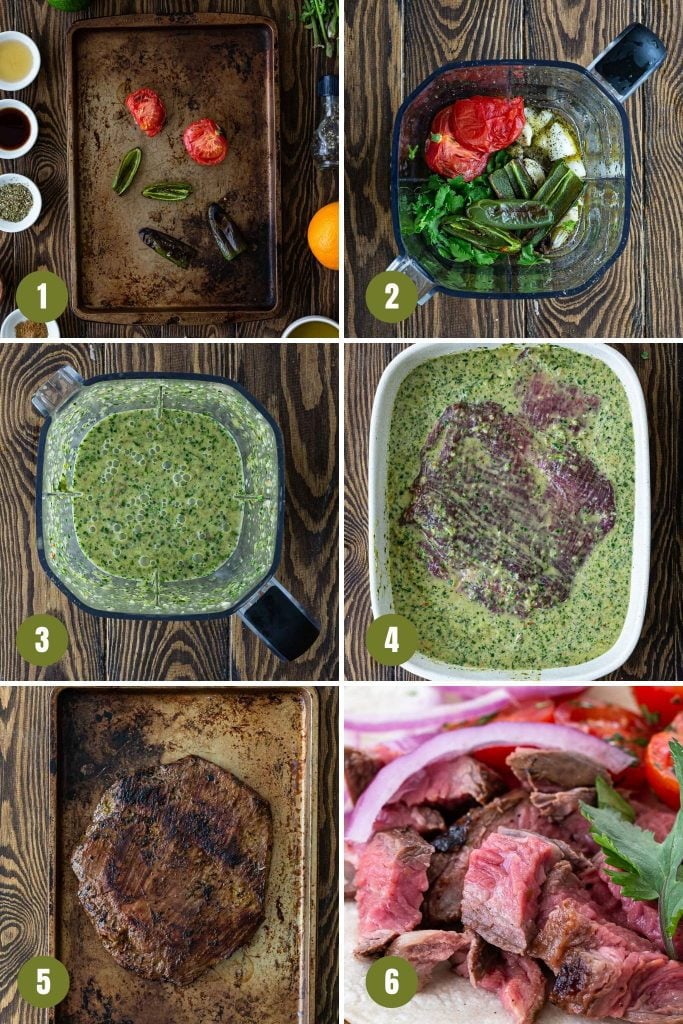 Here's how I make this carne asada recipe. As always, you will find the printable (and more complete) version of the recipe at the end of this post.
Carne Asada Marinade
Roast the tomato and jalapeños: Cut the tomato and jalapeños in half, remove and discard jalapeños seeds, and place them under the preheated broiler for 3 to 5 minutes or until charred.
Make the marinade: Blend all the ingredients for the marinade in a blender or food processor. I like to reserve a cup of the marinade to serve with the cooked meat.
Marinate the steak: Place the steak and the blended marinade in a gallon-sized ziplock bag. Squeeze all air out of the bag and seal, making sure the steak is throughly coated in the marinade. Refrigerate for 1 to 8 hours. (If using flank steak, marinate for at least 3 hours!)
How to cook Carne Asada
Also read: The Best Grilled Carne Asada Recipe Ever
There are two ways to cook carne asada: in the grill or on the stove. If cooking on the stove, I highly recommend using a large cast iron as that will give you the best char!
Grilling Instructions:
Preheat your grill – If using a charcoal grill, prepare your grill for direct grilling over hot coals. If using gas, turn the burners to the highest setting and preheat for 10 minutes.
Cook the steak – Remove the steak from the marinade at least 15 minutes before cooking and brush off the excess of marinade. Place the steak on the hottest side of the grill and cook for a few minutes, until well charred on the bottom side. Turn and sear the second side.
Rest and slice – Remove the steak from the grill and let it rest for 5 to 10 minutes. Slice thinly, against the grain, and serve immediately!
Cast Iron Instructions:
Remove the steak from the marinade at least 15 minutes before cooking, and brush off the excess of marinade.
Preheat your cast iron pan over medium-high heat for about 5 minutes, or until very hot.
Cook the steak, about 3-5 minutes per side, until it reaches desired doneness.
Let the steak rest for 5 to 10 minutes before slicing against the grain.
Temperature for Carne Asada
The FDA recommends cooking beef to an internal temperature of 145 degrees F.
However, if you cook flank steak to that high of a temperature, it will be rubbery and unappetizing, so I recommend cooking it medium-rare (115-120 degrees F) for best results!
If you are a medium-well or well done steak kind of person, I would use skirt steak instead of flank. Since it is a fattier cut, it's naturally more tender and can be cooked more without losing flavor and texture.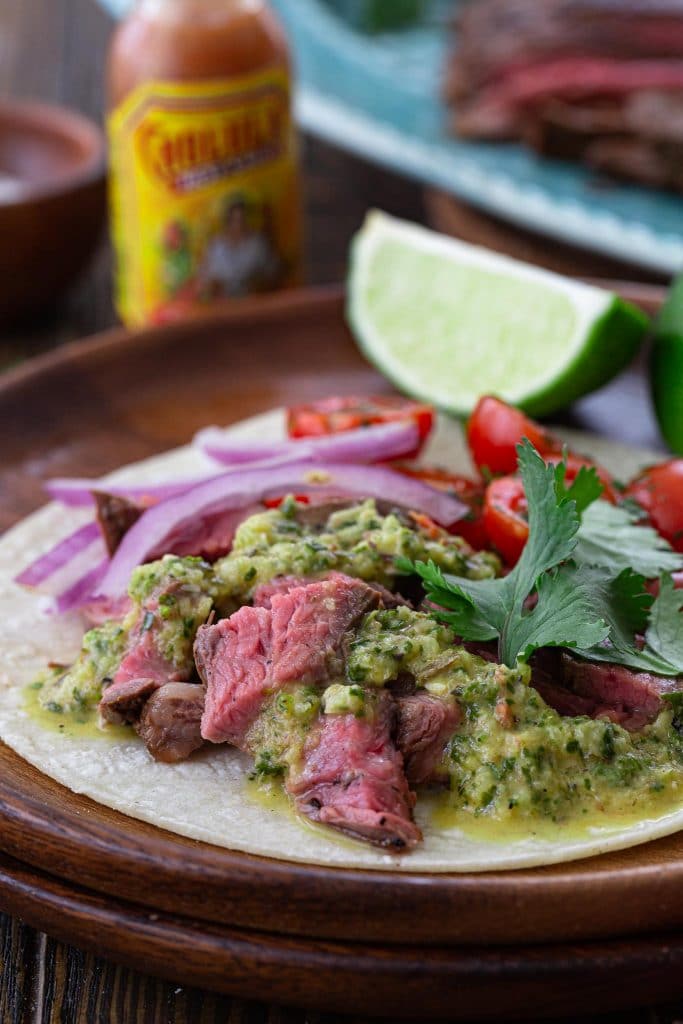 What to serve with Carne Asada
I like to serve my Carne Asada in a big platter, alongside a little bit of the marinade (that I reserve before marinading the steak), some kind of salsa (fresh tomato salsa is my favorite!), sliced avocados or guacamole, and corn tortillas.
Sometimes I serve a side of Mexican rice and beans for a heftier meal.
You can also use this carne asada recipe to make tacos, burritos or burrito bowls, and/or tostadas.
Frequently Asked Questions
Did you make this recipe? I love hearing from you! Please comment and leave a 5-star rating below. You can also take a photo and tag me on Instagram with #oliviascuisine.
If you love this recipe, you will also like:
For more information please see the list of How long to grill carne asada