Chef's Salad is a classic salad made with lettuce, sliced meats and cheese, hard-boiled eggs, and other delicious ingredients.
We've been craving salads lately – and Chef's Salad is one of our favorite salads of all-time!
What is a Chef's Salad?
A Chef's Salad is essentially a salad consisting of hard-boiled eggs, a variety of julienned meats (such as ham, turkey, chicken or roast beef), tomatoes, cucumbers and cheese, all served on a bed of lettuce or other leafy greens.
Chef's Salad is specifically assembled as a "composed" salad, with each ingredient on display as it is brought to the table. It will impress any guests at your table, and it has enough ingredients to be a filling lunch or dinner!
PIN THIS RECIPE NOW!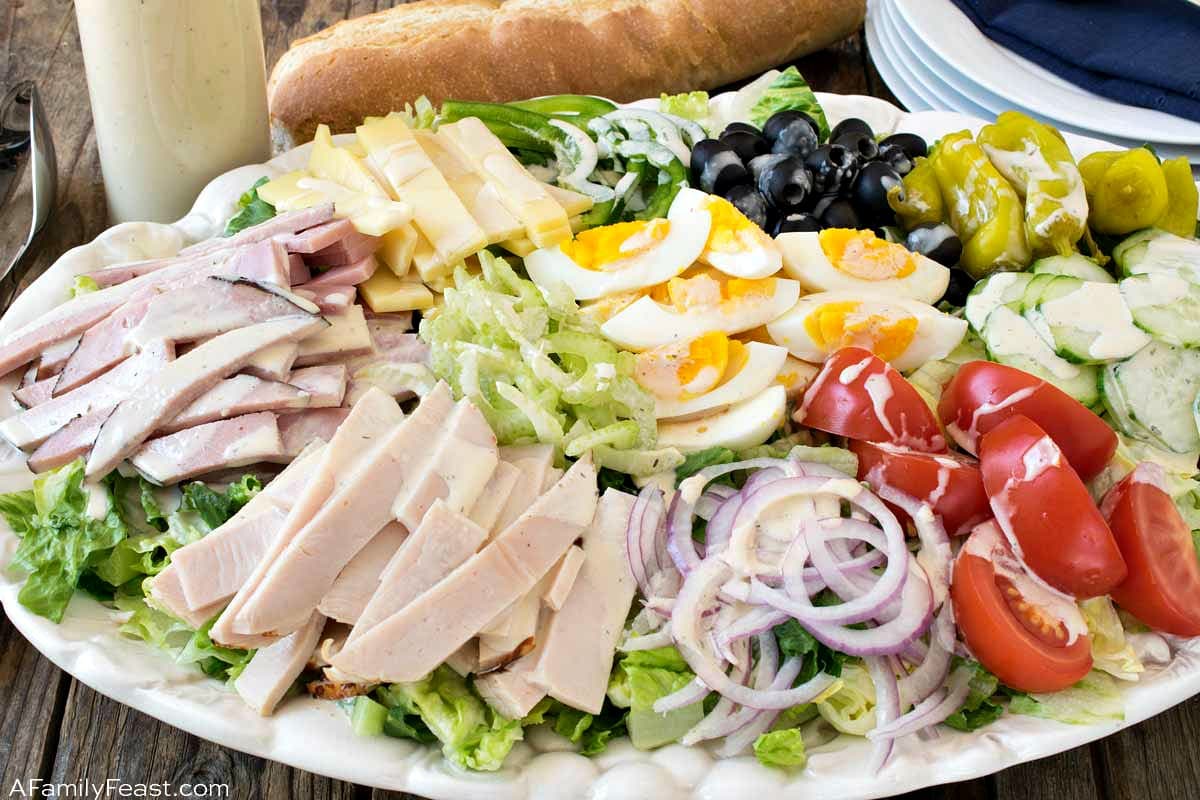 What is the origin of the Chef's Salad?
According to Wikipedia, food historians disagree on the origin of a Chef's Salad. Some trace it back to 17th century England and a dish called Salmagundi – which was a variety of sliced meats, stewed vegetables and other ingredients that were assembled on a plate before eating.
Some American food lore gives original credit to Victor Seydoux – who worked at both the Waldorf-Astoria and the Ritz Carlton, before becoming chef at the Hotel Buffalo in Buffalo, New York in the early 1920's. Victor's wife claimed that customers started requesting an off-menu salad comprised of meats, cheese and hard-boiled eggs. It became such a popular request, it was added to the menu. Victor was given the honor of naming the salad – and he referred to it as a Chef's Salad.
PIN THIS RECIPE NOW!
The popularity of Chef's Salad grew with the publication of a cookbook of recipes from the restaurants at the Ritz-Carlton – and that cookbook included a Chef's Salad by chef Louis Diat. His version was definitely more upscale – with boiled chicken, smoked ox tongue, smoked ham, hard-boiled eggs and watercress greens. It was served with French dressing.
Today, Chef's Salads are often on the menu, and the ingredients can change from restaurant to restaurant based on the Chef's preference (or more likely the ingredients the restaurant has on hand.)
How do you serve a Chef's Salad?
You can prepare a Chef's Salad as individual servings in small bowls or plates, but the most impressive way is to bring it to the table in one large bowl or platter. Then, each dinner guest can choose the ingredients for their own plate.
PIN THIS RECIPE NOW!
We like to drizzle a bit of the dressing over the salad on the platter, then serve more dressing on the side. (We show our Chef Salad with our Honey Dijon Ranch Dressing recipe from earlier this week, but feel free to serve it with any of your own favorite dressings instead.)
You can also change up the meats, greens, or the dressing – and even add additional items such as olives, Pepperoncini and thinly sliced red onions like we did. You are the chef here – and this is your Chef's Salad, done your way! Use our Chef's Salad recipe below as a guide and have fun making yourself and your guests the perfect salad.
This recipe appeared on A Family Feast in December 2013.
You may like these other Salad recipes:
Shredded Romaine and Cucumber Salad with Yogurt Dressing
Caesar Salad with Grilled Caesar Chicken
Roman Wedge Salad
Kale Apple Walnut Salad
Grilled Corn and Jalapeño Salad
PIN THIS RECIPE NOW!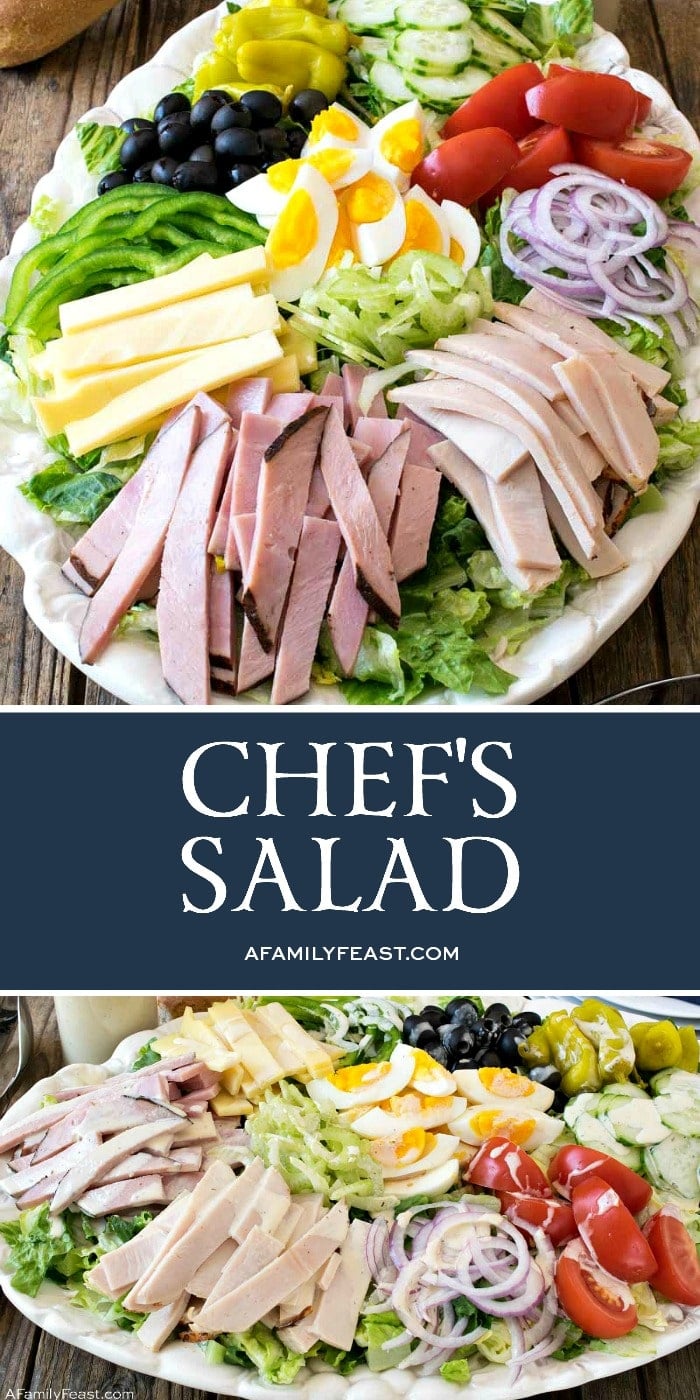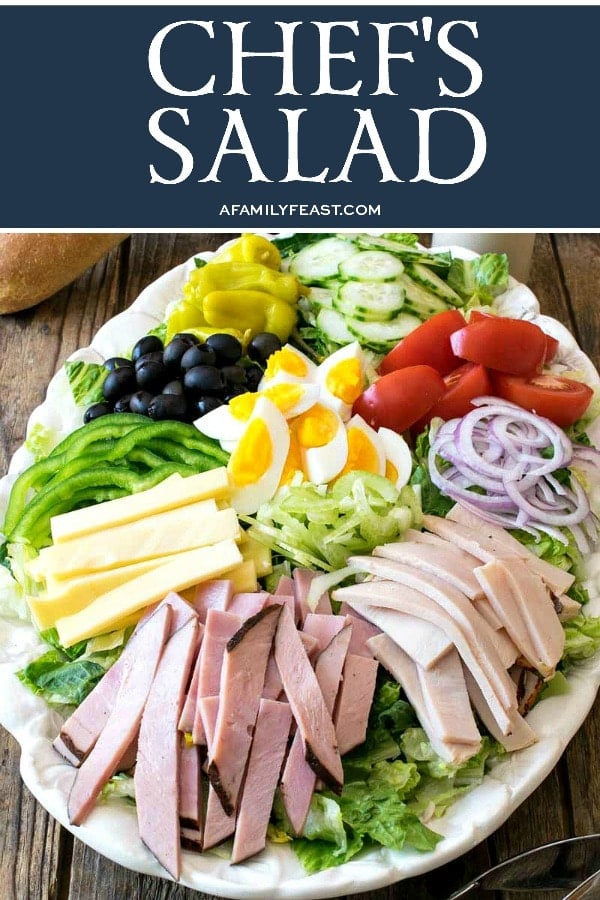 For more information, please see more information about House salad vs chef salad
Detail: 🔗