Crisp lettuce combined with yummy ingredients, like ham, turkey, eggs, cheese, cucumber, tomatoes and croutons, make up this simple, yet delicious, chef's salad recipe. Drizzle with your favourite salad dressing, and you're set for a satisfying meal. It's a classic green salad you'll want to make time and time again!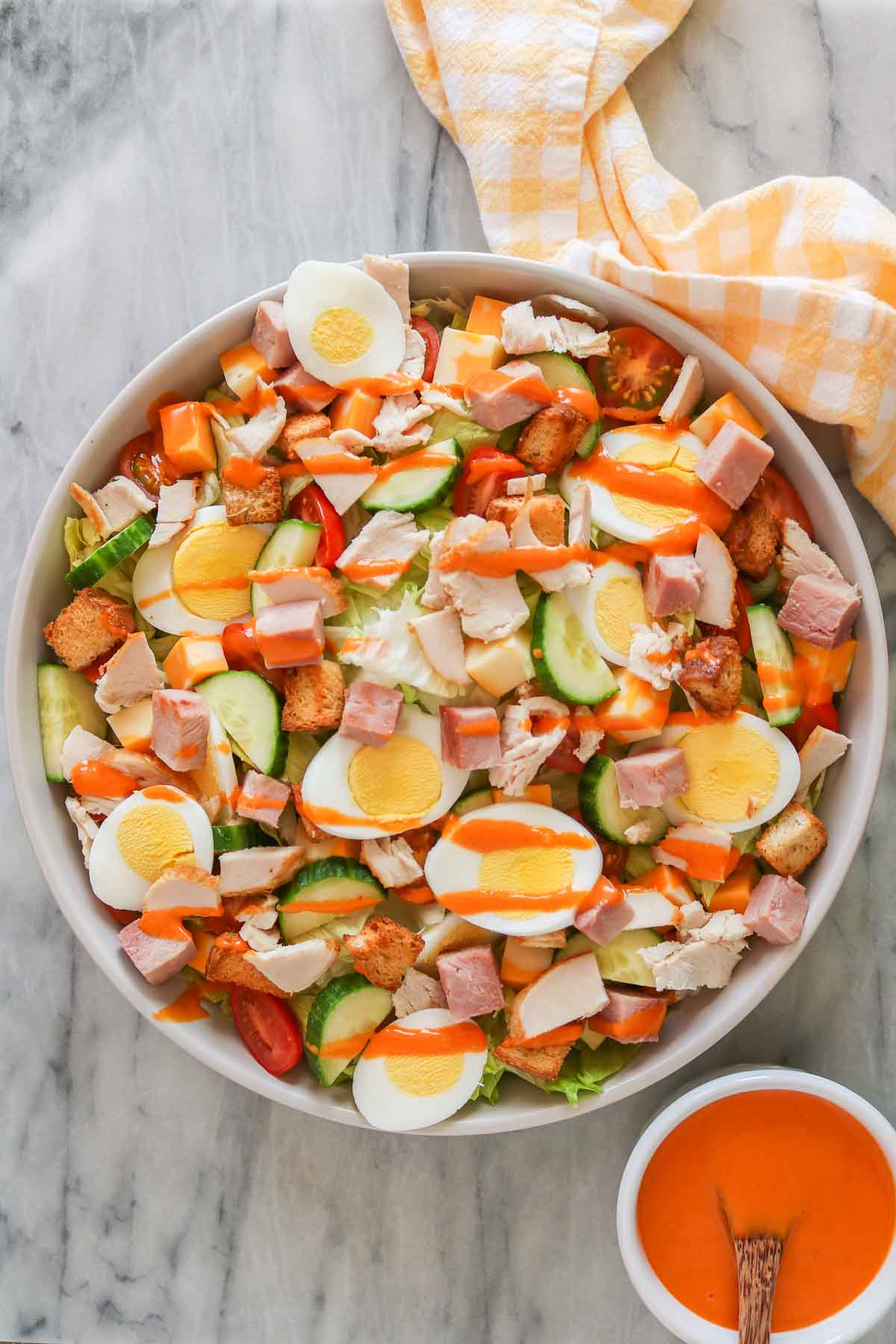 This post is quite difficult for me to write. You see, my nan passed away in February of this year.
My nan was an important part of our family, my life. Nothing will ever replace her, and she will forever be missed. Even now, I find myself expecting her to call, or wanting to call her, and then I realize she's gone.
I have so many wonderful memories of my nan that I could write a book, but something that sticks out vividly about her was her cooking and love of it. And was she ever funny! She'd say the most hilarious things, and her smile and laughter would light up a room. Anyone would truly be lucky to meet her.
A Delicious Salad Inspired by Nan
I've shared a recipe inspired by Nan a while back … her family-famous cabbage rolls. Today, though, it's a chef's salad recipe.
"Chef's salad" or "chef salad." What do you call this classic green salad? I've heard it referred to both ways. For me, it's the former. Either way, it's delicious and quite special to me.
Growing up and going to grade school, I would often visit my nan's during lunch-time break. One of the things that she used to make me was a chef's salad and, boy, did I enjoy it.
It was quite a simple chef's salad, like most are, but it was so tasty and definitely made with love. She'd take so much pride in it and always say "I washed the lettuce three times."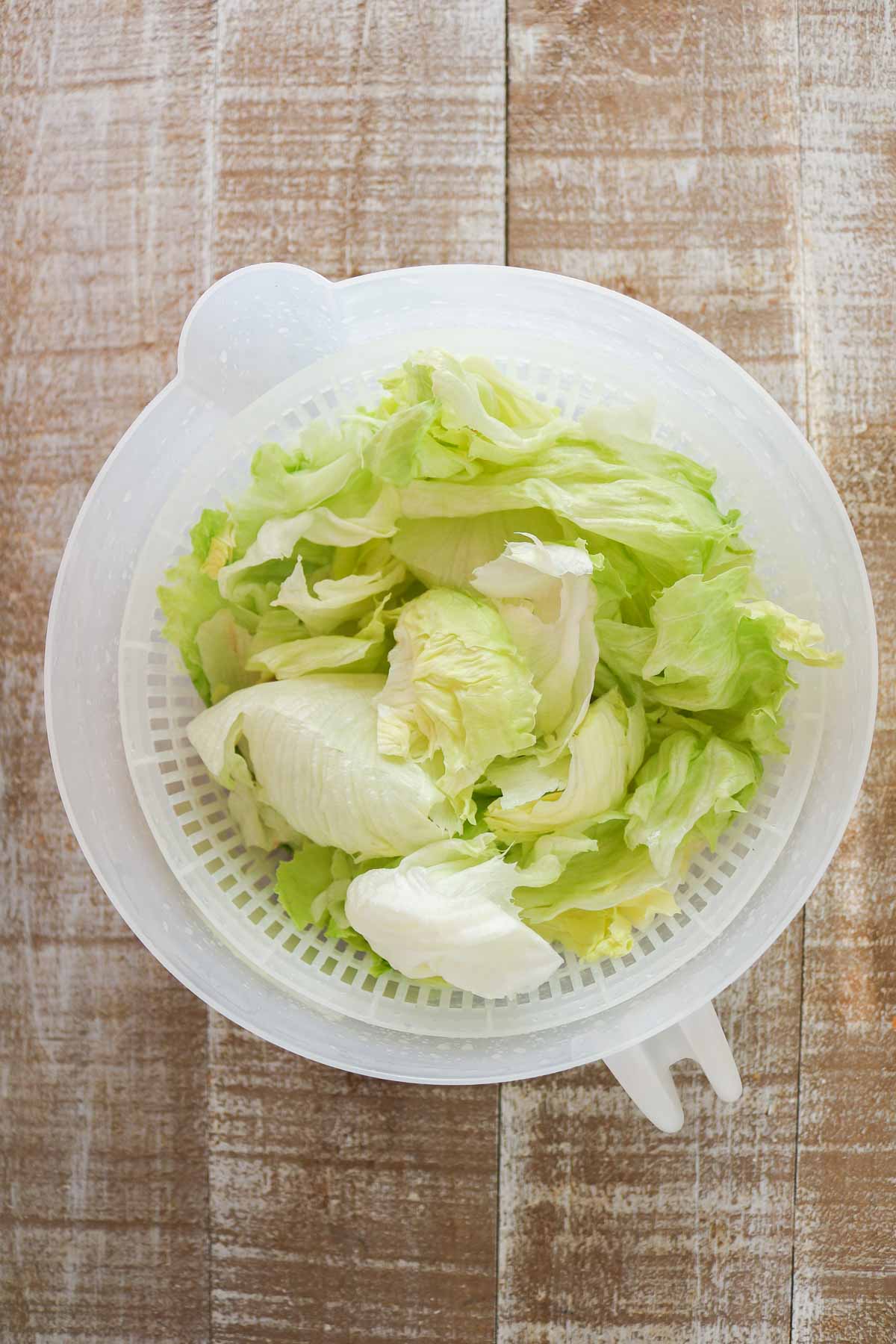 I remember her making me a big bowl, piled high, and I'd drizzle it with bright orange store-bought French dressing. Talk about good.
It's the combination of iceberg lettuce and French dressing, in particular, that makes this chef's salad "nan's salad."
Funny thing about food, how the memories that it evokes transcends the actual taste of what you are eating. Know what I mean? I mean, yes, chef's salad is yummy. But, to me, it's much more than that. One bite of salad and I'm transported right back to her table, with nan smiling over at me.
So, this one is for you nan. Love you, miss you.
Ingredients for Chef Salad
Lettuce (like iceberg, romaine, or green or red leaf lettuce)
Meats (usually a combination of them, like ham, turkey roast beef and chicken)
Hard-boiled eggs
Cheese (like cheddar cheese or Swiss)
Tomatoes (like hothouse, cherry or grape)
Cucumber
Croutons
How to Make It
Making a chef salad couldn't be simpler! After all your ingredients are prepped, grab a large salad bowl, place the lettuce into the bowl, then layer on the remaining ingredients. Toss and serve with your favourite salad dressing drizzled over top. Refer to the recipe card below for full details on how to make this chef's salad recipe.
Type of Lettuce To Use
Nan always used iceberg lettuce for chef's salad, so that's what I always go for. I don't use a lot of iceberg lettuce for salad, but whenever I make chef's salad it's what I like to use. I just love how crisp and fresh it is. Plus, iceberg has its own unique flavour profile which I enjoy in this green salad.
If you prefer something else, romaine, Boston, or red or green leaf lettuce are all great options.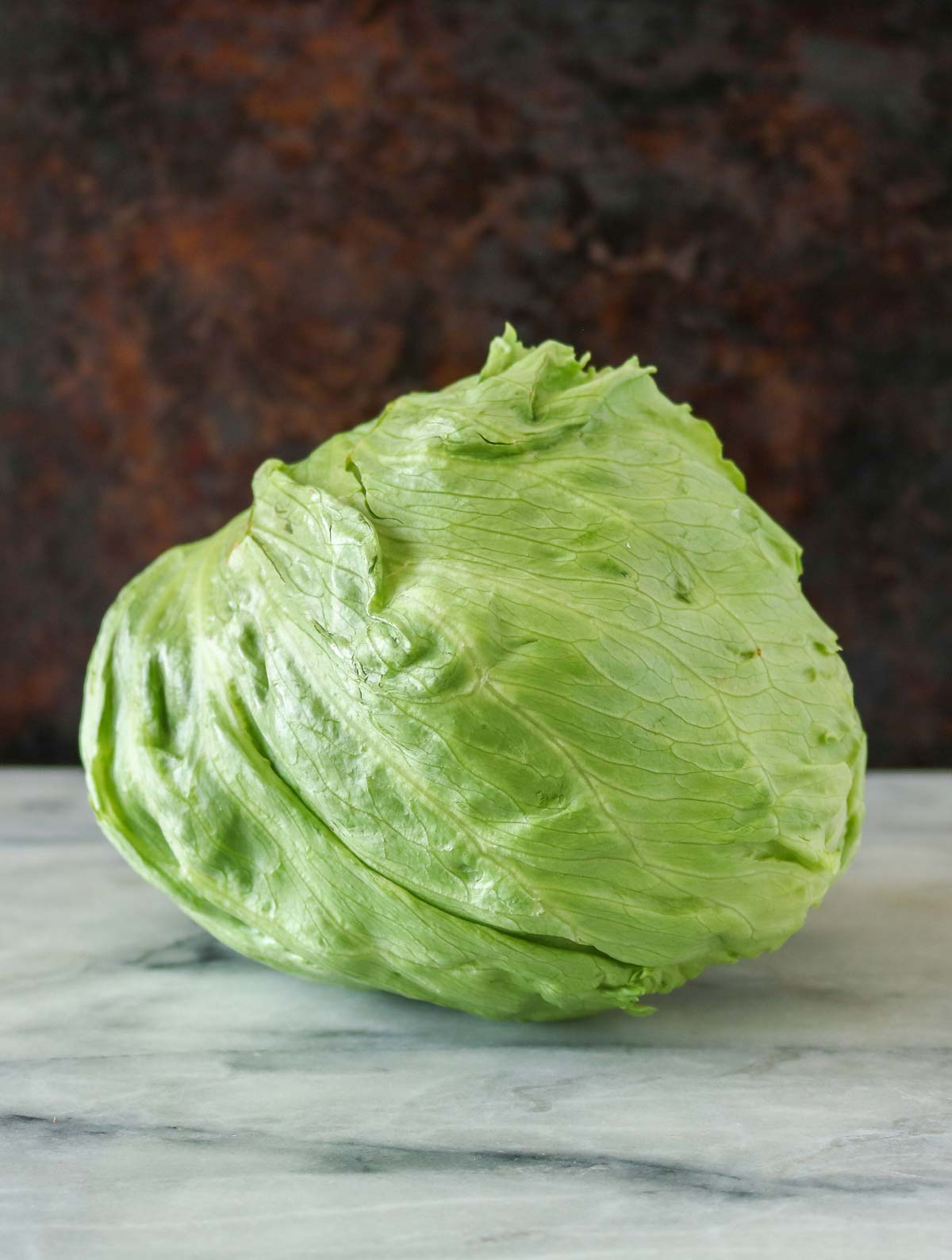 Type of Salad Dressing to Use
Typically, the classics are used for chef salad. French or ranch dressing, or even vinaigrette are popular choices. My favourite? French, hands down. Funny thing, I don't often use French dressing for much else, but when it comes to chef's salad, that's why I go for (probably because that's what I grew up with and enjoyed when nan made me chef's salad).
Honestly, though, use whatever salad dressing you enjoy best!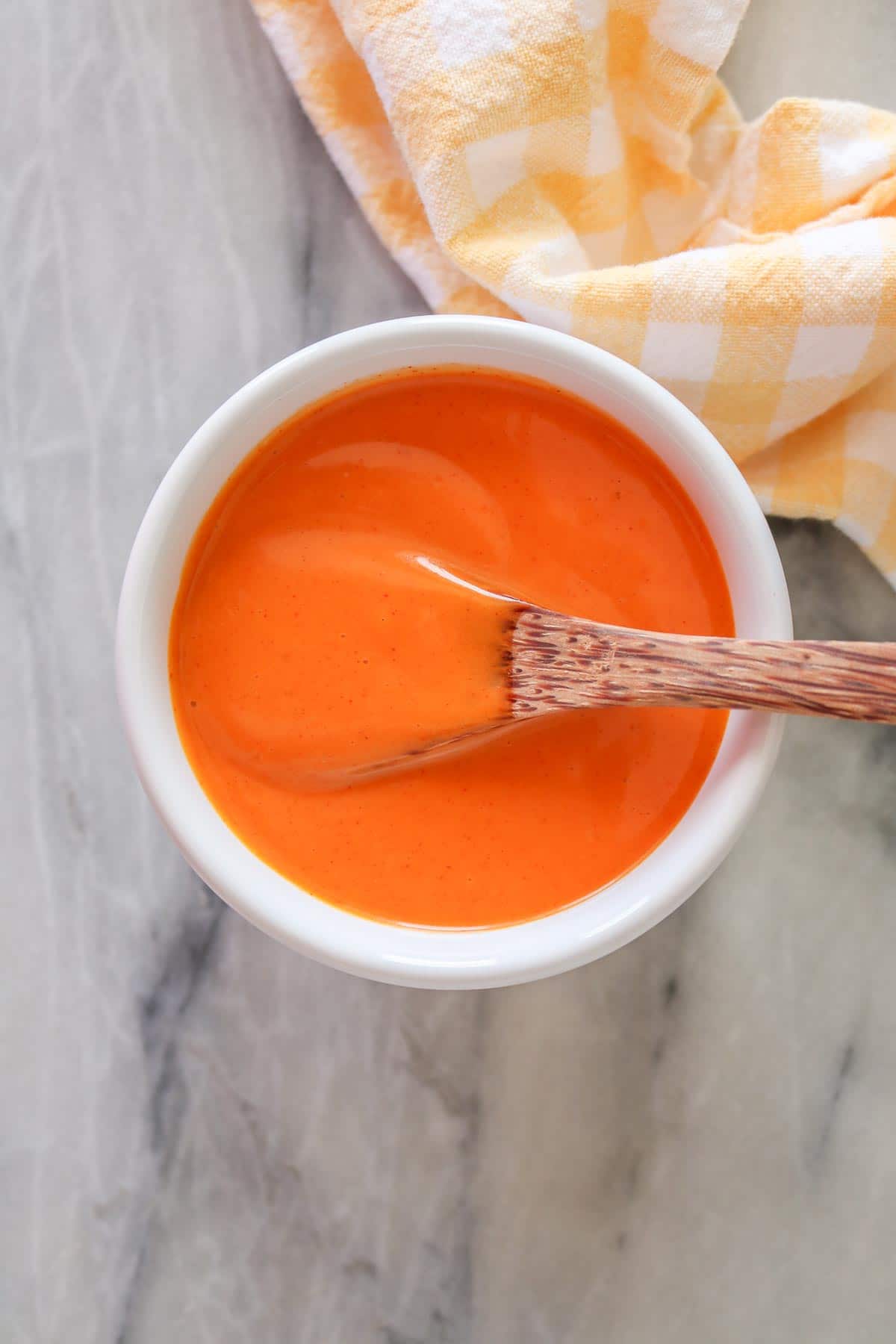 Tips for Making This Salad
As with making any green salad, ensure that your lettuce is spun pretty dry in a salad spinner after washing. Watery lettuce can make your salad limp and the salad dressing doesn't cling to it as well.
The addition of salt and pepper is optional. Some people like a little in their salad, but I often prefer to omit.
Use your favourite store-bought variety of croutons or make your own homemade croutons for something extra special. Homemade is a great way to use day-old bread you may have on hand.
When making chef's salad, Nan often used thinly sliced smoked ham and turkey (basically, something that one would often use for a sandwich). I used freshly cooked turkey breast and cubed smoked ham because that's what I had on hand but either works.
Sometimes Nan used pickle instead of cucumber. And, yes, it worked and it was tasty. So, if you find yourself with no cucumber on hand, try sliced pickle (I love Kosher pickle).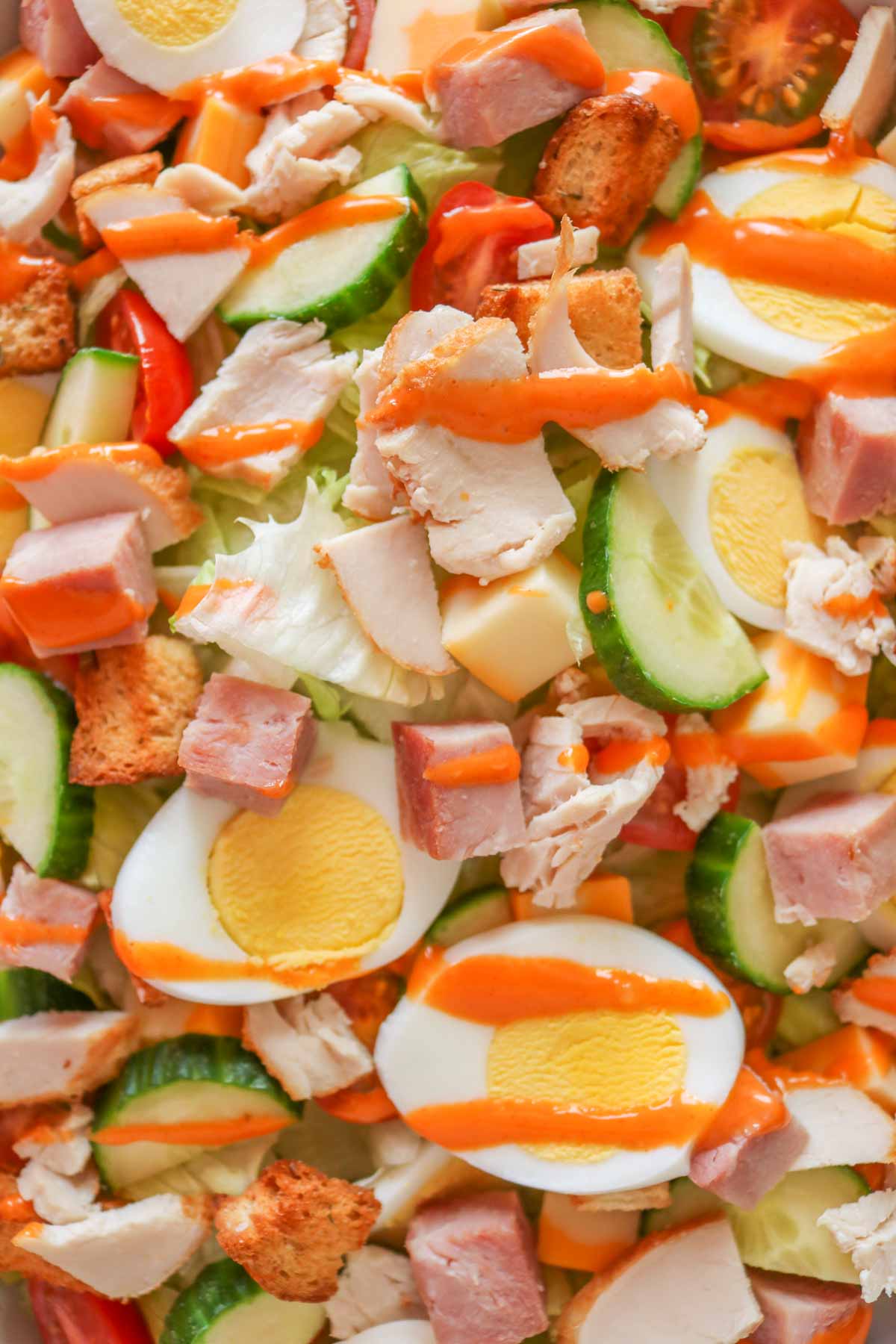 What To Serve With It
Chef's salad makes a lovely lunch or light dinner all on its own, but if you want to make things more substantial, serve it with some homemade soup, garlic bread or a sandwich.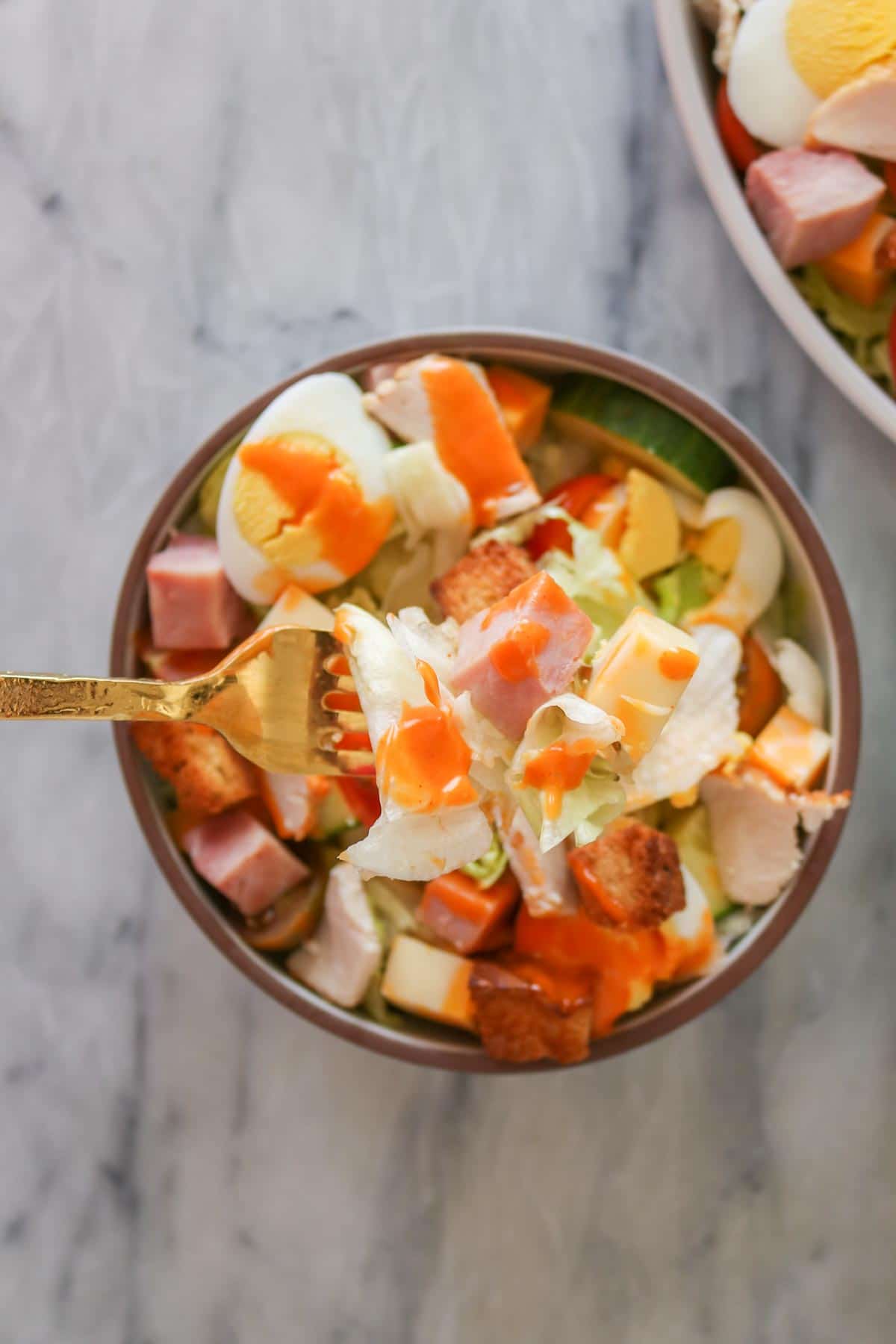 More Yummy Salad Recipes
Mixed Green Salad With Fruit
Blueberry Spinach Salad
Southwest Chicken Salad With Chipotle Lime Dressing
If you make this chef's salad recipe, be sure to leave a comment below!
Please see more list about What is in a chef's salad
Detail: 🔗