An easy stovetop method and simple ingredients create this flavor-packed Chicken and Sausage Stew with White Beans and Spinach. A rustic, comforting choice for a cold winter evening.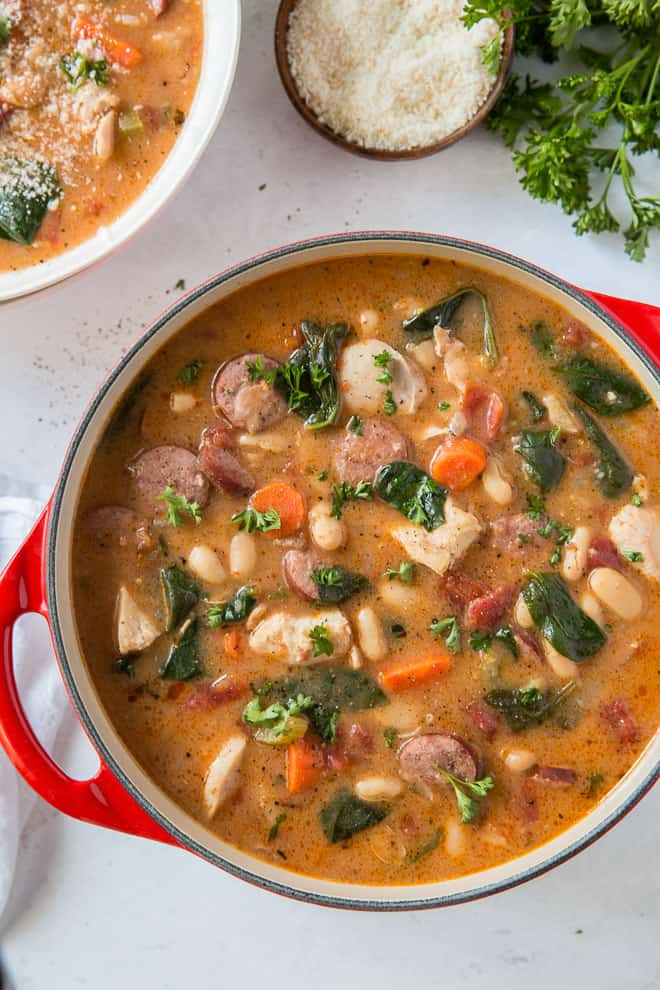 Don't you just love cold weather food? I've been in a soup and stew mood since November and our cool winter temps have kept that mood going strong. I've had such great feedback from so many of you on my Instant Beef Stew and my recipe for Classic Stovetop Beef Stew has become one of the top posts on Valerie's Kitchen since the onset of fall. Well, I'm right there with you and we've been enjoying both of those recipes here as well.
I opened the blinds in our bedroom this morning and was stunned to see a blanket of white covering the ground. We finally had our first Oregon snow! I literally ran for my sweater and boots and with a pretty serious case of bedhead, ran out the door to snap photos. Check out my Instagram story to see what I'm looking at through my windows as I write this post.
The timing could not be better to be sharing this incredibly comforting Chicken and Sausage Stew with you all today. I love this lighter take on stew. The fact that it's a one pot recipe means less time in the kitchen cleaning up and more time cozying up by the fire.
Bites of boneless chicken thighs and sausage cook together in a deliciously seasoned broth until fork tender. Creamy cannellini beans and fresh baby spinach add texture, color, and great nutrition.
It all happens in one pot on the stove and the result is pretty darned fabulous.
How to Make Chicken and Sausage Stew with White Beans and Spinach
The prep for this recipe includes trimming any excess fat from the edges of boneless, skinless chicken thighs and dicing up some veggies. Easy.
You'll need a Dutch oven or nice sized soup pot.
What is Mirepoix?
A mirepoix is the aromatic base of a multitude of soup and stew recipes and the first step in creating this tasty Chicken and Sausage Stew. It sounds fancy but it's just the simple combination of diced onion, celery, and carrots slowly cooked in either butter or oil until tender. We're also adding a little garlic to the pot. This cooking over LOW or, in the case of this recipe, MEDIUM-LOW heat, coaxes out lots of great flavor.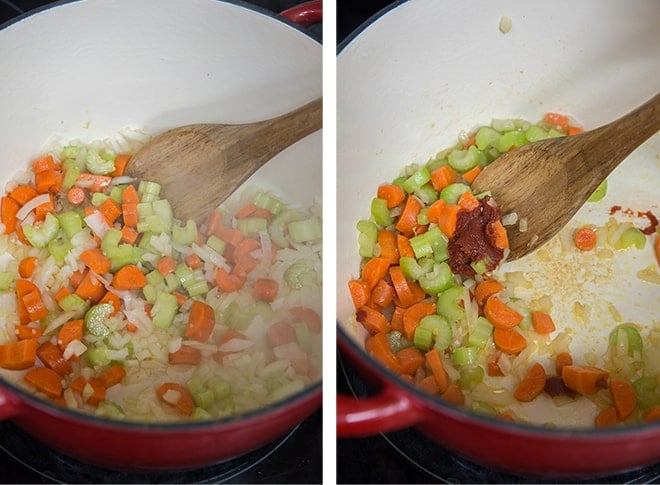 When the veggies are nice and tender you'll add a couple of tablespoons of tomato paste to add a rich depth of flavor to the stew.
Instead of thickening the stew at the end of the cooking process, flour is added and combined with the veggies before the broth is added.
Low-sodium chicken broth goes in next and then the sausage, fire-roasted diced tomatoes, cannellini beans, and seasonings. I highly recommend going with cannellini beans instead of smaller white beans. They are more substantial and add a wonderful creaminess to this stew.
Make it Low in Fat and Calories
You will save quite a bit of fat and calories by using chicken or turkey sausage in this recipe. The nutrition information on the recipe card below was calculated using chicken sausage and it comes to 420 calories per serving. That's low enough that I don't have any issue at all adding a nice sprinkling of Parmesan to mine.
Any fully-cooked smoked sausage will work so go with what works best for you and your diet.
The last step is to add fresh baby spinach and remove the pot from the heat. The heat from the stew is all you need to wilt the spinach.
Shredded Parmesan adds a nice, salty bite. It's the perfect way to finish of this delicious stew.
More Rustic Chicken Dishes
Oven Baked BBQ Chicken
Slow Cooker Chicken Cacciatore
Julia Child's Coq au Vin
Skillet Chicken Parmesan
Please see more list about Chicken sausage and white bean stew
Detail: 🔗