A simple chopped salad recipe with juicy and tender chicken bites. A complete nutritious meal to enjoy for lunch or a light dinner. Easy to make and so filling and delicious.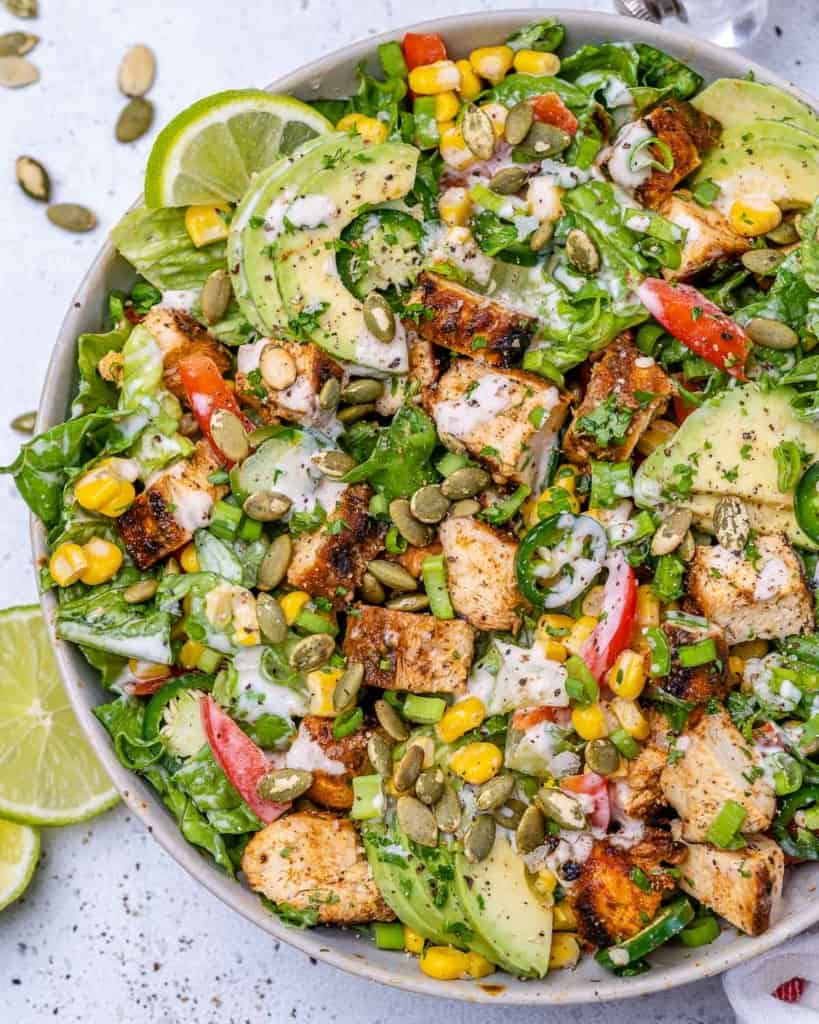 So much to love about this chicken chopped salad. Loaded with crunch, flavor, nutrition, and just so delicious. With a hint of spice, this chopped salad is tossed in with a tasty creamy honey yogurt dressing which will be your go-to dressing after you try it. This healthy grilled chicken salad recipe can be served for lunch any day of the week, great to pack for lunch and take to go, and perfect for a light dinner. Serve this salad with some homemade dinner rolls or a side of lentil soup.
Why you will love this grilled chicken salad
Healthy and nutritious: this chicken chopped salad is loaded with the right amount of protein and carbs to make it a complete meal to enjoy that will keep you filled and satisfied.
Easy to make: making this salad quite easy. chopped and prepare the veggies, cook the chicken and toss in with the homemade yogurt dressing. Perfect to make ahead.
Delicious: You will love how creamy, tasty, and perfect tasting this chopped salad is. With the right amount of spice, crunch, and creaminess it will be your go-to salad moving forward.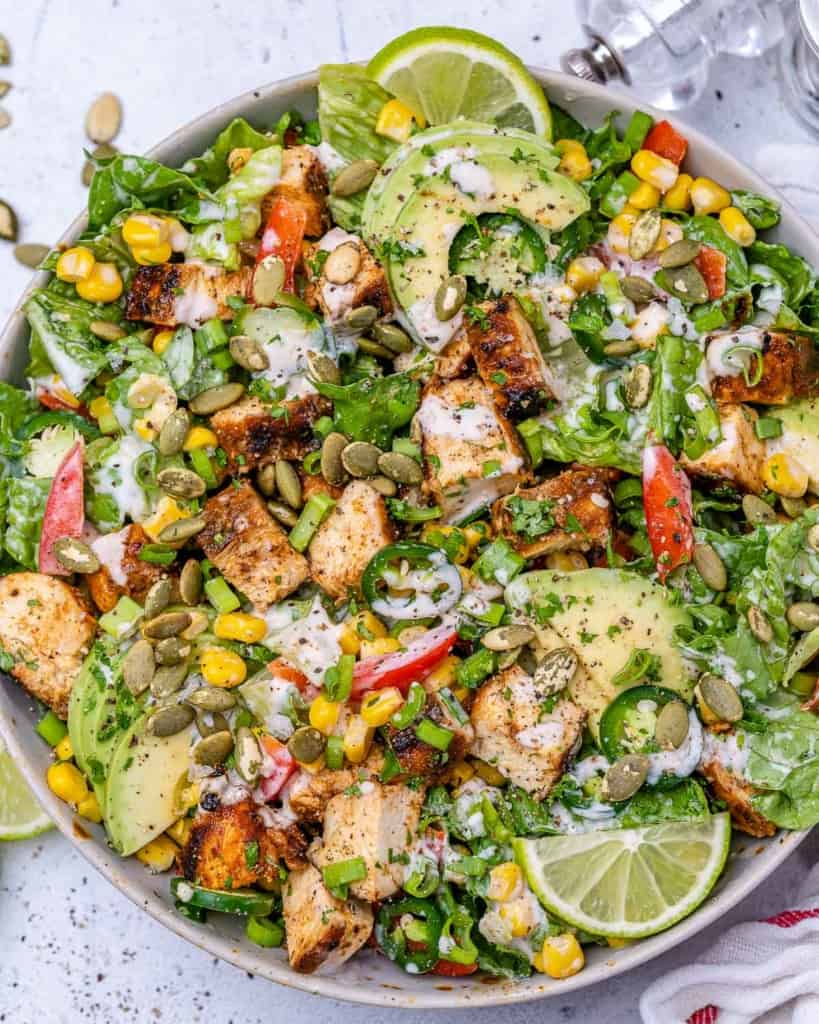 Ingredients you will need
Keep in mind this is just a list of the ingredients you will need to make this chicken chopped salad recipe. The full measurements will be listed further down below.
boneless skinless chicken breastolive oillime – two seasonings: chili powder, smoked powder, ground cumin, garlic powder, salt, and pepperGreek yogurthot saucemaple syrup or honeygarlicwater – to thin out the dressingromaine lettergreen onionparsleyred bell pepperjalapeno fresh or frozen cornavocadoroasted pumpkin seeds, optional
How to make this homemade grilled chicken chopped salad
Marinate the chicken: Place the chicken in a ziploc bag together with the oil, honey, lime juice and seasonings. Mix through the bag to coat the chicken with the marinade. Refrigerate for at least 30 minutes to overnight.
Make the dressing: In a small bowl or jar, mix well all the dressing ingredients. Refrigerate until ready to use.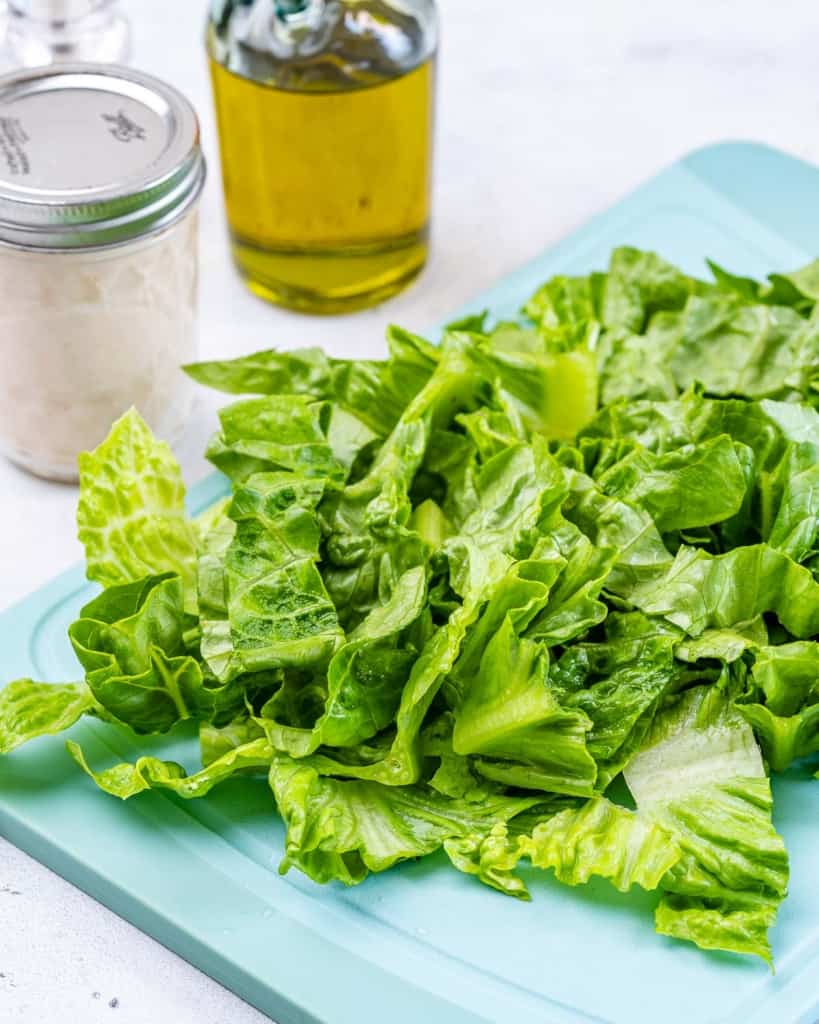 Cook the chicken: Preheat an outside grill or a grill pan over medium-high heat. Brush the grill with a bit of oil, then carefully place the marinated chicken. Grill the chicken for 6-8 minutes per side, or until it reaches an internal temperature of 165F. Once the chicken is done cooking, allow it to sit for a bit, then chop it.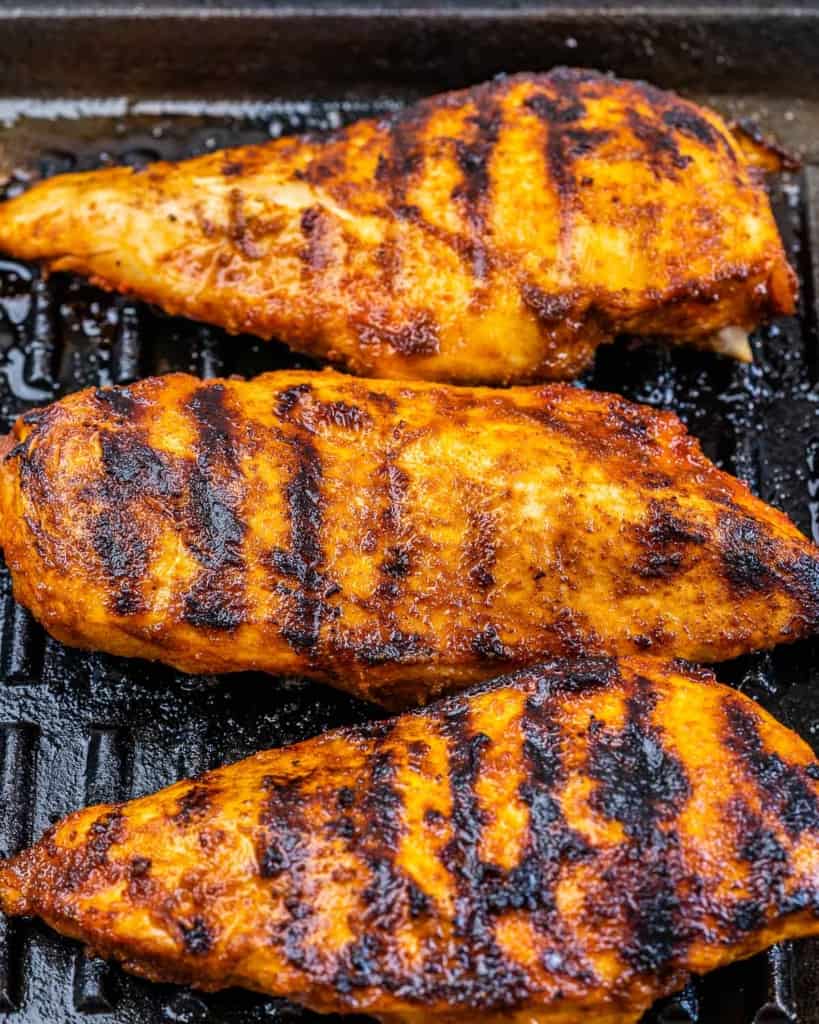 Assemble the salad: Add all the salad ingredients together. Add the chopped chicken into a large salad bowl. Add the dressing and toss to combine. Serve and enjoy!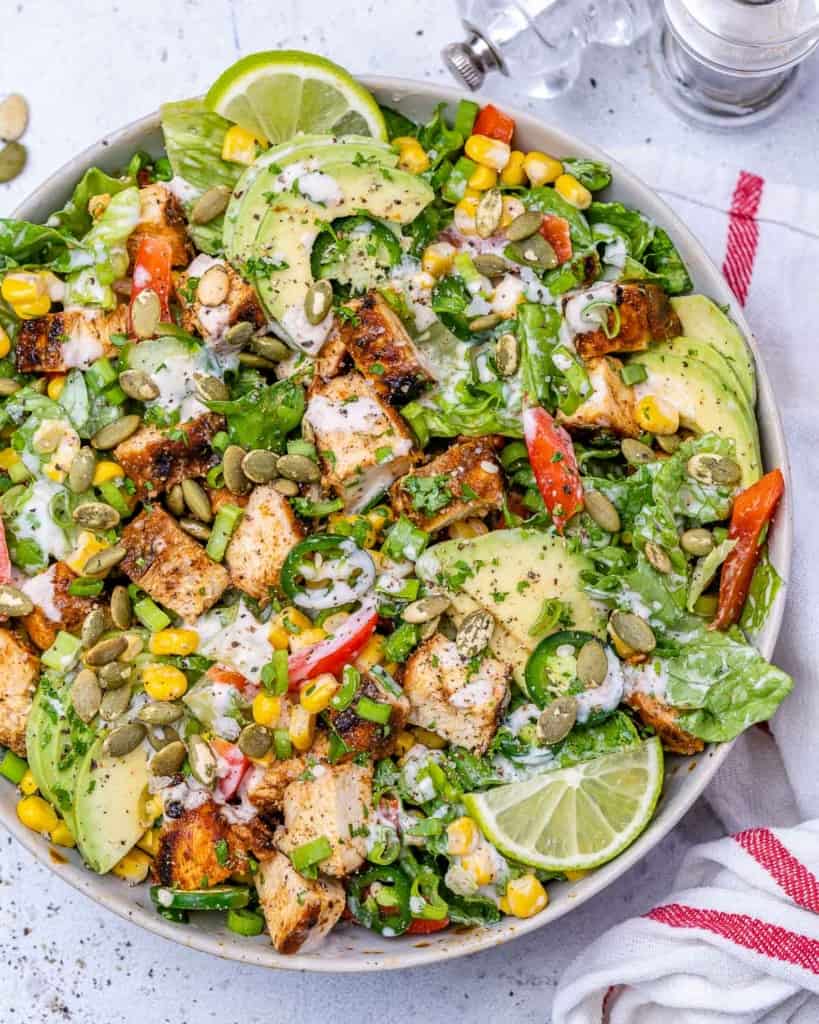 Recipe notes and tips
use lean boneless and skinless chicken breast. You can also use boneless chicken thighs but their fat content is higher and the nutrition facts will vary.
any other lettuce or greens will work
be creative, add or remove any of the veggie ingredients.
use any oil in place of olive oil.
you may use greek-yogurt to any dairy-free yogurt.
alternate protein: steaks, shrimp, grilled salmon, or tofu
make ahead: mix the dressing and store in the fridge. you can cook the chicken and set it aside until you are ready to assemble the salad.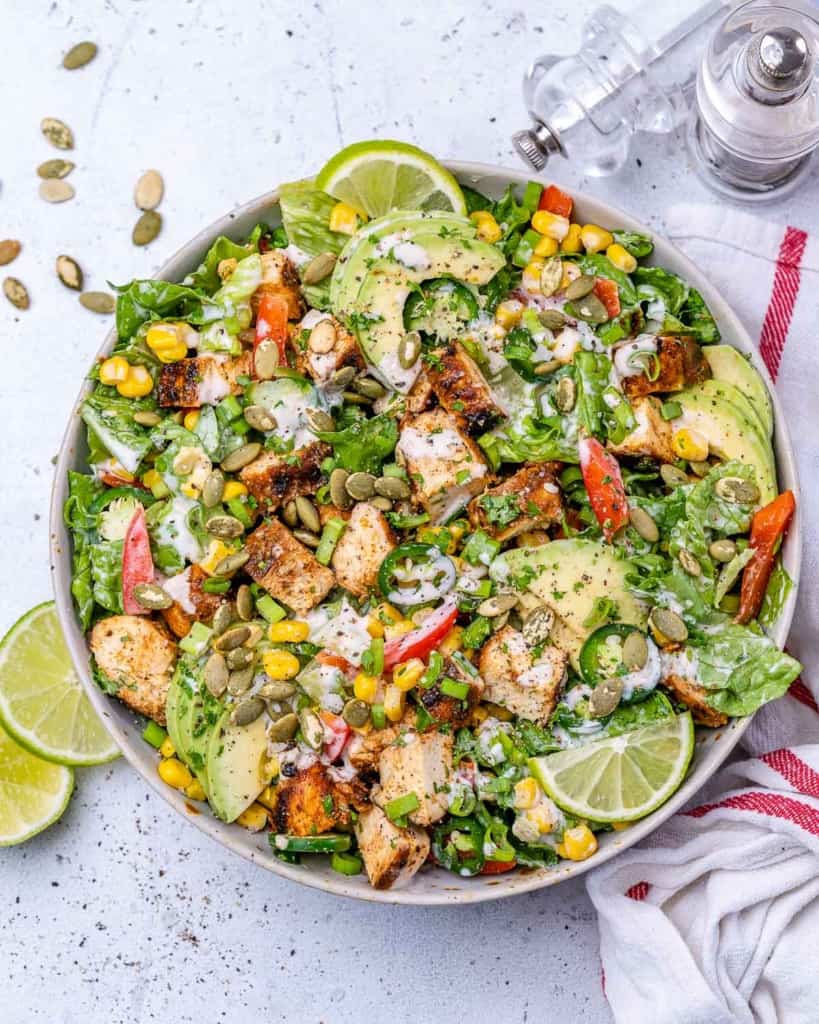 Frequently asked questions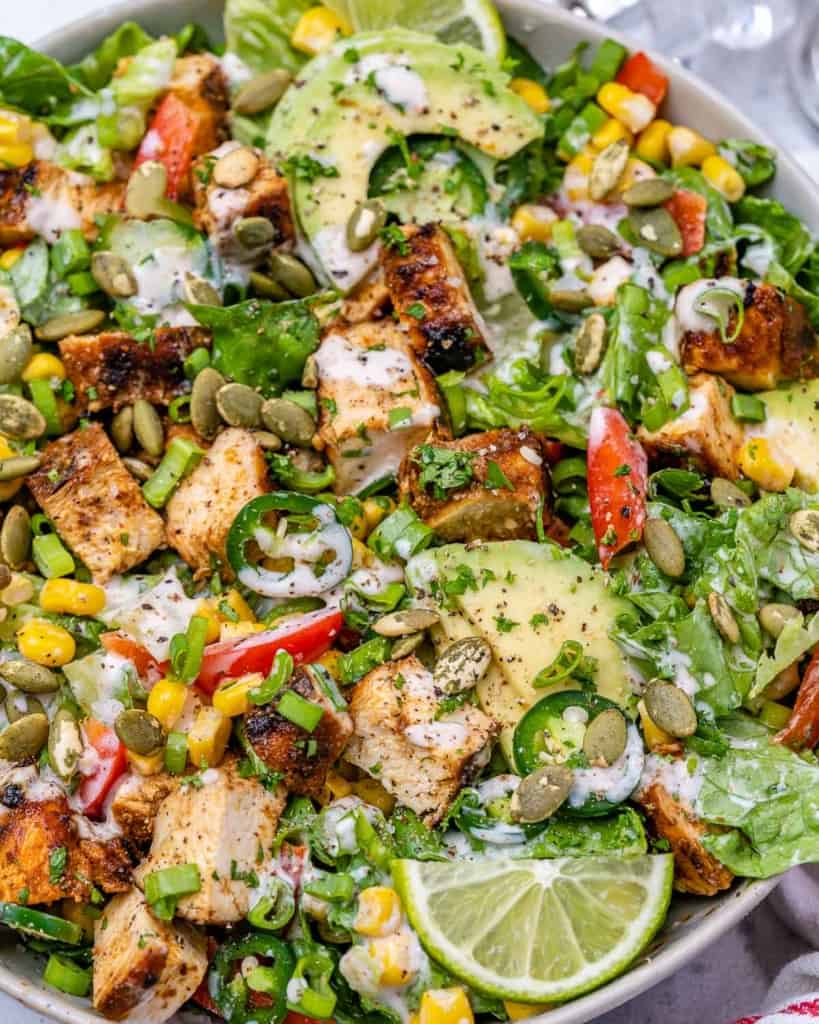 more easy salad recipes to try
Mexican Street Corn Salad
Healthy Shrimp Salad
Tomato Mozzarella Salad
Creamy Cucumber Salad
Southwest Chicken Salad
Greek Chickpea Salad
Healthy Steak Salad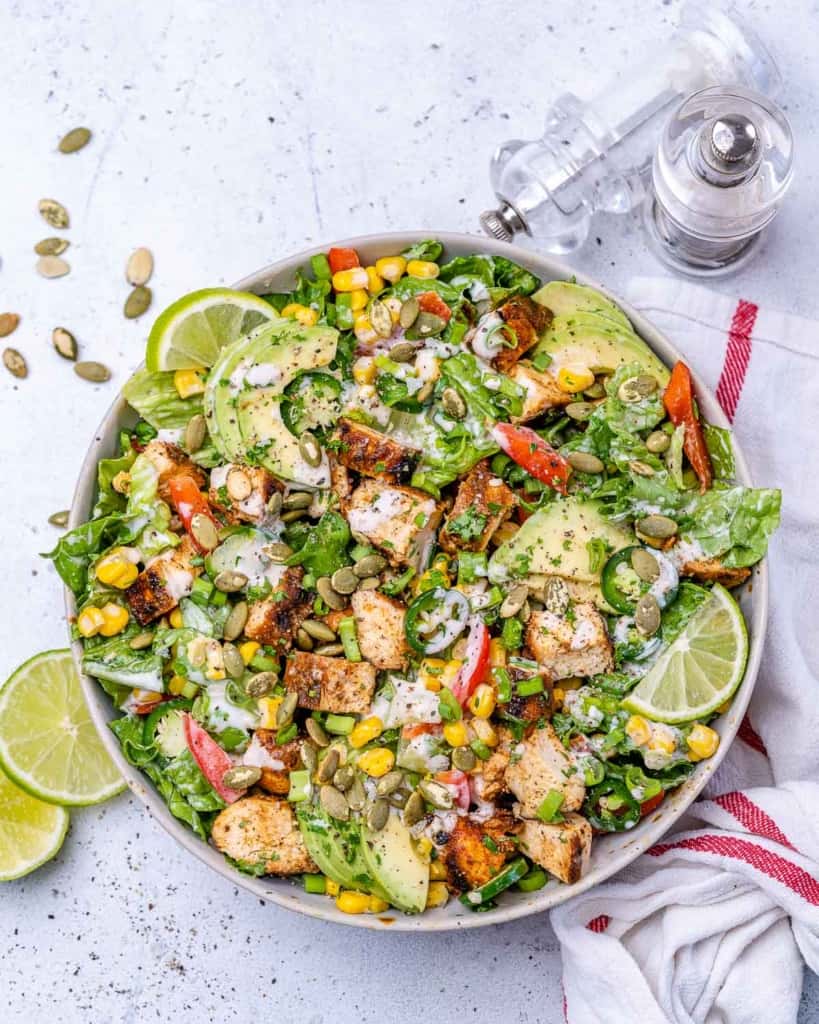 Also, if you try a recipe and you like it, leave us some feedback in the comment section below, and don't forget to rate it! We would love it if you shared it with friends and family.
Finally, please use our hashtag #healthyfitnessmeals on INSTAGRAM for a chance to be featured! FOLLOW Healthy Fitness Meals on FACEBOOK | INSTAGRAM | PINTEREST | TWITTER for all of our latest blog posts and recipes.
For more information please see the list of Healthy chicken chickpea chopped salad
Detail: 🔗