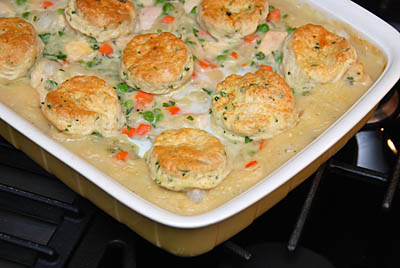 When I think comfort food on a cold night, I think chicken pot pie! My friend Nicole had surgery yesterday so she needed some comfort food when she returned from the hospital. I made this recipe for her family.
About a year ago I found this version of chicken pot pie from Ina Garten and now this is the only one that I make. It's really easy and incredibly tasty. It's a great meal to make for a crowd. Nicole has a crowd in her house with her husband and adorable twin girls, so I thought it was a perfect thing to make for her.
When I make this recipe, I take a couple of short-cuts. The recipe calls for fresh carrots and peas. I use bags of frozen peas and carrots which makes it quick and easy. No chopping required. I also pour the frozen vegetables (including the frozen pearl onions) right in straight from the freezer. No need to thaw anything. One tip – definitely use fresh parsley instead of dried. It makes a big difference.
Chicken Stew with Biscuits Adapted from Barefoot Contessa Family Style

3 whole (6 split) chicken breasts, bone in, skin on* 3 tablespoons olive oil Kosher salt and freshly ground black pepper 5 cups chicken stock, preferably homemade 2 chicken bouillon cubes 12 tablespoons (1 1/2 sticks) unsalted butter 2 cups chopped yellow onions (2 onions) 3/4 cup flour 1/4 cup heavy cream 2 cups medium-diced carrots (4 carrots), blanched for 2 minutes** 1 10-ounce package frozen peas (2 cups)** 1 1/2 cups frozen small whole onions 1/2 cup minced fresh parsley

For the biscuits: 2 cups flour 1 tablespoon baking powder 1 teaspoon kosher salt 1 teaspoon sugar 1/4 pound (1 stick) cold unsalted butter, diced 3/4 cup half-and-half 1/2 cup chopped fresh parsley 1 egg mixed with 1 tablespoon water, for egg wash

Preheat the oven to 375 degrees F. Place the chicken breasts on a sheet pan and rub them with olive oil. Sprinkle generously with salt and pepper. Roast for 35 to 40 minutes, or until cooked through. Set aside until cool enough to handle, then remove the meat from the bones and discard the skin. Cut the chicken into large dice. You will have 4 to 6 cups of cubed chicken.

In a small saucepan, heat the chicken stock and dissolve the bouillon cubes in the stock. In a large pot or Dutch oven, melt the butter and saute the onions over medium-low heat for 10 to 15 minutes, until translucent. Add the flour and cook over low heat, stirring constantly, for 2 minutes. Add the hot chicken stock to the sauce. Simmer over low heat for 1 more minute, stirring, until thick. Add 1 teaspoon salt, 1/2 teaspoon pepper, and the heavy cream. Add the cubed chicken, carrots, peas, onions, and parsley. Mix well. Place the stew in a 10 x 13 x 2-inch rectangular baking dish. Place the baking dish on a sheet pan lined with parchment or wax paper. Bake for 15 minutes.

Meanwhile, make the biscuits. Combine the flour, baking powder, salt, and sugar in the bowl of an electric mixer fitted with the paddle attachment. Add the butter and mix on low speed until the butter is the size of peas. Add the half-and-half and combine on low speed. Mix in the parsley. Dump the dough out on a well-floured board and, with a rolling pin, roll out to 3/8-inch thick. Cut out twelve circles with a 2 1/2-inch round cutter.

Remove the stew from the oven and arrange the biscuits on top of the filling. Brush them with egg wash, and return the dish to the oven. Bake for another 20 to 30 minutes, until the biscuits are brown and the stew is bubbly.

Note: To make in advance, refrigerate the chicken stew and biscuits separately. Bake the stew for 25 minutes, then place the biscuits on top, and bake for another 30 minutes, until done.

*Sometimes I use the frozen (raw) Purdue chicken breasts from Costco. When I do this, I use 8 cutlets. I put them on a cookie sheet and bake them according to the package directions. They take about 25 minutes to cook, and you can be making the rest of the recipe while the chicken cooks.

**I use frozen mixed peas and carrots.
Print This Recipe
Please see more list about Barefoot contessa chicken stew with biscuits
Detail: 🔗