This quick and easy one-pot Chicken Stew is made with chicken, potatoes, and carrots simmered in a deliciously seasoned broth and garnished with fresh herbs. Enjoy with crusty bread for a savory and comforting meal!
It is one of our favorite winter dinners along with hearty pressure cooker beef stew and pressure cooker chicken and rice.
Reading: Bone in chicken stew recipes
Chicken stew is super easy, done in one pot and ready to serve in under an hour for healthy dinner ideas. The infused flavours of herbs and spices create a winning taste combination and the red pepper flakes are an added kick! It's everything you need to get you through cold days.
Read more: What to Serve with Beef Stew? 13 Amazing Side Dishes to Consider
This is the perfect time of year to stock up on as many warm, healthy, and simple soup and stew recipes as you can get your hands on, like chicken noodle soup and chicken and rice soup! Cozy up with a hot bowl of this chicken stew, serve with a side salad, and enjoy!
Why Make Chicken Stew Recipe?
Ingredients for Chicken Potato Stew
Chicken: Boneless skinless chicken thighs or breasts. Cut into cubes.
Onion and garlic: Chopped onion and minced garlic.
Veggies: Diced carrots, diced celery, cubed potatoes.
Oil: Extra virgin olive oil.
Herbs and spices: Dried rosemary, oregano, and thyme. Ground cumin, red pepper flakes, bay leaves, salt, and pepper.
Broth: Low sodium store-bought or homemade chicken broth.
Garnish: Fresh parsley, dill, or green onion. Finely chopped.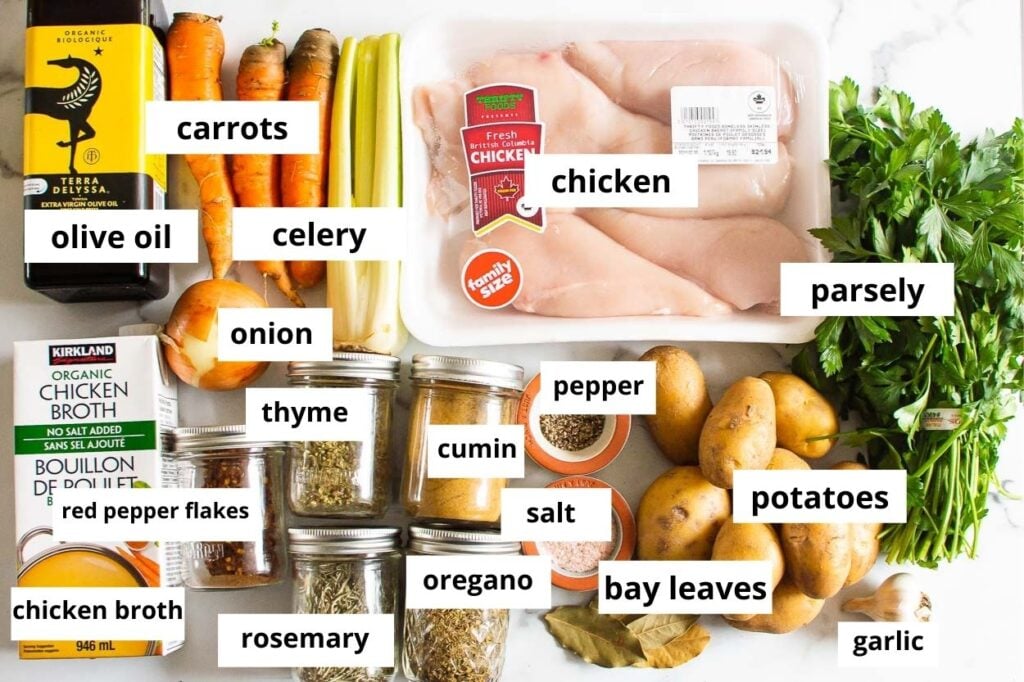 How to Make Chicken Stew on the Stovetop
Prep: Preheat a 6-quart Dutch oven or large pot and add the oil to coat the bottom.
Sauté: Add the onion, garlic, carrots, and celery to sauté and stir occasionally.
Add: Next, add the chicken, herbs, and spices with exception of the bay leaves. Continue to sauté just until browned a bit, stirring once.
Simmer: To the pot, add chicken broth, potatoes, and bay leaves and scrape off any bits off the bottom of the pot. Stir then cover and bring to a boil. Reduce heat to low and simmer until potatoes are tender. Pierce with a fork to check.
Garnish: Remove the soup pot from heat and add any of your desired garnishes. Enjoy!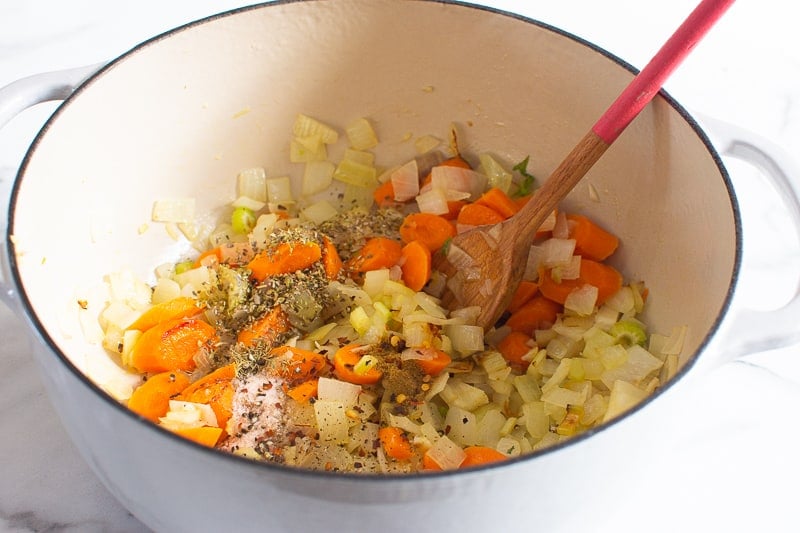 Optional Add-In's and Variations
Chicken drumsticks: If bone-in, skin-on chicken is what you prefer you can use it. Brown them on both sides first (no need to cook through), remove them onto a plate and then brown the veggies. Also, cook with potatoes for about 30 minutes.
Potatoes: Red or white potatoes are great for roasting and soups because they hold their shape better. This is essential especially if you are using bone-in chicken and will be cooking your stew longer. However, russet potatoes will make a more starchy stew and give your soup more body, like in Instant Pot potato soup. And if you feel like less starch overall, make this chicken quinoa recipe.
Other vegetables: You can also add chopped cauliflower, sliced mushrooms, rutabaga, or okra.
Finishers: A squirt of lemon and a sprinkle of parmesan are always a great way to put the finishing touch on a soup or stew.
Tips for Best Results
FAQs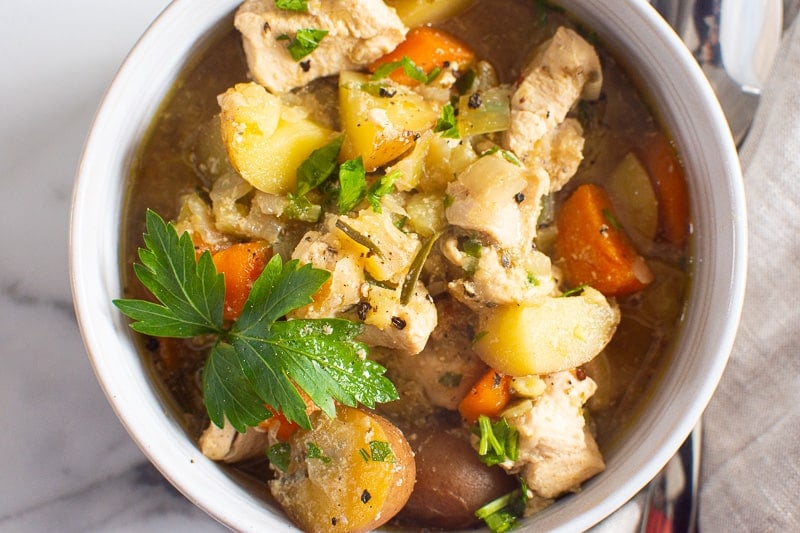 Serving Recommendations
Keep this chicken stew recipe on hand for making a quick and hearty weeknight dinner or a simple warming meal on a weekend afternoon. Pack the rest away for leftovers and allow the flavors to marry even more the next day!
Serve hot with a basket of bread along with this amazing garlic and olive oil dip or healthy cheese ball with crackers and a nice light lemon kale salad with garlic and parmesan.
Making This Recipe in Advance
Read more: List of 10+ instant pot texas chili with stew meat
Store: This chicken stew will keep in the fridge for up to 5 days in an airtight container.
Freeze: If you do freeze, make sure to use a freezer-friendly glass container or resealable silicone bags. Will keep in the freezer for up to 3 months.
Reheat: If frozen, thaw in the fridge overnight or on the counter for 6 hours. Simmer on low heat for approximately 5-7 minutes.
Read more: how to keep boiled egg yolks yellow | Family Cuisine
More Stew Recipes
For more information, please see more information about Bone in chicken stew recipes