You won't believe how easily this Chicken Sweet Potato Soup comes together! This slow cooker recipe creates a comforting and nourishing meal with minimal effort. Packed with succulent shredded chicken, fire-roasted diced tomatoes, tender sweet potatoes, savory black beans, and chewy quinoa, this soup is a powerhouse of good-for-you and tasty ingredients.
A Healthy Twist on Comfort Food
Creamy soups are the ultimate comfort food, but finding healthy, broth-based, slow-cooked soup recipes can be a challenge. That's where Chicken Sweet Potato Soup shines! Not only is it exceptionally healthy, but it's also based on a flavorful broth. This soup bursts with texture and taste, making it anything but bland. With protein-rich black beans, quinoa, and chicken, as well as nutrient-packed tomatoes and sweet potatoes, this soup offers a satisfying and nourishing meal. Plus, seasoning the soup with a chili seasoning mix means it's ready to eat in no time. This quick and flavorful meal will surprise you!
Tips for Perfecting Chicken Sweet Potato Soup
To ensure your Chicken Sweet Potato Soup turns out delicious every time, follow these handy tips:
Chicken: While chicken breasts work great in this recipe, boneless, skinless chicken thighs are also an excellent choice. They result in tender, easily shredded meat that doesn't dry out, even if the soup cooks all day.
Rinse: Before adding quinoa to the slow cooker, make sure to rinse it thoroughly under cold water for 30 to 60 seconds. This removes any bitterness caused by the natural coating called saponin.
Cook time: As quinoa cooks, it expands and absorbs liquid, turning into a tender grain. However, be cautious of overcooking, as it can make the soup more of a stew than a soup. Typically, this soup is ready in around 3-1/2 to 4 hours on high heat, but adjust according to your slow cooker's temperature.
Small pieces: To ensure the sweet potatoes cook through in time, dice them to a 1/2-inch size. This allows these dense vegetables to become as tender as the rest of the ingredients.
Spice levels: This soup's spice levels can be adjusted based on your preference. As written, the recipe is quite mild. If you want some heat, add in 1-2 tablespoons of diced jalapeños and extra chili powder to suit your taste buds.
Seasoning: Salt and pepper are essential for enhancing the flavors of any dish. If you feel the soup needs a little extra something, add a pinch or two of salt and pepper, taste, and adjust accordingly. Remember, seasoning is key to making the flavors sing!
Homemade Chili Seasoning
For a time-saving option, you can use a packet of chili seasoning, such as McCormick's® Chili Seasoning packet. However, if you prefer a homemade blend, here's a recommended ratio:
1 tablespoon chili powder (McCormick is mild)
1 teaspoon ground cumin
1/2 teaspoon onion powder
1/2 teaspoon roasted garlic powder
Optional: 1/8 to 1/4 teaspoon cayenne pepper (add slowly as cayenne pepper adds spice!) or 1/8 teaspoon red pepper flakes
Salt and pepper to taste (approximately 1 teaspoon salt and 1/4 teaspoon pepper)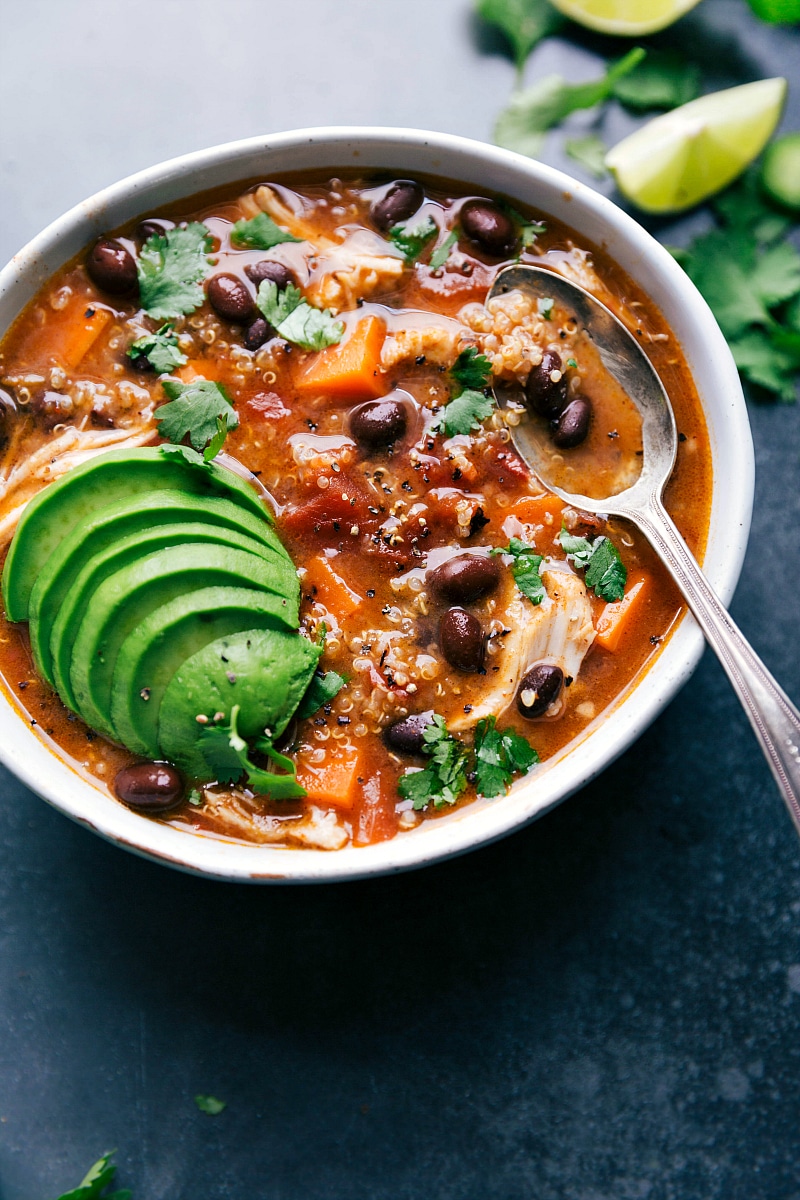 Delightful Toppings
While Chicken Sweet Potato Soup is fantastic on its own, adding toppings elevates it to a whole new level. Here are some irresistible additions:
Sharp or extra-sharp Cheddar cheese: Grate some cheese right onto each bowl and let it melt for a minute before stirring it throughout the soup.
Ripe avocado or guacamole: Slice a ripe avocado on top for an extra creamy element. If avocado isn't your thing, try plain Greek yogurt or sour cream.
Fresh lime juice: Squeeze a few drops of fresh lime juice into your bowl to enhance all the flavors and add a burst of brightness.
Chips: Crushed tortilla chips or strips provide a delightful crunch to every spoonful.
Fresh cilantro: If you're a fan of cilantro, sprinkle some chopped cilantro on top for freshness and a citrusy flavor. Not a fan? Chopped parsley is a great alternative.
More Quinoa Recipes
If you're a fan of quinoa, check out these delicious recipes:
Quinoa Chili with Sweet Potatoes
Southwest Quinoa Salad with a Cilantro-Lime Vinaigrette
Avocado Orange Quinoa Salad with a Citrus Vinaigrette
Quinoa Salad with Avocado and a Lemon Vinaigrette
Quinoa Enchilada Bake with Sweet Potatoes
Remember, Family Cuisine is all about tasty, nutritious, and easy-to-make meals. For more inspiring recipes, visit Family Cuisine and embark on a culinary adventure with us!