If you're searching for an effortless and tasty meal that's perfect for busy weeknights, look no further than this incredible chicken tomato pasta. With tender chicken pieces and a flavorful tomato sauce, it's a dish the whole family will adore!
A Family-Favorite Weeknight Dinner
If your family enjoys chicken and you're in need of new recipes to try, this chicken tomato pasta could easily become a household staple. It's a succulent chicken pasta dinner that not only requires minimal effort but is also bursting with flavor.
When you find yourself staring at a pack of chicken breasts, unsure of what to prepare, this recipe will come to your rescue. The versatility of this dish allows for customization, and you can easily add any veggies you have on hand to boost its nutritional value.
Why You'll Fall in Love with this Chicken Tomato Pasta
It's an effortless and healthy choice for a quick weeknight dinner.
You can add your favorite veggies to make it even more delightful.
The sauce is packed with flavor, and you can add a bit of heat according to your preference.
Ingredients for Chicken and Tomato Pasta
Olive oil or butter: Cooking the chicken in a blend of olive oil and butter enhances the sauce's exquisite flavor. You can also use solely olive oil if desired.
Chicken: Opt for low-fat chicken breast or boneless chicken thighs for added richness.
Onion: Finely dice the onion to expedite the cooking process. Shallots can also be an excellent alternative.
Mushrooms: Closed-cup (crimini) mushrooms work wonderfully in this pasta sauce, but any variety will work.
Garlic: Freshly minced or chopped garlic is always the best choice in a sauce like this.
Red chili flakes: Adjust the amount of red chili flakes based on your preferred level of spiciness. A recommended ¼ teaspoon adds a subtle kick.
Herbs: A blend of dried oregano and basil infuses a Mediterranean flair into the dish. If you have Italian seasoning mix on hand, substitute it with one tablespoon.
Tomato paste and crushed tomatoes: This sauce is truly a delight for tomato enthusiasts. The combination of double-concentrated tomato paste and crushed tomatoes creates the perfect flavor profile.
Baby spinach: Feel free to utilize more baby spinach or substitute it with kale.
Pasta: Penne is the pasta of choice for this recipe, but any short pasta will suffice. For a healthier option, whole wheat pasta is an excellent alternative.
Parmesan: Finish off the dish with freshly grated Parmesan for a touch of perfection.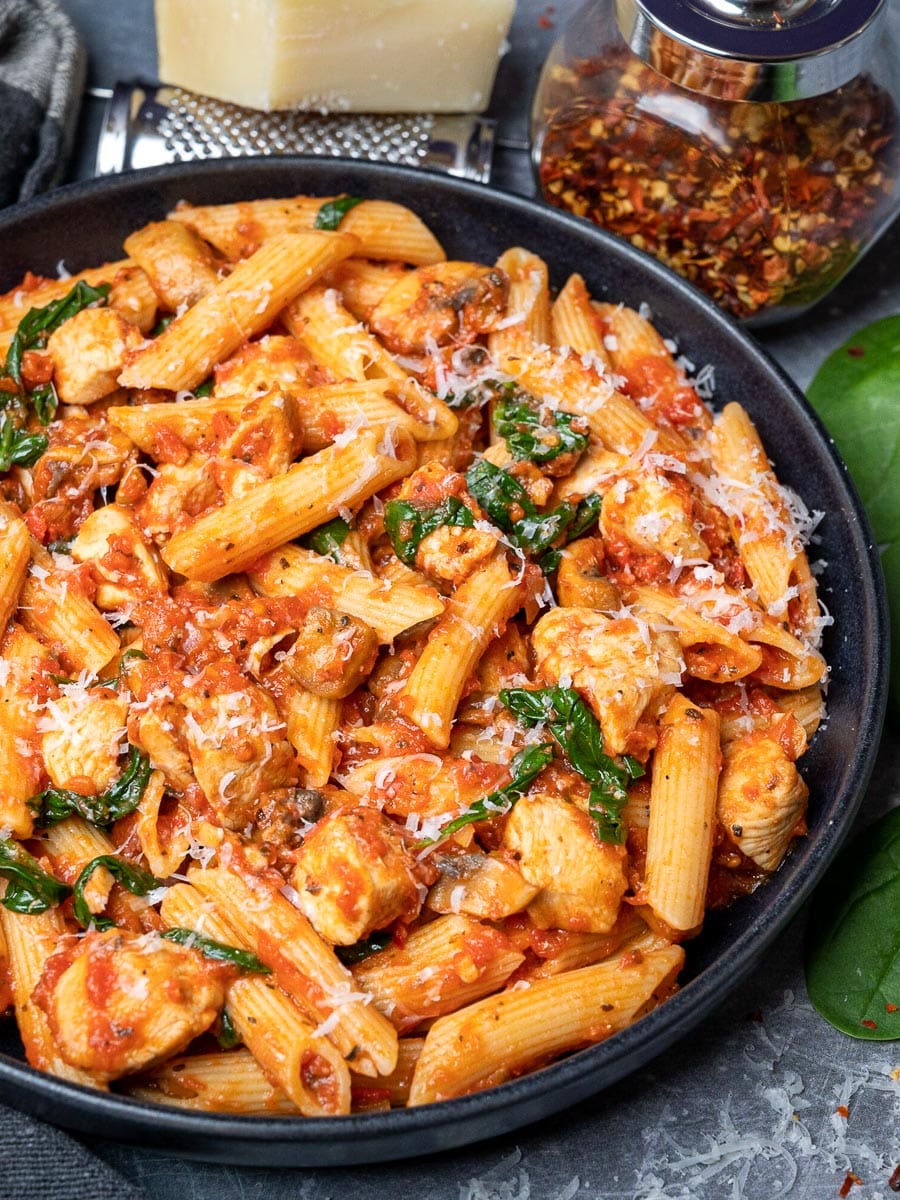 How to Prepare Chicken with Red Sauce Pasta
Begin by bringing a large pot of water to a boil. Generously salt the water and cook the pasta according to the package instructions until al dente. Remember to reserve 1-2 cups of pasta water before draining.
Meanwhile, heat olive oil in a large, deep pan and melt the butter.
Add the chicken pieces, season with salt and freshly ground black pepper, and cook over medium heat for 5-6 minutes until they turn slightly golden.
Introduce the finely diced onion and mushrooms, and continue cooking for an additional 3-4 minutes until the mushrooms have reduced in size and are cooked through.
Stir in the minced garlic, red chili flakes, dried basil, and dried oregano, and cook for another minute.
Add the tomato paste and crushed tomatoes, allowing the sauce to simmer for 5 minutes.
Incorporate the baby spinach and simmer for an additional minute. Then, transfer the cooked pasta to the pan and mix everything together.
Sprinkle the dish with grated Parmesan, adjust the seasoning according to your taste, and serve. If desired, add extra grated Parmesan on top.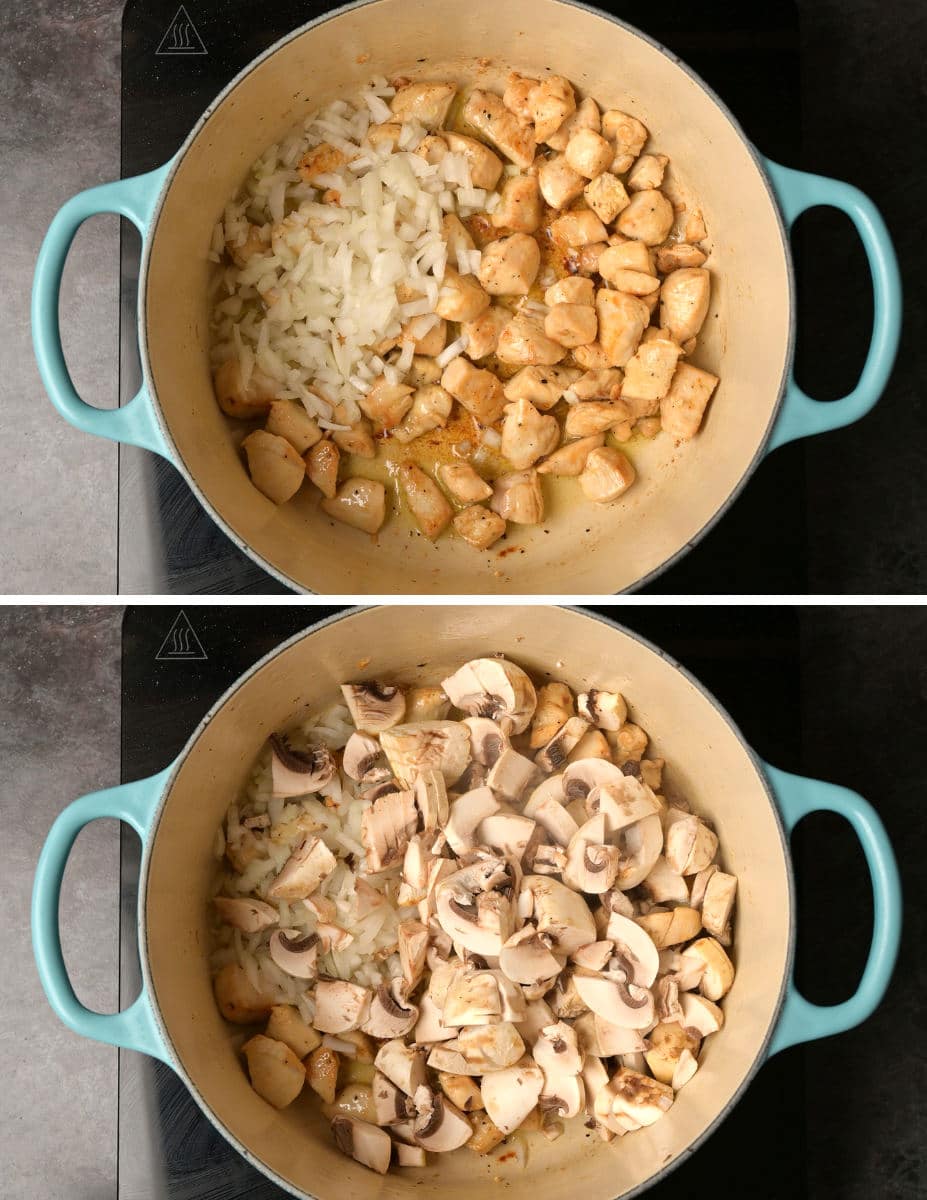 Recipe Notes and Tips
Leftovers can be stored in the fridge for up to 3 days. Reheat the pasta in the microwave for the best results.
Feel free to incorporate other veggies, such as zucchini, bell peppers, or peas.
Boost the flavor profile of this chicken tomato pasta by adding bacon.
If you enjoyed this chicken tomato pasta recipe, you may also love some of my other easy pasta dishes:
Pink Sauce Pasta
Easy Ground Turkey Pasta
Creamy Chicken and Bacon Pasta
Spicy Sausage Pasta
Creamy Chicken Boursin Pasta
For more delightful culinary inspiration, follow Family Cuisine on Instagram, Facebook, and Pinterest!