Chicken breasts in an irresistible garlic sauce filled with caramelized onions and garlic is a winner of a chicken dinner!
Easy and delicious comfort food at its finest. Lightly floured boneless chicken breasts are pan-fried in butter and oil until golden and crispy before being added to a mouth-watering garlic cream sauce. Filled with caramelized flavor, you will LOVE how easy this is!
Chicken Breast
Crispy, golden chicken on the outside → tender and succulent on the inside → lightly simmered in a creamy sauce with so much flavor. The combination of your dreams! Chicken breasts tend to have a bad reputation for being too dry, chalky, or hard to swallow. However, this recipe yields perfectly juicy breasts lightly floured and pan-fried.
With all of the creamy sauce recipes, this one stands out from the crowd!
Ready in less than 30 minutes and perfect for any night of the week…even special occasions!
How to Cook Chicken Breast
You're going to start with thin chicken breasts. For a faster prep-time, cut your chicken breasts in half horizontally to make four fillets. Quicker and easier than pounding them thin with a meat mallet and yields the same results. Thinner chicken pieces cook faster and evenly.
We use a combination of oil and butter to fry the chicken for the best golden-browned results and delicious flavor.
Cook the sauce in the same pan as the chicken. Don't get rid of any chicken bits from the pan as they add tons of flavor into the sauce!
Cooking With Garlic
If you've gone ahead and read the recipe already, you may be thinking one of two things:
A whole head of garlic?
A. This woman is crazy. TOO MUCH GARLIC. YUCK!
B. Oh my god, finally, the perfect amount of garlic.
The beauty of this chicken breast recipe is that the garlic is NOT overpowering AT ALL! The secret to having SO much garlic without being overly pungent is caramelizing the cloves (some smashed and some whole) in chicken stock (or broth) for 5-6 minutes over medium heat. This allows the garlic to soften beautifully with a hint of sweetness.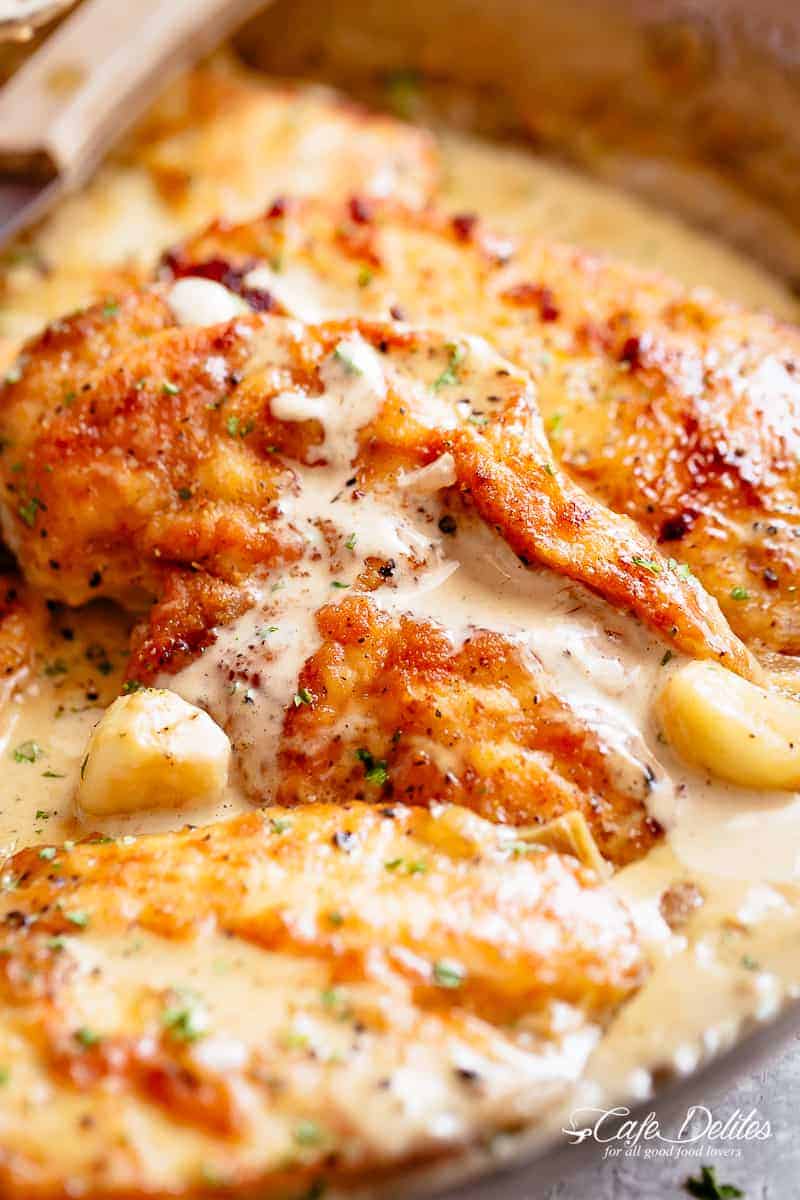 Garlic Flavor
YOU can make this as garlicky as you want! How? For a stronger garlic flavor, smash all of your cloves with a heavy knife. Place the blade flat on the clove (sharp side facing away from you) and press the blade down on the clove with the heel of your hand.
The garlic cloves are lightly browned in a little oil along with softened onion in buttery pan juices before being gently simmered in chicken stock. There is so much caramelization happening in this pan, it's CRAZY GOOD!
For a much milder sauce, add the garlic cloves whole.
If you've never cooked with whole garlic cloves before, you may be breaking into a cold sweat right about now. I promise you there's no need for a freak out. Cooking them the way you will here relaxes their usual intense flavor, instead giving them a subtle sweetness. They become so soft, like butter!
Of course, if you LOVE garlic with chicken breasts, then feel free to mince or finely chop all of the cloves and add them in.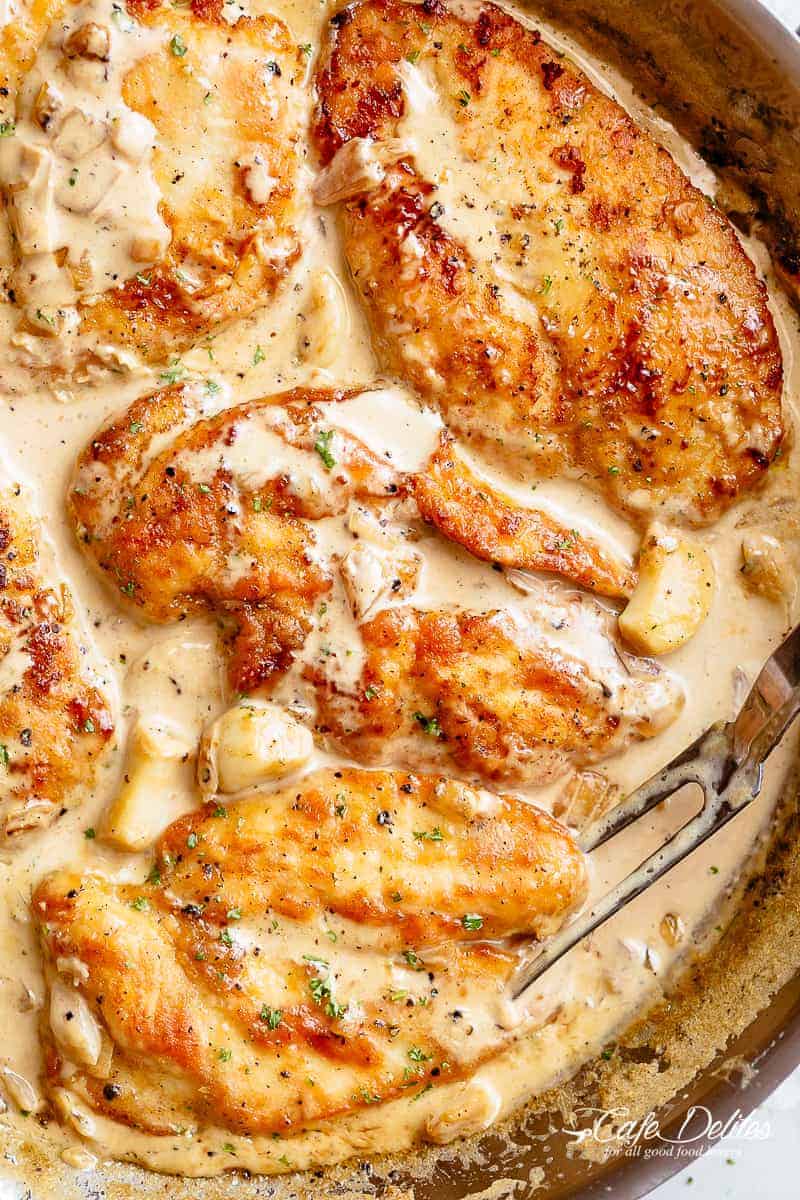 Tips
You can use heavy cream, whipping cream, or thickened cream in the sauce.
For a lightened-up sauce, use evaporated milk or half and half. If using half and half, be careful not to bring your sauce to a rapid boil or it may curdle.
The sauce will not thicken immediately after adding in your cream. Once you add your chicken breasts back into the pan, the flour from the chicken will thicken your sauce. No cornstarch needed. HOORAY!
Sides That Go With Creamy Garlic Chicken Breasts
We love this chicken breast recipe with steamed rice or mashed potatoes! You can also serve it over pasta, cauliflower mash, or zucchini noodles.
Looking for More Chicken Breast Recipes? Try These!
Creamy Parmesan Carbonara Chicken (No Egg)
Balsamic Baked Chicken Breast With Mozzarella Cheese
Crispy Chicken Parmesan (Parmigiana)
RECIPE NOW ON VIDEO