This pan cooked Chilean sea bass is an easy yet elegant recipe that is sure to impress! Ready in just 10 minutes, learn how to cook sea bass perfectly every single time.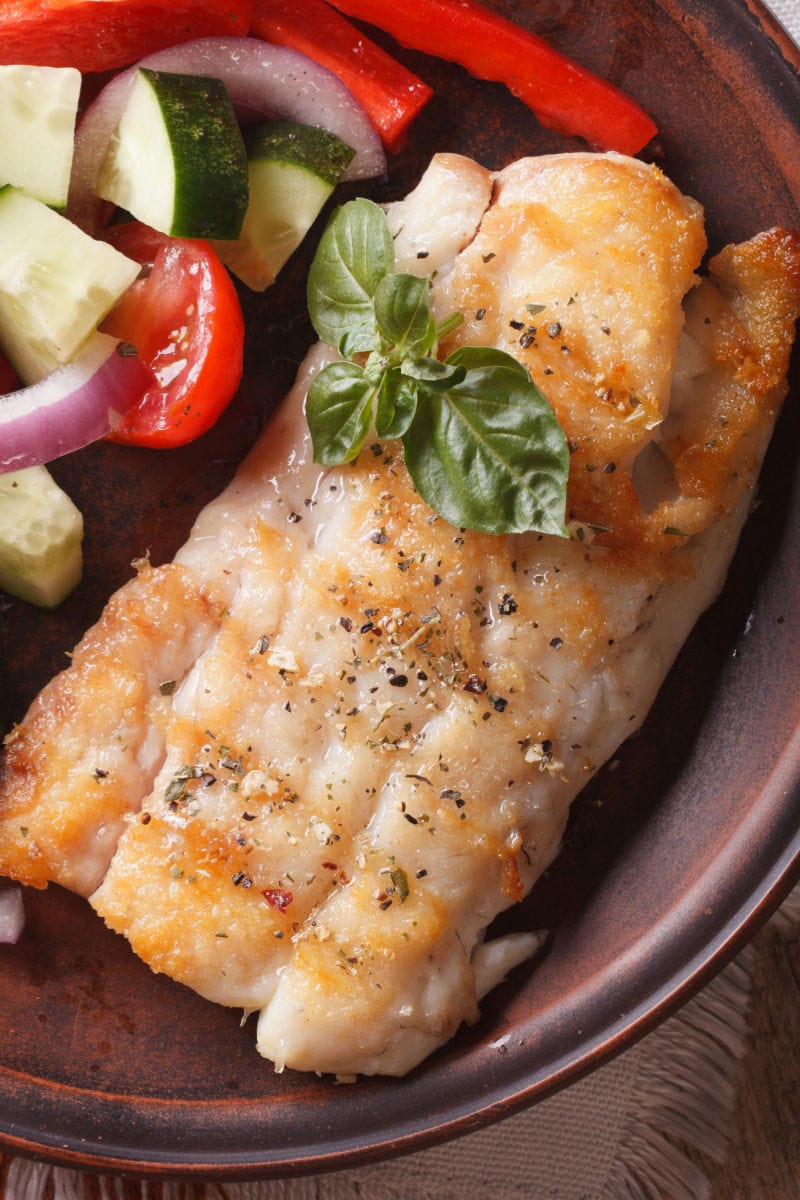 As someone who cooks dinner most nights, quick, healthy dinners are my favorite.
Over the past few years, I've followed more of a pescatarian style of eating, so seafood has become a big proportion of my meals. I like to try new things, especially fish, and recently, have fallen in love with cooking Chilean sea bass.
What is Chilean sea bass?
Also known as Patagonian toothfish, Chilean sea bass is a white fish that is found in waters surrounding Chile (as the name suggests). It's recently become a more popular fish to eat, in part thanks to chef Gordon Ramsey touting it on his television shows and website.
This white fish is also a popular choice for those who don't eat seafood regularly. Its texture is silky and buttery, and has a very mild flavor, and unlike most fish, never leaves a 'fishy' taste.
This sea bass recipe is one you'll make every time you find some fresh bass at the grocery store. It comes together in less than 10 minutes and needs just four key ingredients.
Now, don't be fooled by the simplicity of this dish and write it off. This is the best recipe that really allows the fish to shine, and a secret trick guarantees perfectly cooked fish every single time. Bonus? It's low carb and gluten free.
How to cook sea bass?
The best way to cook this fish is to pan sear or pan fry it stovetop. This really allows the natural sweet flavors to stand out, and guarantees the buttery and flaky texture it is famous for. While baking the fish works too, it can be a little more time-consuming and less flaky. Here's how to cook it.
The Ingredients.
Chilean sea bass fillets– Skinless sea bass fillets are preferred, as both sides of the fish cook evenly and consistently.
Salt and pepper– To taste.
Butter– Pan frying white fish fillets in butter takes the flavor of the dish to another level.
Garlic– Freshly minced garlic, not the jarred kind!
Lemon– Fresh lemons to squeeze over the freshly cooked fish.
The Instructions.
Start by pat drying the fish filets with paper towel, before sprinkling one side on each filet with salt and pepper. Next, add the butter into a non-stick pan or skillet and placing it over medium heat. Once hot, add the garlic and cook for a minute, until fragrant. Use a wooden spoon to push them to the sides and add the sea bass, season side down. Cook the fish for 2-3 minutes, or until the underside looks golden and crispy. Sprinkle the unseasoned side of the fish with salt and pepper, then flip the filets and cook the other side for another two minutes.
Now, remove the cooked fish from the pan/skillet and drizzle with pan juices, garlic, and squeeze half a fresh lemon over.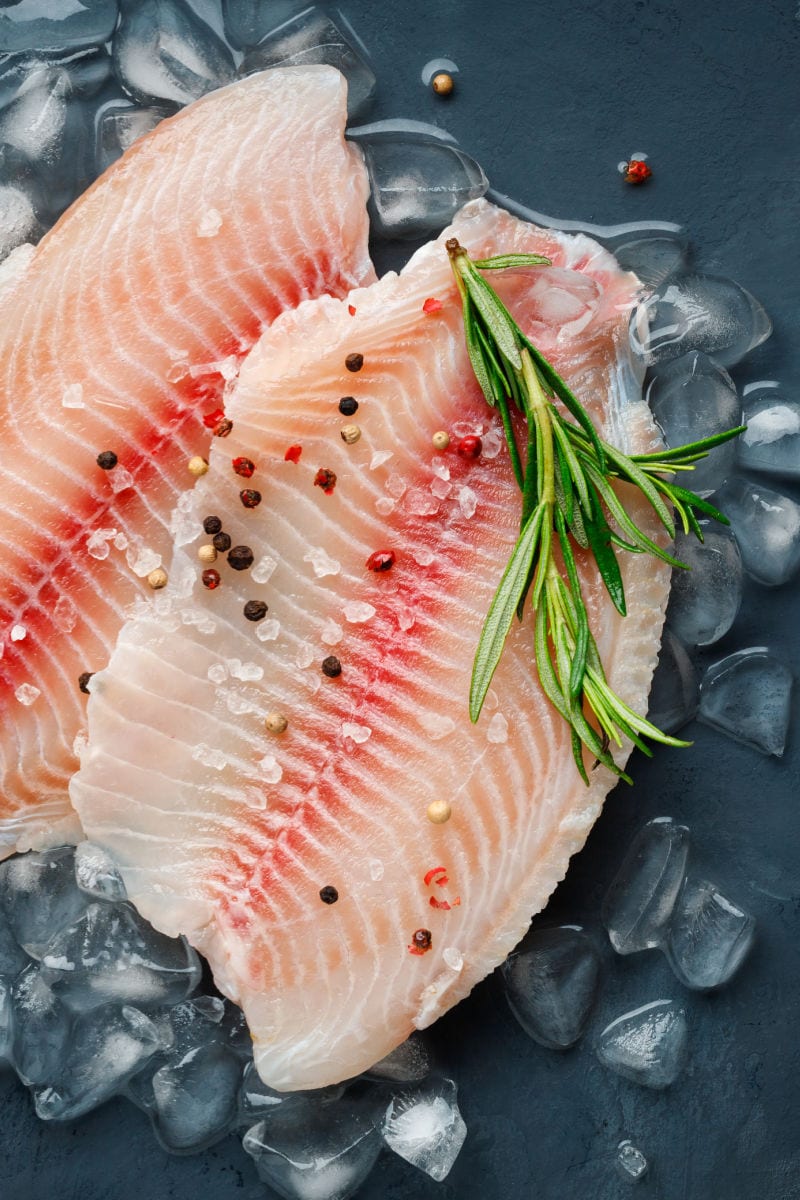 Tips to make the best recipe
Depending on the size of your sea bass filets, the cooking time may vary. My fillets were around 6 ounces, so the cooking time instructed was perfect for them. If your fillets are bigger, you may need to cook a little longer. Also, always choose filets of a similar weight so they all cook evenly.
The fish is ready to serve when it is completely opaque throughout and flakes easily.
White fish like Chilean sea bass is best tasting when flavored simply. While you can add other herbs and spices, it detracts from the natural sweet flavors of the fish. Instead, serve the fish with some fun side dishes, like cauliflower potato salad or a pasta salad.
How to pick the best fish
Like other fish and seafood out there, choosing the best sea bass will affect the overall flavor and texture.
Ensure the fish has no strong odors and have a mild and sweet fragrance. If there is any fishy smell, it's usually several days old and not freshly caught.
There should be no dry spots on the fillets and look firm and moist.
After purchasing your sea bass, take it directly home and cook it that day.
Never freeze the fresh filets, as once thawed, they won't cook or taste the same.
Storing and freezing and instructions
To store: Leftover sea bass can be stored in the refrigerator in an airtight container for up to three days.
To freeze: Place the cooked and cooled bass in a sealable container and store it in the freezer for up to two months. The fish must be thawed completely before reheating.
Reheating: Either microwave the fish for 30-40 seconds or reheat in a non-stick pan until crispy around the edges.
More healthy seafood recipes to try
Pan seared salmon
Hunan shrimp
Sweet chili salmon
Coconut shrimp
Shrimp curry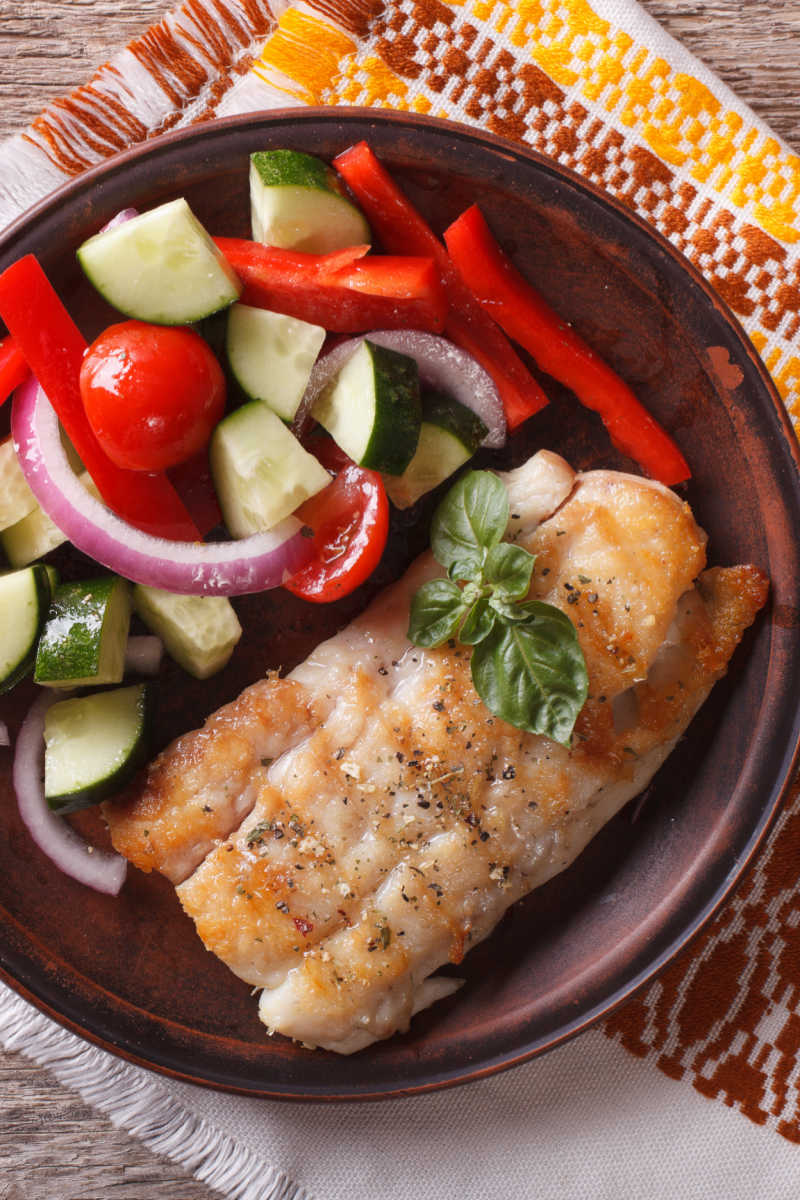 Frequently Asked Questions
Please see more list about How long to grill chilean sea bass
Detail: 🔗