This post may contain affiliate links which will not change your price but will share some commission. Please read my privacy policy.
This Chili Garlic Sauce is a homemade version inspired by Trader Joe's Chili Garlic Crunch. It's made fresh and free of preservatives!
Turn up the heat this summer with my easy homemade Chili Garlic Sauce! If you're familiar with Chinese-American cooking, you may have heard of "Huy Fong" chili garlic sauce.
This recipe is similar and goes well with any dish you want to add some heat to.
Love sauces as much as I do? Check out my recipes for Chick-Fil-A Sauce, Garlic Butter Sauce, and BBQ Sauce!
Easy Homemade Chili Garlic Sauce Recipe
If you love Trader Joe's Chili Garlic Crunch, you'll absolutely love this homemade copycat version!
You probably already know this, but I'm a sauce enthusiast. There's hardly anything that a good sauce can't enhance.
I usually shy away from spicy foods, but lately, I've been enjoying mildly spicy sauces to add a touch of heat to my favorite dishes.
This Asian-inspired condiment is perfect for Asian cuisine but also works as a versatile "good on everything" sauce if you like it spicy.
Put it on vegetables, burgers, steak, or anything you like! Once you try this chili garlic crunch, you won't look back.
Ingredients for Chili Garlic Sauce
Olive oil: I used light olive oil as the base for this recipe. Make sure to use fresh oil for the best results.
Herbs & spices: Don't skip any of these ingredients as they contribute to the incredible flavors of the sauce. I used dried minced onion, dried minced garlic, red pepper flakes, kosher salt, chili pepper, and smoked paprika.
Peppers: Surprise! We'll be using dried red bell peppers for this Chili Garlic Sauce. They bring a touch of sweetness to the sauce.
Fish sauce: If you enjoy Huy Fong sauce or Asian cuisine, I highly recommend adding a splash of fish sauce. It adds a nice umami flavor. However, it's optional and subjective to personal preference.
For detailed measurements and a complete list of ingredients, please refer to the recipe card below.
How to Make Homemade Chili Garlic Sauce
In just under 5 minutes, you can have your own fresh and preservative-free Chili Garlic Sauce ready to use at your convenience.
To make the sauce, simply combine all the ingredients in a glass jar. Close the jar with the lid and shake until everything is well combined.
Note that the ingredients may settle at the bottom, so give the jar another shake or stir with a spoon before using.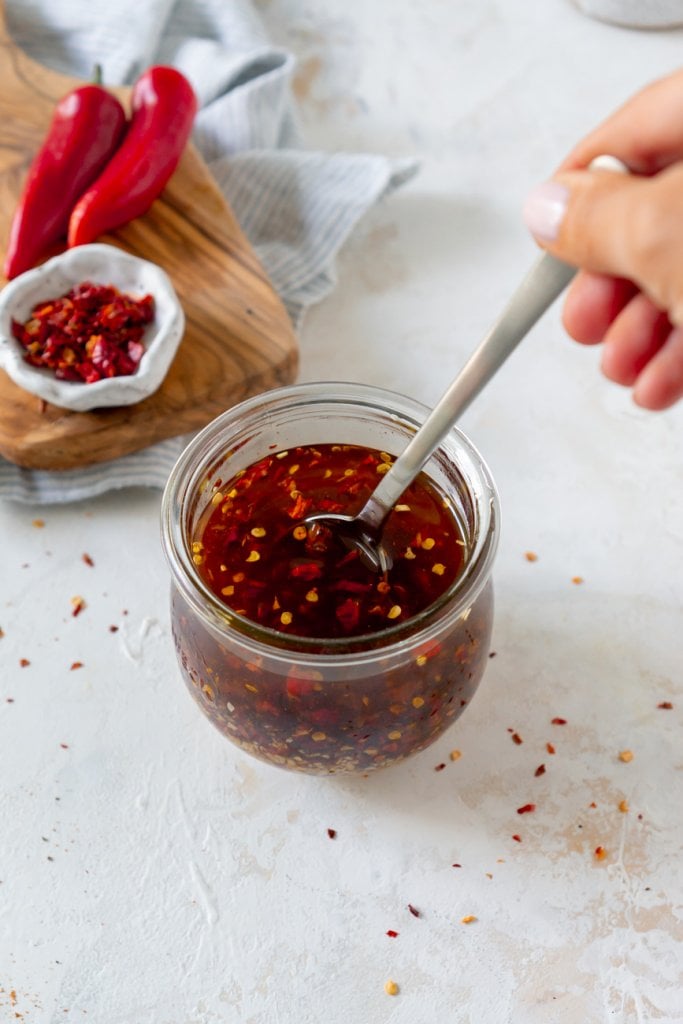 What to Serve with Chili Garlic Sauce
While this sauce is often used in Asian dishes, it can be paired with anything you want to add flavor or a spicy kick to.
Some recipes I enjoy adding Chili Garlic Sauce to include:
Sesame Garlic Baby Bok Choy
Air Fryer Cauliflower
Blackened Salmon Rice Bowls
Shrimp Pho Noodle Soup
Whole30 Egg Roll In A Bowl
And my personal favorite: drizzled onto fresh warm, toasty bread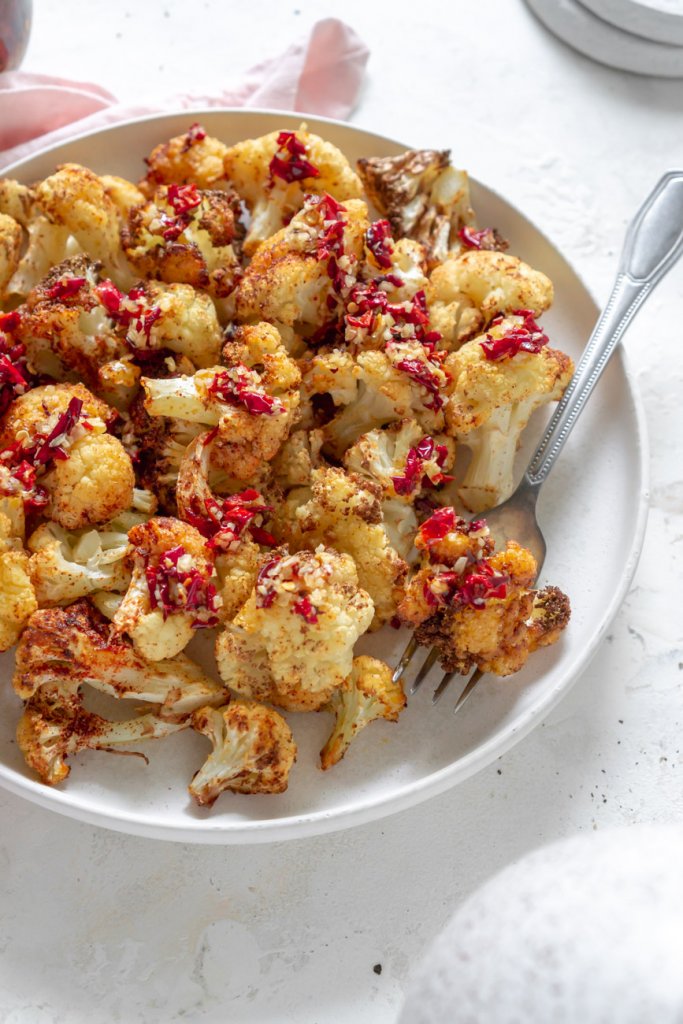 Sriracha vs. Chili Garlic Sauce
Although both are delicious in their own way, there are notable differences between Sriracha and Chili Garlic Sauce.
Sriracha contains added sugar and undergoes fermentation before bottling, giving it a slightly sour and pungent flavor.
On the other hand, Chili Garlic Sauce doesn't contain added sugar and is not fermented.
Both sauces are delicious depending on the dish you're serving.
Is Chili Garlic Sauce the Same as Chili Paste?
Traditionally, the main difference between a sauce and a paste is the texture, and that applies to Chili Garlic Sauce as well. It has a thinner consistency compared to chili paste.
If you prefer a thicker consistency, you may want to use chili paste instead.
For me, this version of Chili Garlic Sauce works best as a condiment due to the texture from the dried ingredients.
However, the most significant difference is the heat. If your recipe calls for chili paste, it's because you want a stronger kick.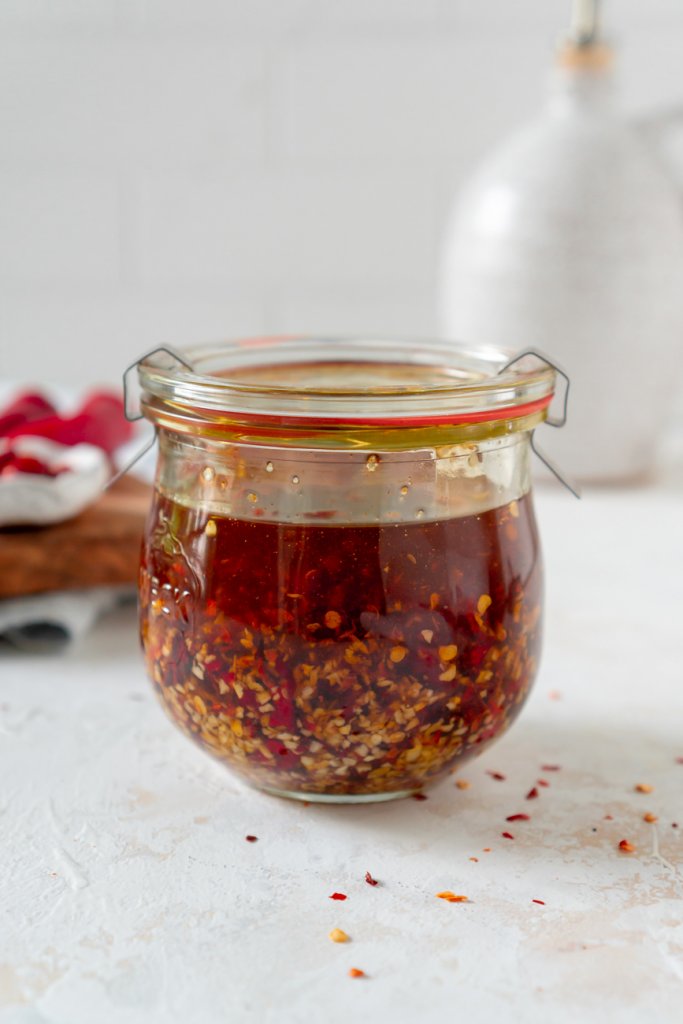 Where Does Chili Garlic Sauce Come From?
Chili garlic sauce is inspired by Chinese-American cuisine and originated in the US. You can find jarred or bottled versions of it in stores, often labeled as Huy Fong.
How to Store Homemade Sauces
I love storing homemade sauces in these Weck jars. You can also opt for wooden or plastic lids if you prefer. The jars look great, so I don't mind keeping them on the counter!
Other Recipes to Try
Enjoy the flavors of Family Cuisine with these delicious recipes:
Want to Try This Chili Garlic Sauce Recipe?
PIN IT to your Asian recipes, sauce recipes, or condiment recipes board to save it for later! Find me on Pinterest for more great recipes. I'm always pinning!
Did you make this recipe? Post a photo on Instagram and tag me @JZEATS or #JZEATS so I can see! Leave a comment below and let me know what you think too!