This website may contain affiliate links and advertising so that we can provide recipes to you. Read my privacy policy.
Chilled cucumber tomato salad is a refreshing salad made with fresh ingredients that everyone can enjoy all year round. It's fast, easy, and can be made ahead, making it perfect for any potluck!
Fresh cucumbers and tomatoes from the garden are my favorites! This tomato basil salad, this delicious creamy cucumber salad and this yummy Italian avocado cucumber tomato salad are more light and tasty salad recipes that are just as delicious.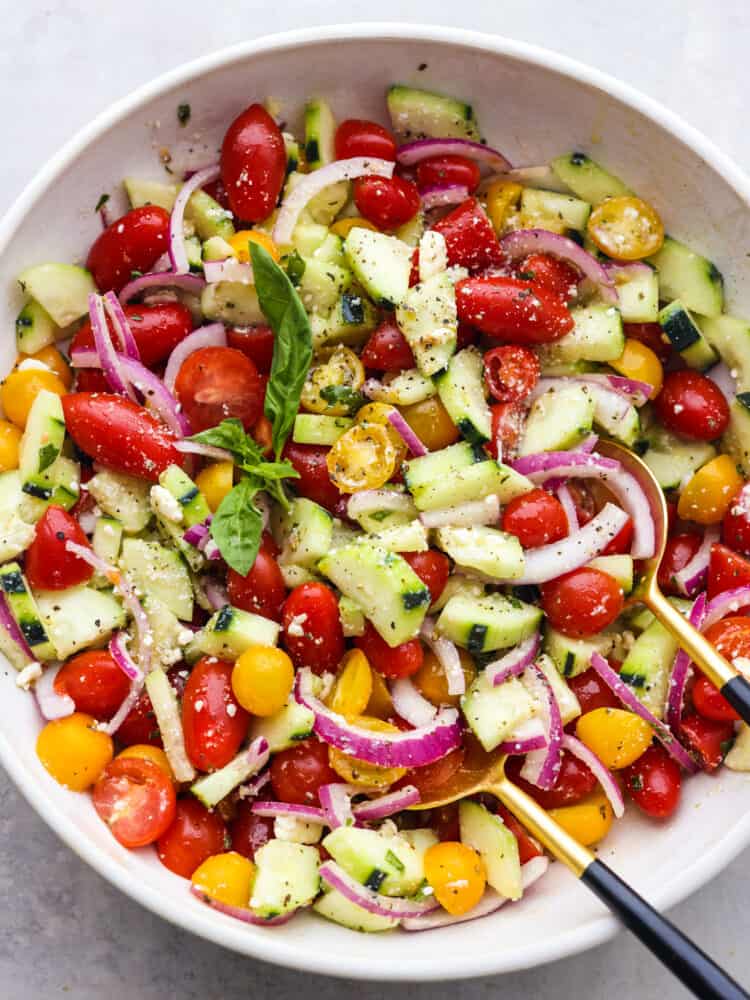 Chilled Cucumber Tomato Salad
I love a good fresh salad, especially during the summer months! If you are one of those lucky ones with a thriving garden in your backyard and don't know what to do with all those tomatoes… I am so jealous! You will never get sick of eating them after trying this recipe! These ingredients, when blended together with fresh herbs, combine and and taste SO good. Everything becomes juicy, but stays crisp.
Fresh produce is the best thing about spring and summer. And this chilled cucumber tomato salad might just be my favorite way to use it all up. Sometimes simple is best, and this salad is the perfect example. It has just the right amount of flavor from the dressing. Plus, this summer salad goes with just about anything which makes it the perfect side to bring to any potluck or get-together!
Ingredients in Cucumber Tomato Salad
Using fresh veggies is key to making this salad taste absolutely delicious! The dressing compliments all of their flavors, and they taste so delightful altogether. Check out the recipe card at the bottom of the post for exact measurements.
The Dressing
Olive Oil: I used regular olive oil for the base of this dressing.
Red Wine Vinegar: Red wine vinegar brings in a sharp and tangy flavor.
Sugar: There is just enough sugar to balance out the dressing.
Salt: I like to add salt because it enhances all of the other flavors.
Black Pepper: I love using black pepper in my dressings.
Chili Flakes: They don't bring in much heat, but they bring a lot of good taste and it goes so well in this cucumber tomato salad.
Basil: This adds in a bright and fresh taste!
Parsley: This classic herb goes so well with everything else.
The Salad
Fresh tomatoes: You can use cherry or grape tomatoes for this salad. Cut them in half so that they are easier to eat.
Cucumbers: I like to slice up my cucumbers and then cut them into quarters.
Red Onion: Slices of red onion blens so well with the other veggies; it's a must!
Feta Cheese: I haven't found a salad that doesn't taste better after adding feta cheese and this cucumber tomato salad is no exception.
How do you make Cucumber Tomato Salad?
Whisk ingredients: Whisk together all the ingredients for salad dressing in a small bowl. Salad dressings should be on the saltier side so that when you add in the fresh vegetables then the flavors balance themselves.
Toss and chill: Add all the veggies to a large bowl and toss well with the salad dressing. Refrigerate for at least an hour before serving. Mix again right before serving.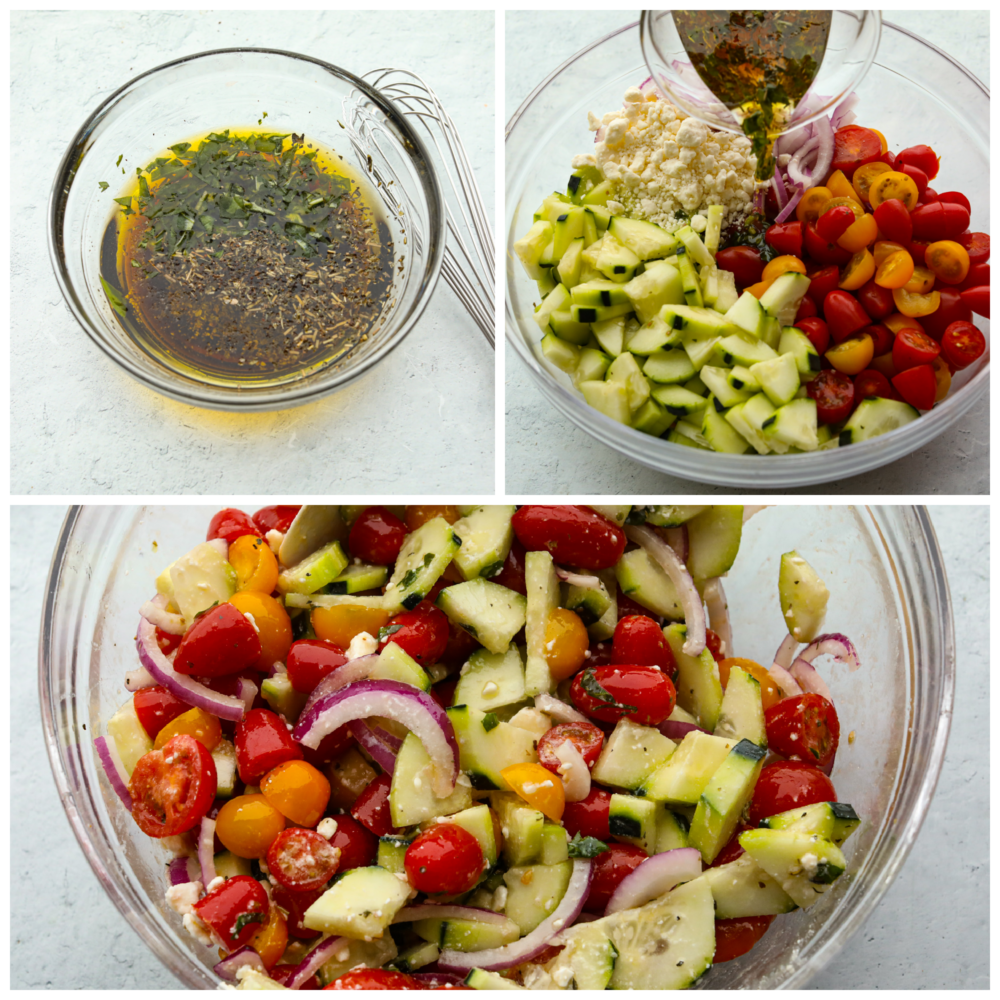 Please see more list about Recipe for tomato cucumber salad
Detail: 🔗