This luscious chocolate mousse cake filling is light, delectable, and perfectly sweet. It's the ultimate choice for enhancing any dessert, whether it's a cake or cupcakes! At its heart, this filling is a delightful blend of chocolate whipped cream, enhanced with melted and cooled dark chocolate. The result is a heavenly, airy texture bursting with rich chocolate flavor.
How to Create This Heavenly Chocolate Mousse Cake Filling
To ensure your chocolate mousse filling turns out extraordinary, let's go through each step together. I've even included a video tutorial of the process below.
Step 1: Melting the Chocolate & Creating the Chocolate Mixture
Start by melting the chocolate chips in a medium-sized, heat-proof bowl. Heat them in the microwave for 20-30 seconds at a time, stirring after each interval until the chocolate is completely melted and smooth. In case you don't have a microwave, a double boiler can be used as an alternative.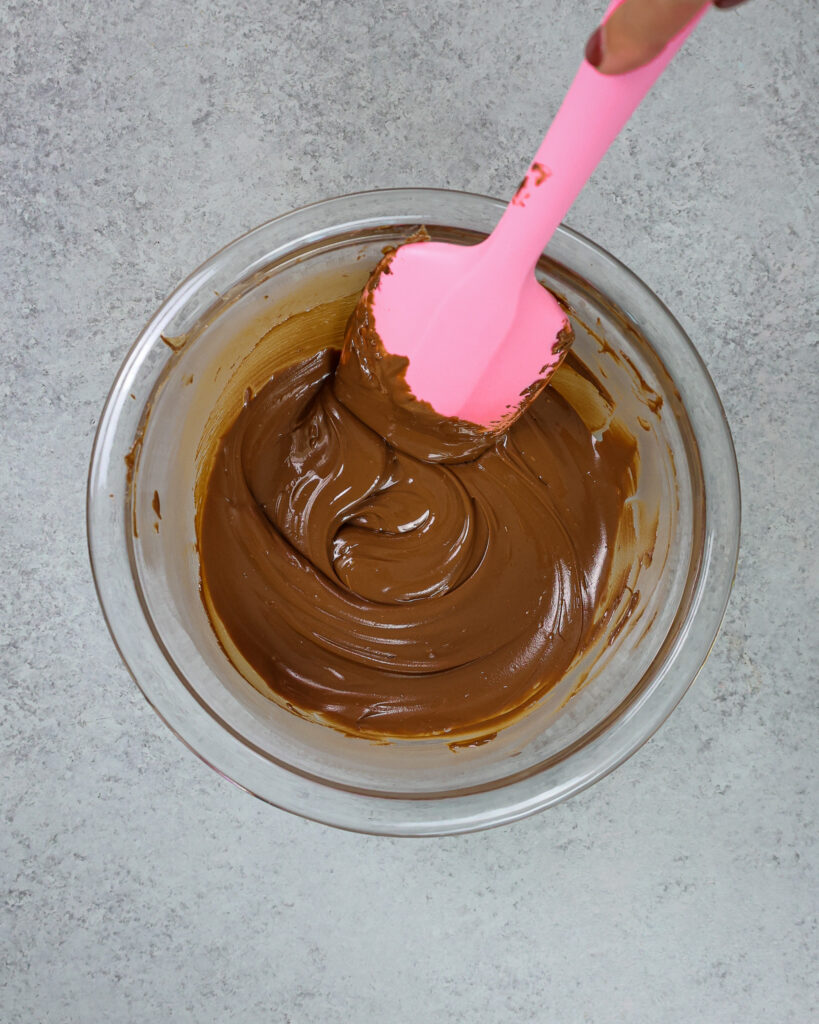 In a separate small bowl, whisk together hot water and cocoa powder. Pour this mixture into the melted chocolate and whisk until smooth. The resulting mixture should be slightly thick. Set it aside.
Step 2: Whipping Up the Creamy Delight
In a large bowl or the bowl of a stand mixer equipped with a whisk attachment, combine heavy cream, powdered sugar, vanilla extract, and a pinch of fine salt. Mix them on medium-high speed until the whipped cream starts to gather in the whisk attachment, and you notice texture forming around the edges of the bowl. This generally takes around 2 1/2 to 3 minutes with a stand mixer.
Step 3: Incorporating the Chocolate Mixture
Gently fold the chocolate mixture into the whipped cream using a rubber spatula. Make sure to swoop the spatula around the sides of the bowl and pull it through the center, just like I demonstrate in the recipe video. Be cautious not to overmix the mousse, as it may lose its structure. Cover the mousse with plastic wrap and refrigerate for at least 2 hours.
Variations & Substitutions for this Irresistible Chocolate Mousse Recipe
Feel free to customize this recipe with the following alternatives:
Dark Chocolate: You can utilize dark chocolate chips, baking chocolate, or high-quality chocolate bars. If you have a personal preference, milk or semi-sweet chocolate can also be used.
Dark Cocoa Powder: If you can't find dark cocoa powder or don't have any on hand, regular unsweetened baking cocoa will suffice.
Heavy Cream: Both heavy cream and heavy whipping cream can be used. For a dairy-free and vegan chocolate mousse filling, coconut cream is a fantastic substitute.
Powdered Sugar: To achieve the desired smoothness and sweetness, opt for a fine sugar like powdered sugar. Other types of sugar or granulated sugar are not recommended.
Discover the Possibilities with this Decadent Chocolate Mousse Filling
This delightful dark chocolate mousse adds a touch of elegance to various desserts! It beautifully complements layer cakes, but it can also be used as a delicious filling for cupcakes or even ice cream cakes. Alternatively, savor it on its own by topping it with whipped cream and a garnish of chocolate shavings for a delightful standalone dessert.
Tips for Creating the Perfect Chocolate Mousse Cake Filling
Here are a few helpful tips to ensure your chocolate mousse turns out exceptional:
Chill your mixing bowl and whisk attachment in the freezer before making the chocolate mousse. This expedites the process of whipping up the cream.
Heat the chocolate in short intervals, stirring between each interval to prevent overheating and seizing.
Pay close attention when whipping the cream to avoid overmixing, as it may result in butter rather than whipped cream.
Opt for high-quality chocolate to enhance the flavor of the filling.
Remember to keep the chocolate mousse filling adequately refrigerated to maintain its shape and structure.
Preparing in Advance & Storage Tips
Prepare this chocolate mousse up to 2 days in advance and store it in the refrigerator, either in an airtight container or covered with plastic wrap. Once the filling is used to fill a cake or cupcakes, be sure to keep them refrigerated.
Share Your Feedback
If you give this chocolate mousse cake filling recipe a try, I'd love to hear your thoughts! Please leave a rating and comment below to let me know what you think.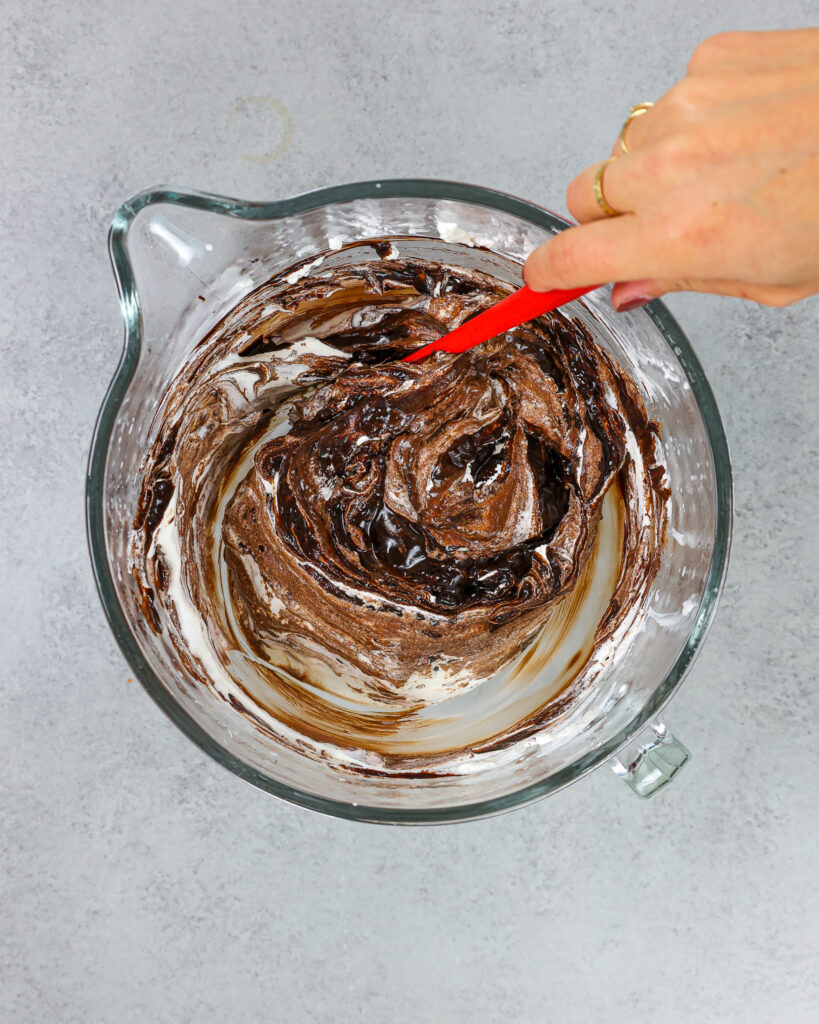 Other Recipes You Might Enjoy:
Chocolate Raspberry Mousse Cake – Indulge in the delightful combination of chocolate and raspberry.
Caramel Chocolate Poke Cake – Dive into the decadent world of chocolate and caramel.
Ombre Chocolate Cake – Experience the delight of indulging in a visually stunning cake.
Death by Chocolate Cake – Get lost in a world of chocolate bliss.
Remember, for more delightful recipes and culinary inspiration, visit Family Cuisine.