❤️ Why You'll Fall in Love with this Recipe
If you're a fan of crispy Cinnamon Toast Crunch cereal, you'll definitely adore these delectable chewy cookies! They're not only infused with the delightful flavors of cinnamon and vanilla but also studded with crushed pieces of the cereal. Whether you're a kid or an adult, making and enjoying these cereal cookies will be a blast!
🗒 Ingredients
To whip up these delightful cookies, you'll need some basic ingredients that you probably already have in your pantry. Here's what you'll need (check out the recipe card below for precise measurements and detailed instructions):
All-purpose flour
Baking soda
Ground cinnamon
Salt
Unsalted butter
Granulated sugar
Light brown sugar
Large egg
Vanilla extract
Cinnamon Toast Crunch cereal
The cookie icing is optional, but I highly recommend it! Here's what you'll need for that:
Confectioners' sugar
Milk
Ground cinnamon
Salt
🍪 How to Create the Irresistible Cinnamon Toast Crunch Cookies
Crafting these cookies is a piece of cake. The batter is straightforward, with crushed Cinnamon Toast Crunch cereal and ground cinnamon incorporated into a simple cookie base. The most challenging part is crushing the cereal. I suggest placing it in a Ziplock bag and pounding it with a meat tenderizer or using a food processor. Give it a few extra crushes if you prefer a more tender texture!
Start by whisking together all-purpose flour, baking soda, ground cinnamon, and salt in a medium bowl. Set it aside.

In a stand mixer with a paddle attachment or a large bowl with a hand mixer, cream together unsalted butter, granulated sugar, and light brown sugar until the mixture becomes light and fluffy (about 3-4 minutes).

Stir in the large egg and vanilla extract until just combined.

Keeping the mixer on low, blend in the dry ingredients, being careful not to overmix.

Gently fold in the crushed Cinnamon Toast Crunch cereal.

Line two cookie sheets with parchment paper, then drop about 3 tablespoons of cookie dough, spacing them about an inch apart.

Pro tip: A #20 cookie scoop makes this task a breeze. If you don't have one, I recommend investing in a set for all your cookie-related needs. Plus, they're handy for scooping batter, ice cream, and more!

Bake the cookies for 10-12 minutes until the edges begin to turn golden brown.

Let them cool on the cookie sheets for a couple of minutes before transferring them to a wire rack to cool completely.
🧁 How to Make the Heavenly Cookie Icing
While not mandatory, the icing adds an extra touch of decadence to these cookies, reminiscent of the sweet milk that accompanies a bowl of Cinnamon Toast Crunch.
Whisk together confectioners' sugar, milk, ground cinnamon, and salt in a small bowl to create the icing.

Once the cookies have cooled completely, drizzle the icing over them.
Take a bite, and you'll be transported to a realm of luscious cereal bliss! These soft, chewy cookies boast an exceptional Cinnamon Toast Crunch flavor. I even caught Chris enjoying one for breakfast, reasoning that since they contain cereal, they're a permissible morning treat. Besides, they pair magnificently with a steaming cup of coffee. Brace yourself, as your entire family is sure to become obsessed with these scrumptious cookies!
⏲️ Storing Your Cookies
Once the cookies have cooled fully, you can store them in an airtight container for up to 5 days.
❓ Can I Use a Different Cereal?
Absolutely! These cereal cookies can be made with any variety of cereal you prefer. If you choose a different kind, you may want to omit the cinnamon from the recipe to give the cereal's flavor a chance to shine. You might also consider altering the type of icing you use. Remember to crush the cereal before folding it into the batter!
🎉 Elevate Your Cookie Experience
While these cookies are already outstanding, you can take them to new heights by incorporating various creative add-ins. Here are some intriguing ideas:
Add white chocolate chips.
Throw in some freeze-dried strawberries.
Sprinkle a dash of "Cinnadust" over the top.
Dust them with powdered sugar.
Spread a layer of cream cheese frosting on the cookies.
Use a blend of whole wheat flour and white flour.
🥞 More Cinnamon Toast Crunch Recipes to Delight You
Cinnamon Toast Crunch is not only a favorite cereal for breakfast but also an exceptional ingredient for baking. I've concocted numerous recipes incorporating this beloved cereal, and here are a few of my personal favorites:
Cinnamon Toast Crunch Ice Cream

Cinnamon Toast Crunch Granola

Cinnamon Toast Crunch Pancakes

Cinnamon Toast Crunch Cocktail

Chocolate Cinnamon Toast Crunch Stout Milkshake
🥣 Beyond Cinnamon Toast Crunch: More Cereal Creations
While my current infatuations revolve around Cinnamon Toast Crunch, Lucky Charms, and Fruity Pebbles, I genuinely adore all breakfast cereals! They offer endless possibilities for culinary adventures. Here are some other cherished cereal recipes from my kitchen (can you tell I have a thing for cereals?):
Fruity Pebbles Greek Yogurt Popsicles
Lucky Charms Granola Bars
Fruity Pebbles Cookies
Chocolate Peanut Butter Cheerios Granola Bars
Lucky Charms Hot Chocolate
Fruity Pebbles Crepes
Momofuku's Cornflake Cookies
Fruity Pebbles Doughnuts
Lucky Charms Ice Cream
Fruity Pebbles Granola
Kitchen Sink Cereal Bars (from The Yummy Muffin)
Captain Crunch and Pretzel Marshmallow Krispie Treats (from Coupon Clipping Cook)
So yes, when the time comes for my obituary, it will undoubtedly mention my eternal love affair with cereal. However, that won't stop me from continuing to shower you with delectable cereal-infused treats (and cocktails) right here on this blog. The cereal aisle is a vast wonderland of possibilities, and I won't rest until I've explored them all.
Now tell me, which cereal do you believe would lend itself best to a delightful cookie recipe?
📖 Recipe
View the Web Story for this recipe.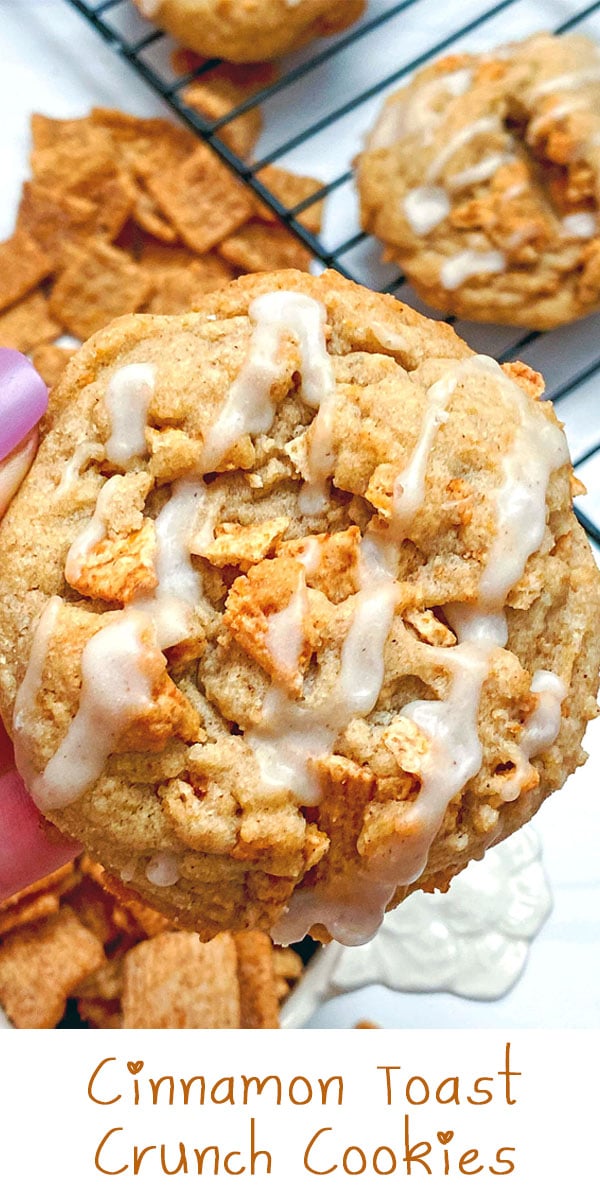 Remember to check out Family Cuisine for more delectable recipes and inspiration!