Learn to make this easy no-bake Million Dollar Pie. It might be the easiest pie you've ever made, but nobody will ever know, because it tastes like a million bucks!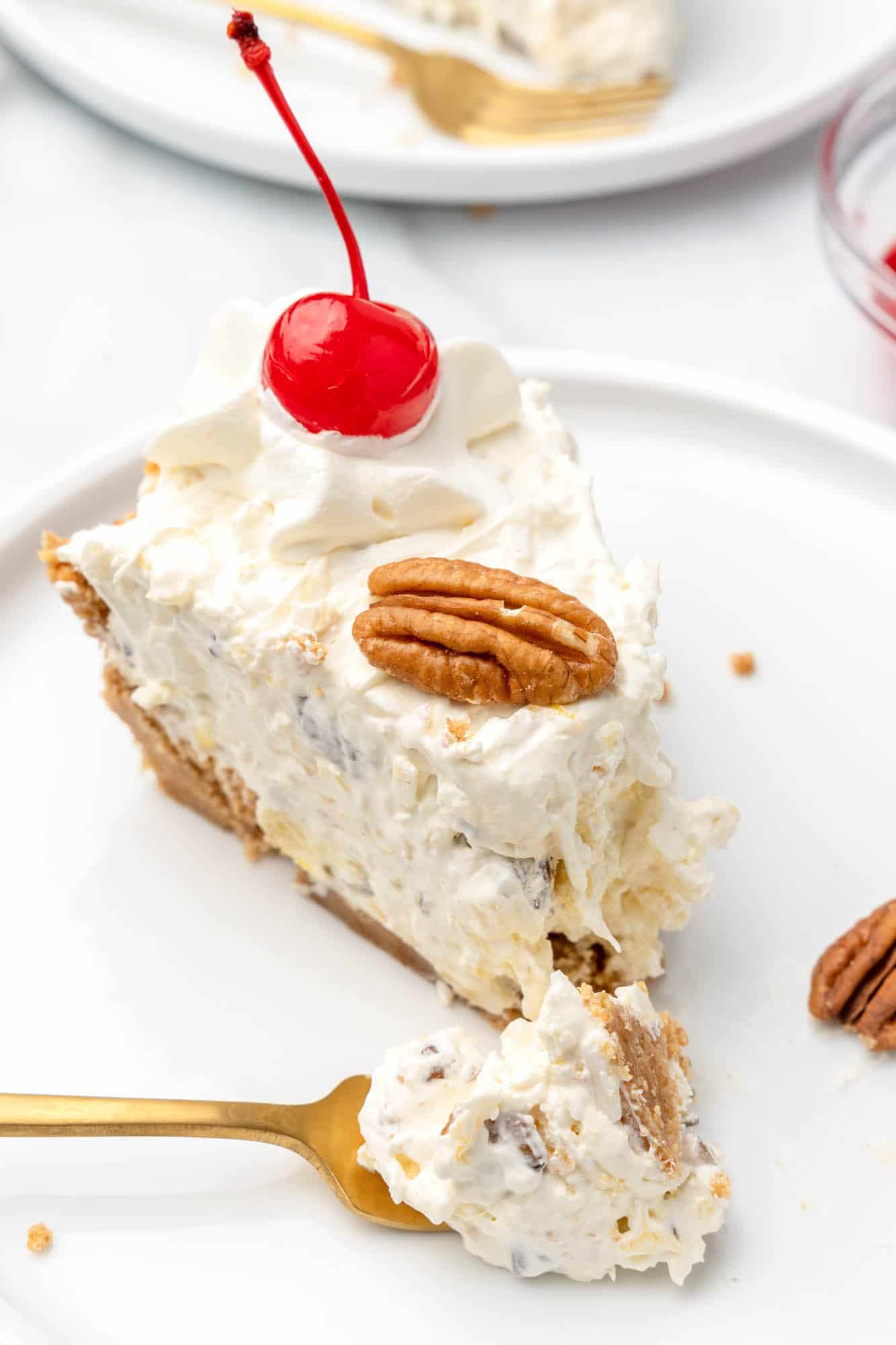 Million Dollar Pie (also called Millionaire Pie) is a delicious no-bake treat that is very easy to make, yet super impressive!
Fluffy clouds of creamy filling are swirled with crushed pineapple, coconut, and pecans, giving this pie a flavor that will remind you of piña coladas and warm days at the beach.
Millionaire Pie might also remind you of your childhood because this classic icebox pie recipe has been around for a long time! It's said to have started at a South Carolina restaurant in the 1940s.
Also read: Million Dollar Pie Recipe (Millionaire Pie)
Million Dollar Pie is the perfect summer dessert! It's a no-bake recipe, so you won't need to heat up your kitchen to make it. It is best served chilled, and can even be served frozen if you want an icy treat.
If you love no-bake desserts, check out my Orange Jello Salad and No Bake Oreo Pie too!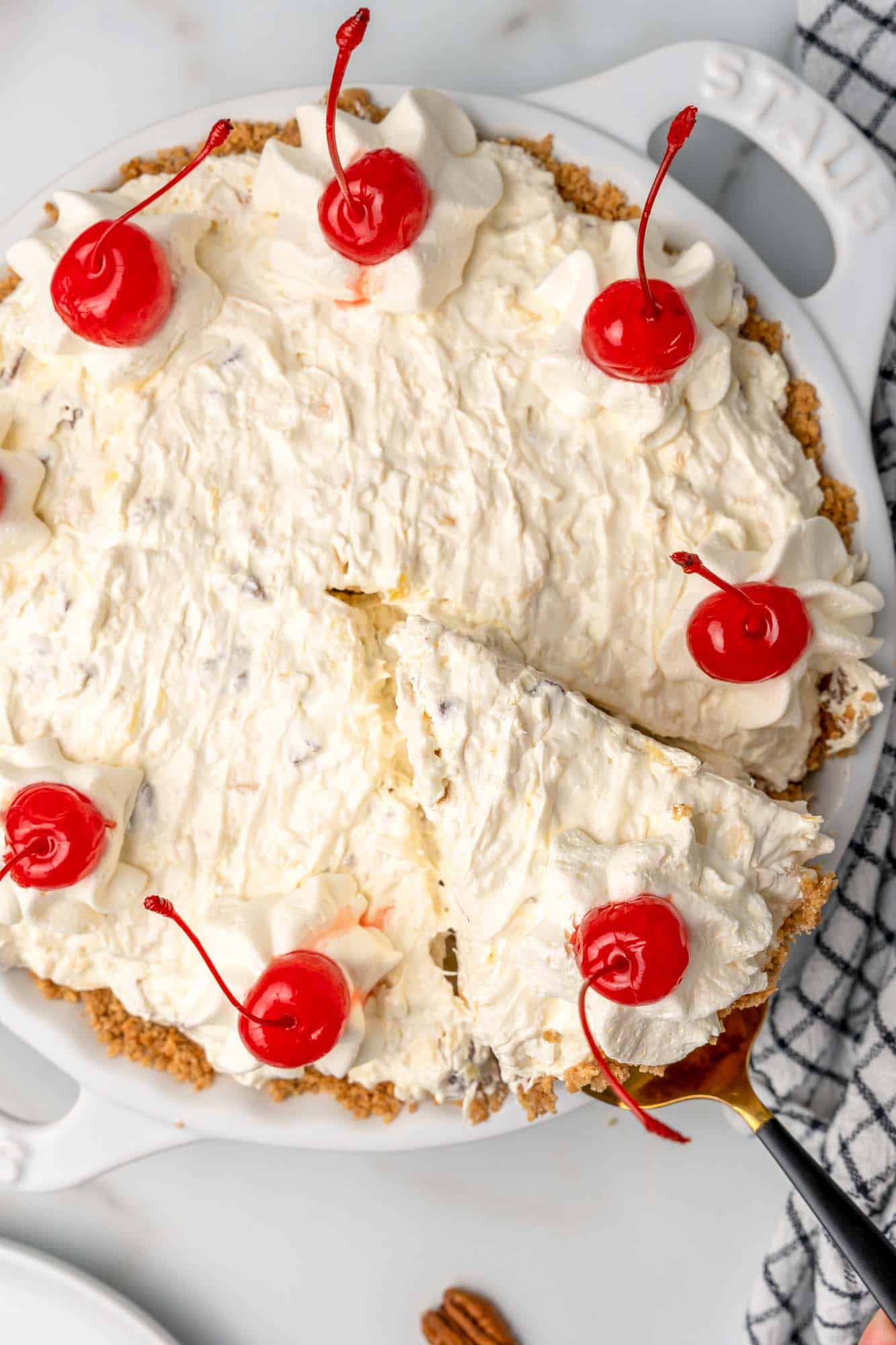 Why You'll Love This Recipe
No-Bake Magic- Somehow we're mixing together sweetened condensed milk and Cool Whip and ending up with a no-bake pie with the texture of a light, creamy cheesecake. I love recipes like this!
So Easy to Make- Stir all of the filling ingredients together, and pour them into my simple, classic graham cracker crust. Let it hang out in the fridge until you're ready to serve!
Tropical Flavor- Pecans, Coconut, and Pineapple give Million Dollar pie the most amazing creamy tropical flavor. Everyone loves this dessert.
Ingredients In Classic Million Dollar Pie
Millionaire Pie is super simple to make with a handful of ingredients!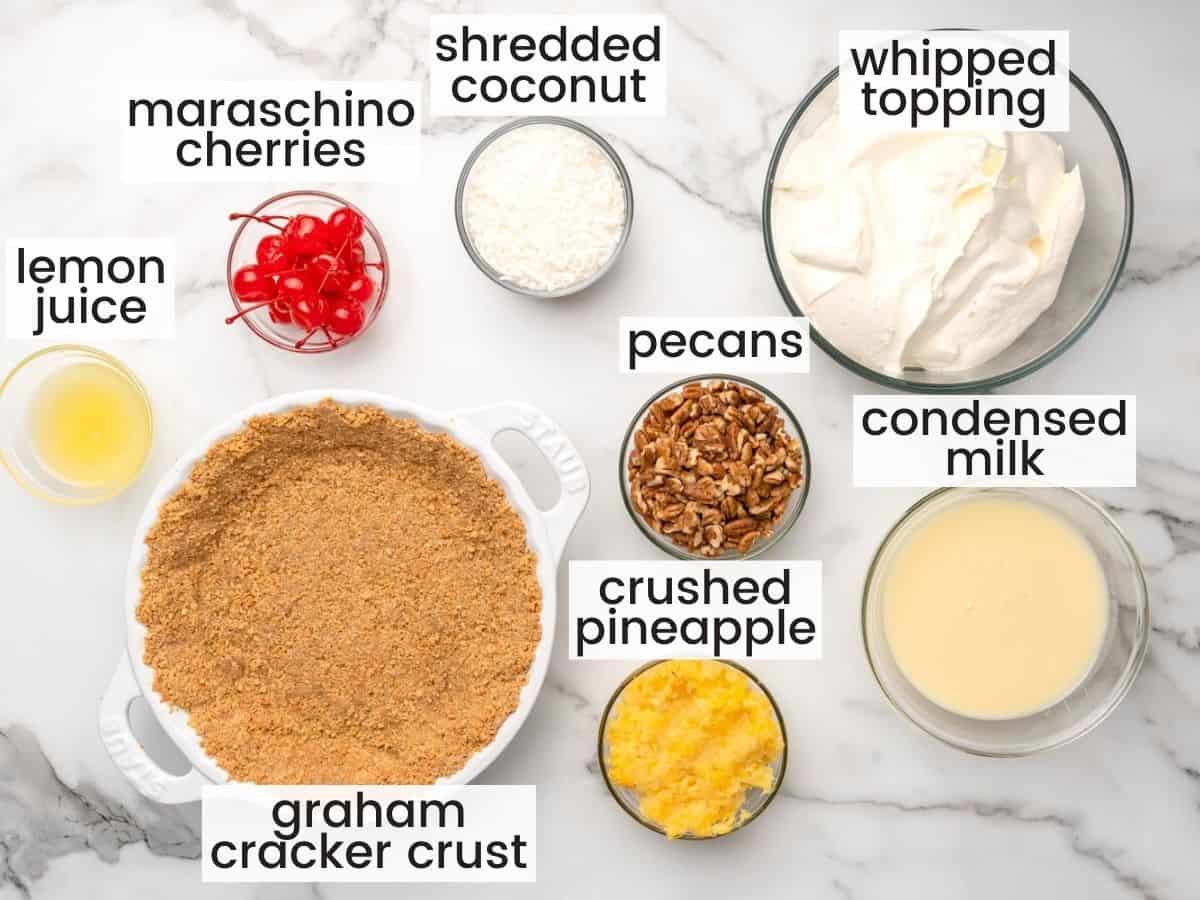 Complete list of ingredients and amounts can be found in the recipe card below.
Graham Cracker Crust: Make your own simple and delicious graham cracker crust using graham crackers, butter, and sugar. You can make this pie with a pre-made crust, but I promise it's tastier if you make one from scratch.
Condensed Milk: Buy sweetened condensed milk for making this pie, not evaporated milk. Careful, they can look similar, and they are next to each other on the shelf at the store!
Lemon Juice: Fresh lemon juice enhances the fruity and creamy flavors in the pie filling.
Crushed Pineapple: Use canned crushed pineapple, and be sure to drain it extremely well. The dryer you can get it, the better the texture of the pie will be. I use a cheesecloth to squeeze out as much as possible.
Sweetened Shredded Coconut: Finely shredded sweetened coconut adds flavor, sweetness, and texture to this dessert.
Chopped Pecans: Chop the nuts coarsely so that you have a mix of small and very small pieces.
Whipped Topping: Cool Whip or your favorite store brand variety of whipped topping is what we need here. 8 ounces of Cool Whip are in the filling, and you'll want to have extra for topping the pie before serving. Allow the cool whip to thaw overnight in the refrigerator so that it's light and fluffy.
Maraschino Cherries: I add these to the top of Million Dollar pie as the perfect garnish. If we added them into the filling, it would change the color.
How To Make Million Dollar Pie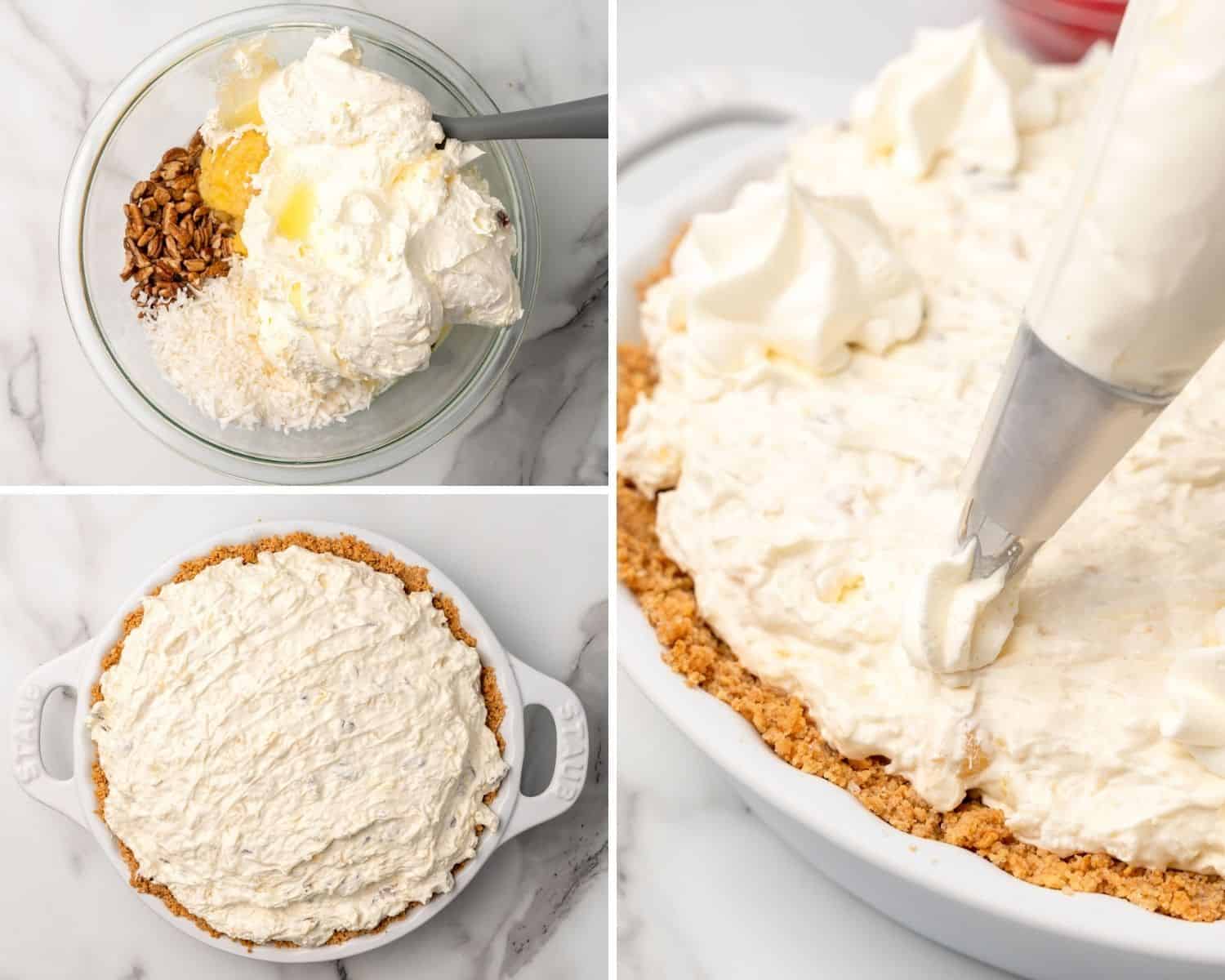 Make Graham Cracker Crust: I have a whole post full of tips for making the best graham cracker crust! You can also get the full recipe below. Bake the crust (if you want to) or chill it so that it sets up before you start making the filling.
Mix the Filling: Make Million Dollar Pie filling by combining sweetened condensed milk, lemon juice, crushed pineapple (very well-drained), coconut, pecans, and whipped topping.
Make the Pie: Spoon the filling into the prepared graham cracker crust, and chill for at least 3 hours.
Serve: Decorate the top of your pie with additional chopped pecans, whipped topping, and maraschino cherries.
Recipe Tips
Make it pretty: You can decorate the top of your million-dollar pie with other garnishes if you like. Toasted coconut, extra chopped nuts, or even rainbow sprinkles will give the pie that extra bit of fanciness.
Buy extra whipped topping: You will use a whole 8-ounce tub of it to make the filling, but you'll want to have some extra for decorating the pie before serving. In the images, I used just about a 1/2 cup extra to add swirls around the edges, but you can add a whole additional tub on top if you want to!
Keep it Cold: You must keep Million Dollar Pie refrigerated until just before you serve it. The soft filling will melt if kept at room temperature if it gets warm.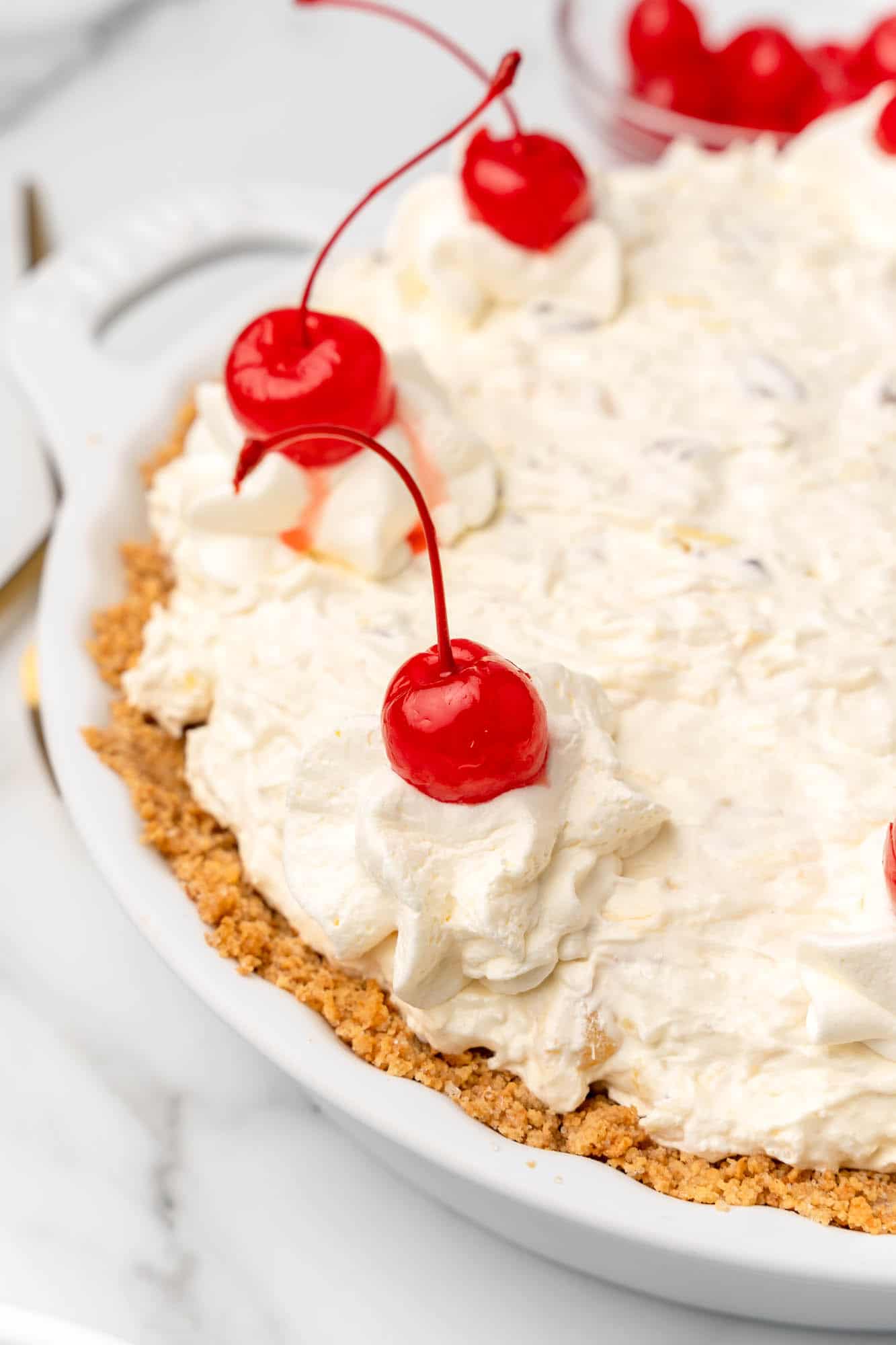 Storing Tips
Keep Million Dollar Pie refrigerated at all times, removing it only for serving. This pie will start to soften at room temperature and will be difficult to serve.
Also read: Millionaire Pie – Insanely Good Recipes
Because it needs to be chilled, this is an excellent make-ahead recipe. You can store your pie in the fridge, covered, for 3-4 days.
Freezing Million Dollar Pie
You can freeze this pie if you want to make it up to three months ahead of time. Allow the pie to thaw overnight in the fridge, or serve it semi-frozen . It's delicious either way!
Million Dollar Pie Variations
Pies like this one are pretty forgiving when it comes to adding and removing ingredients. Here are some common variations on this classic no bake pie:
Mandarin oranges or canned peaches in place of all or some of the crushed pineapple
A topping of toasted shaved coconut
Cookie crust made with vanilla wafers or shortbread cookies
Skip the pecans, or substitute with walnuts, almonds, or cashews
Softened cream cheese added to make a thicker filling
Lighten up the pie by using light whipped topping and unsweetened cococonut.
What To Serve With Million Dollar Pie
Make Million Dollar pie for all of your summer parties and barbecues! It's a great recipe for warm weather days because you can make it without the oven, and it can be served chilled or frozen!
Also read: Easy Millionaire Pie Recipe: Furr's Cafeteria Copycat
Fire up the Grill and make colorful Veggie Kabobs and Grilled Shrimp Kabobs.
Simple Summer Sides like my Strawberry Spinach Salad, and tasty Ramen Noodle Salad will round out your meal.
Don't forget to mix up some Frozen Strawberry Daquiri's!
Millionaire Pie is also commonly made to share at holidays like Christmas. Look for red and green maraschino cherries to make this pie festive for the season!
FAQs
This easy no bake pie is so simple to make, I have a feeling you'll be making it often! Be sure to Pin it, and share so that your friends have the recipe too.
For more information please see the list of Millionaire salad cherry pie filling