5 healthy smoothies that taste good and are quick and easy to make with 5 ingredients or less. These easy smoothie recipes are simple to customize and perfect for breakfast or an after workout snack. Includes super foods, secret tips and all the fruit smoothie recipes are dairy free, paleo, Whole30, sugar free with low carb keto options.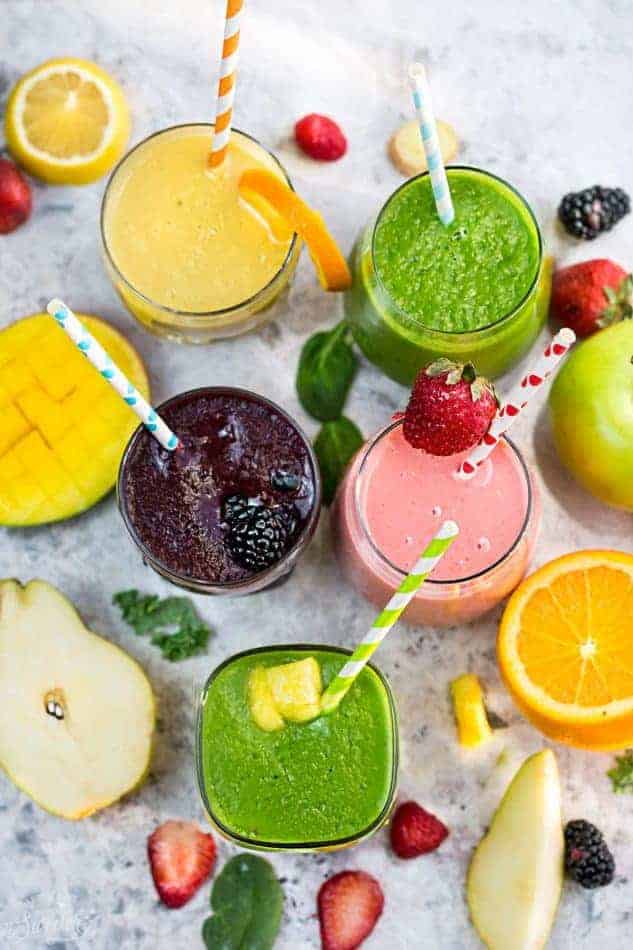 Reading: cleansing smoothies that taste good
PIN HERE for later and follow my boards for more recipe ideas
Updated July 2019
HEALTHY SMOOTHIES FOR SUMMER AND THE NEW YEAR
With the start of summer (AKA swimsuit season) and the beginning of the new year, most of us are looking to include more clean and healthy recipes after all the heavier meals and desserts over the holidays!
Nothing helps to kick start your morning like some delicious breakfast smoothies. Smoothies are one of my family's favorite way to start the day especially during the summer when you want something cold and refreshing.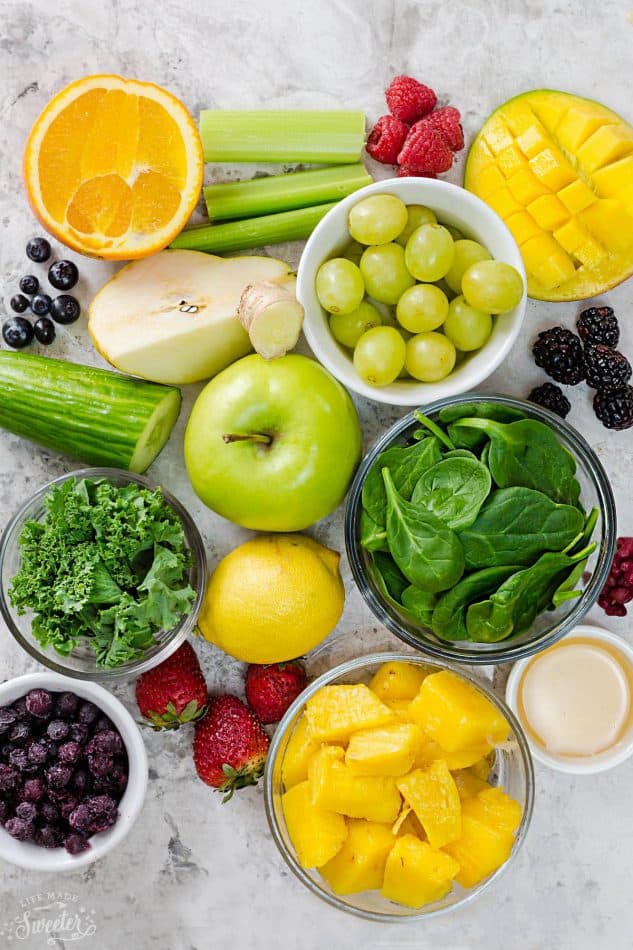 Making smoothies at home is one of the easiest things since you can use whatever you have in your fridge or pantry. I love how versatile these healthy shakes are. You can easily swap in your favorite fruit, vegetables and other spices and add-ins you like.
ARE SMOOTHIES HEALTHY?
Ever wondered will smoothies make me gain weight?
Some fruits smoothie recipes and smoothie bowls are loaded with sugar and other unnecessary ingredients that can actually make you gain weight.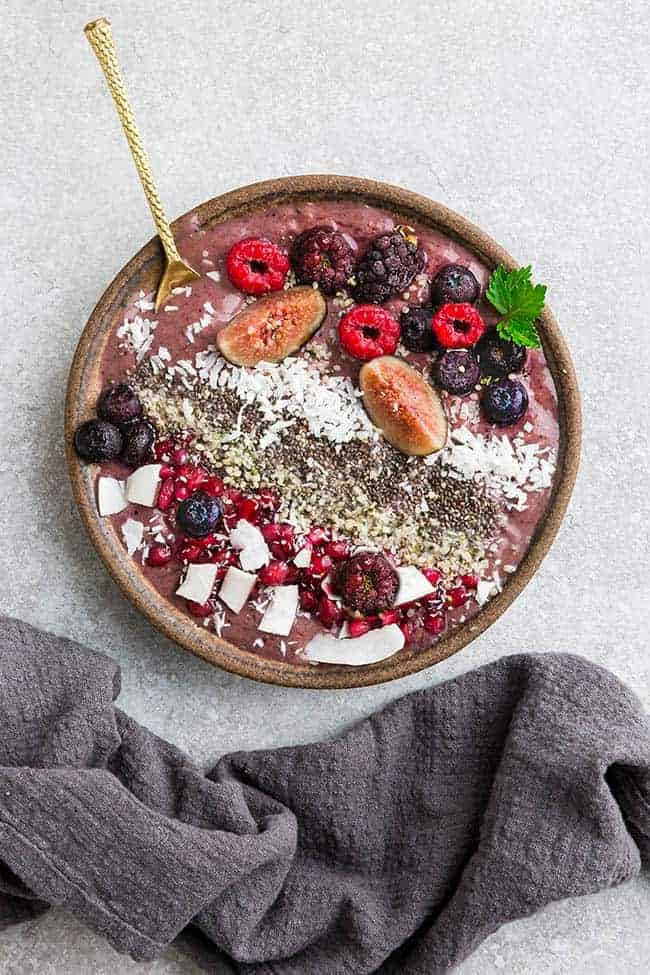 So will smoothies make me lose weight?
By using the right combination of ingredients, you can create healthy smoothies that taste good and may even help you lose weight if that is your goal.
5 EASY HEALTHY SMOOTHIE RECIPES:
Today I am sharing FIVE easy smoothies that are perfect as part of a healthy breakfast, pre or post workout snack or a quick pick me up to help keep you full until your next meal.
These delicious smoothie recipes are all naturally vegetarian, vegan friendly, dairy free and Whole30 compliant but feel free to adjust the ingredients according to your dietary preferences.
Green Smoothie with Avocado – click the link OR scroll to the bottom for the full recipe
Orange Smoothie OR Lemon Smoothie for low carb – scroll to the bottom for the full recipe
Blackberry Kale Smoothie – click the link OR scroll to the bottom for the full recipe
Strawberry Smoothie – click link the link OR scroll to the bottom for the full recipe
Spinach Smoothie – scroll to the bottom for the full recipe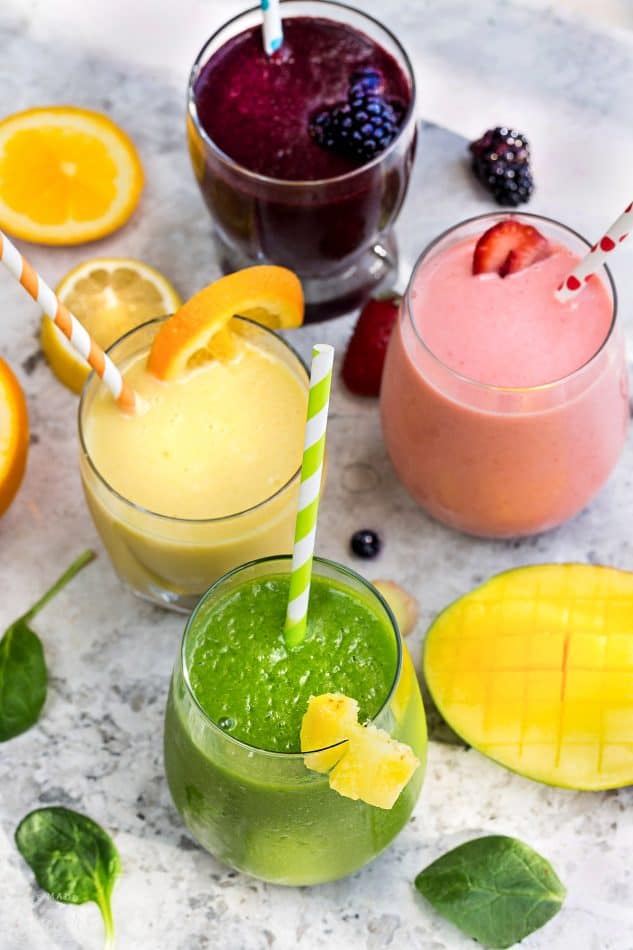 Most of these healthy fruit smoothie recipes are made with only 5 Ingredients or less. They are full of fiber, protein, and healthy fats and are also completely SUGAR FREE, banana-free, vegan/dairy-free.
And they're also perfect if you are looking for recipes that are WHOLE 30 or paleo-friendly.
I've even included options and substitutions to make all of these easy smoothies low carb and keto-friendly if you're following a keto diet
OPTIONAL SWEETENER
The recipes for these healthy smoothies for weight loss are sugar-free but depending on your diet and preference, you are totally free to add these refined sugar free options or any sweetener of your choice:
maple syrup
raw honey
ripe banana
dried dates
fresh grapes
coconut sugar
low carb sweeteners: monk fruit sweetener, erythritol, SWERVE or stevia
WILL SMOOTHIES KEEP OVERNIGHT?
My personal preference is to prep the ingredients for smoothies and then blend them when you're ready to enjoy.
All of these smoothie recipes can be made ahead of time if your mornings are pretty crazy like ours. Simply place the solid ingredients into a labeled clear resealable bag and store them in the freezer. Then in the morning, choose the smoothie flavor you feel like having that morning….add liquid and blend.
HOW LONG CAN YOU STORE SMOOTHIES IN THE FRIDGE?
If you prefer to make your fruit smoothies ahead of time, blend all the ingredients and store in a mason jar and cover with the lid. Smoothies will typically keep in the fridge for 1-2 days. You may notice that the liquid separates so you can either shake the smoothie together or re-blend again.
CAN I FREEZE SMOOTHIES?
If you prefer to store your blended green smoothies in the freezer, you can portion them out into ice cubes until frozen. Then pop the smoothie cubes out and store in a clear resealable bag or Stasher bag for up to 3 months.
Read more: How to cold brew coffee in a french press
Then when you're drink your breakfast smoothie, simply thaw in the fridge about an hour beforehand in a glass cup.
You can also freeze the smoothies in a mason jar for up to 3 months. Be sure not fill the mason jar all the way to the top, otherwise, the jar can shatter. When you're ready to drink your healthy smoothie, thaw the mason jar in the fridge the night before or a few hours beforehand.
OTHER VARIATIONS:
You can also change up these easy smoothie recipes with any add-in choices that you like:
water
coconut water
matcha powder or brewed green tea
cocao powder
chia seeds
for dairy free: almond milk, soy milk or oat milk
ripe frozen banana (adds thickness as well)
water kefir
OTHER VEGGIES YOU CAN USE:
cauliflower – adds bulk
zucchini
If NOT Whole30, paleo & dairy is okay:
plain yogurt, Greek yogurt or vanilla yogurt – add to the freezer for 20 minutes and it tastes just like ice cream
peanut butter, almond butter or sunflower seed butter for extra added protein
oats for extra staying power
HOW TO MAKE SMOOTHIES:
BE SURE TO FOLLOW THE TIPS IN THIS GUIDE FOR THE CORRECT ORDER OF INGREDIENTS FOR THE BEST SMOOTHIES:
ADD LIQUID FIRST: You're going to start by adding the water, milk, coconut water, coconut milk to your high speed blender first. Adding the liquid first helps to make the other ingredients blend much faster.
ADD GREENS OR SOFTER FRUIT & VEGGIES: Next, add any spinach, kale and other soft fruits such as fresh berries.
FROZEN INGREDIENTS OR ICE:Finally, add the hard veggies, frozen fruits or ice.
COVER WITH LID AND BLEND: Turn your blender on – the best part is, if you have a high powdered blender such as a Blendtec or a Vitamix, it whips all of these smoothies together in seconds.
EQUIPMENT:
Some affiliate links included:
High-powered blender such as a Vitamix OR Blendtec
Optional:
Mason Jar (for storing)
Silicon ice cube tray (for freezing)
INGREDIENTS YOU NEED: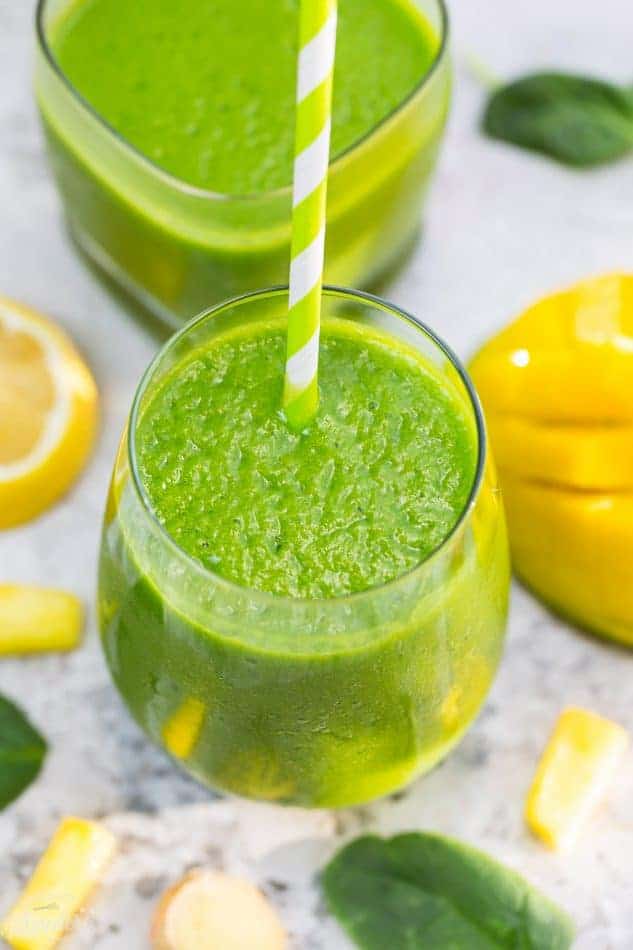 Green Smoothie with Avocado (includes option for low carb)
This green avocado smoothie recipe is loaded with a ton of antioxidants, vitamin-rich greens and tastes refreshing and delicious.
Thanks to the natural sweetness from the pineapple and green grapes AND the refreshing zing from the lemon and ginger, it doesn't taste like you are drinking all those greens.
Main ingredients:
2 cups of spinach
frozen pineapple chunks OR sub with star fruit for low carb / keto
green grapes OR sub with avocado for low carb / keto)
celery
ginger
lemon juice
water
Nutritional information:
Macros for one serving of the low carb smoothie recipe:
71 calories
6g Net Carbs = 12g Total Carbs – 6g Fiber
2g Protein
1g Fat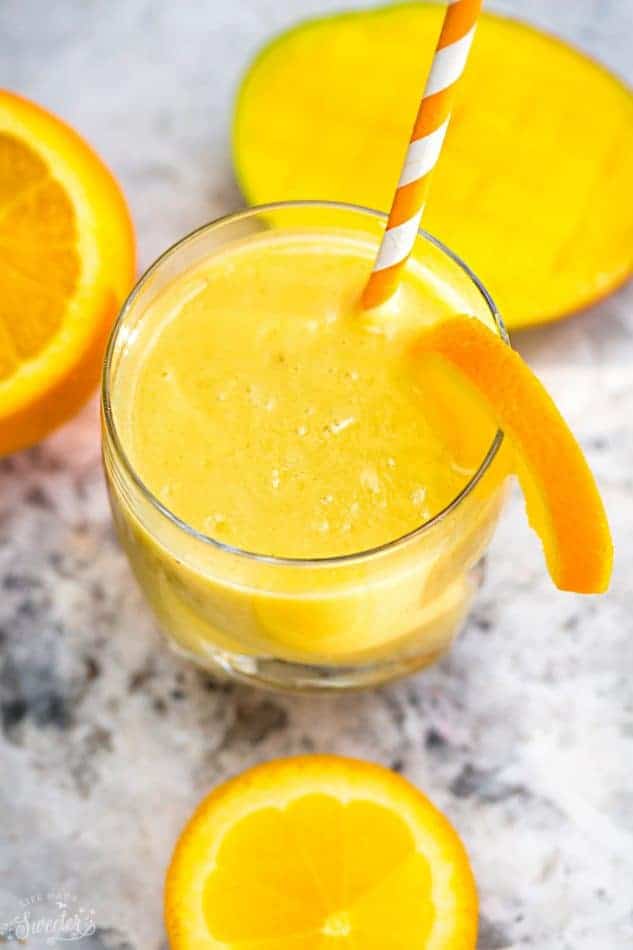 Skinny Orange Julius OR Lemon Smoothie for low carb
This refreshing fruit smoothie tastes like an orange creamsicle or a lighter version of the famous Orange Julius. It's full of Vitamin-C and added protein from the protein powder.
Main ingredients:
1/3 cup milk of your choice: we used almond milk
oranges / fresh orange juice OR Meyer lemons for low carb / keto
pure vanilla extract
vegan vanilla protein powder (optional) (affiliate link —> this is my favorite one)
ice
Macros for one serving of the keto smoothie recipe:
13 calories, 1g carb, 1g protein, 1g fat
Read more: How long to avoid coffee after teeth whitening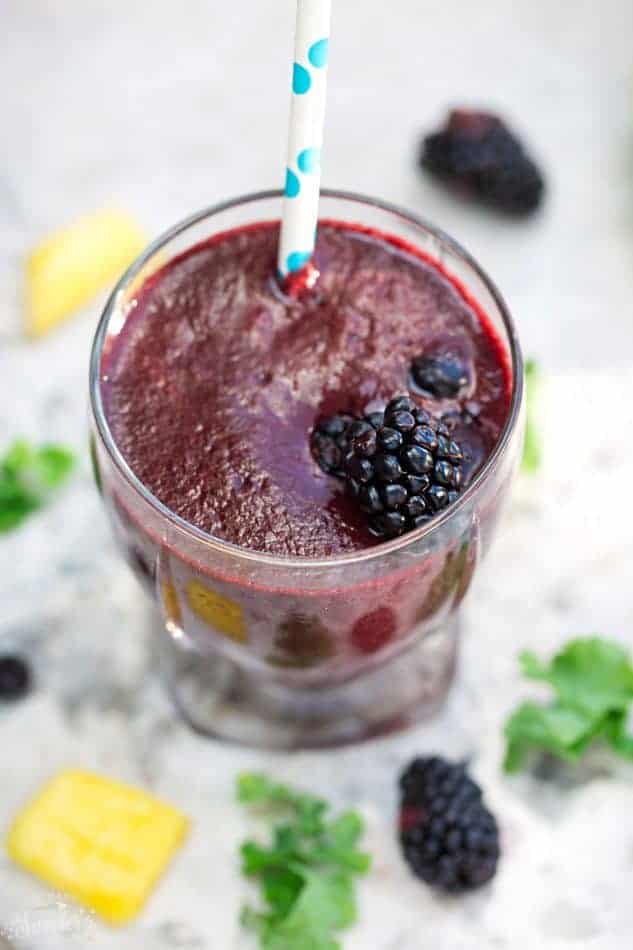 Blackberry Kale Smoothie (options for low carb)
This great tasting and refreshing paleo smoothie is not only packed with a ton of anti-oxidants from the berries, it's also got a sneaky serving of kale which you can't taste at all (pinky swear) thanks to the sweetness from the tropical pineapple and blueberries.
Main ingredients:
blackberries
frozen blueberries
kale
frozen pineapple chunks OR sub with star fruit for low carb / keto)
water
Macros for one serving of the low carb Blackberry Kale Smoothie:
86 calories, 8g carbs, 3g protein, 1g fat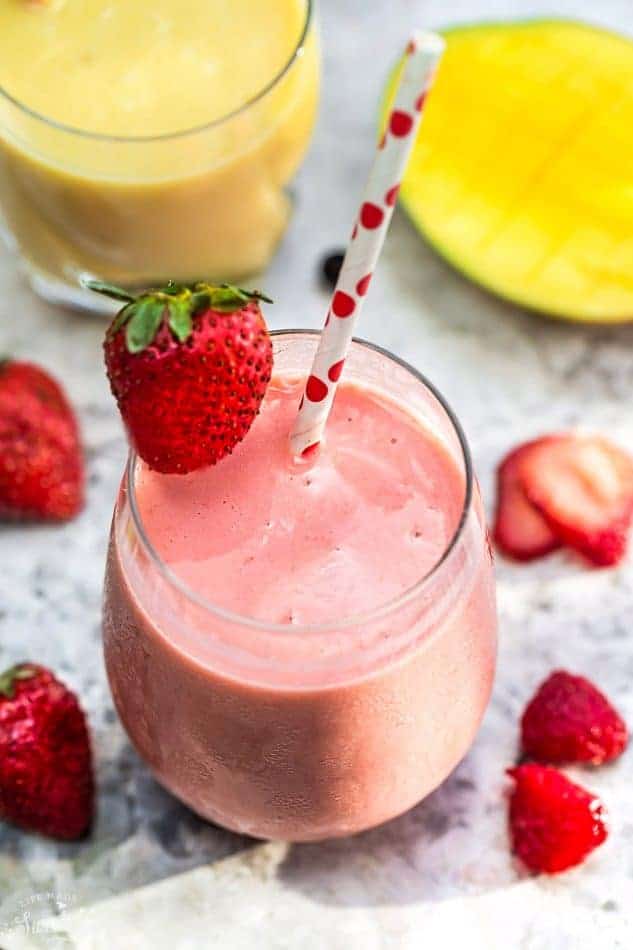 Strawberry Smoothie
This delicious strawberry smoothie recipe is so easy to make, delicious to drink and nutritious and satisfying to your body. It's naturally sweet from the strawberries, raspberries and mango and has that added protein from the coconut cream to help fill you up.
Main ingredients:
frozen sliced strawberries
frozen mango chunks OR sub with cantaloupe for low carb / keto version
fresh raspberries
coconut cream
water
Option: You can add a frozen banana to make this a strawberry banana smoothie
Macros for one serving of the low carb strawberry smoothie:
156 calories, 10g NET carbs, 2g protein. 11 g fat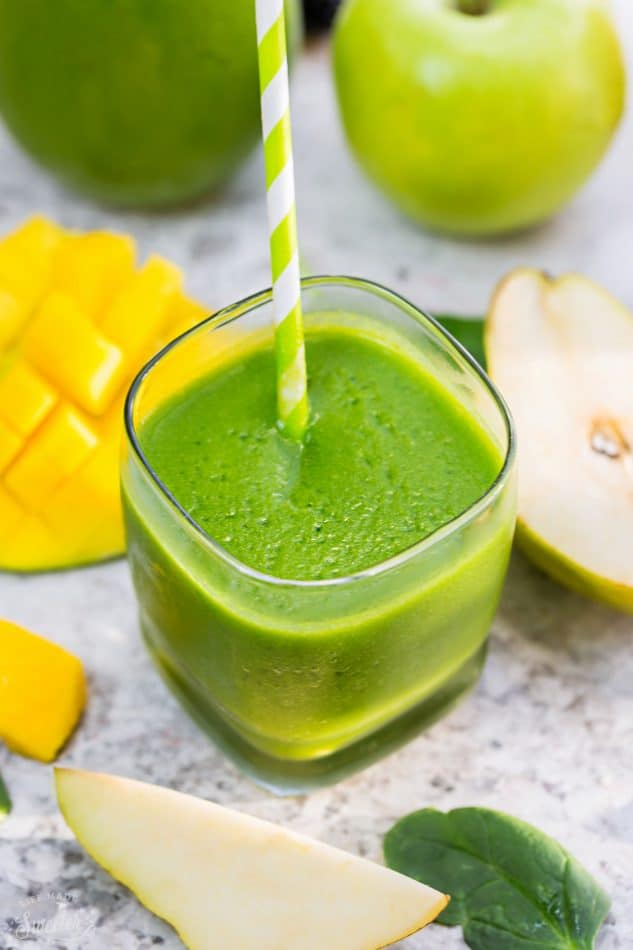 Spinach Green Smoothie
This sweet, creamy and healthy Spinach Green Smoothie recipe is full of vitamins and tastes like a tropical vacation. Only 5 ingredients, and kids love it too!
Main ingredients:
spinach or kale (I used a mix of both)
pear OR chayote for low carb / keto
apple OR leave out for low carb / keto
frozen mango chunks OR sub with cantaloupe for low carb / keto
water
Macros for one serving of the low carb spinach green smoothie:
189 calories, 6g NET carbs, 3g protein, 15g fat
MORE HEALTHY SMOOTHIES:
25 Healthy & Delicious Smoothies
Mixed Berry Smoothie Bowl
Keto Smoothie Bowls
Green Goddess Smoothie Bowl
WATCH THE VIDEO TO SEE HOW EASY THESE HEALTHY SMOOTHIES ARE TO MAKE: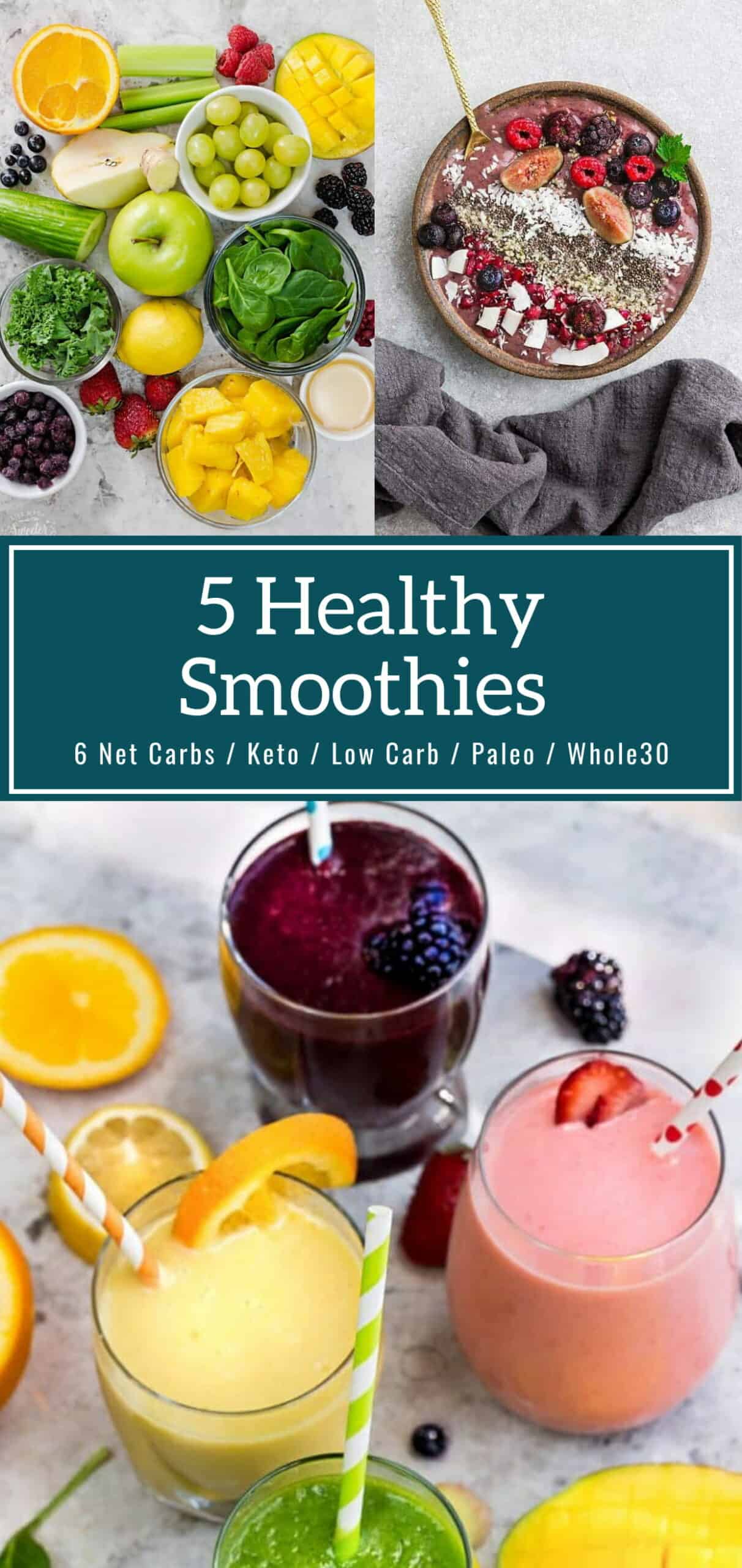 Read more: 15 Smoothie Recipes with Yogurt