A Delicious Fusion of Flavors and Textures
This delectable noodle salad is a delightful blend of instant ramen noodles, coleslaw veggies, toasted almonds, and a lip-smacking garlic teriyaki dressing. It's a quick and easy recipe that will win your heart and taste buds.
So, here's the idea: I have this incredibly delicious teriyaki sauce that I always use as a chicken marinade. But one day, while enjoying a bowl of ramen for lunch, it hit me like a revelation—why not create a ramen noodle salad?
And boy, was it a fantastic idea! Instant ramen is not only budget-friendly but also adds a unique twist compared to traditional pasta or egg noodles. And when mixed with my signature teriyaki sauce, it becomes a symphony of sweet and savory flavors that are simply irresistible.
Of course, no salad is complete without a generous helping of fresh veggies. In this recipe, we use a convenient pre-shredded cabbage blend typically used for coleslaw. It's a hassle-free way to add a nutritious and crunchy element to the dish.
This salad is not only perfect as a standalone dish but also pairs beautifully as a side with grilled chicken or can elevate a simple cold sandwich to a fancy and satisfying luncheon.
If you've only used instant ramen noodles for hot soups, get ready for a delightful surprise! Let's dive into the recipe and discover a whole new world of flavors.
Ingredients
For the dressing:
Soy Sauce: Regular soy sauce works perfectly, but you can also use tamari or low-sodium soy sauce for a lighter touch.
White Granulated Sugar: The sweetness of plain sugar beautifully balances the saltiness of the soy sauce.
Rice Wine Vinegar: Tangy and lively, rice wine vinegar complements the other flavors in the dressing.
Garlic: This aromatic ingredient is essential for infusing the dressing with its rich flavors.
Safflower Oil: Light and delicate, safflower oil provides a smooth texture and healthy fats. Feel free to use any neutral-flavored cooking oil.
Sesame Oil: With its nutty aroma and taste, sesame oil adds depth and richness to the salad dressing.
For the salad:
Ramen Noodles: Those curly and inexpensive instant ramen noodles, such as Maruchan or Top Ramen, work perfectly here.
Coleslaw Mix: Opt for a pre-shredded coleslaw mix, which typically includes green cabbage and carrots.
Green Onions: Also known as scallions, these mild-flavored onions bring a hint of freshness.
Slivered Almonds: Toasted slivered almonds add a delightful crunch. You can toast them for 3 to 5 minutes in a small skillet for extra flavor.
Please refer to the recipe card for precise quantities.
Step-by-Step Instructions for Ramen Noodle Salad
Making the Dressing: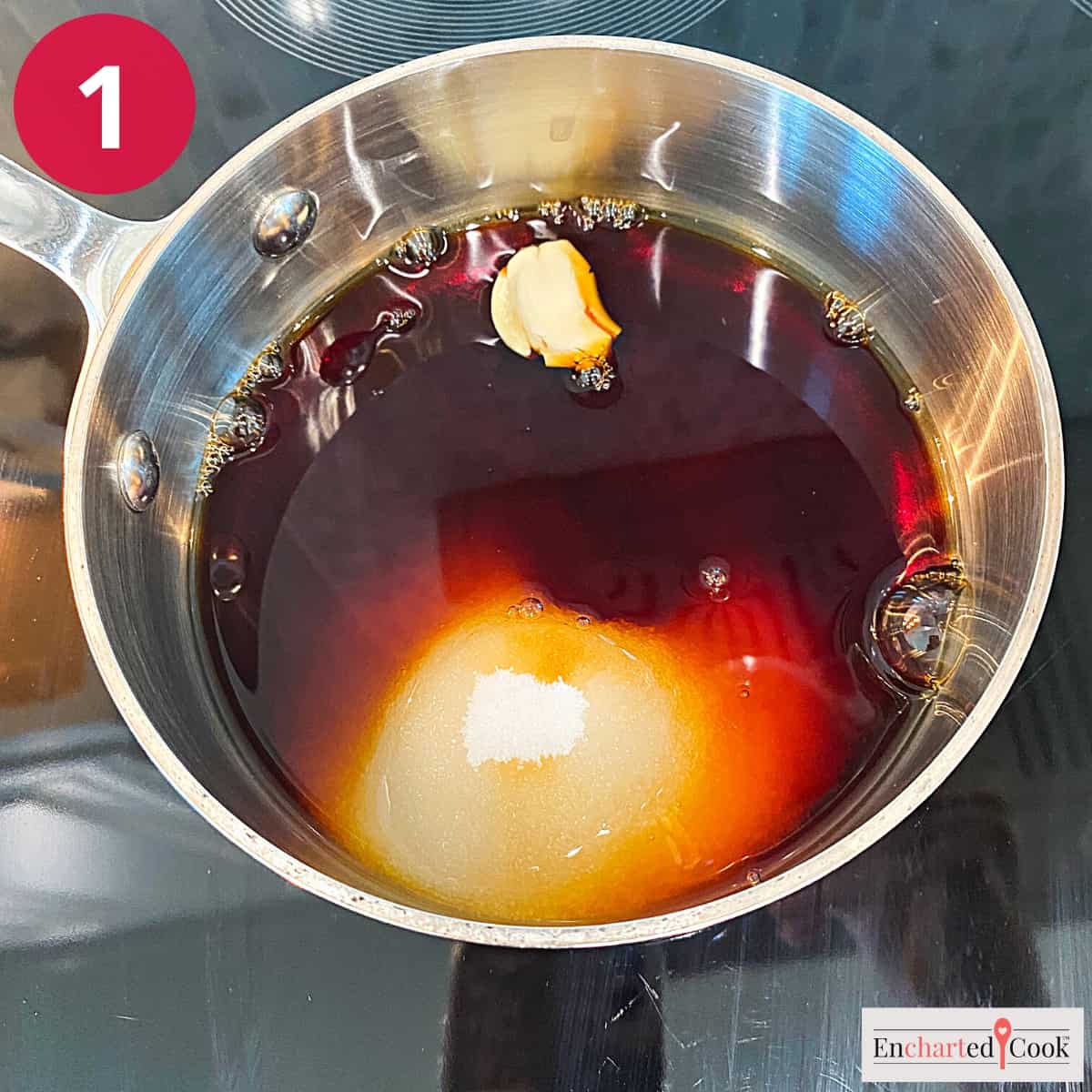 In a small saucepan, combine the soy sauce, sugar, rice wine vinegar, and garlic. Bring it to a boil while stirring constantly. Reduce the heat and let it simmer for 3 minutes. Remove from heat and allow it to cool.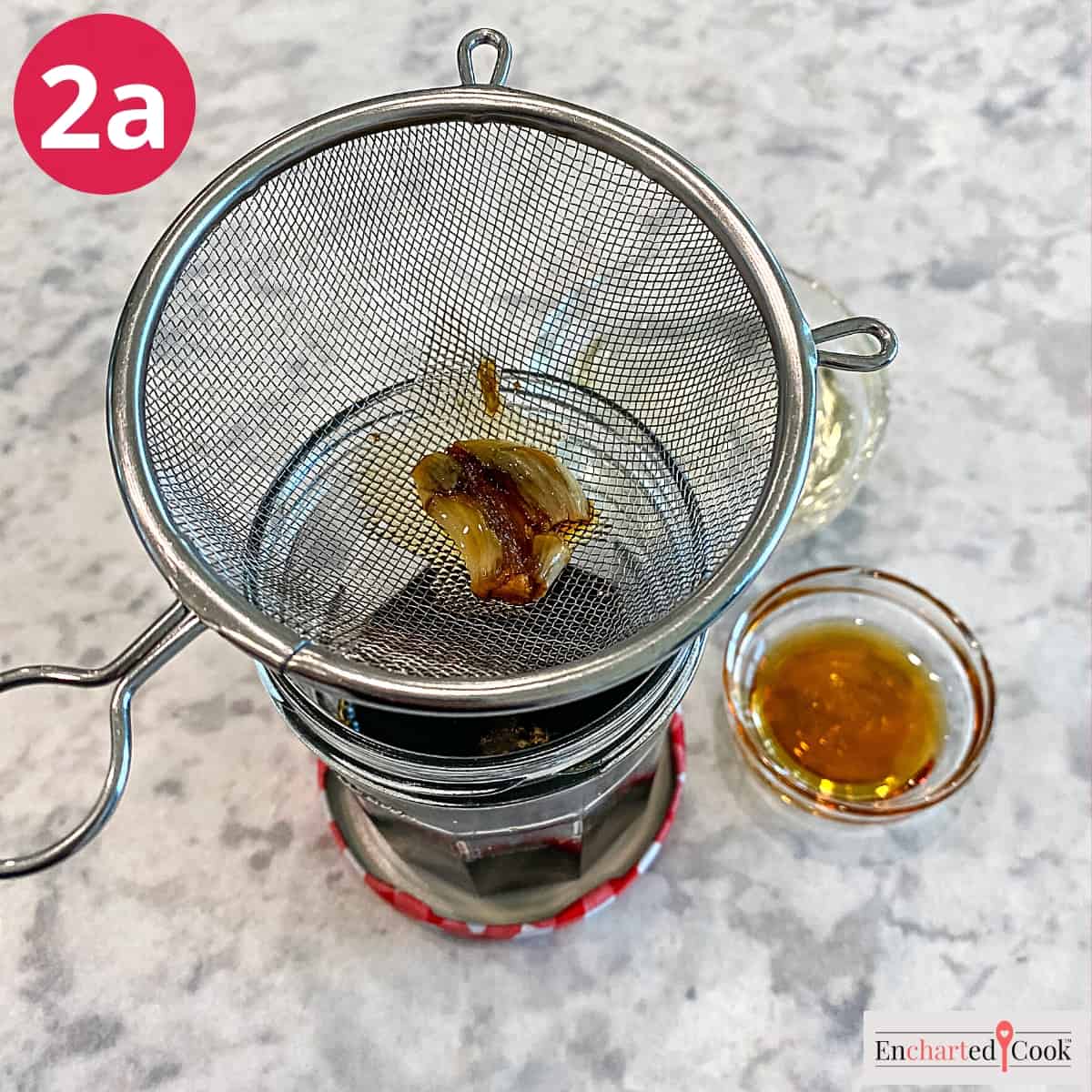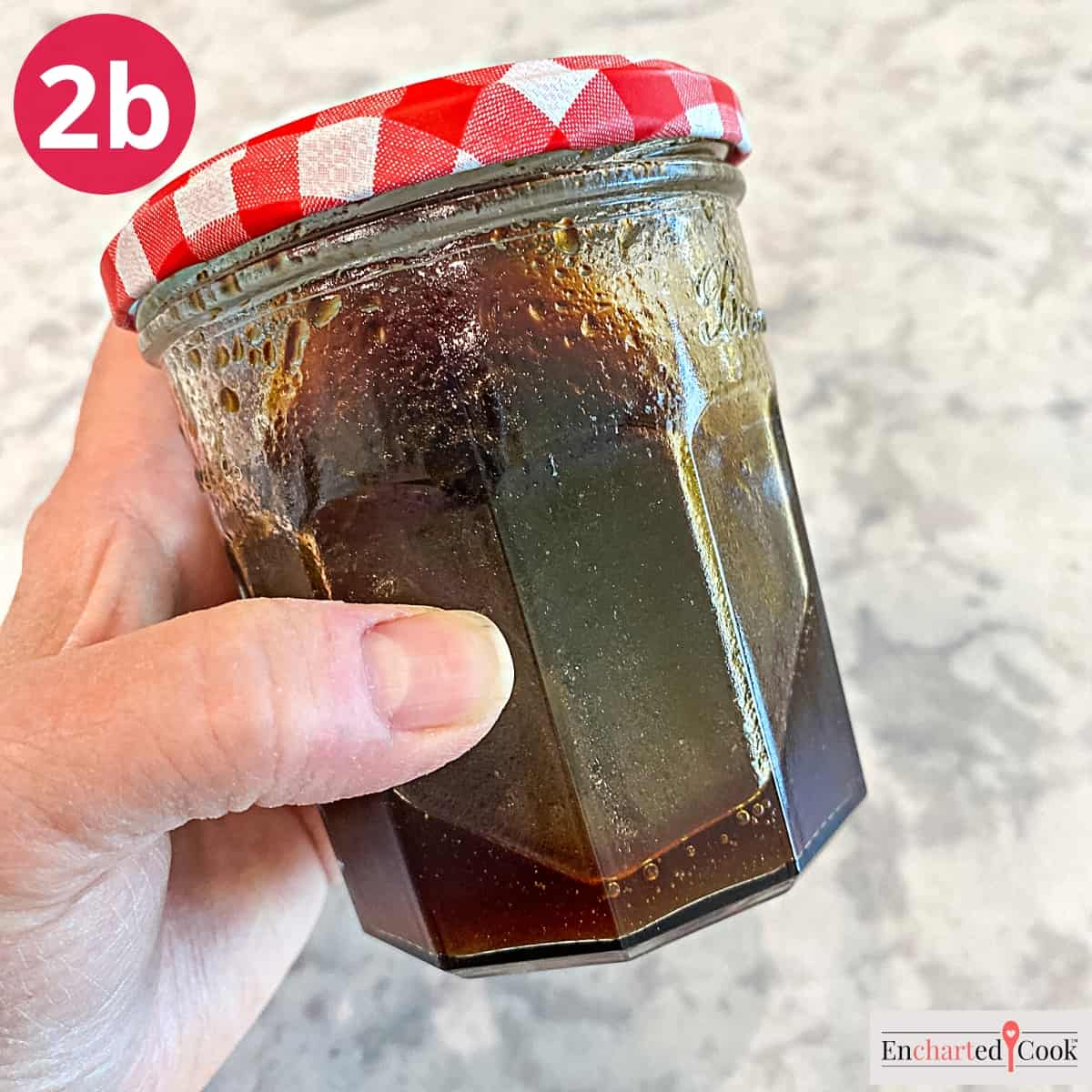 Strain the soy sauce mixture into a small jar. Add the safflower and sesame oils, then shake well to create a harmonious blend. Set it aside.
Making the Salad: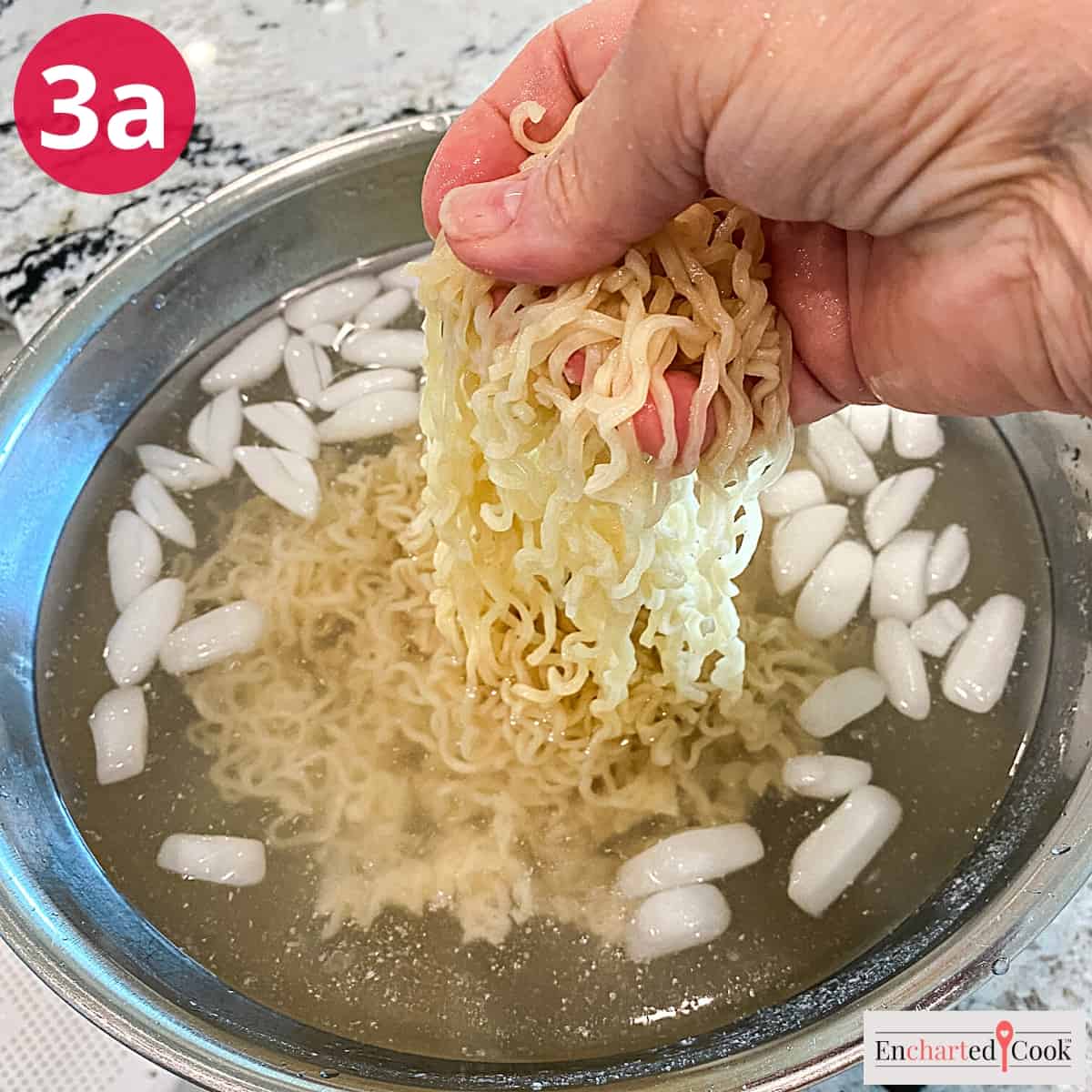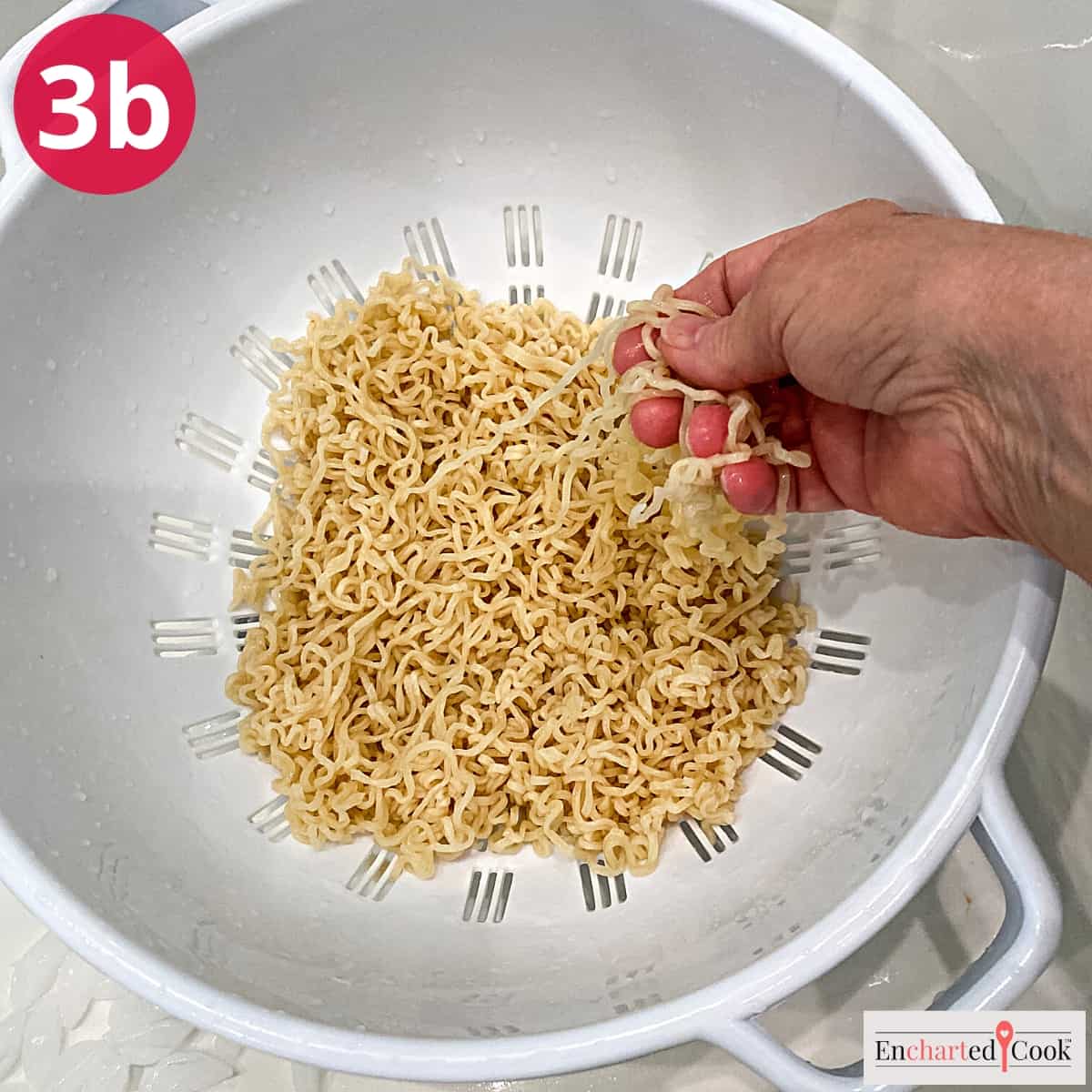 Cook the ramen noodles as per the package instructions, but skip the seasoning packet. Drain the noodles, rinse them with cold water to cool them down, and drain again.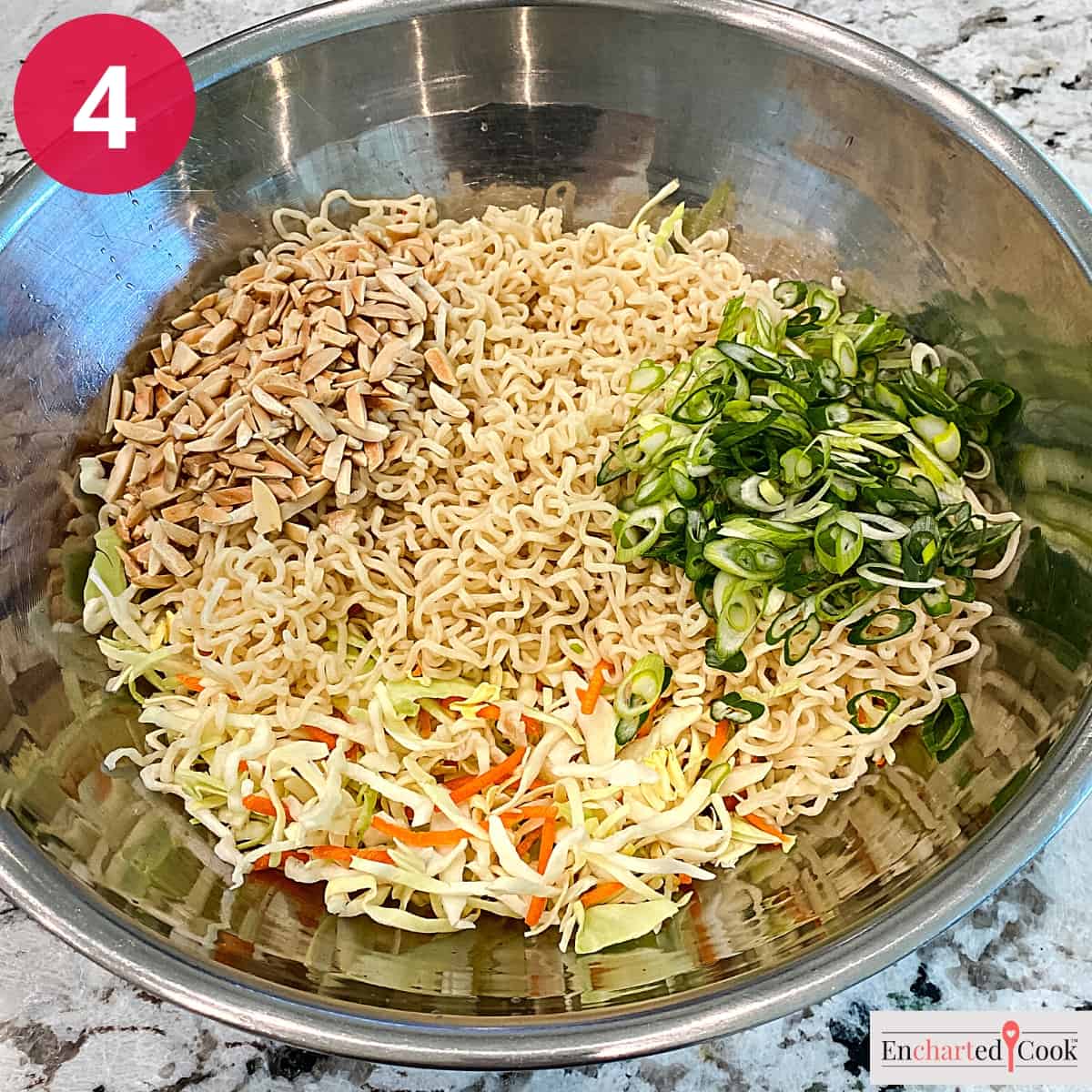 In a large bowl, combine the coleslaw mix, cooled ramen noodles, sliced green onions, and toasted slivered almonds.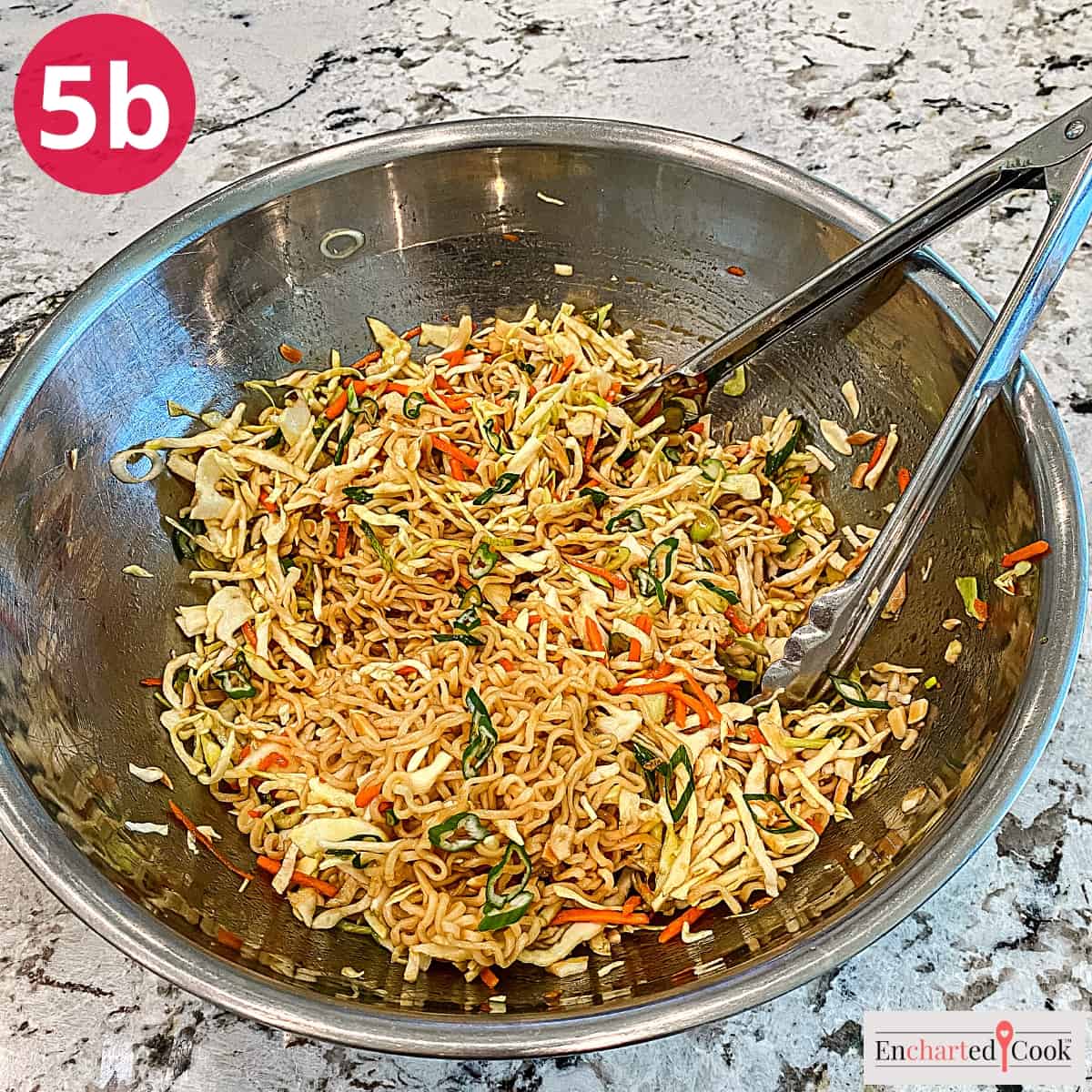 Pour the dressing over the salad and gently mix everything together using tongs or a large spoon.
My Top Tips
Using fresh and vibrant veggies will elevate the salad further.
Be careful not to overcook the ramen noodles. Follow the package instructions precisely, immediately drain, and cool them in ice water to maintain their firm and springy texture.
For the best flavor infusion, I recommend making this salad a few hours ahead of serving, allowing the dressing to meld with the noodles and veggies.
Substitutions & Variations
Substitute Ginger Root: If you're not a fan of garlic, feel free to substitute it with a 1-inch piece of peeled and crushed ginger root.
Add Red Cabbage: Alongside the shredded green cabbage and carrots from the coleslaw mix, you can also add small slices of red cabbage for an appealing pop of color.
Add Bean Sprouts: Just before serving, toss in up to 1 cup of mung bean sprouts for an additional textural element. They provide a delicious boost of protein and fiber.
Add Shredded Brussels Sprouts: For those who enjoy the distinct flavor of Brussels sprouts, you can incorporate shredded sprouts into the salad or even substitute them for a portion of the coleslaw mix.
Make-Ahead and Storage
This salad tastes even better the day after preparation!
You can store it in a sealed container in the refrigerator for up to 5 days. Glass containers are ideal, but plastic works just as well.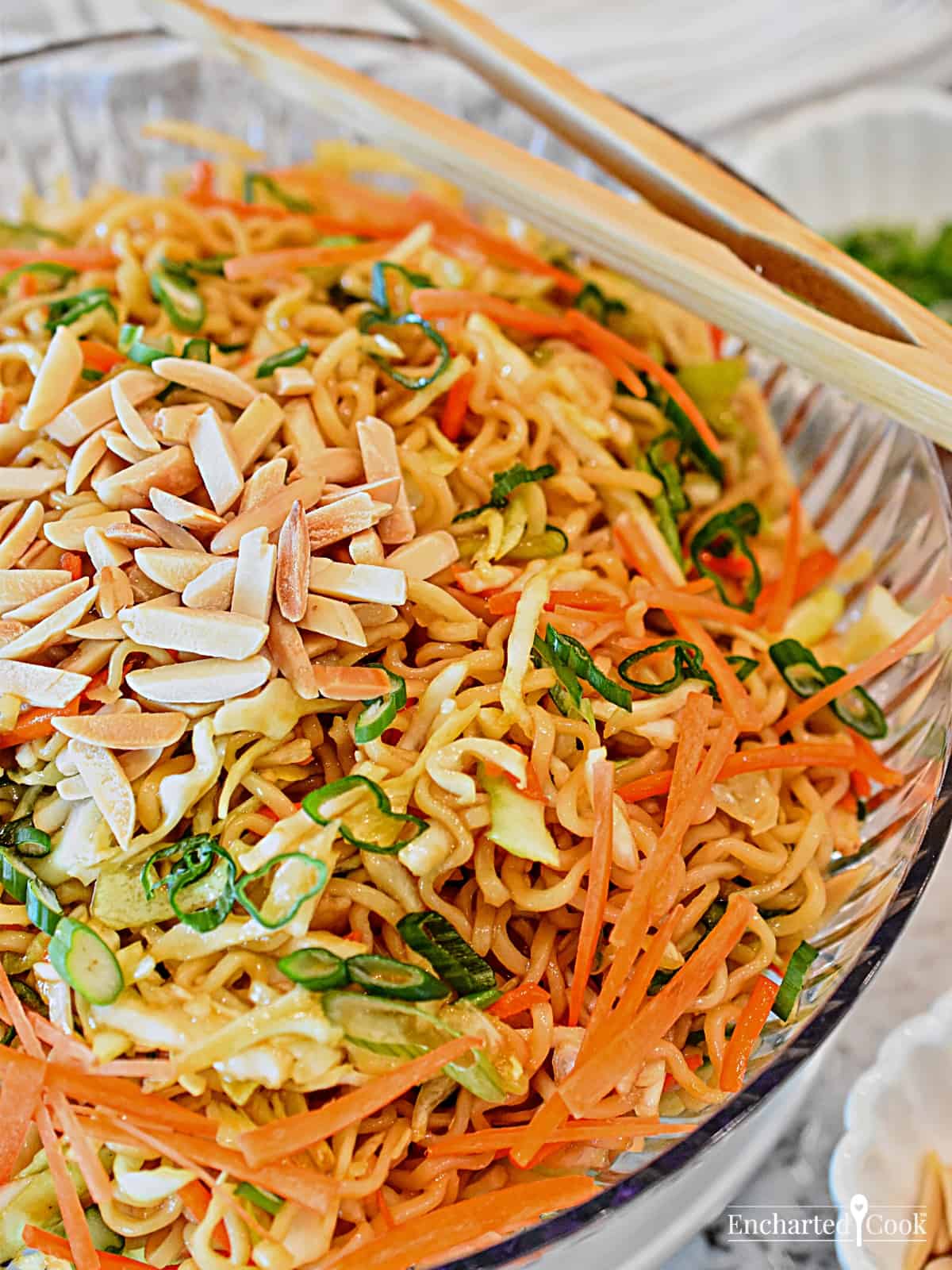 More Great Ideas for Salads
Corn Salad
Italian Marinated Shrimp
Southern Macaroni Salad
German Potato Salad
Green Goddess Pasta Salad
📖 Recipe
Prepare this delicious Cold Ramen Noodle Salad by visiting Family Cuisine for the full recipe.