Every year from August until Nov. 1, the green chile stands make their way to Denver, and I have to make at least one batch of Colorado-style pork green chili, which is more of a gravy-like stew compared to the more soupy New Mexico-style green chili. This year, I plan on making two batches. Although this recipe makes a huge pot of green chile that I freeze, I eventually run out during the year, which makes me sad. And I don't want to be sad. I figure it's time to be proactive and make sure I'm fully stocked until next year's crop.
Jump to:
Why You Need to Make This Recipe
Step-by-Step Instructions
Perfect Pairing
Need More Game-Day Recipes?
Colorado-Style Pork Green Chili
Why You Need to Make This Recipe
I love eating this green chili as a stew with plenty of delicious toppings as pictured, but we Coloradans are also known to smother our green chili on almost everything.
Burritos? Obviously. Enchiladas? Most definitely. Burgers? Absolutely. Battered curly fries? For sure. A big plate of cheesy eggs? Without a doubt. Nachos? Yes, please. Really, we'll smother this green chili on anything, so you can see why I need a larger supply.
If you've never visited a green chile stand, it's awesome. You choose the heat level you'd like for your chile, and then they throw your chiles into a giant cylindrical gas roaster with fresh garlic and quickly turn it until the chile skins are black.
And the smell? Intoxicating. I keep my nose in the air and happily take it all in while they roast. Honestly, I look a lot like Baylor when she catches a whiff outside.
But no worries if your area doesn't have green chile stands. You can buy frozen, canned or jarred roasted green chiles and use those in this recipe.
Bonus: If you love this stew, you'll also love my green chile-artichoke dip!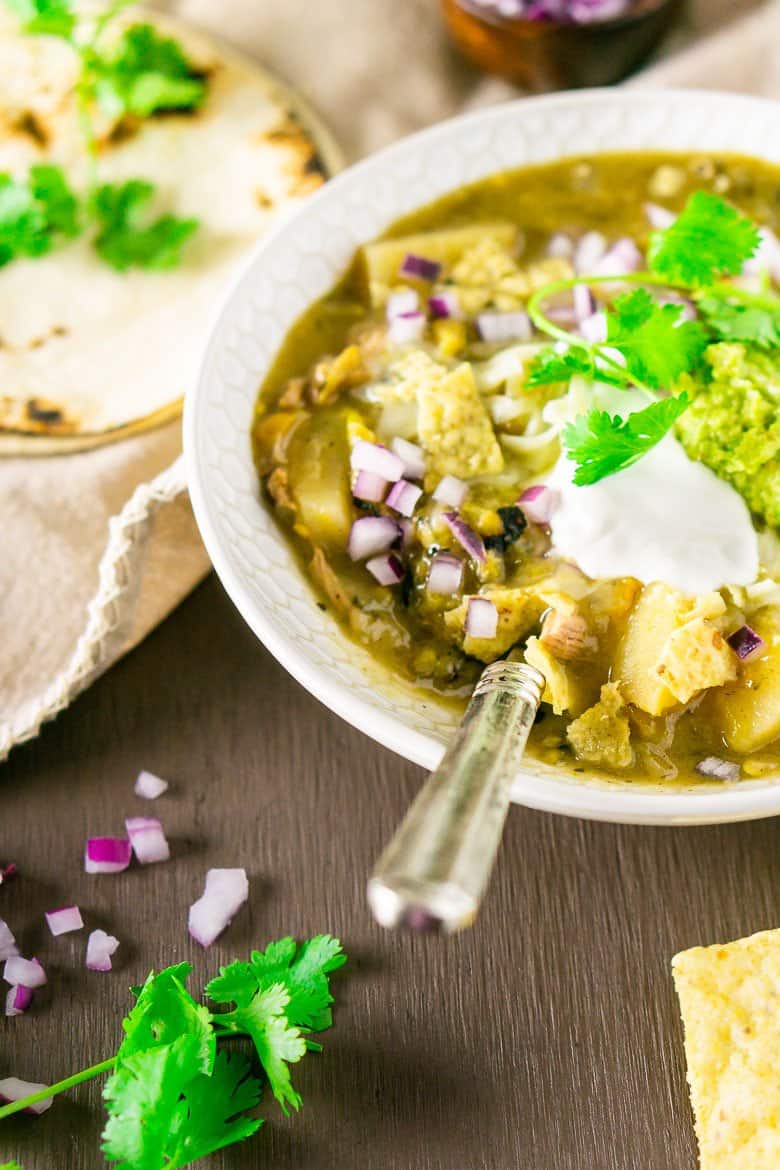 Step-by-Step Instructions
And now to jump into the recipe. To make this pork green chili stew, you don't need a long list of ingredients. The green chiles are so flavorful, especially with the pork shoulder, that it's unnecessary to load it with a bunch of different spices. Outside of the pork shoulder and green chiles, there's a good chance you have most of the ingredients in your pantry.
As I mentioned, you need to peel, deseed and dice your green chiles, though you get to skip this step if you use frozen green chiles. The ones I've always seen already come prepped and ready to go.
After you dice your chiles, coat the pork shoulder with plenty of salt and pepper and sear it on all sides to give it a brown crust in a large stockpot. This step adds a nice caramelization to the pork and depth of flavor. Once you develop that lovely crust, remove the pork and cook the onion and garlic in that delicious rendered pork fat.
Now you're ready to return the pork to the stockpot and add the green chiles, cumin, smoked paprika, pepper, chicken broth and diced potatoes. Bring the chile to a low boil, pop on the top and turn to low to simmer. Pour yourself a drink, give the pork green chili stew a stir every so often to prevent burning and cook until the pork is fork tender and shreddable. This typically takes about two to three hours.
When the pork is ready, remove it from the stockpot, shred with a couple forks and remove any bones once it's cool enough to handle. To get that signature Colorado-style thickness, we now make a roux and add it to the stockpot with the pork and cook for about five or 10 more minutes. For the roux, masa will give you the best flavor, but I've also used flour with good results.
And that's it. If you need more heat, you can always add some diced fresh jalapenos with seeds or cayenne pepper to taste, but I generally don't find it necessary. Another option is to serve jalapenos on the side in case people would like to individually add more heat to their taste. You can either serve the chile immediately or refrigerate overnight to allow the flavors to meld.
Like I said, you can smother it on so many different dishes or serve as a stew with a variety of toppings. My favorite toppings are shredded cheese, sour cream, guacamole, red onion, crushed tortilla chips, cilantro and fresh lime. I also love dipping warm tortillas into this giant bowl of goodness. Now dig in and feel happy that all that me time led to this delicious dish.
Perfect Pairing
With beer, you have a few great pairing options. Pale ale and pilsner are delicious, but I especially love a good doppelbock with this green chili. Doppelbock's caramel-like notes pair nicely with the pork's browned crust, and the sweet malt contrasts from the heat from the chile, particularly if you go for a hot variety.
For those times wine calls, tempranillo will take care of you. Like a doppelbock's malt, the red fruit in tempranillo balances the spice, and tempranillo isn't overly tannic, so you don't have to worry about the two clashing. Tempranillo also has higher acidity levels than other reds, which works well with the spicy green chile.
With the fall here, I hope you take some time for yourself to make this Colorado pork green chili. Every year I look forward to making a batch, and I'm sure it'll be a new favorite for you as well. If you have a chance to try it, please let me know what you think and don't forget to sign up for my newsletter.
Cheers!
Need More Game-Day Recipes?
Soft beer pretzels with Oktoberfest cheese dip
Ahi nachos with wasabi crema
Classic margarita
Creamy white chicken chili
Instant Pot chicken enchilada soup
For more information, please see more information about Pork green chili stew colorado
Detail: 🔗