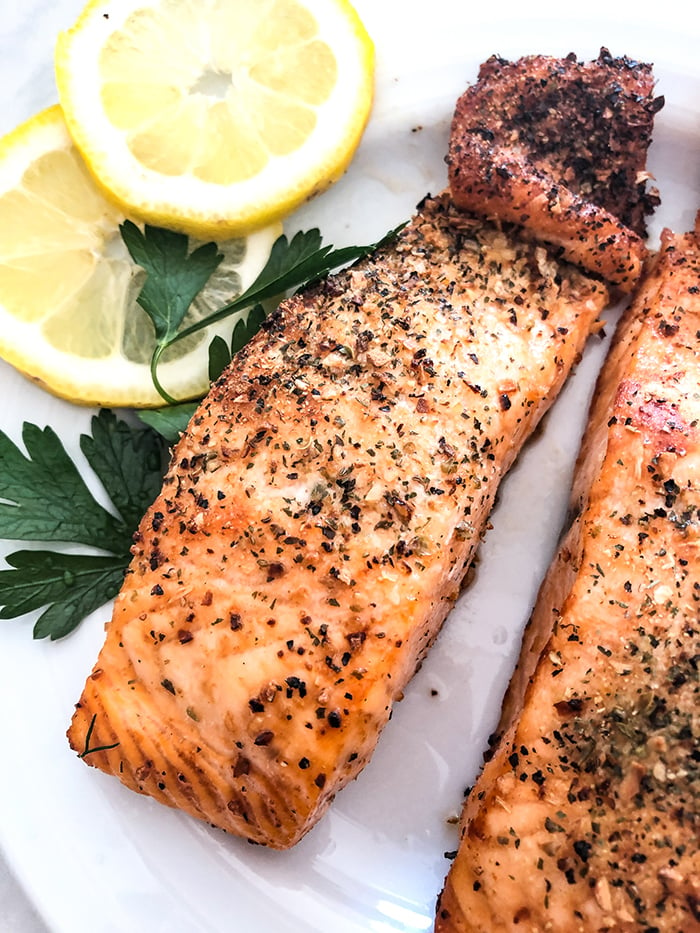 Air Fryer Salmon comes out Juicy and moist every time! Flavor the salmon up with your favorite marinade or seasoning to make a healthy and elegant dish any time of the day!
Making super juicy and flavorful salmon in your air fryer comes out perfect every time with the suggested time and temperature settings below. It is helpful to have a cheat sheet cooking guide for different proteins for your air fryer in your kitchen to always go back if you so desire to do that. Once you find the perfect cooking time write it down on a sheet of paper and keep it in a drawer next to your air fryer. Salmon, hard-boiled eggs, smoked sausage and potatoes, potatoes, and frozen food I always cook in my air fryer.
Reading: Salmon in ninja foodi xl grill
Get an air fryer they said….
The air fryer I own is a Power XL Air Fryer (linked below) and it gets used ALL THE TIME. It sits out on my kitchen countertop, and it is now one of the most used kitchen appliances I own. It has been months since my oven was last used to cook food in.
A lot of people don't want to purchase an air fryer because it takes up a lot of space and they don't need any more kitchen appliances. While this is true, I'm sure you could find some things in your kitchen to declutter so that you can buy that air fryer and make space for it. There are a lot of pointless kitchen gadgets out there these days, that only do one task and that'd be a good place to start for decluttering your kitchen.
The air fryer can cook multiple foods and I gaurantee if you get one you will love it. Now it seems as though EVERYONE has one. Air Fryers are even turning into multi cookers now that can grill, dehydrate, and roast all at the same time. Check out the Ninja Foodi Grill if you are interested in that.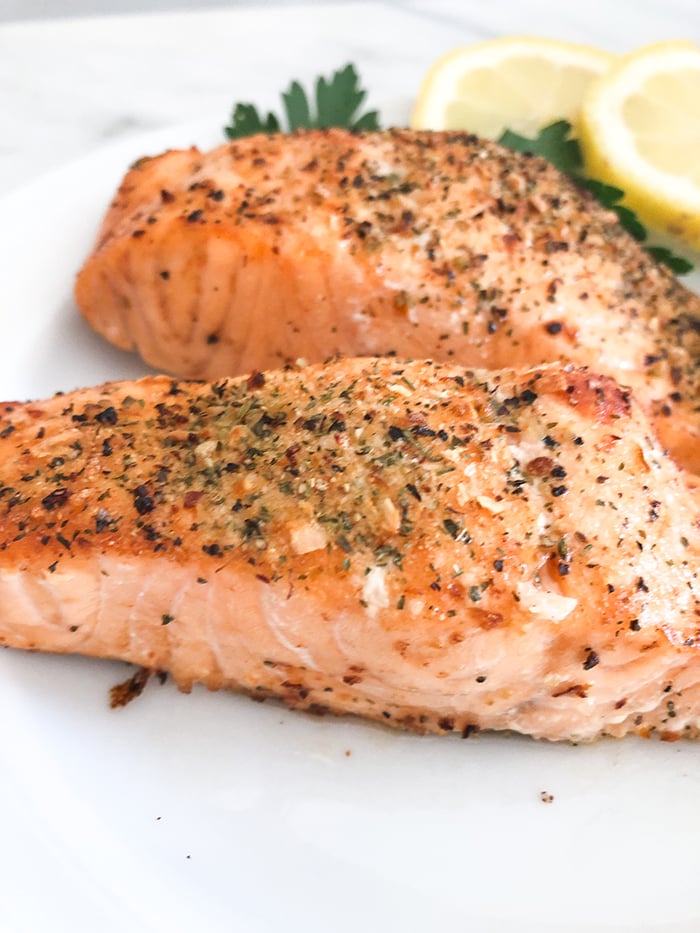 How to Cook Salmon in Air Fryer
Set air fryer to 350 degrees. Season salmon with your choice of seasoning salt or marinade.
Place the salmon fillets in the air fryer basket. If your air fryer requires preheating then preheat it. Mine does not.
Cook the salmon for 12 minutes. You do not need to flip half way through.
Salmon Seasonings
You can use your favorite seasoning, marinade, or just good old salt and pepper to make this salmon in the air fryer. I have a couple of salmon recipes on this blog that can easily be converted to air fryer recipes. I'll list those after the seasonings. Some seasonings that work well with salmon are:
Lemon pepper
Trader Joe's 21 Seasoning Salute
Everything Bagel Seasoning
Seasoning Salt
Cajun Seasoning or Old Bay Seasoning
Garlic Butter Salmon
Spicy Honey Soy Glazed Salmon
Tips and tricks for Air Fryer Salmon
Defrost salmon: It is always best to let your salmon thaw out before cooking it in the air fryer. I like to get the frozen salmon at Sam's Club that comes in packets. Place the frozen salmon in some water to let them thaw out. They will be ready to cook in under an hour!
How to cook frozen salmon: If you are cooking salmon from frozen use a higher temperature like 400 degrees and cook it longer. 15 minutes is usually good.
Do not overcrowd the air fryer basket with salmon. Use filets that are evenly cut and not different sizes. They come in various sizes and shapes and the salmon might not properly cook then.
Low Carb/Keto Salmon: This dish is perfect for all kinds of diets. Keto, Low Carb, and salmon is zero points on WW. Salmon is super healthy and contains omega 3's and healthy fat.
What is an Air Fryer?
An air fryer is basically a mini convection oven. Because it is such a small space the air is able to get HOT VERY FAST, it circulates around the food and cooks it quickly, creating a crispy outside without drying everything out on the inside.
Air fryer temperature settings vary according to brand and model. If your air fryer does not have the exact temperature setting called for in the recipe, consult your manual for suggested temperature settings.
What are the Best Large Size Air Fryers?
Read more: How To Prevent Your Grill From Rusting | Family Cuisine
Researching what air fryer to get can be a pain in the butt. I get asked all the time if this recipes works with a certain brand of air fryer and the answer to that is I have no idea. I don't have that air fryer! These are the two air fryers I have, and would recommend to anyone.
Power XL Air Fryer
Power XL Air Fryer 5.3 Quart Basket.
Our 5.3QT Power Air-Fryer comes in handy in preparing amazing meals from your cookbook, and frying a variety of dishes, such as: French fries, chicken, steak, roasts, fish tacos and sticks, waffle fries, pies, pudding and donuts.
Ninja Foodie Grill:
I got this for Christmas as a gift this year and it is awesome! The grill that sears, sizzles, and air fries! Indoor grill and air fryer!
Ninja Foodi 5 – 1 4 qt | Air Fryer, Roast, Bake, Dehydrate, Indoor Eletric Grill! (amazon link)
Go Wise Air Fryer
Read more: Cast Iron Roast Chicken Recipe – Saporito Kitchen
GoWISE USA 1700-Watt 5.8-QT 8-in-1 Digital Air Fryer
Air Fryer Recipes
Interested in more air fryer recipes? Then check out these below!
Air Fryer Oreos
Air Fryer Garlic Parmesan Knots
Chicken Breasts in Air Fryer
Garlic Bread
Surf and Turf
Crispy Fish Sandwiches
Read more: How to Make Pot Roast Using Frozen Beef
Print
Through this article, we hope to help you understand Salmon in ninja foodi xl grill
Source: https://www.recipe-diaries.com/easy-air-fryer-salmon/