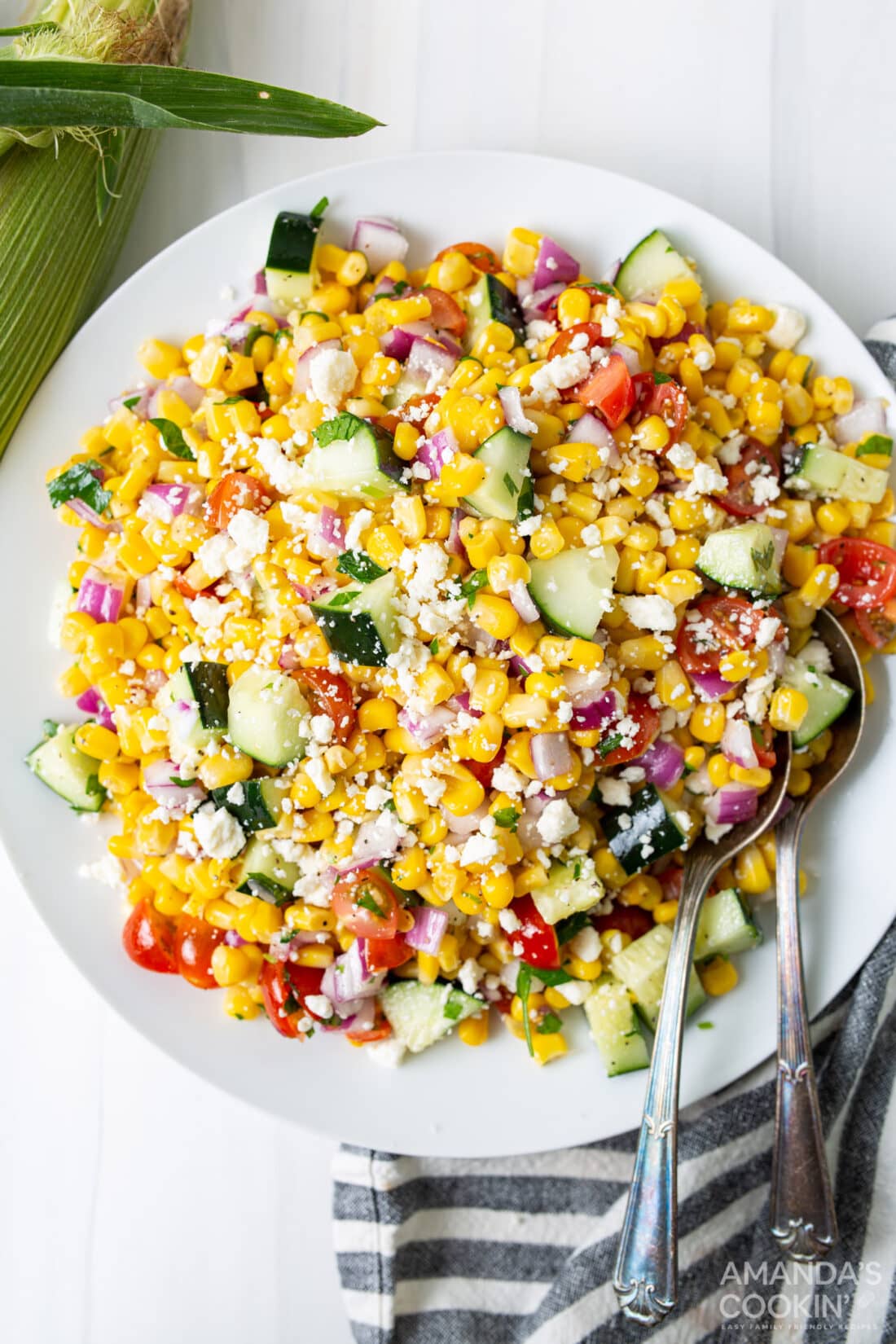 Why this recipe works
Sweet corn salad is a popular dish for potlucks and barbecues, for good reason! This summer salad is bursting with a colorful array of fresh veggies that complement each other so well.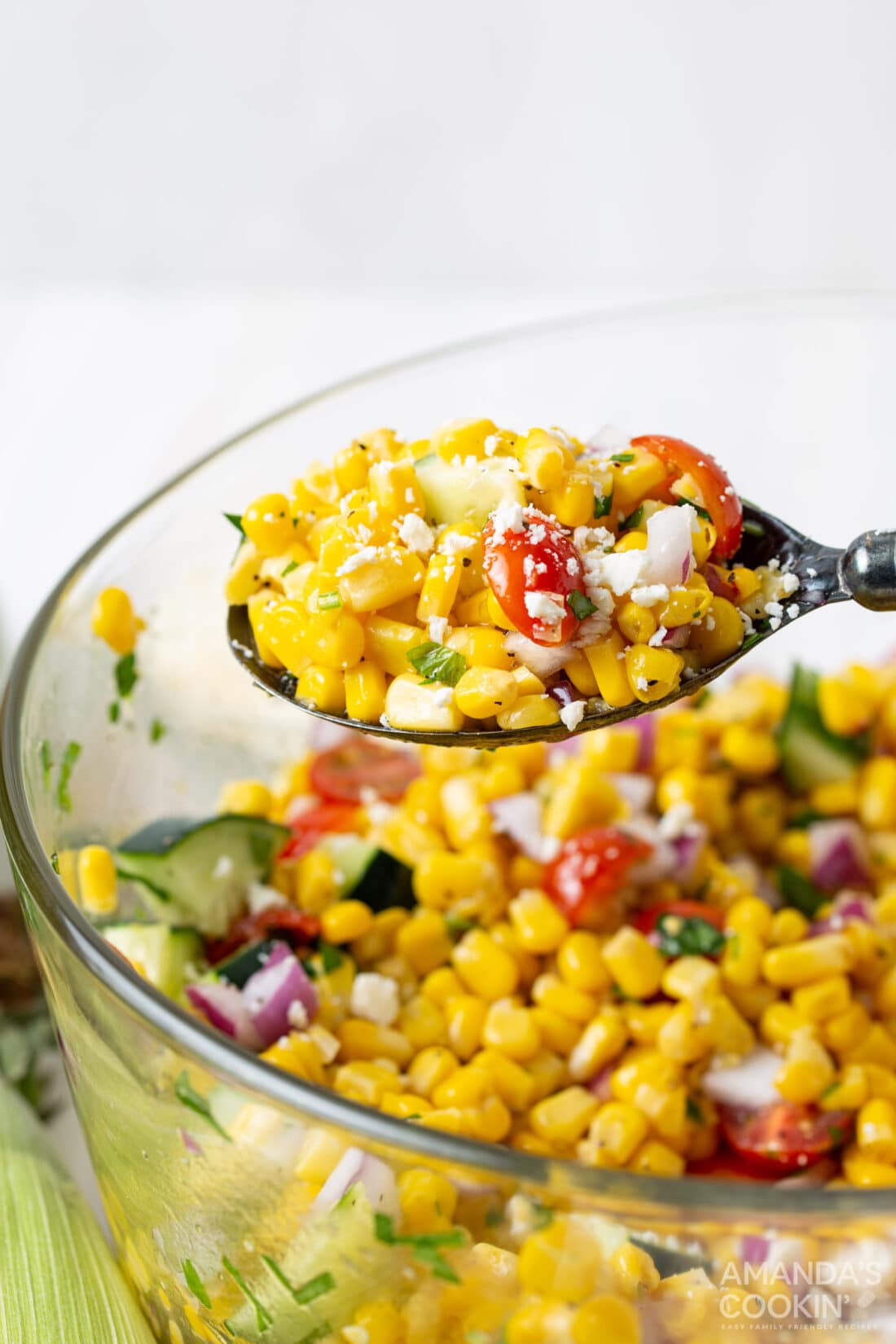 Ingredients you will need
Get all measurements, ingredients, and instructions in the printable version at the end of this post.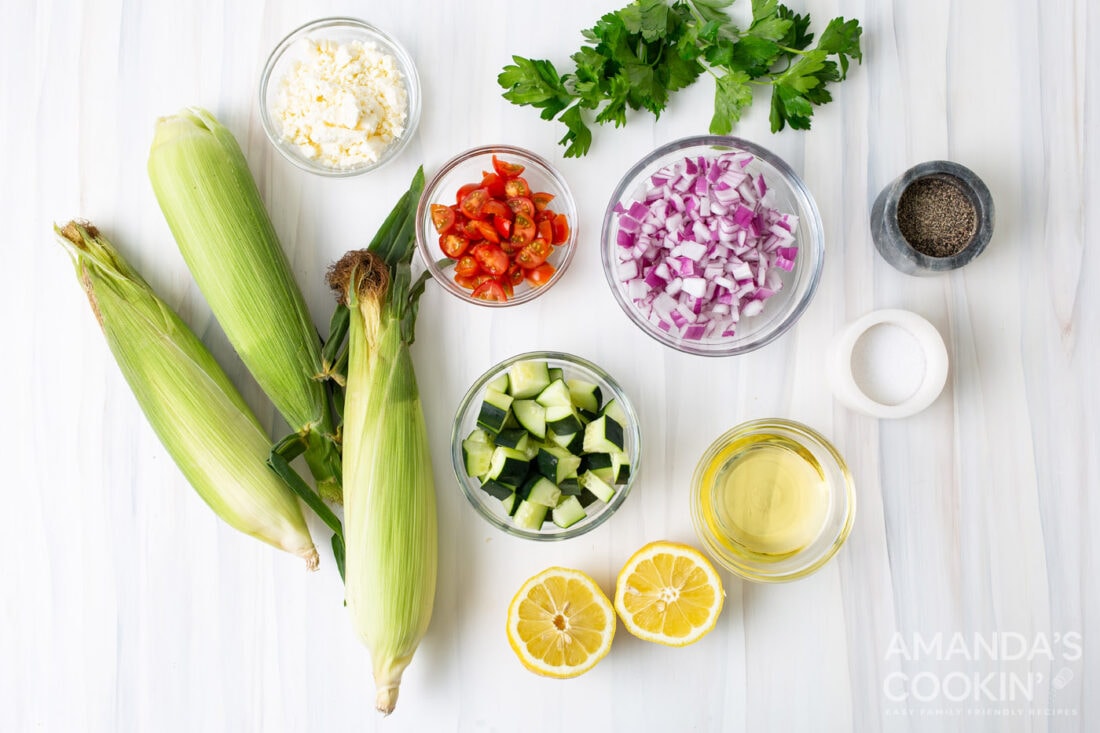 Ingredient Info and Substitution Suggestions
CORN – There are a few different ways you can make corn for this recipe. Grill and chop it off the cob as we did in our grilled corn and zucchini salad, or simply use boiled, microwaved, or crockpot corn on the cob. Canned or frozen corn can also be used when you don't have access to fresh summer corn.
VEGGIES – Cucumber, red onion, and cherry tomatoes keep this salad nice and fresh. You can add any type of veggie you want to this dish. Some good additions are zucchini, diced bell peppers, avocado, and green onion. You can also throw some chopped bacon or black beans into the salad if you'd like!
CHEESE – We love how feta cheese complements corn, but if feta is too strong for you, you may like Cojita, crumbled goat cheese, or ricotta. Mini mozzarella balls make a nice substitute as well.
How to Make Corn Salad
These step by step photos and instructions are here to help you visualize how to make this recipe. You can Jump to Recipe to get the printable version of this recipe, complete with measurements and instructions at the bottom.
If using corn on the cob, remove husk and boil for 15 minutes in a large pot of water. Remove and let cool before handling. Cut off the kernels and add to a large bowl.EXPERT TIP: If using canned corn, simply drain and rinse in a colander and add to a large bowl. For frozen corn, cook according to package directions, drain and let cool.
Add all other ingredients to the mixing bowl and toss well. Serve immediately or chill then serve.
Frequently Asked Questions & Expert Tips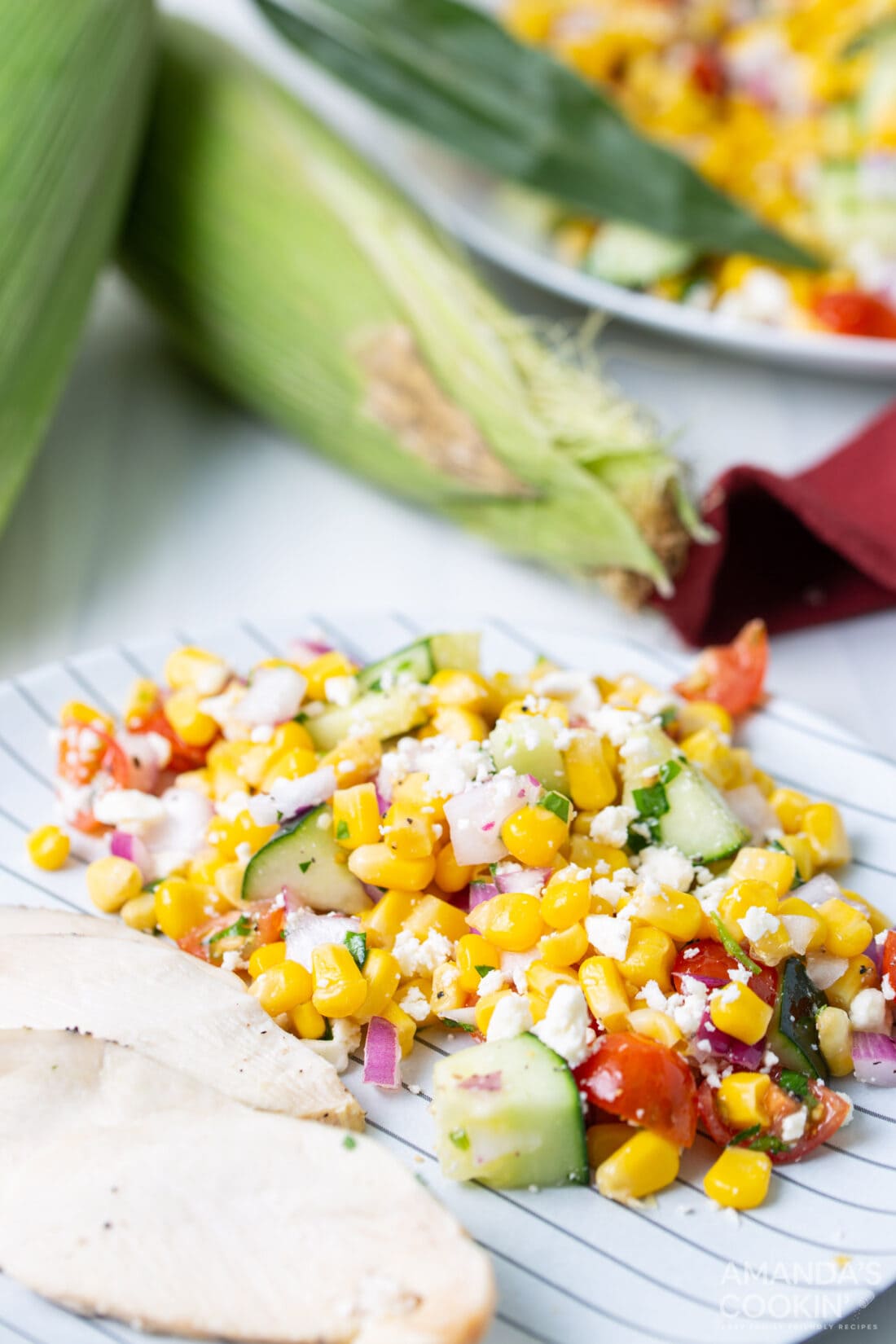 Serving Suggestions
To keep this salad light and airy, pair it up with grilled chicken or grilled salmon. Honestly, corn salad makes a great side dish through and through for all sorts of potluck main dishes. Burgers, steak, shrimp, and pork are more awesome mains to serve this salad with.
Corn salad is widely known as a summer salad, but it can and should be served year-round! As we've mentioned above, you can use frozen or canned corn in place of fresh corn on the cob so it's readily available whenever you'd like to make it.
More Corn Recipes
Corn Dip
Mexican Corn
Cowboy Caviar
Grilled Corn on the Cob
Sweet Corn and Chickpea Salad
Grilled Corn and Zucchini Salad with Feta
Corn Casserole
Corn Salsa
I love to bake and cook and share my kitchen experience with all of you! Remembering to come back each day can be tough, that's why I offer a convenient newsletter every time a new recipe posts. Simply subscribe and start receiving your free daily recipes!
Please see more list about Canned sweet corn salad recipes
Detail: 🔗