Succulent, tender roasted Cornish hen recipe with a Mediterranean garlic and spice marinade that makes all the difference! This no-fuss recipe is great for a special gathering: Give each person their own, or split the Cornish hens in half to feed a crowd!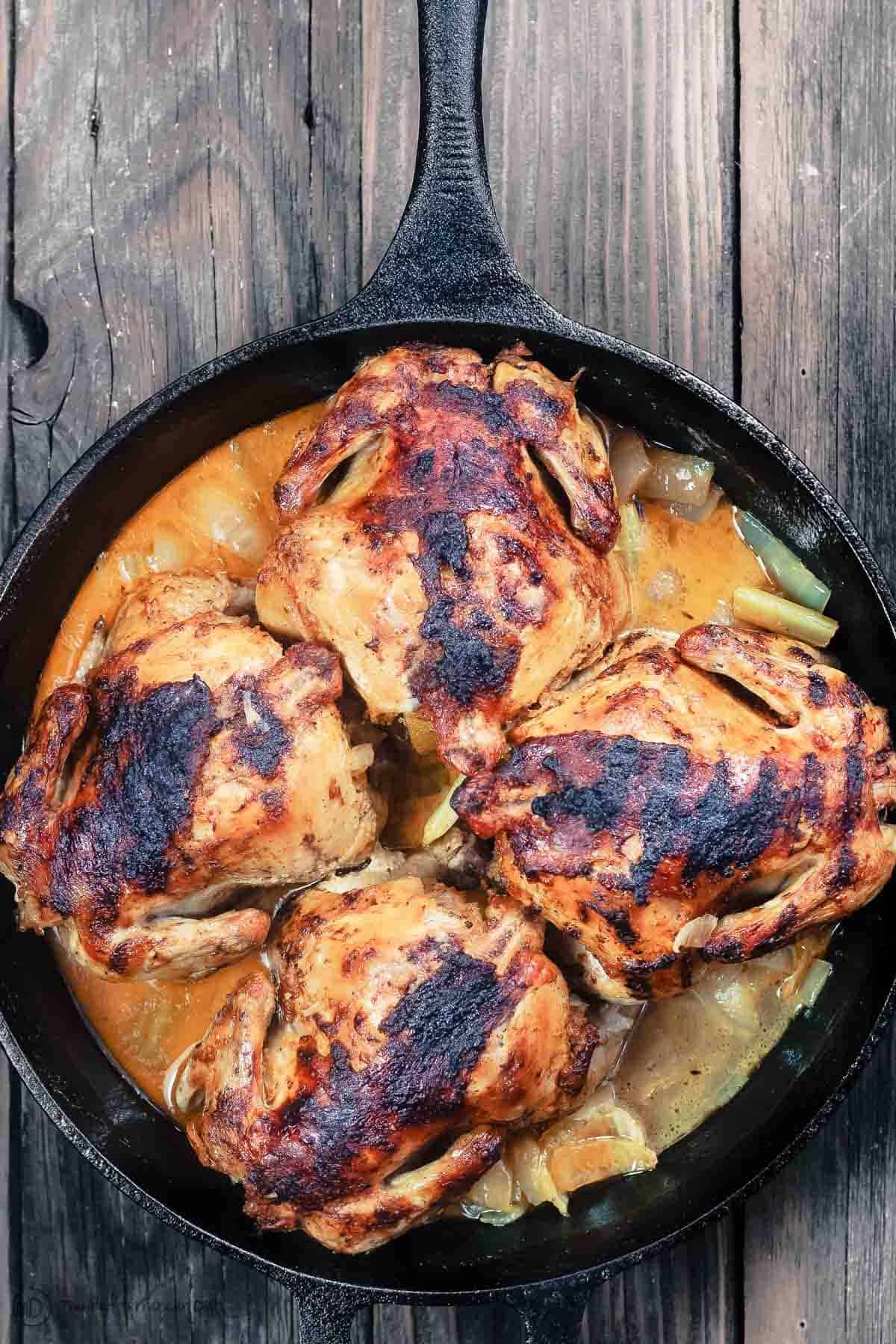 Who doesn't love their own personal whole roasted chicken?! That's the beauty of the lesser-known and under-appreciated Cornish hen.
Cornish hens may not be your first choice for a weeknight meal or even a holiday meal, but that doesn't mean you shouldn't consider it! As a bonus, with my tasty Mediterranean garlic spice rub-made with loads of fresh garlic, warm spices, and a splash of bright lime juice-this roasted Cornish game hen recipe makes a very special meal without breaking the bank!
What is a Cornish hen?
A Cornish hen (also known as Rock hen or Cornish game hen) is basically a smaller breed of chicken (usually around one or two pounds in weight). Because they are younger, Cornish game hens are also more tender than their larger chicken cousins. They also have fewer calories than your average chicken.
The flavor difference between chickens and Cornish hens is almost negligible: Cornish hens have a slightly milder flavor, but they basically taste like the chicken you're used to eating.
Because of their small size, Cornish hens are perfect as a serving for one person or split in half when served with some delicious sides. I love pairing this easy roasted Cornish hen recipe with my Cinnamon Roasted Sweet Potatoes; Italian Oven Roasted Vegetables; or Brussels sprouts…Lots more ideas below!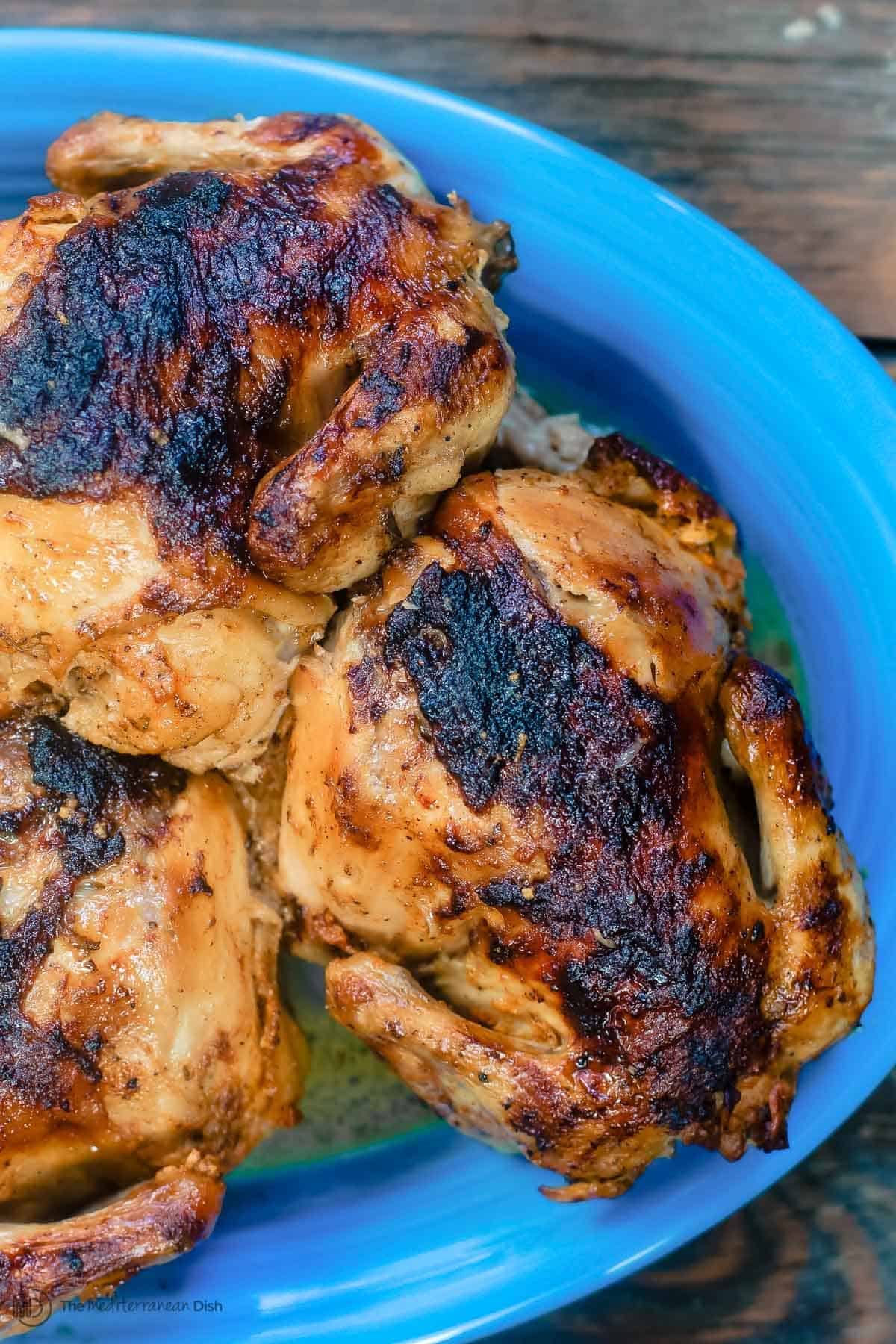 Ingredients you need to make it
Celery sticks and a large onion, roughly chopped – these get stuffed into the Cornish hen cavity to infuse it with flavor from the inside
Fresh lemon or lime juice – to squeeze onto the Cornish hens. Don't discard the lemon or lime halves: These get stuffed in the cavity along with the celery and onion
4 Cornish hens (roughly 1 pound to 1.5 pound each) – try to use Cornish hens of a similar size so they cook at the same speed
Chicken broth – this provides flavor and moisture for juicy roasted Cornish hens
Mediterranean garlic and spice marinade (see just below)
For the Cornish hen marinade!
I found the unexpected perfect match for a Cornish hen: this garlicky, warm Mediterranean garlic and spice marinade! The chicken gets bathed in this marinade for only a few minutes before you cook it, and it is delicious! Here is what you need for this marinade:
Hot or sweet paprika – gives a depth of flavor and beautiful color to the Cornish game hens
Ground allspice – adds complex warmth and heartiness
Dried thyme – brings some earthiness
Ground black pepper – adds warmth and a slight kick
Nutmeg – the silent star in this rub, giving it an extra layer of warmth without being overpowering
Fresh lemon or lime juice – brings a bright pop of brightness and amplifies the intensity of the other flavors. Lime/lemon juice acts also as a tenderizer to the Cornish hen, helping it to be fall-off-the-bone tender once roasted
Good extra virgin olive oil – I used our Private Reserve Greek extra virgin olive oil
How to cook Cornish hens
Make the marinade. Place the garlic, spices, lemon juice and olive oil in the bowl of a large food processor fitted with a blade. Blend until you reach a nice "pasty" consistency.
Apply the marinade to chicken. Generously apply the marinade to each of the Cornish hens (and remember, for best results, to apply under skin and in cavities).
Brown the hens on all sides. I like to use a cast iron pan for the perfect skin.
Stuff the cavity with onions and celery. Allow the Cornish hens to cool briefly so you're able to handle them, then add the chopped onions and celery into each cavity.
Arrange the hens in a cast iron skillet or baking dish. Add 2 cups broth from the sides of the skillet. Roast in a 425 degrees F heated oven for 1 hour (or until the hens are cooked through and juices run clean), basting every 15 minutes with the broth. If you have a cooking thermometer, cooked Cornish hens will have an internal temperature of 165 degrees F.
Allow the Cornish game hens to rest before serving. When they are ready, remove the hens from the oven and cover loosely with aluminum foil for 15 minutes. Don't skip this step, as resting helps the juices redistribute in the meat, which will result in succulent meat. Transfer to a platter and serve.
Tips for the best Cornish hen in the oven
To make the juiciest, most tender Cornish hen in the oven, follow simple my tips below!
Be generous with the marinade. Be sure to get the marinade particularly under the skin for best flavor. And don't skimp on the garlic! 15 to 20 cloves of garlic might seem like a lot, but it infuses the Cornish game hens with so much flavor!
Sear before roasting. Browning the hens on the stovetop before you roast them helps give them color, as well as perfectly crispy skin.
Do not over cook them. Like chicken, Cornish game hens can be consumed when their internal temperature is 165 degrees F, but remember that they will continue to cook as they rest after you take them out of the oven, so take that in consideration and pull them out a little bit earlier.
Allow the hens to rest before serving. Again, just like chicken, roasted hen should rest for a few minutes before serving for best flavor and to allow the juices to redistribute. Basting them with their broth as they rest will help.
What to serve along
Cornish game hens served whole along with some sides make a beautiful plate when you have guests over. If you're feeding a larger crowd and have an abundance of sides, halve the Cornish hens.
Serve with sides like Italian roasted veggies, cinnamon roasted sweet potatoes, simple roasted carrots, or even Lebanese hashweh rice. For a complementary salad, try roasted beet and kale salad or this bright fattoush salad.
Make ahead tips
If you want to save time, a lot of the heavy lifting for this Cornish game hen recipe can be done a day in advance:
Chop the vegetables a night in advance and store them separately in airtight containers in the fridge.
Prepare the garlic spice rub and apply it to the game hens the night before you plan on roasting them.
Leftovers and storage
Allow the baked Cornish hen leftovers to come to room temperature. Store in airtight containers in the fridge for up to 3 days.
More poultry recipes to try:
Browse our top Mediterranean diet recipes. Or all Mediterranean recipes.
Visit our Shop
*This post first appeared on The Mediterranean Dish in December of 2015 and has recently been updated with new information and media for readers' benefit. Enjoy!
For more information, please see more information about How to roast cornish hens
Detail: 🔗