Light, fluffy and creamy Cottage Cheese Jello Salad is a Midwestern classic fluff salad! A mixture of cottage cheese, strawberry Jell-O, crushed pineapple and Cool Whip makes this a favorite for potlucks, backyard BBQs, reunions and holidays!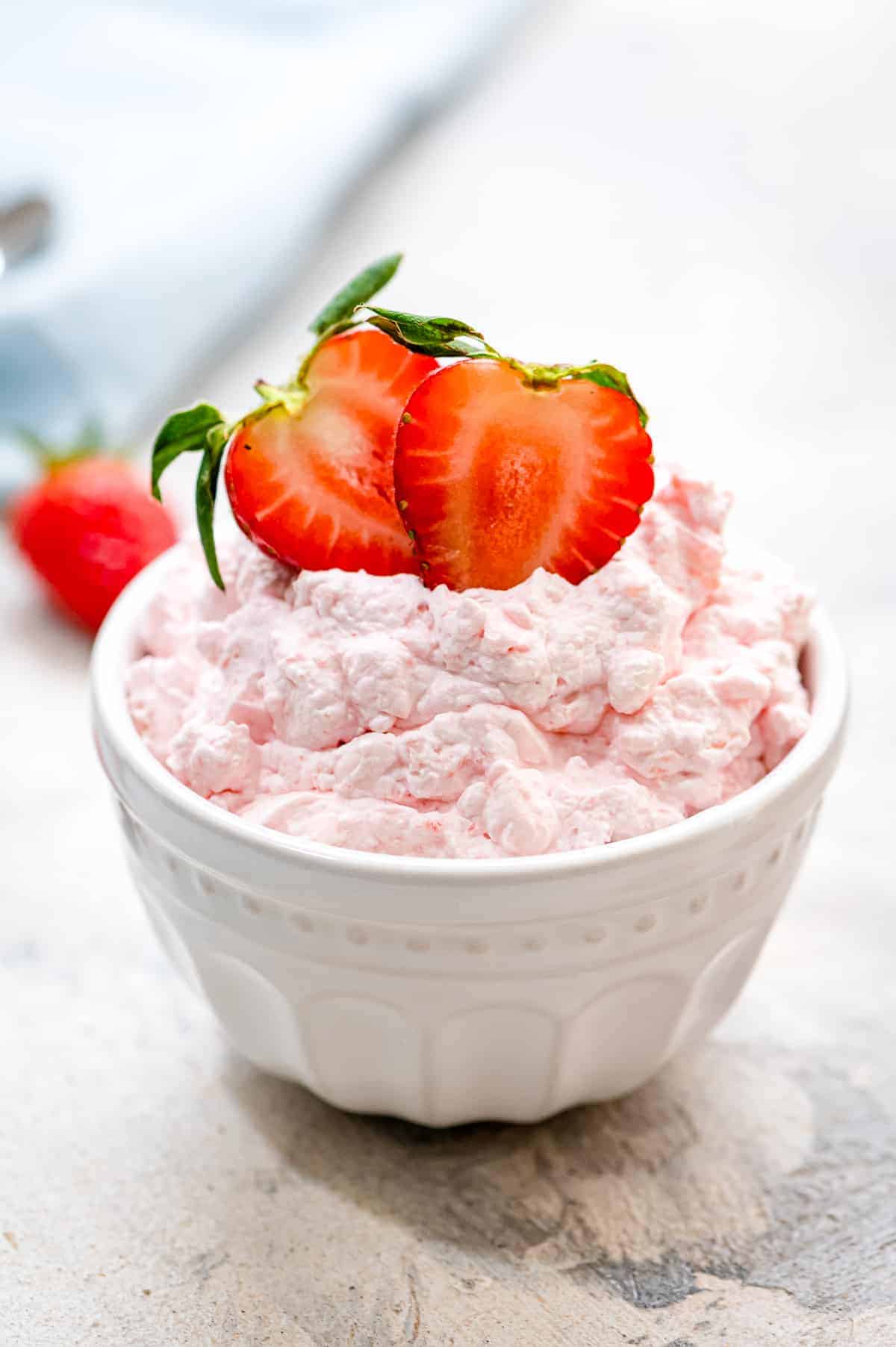 If you're from Minnesota or know someone who is you already know how much we love our fluff salads. If you're not from Minnesota than you're in for a treat today – these salads are light, fluffy, sweet, and so simple to make.
I can't remember a potluck, BBQ, or family reunion that didn't have some kind of fluff salad. This cottage cheese jello salad is one that everyone loves and you only need four ingredients to make it!
Easy Strawberry Fluff Salad
This salad has strawberry jello combined with crushed pineapple for a sweet and fruity flavor. You can switch the jello, too, and make lots of different flavors.
I love to make this because you can make it several hours ahead of when you want to serve it. Just keep it in the refrigerator.
One question I get a lot is, "Is this a side dish or dessert?!" Technically, it's a side dish, but you can also serve it as a dessert – it's up to you!
If you like Watergate salad or cookie salad, you need to give this cottage cheese jello salad a try!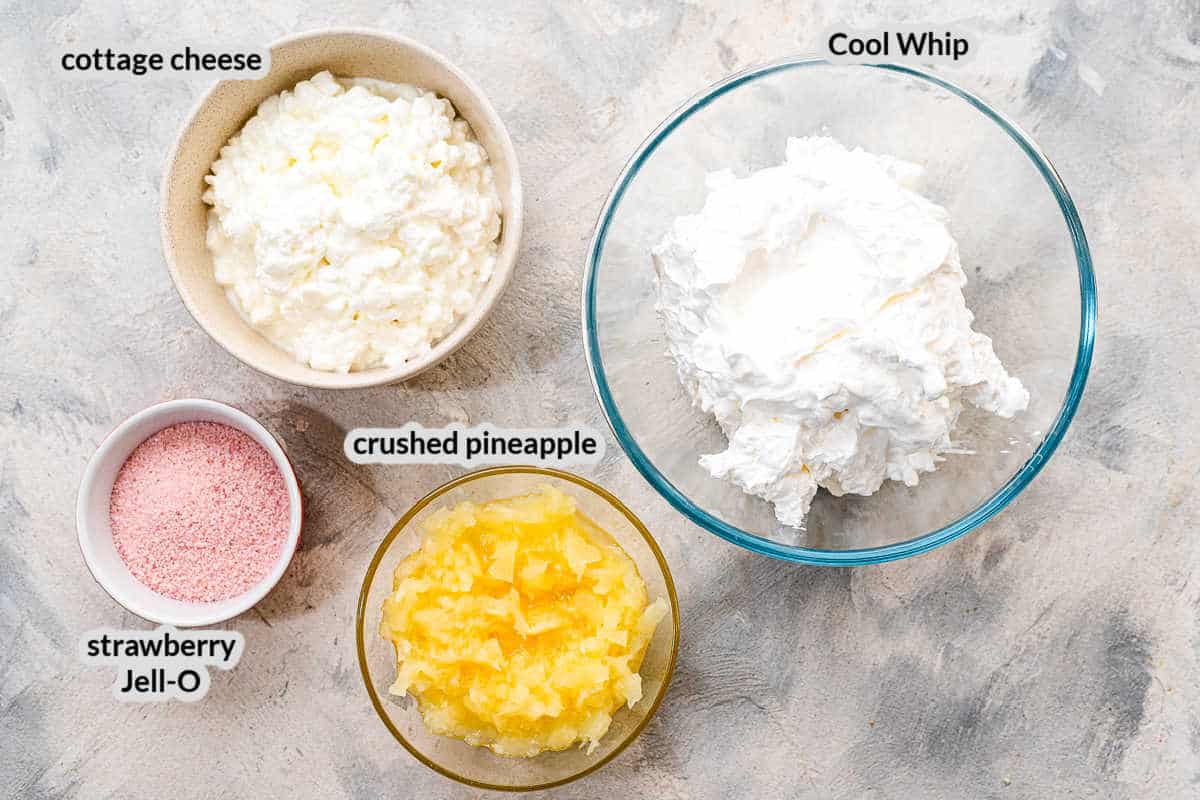 Ingredients
Jell-O – You can use any flavor! We love strawberry but you might also like to try orange jello, raspberry jello, or lime jello.
Crushed pineapple – Be sure to drain it really well so it doesn't water down your salad.
Cottage cheese – Feel free to use regular, low fat, or non fat cottage cheese.
Cool Whip – Choose regular, sugar-free, fat-free, extra creamy… whatever your favorite is will work.
How to Make It
The key to making the best fluff salad is to use a light hand. It's supposed to be airy and light, so be gentle when you mix.
Place the pineapple, jello mix, and cottage cheese in a large mixing bowl.
Gently fold in the Cool Whip. This means you should use a motion that pulls the ingredients over the top of each other instead of stirring. Do this slowly and gently so you don't deflate the whipped topping.
Refrigerate it for at least one hour before serving. For serving, I like to transfer it to a serving bowl and garnish the top with sliced strawberries.
Recipe FAQs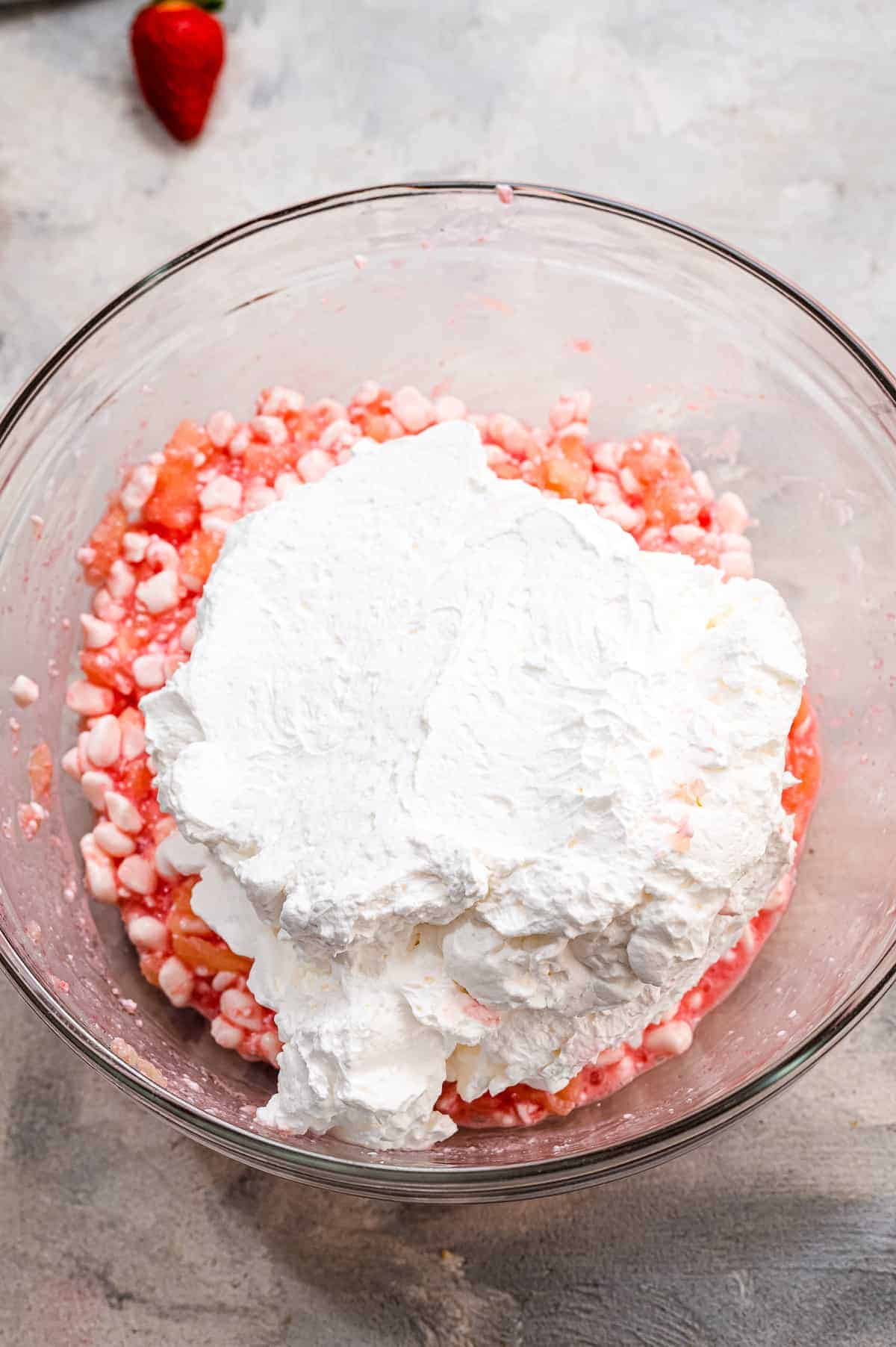 Here in Minnesota, we love our fluff salads all year long! Make this cottage cheese jello salad for the next celebration and everyone will request it for every BBQ, potluck, and holiday party!
I hope you give it a try, and if you're looking for more dishes to try, be sure to check out more of my favorite recipes.
More Potluck Favorites
Strawberry Tapioca Salad was always a favorite of mine growing up. Cool, fluffy, and sweet!
Everyone loves Broccoli Salad! This is an easy recipe loaded with flavor and a creamy, tangy, dressing.
Make my Bacon Ranch Pasta Salad and it will be the first dish to disappear!
Try it and love it? Rate it, please!!! ? Seriously though a five-star rating below will make my day! If you snap a photo please be sure tag me on Instagram at @julieseatsandtreats or #julieseatsandtreats so I can see your yummy dish!!
For more information, please see more information about Jello salad with cool whip
Detail: 🔗