Cotton candy ice cream is a delightful and whimsical dessert that is sure to bring joy to your taste buds. With its sweet, creamy texture and vibrant colors, it's the perfect treat for hot summer days. In this article, we'll show you how to make this delicious ice cream at home using a simple no-churn recipe. So let's dive in and discover the magic of cotton candy ice cream!
The Key Ingredient: Cotton Candy Flavoring
The secret to achieving the authentic cotton candy flavor in this ice cream is cotton candy flavoring. You can easily find this ingredient in most craft stores or even some grocery stores. Blended with vanilla, it creates a perfect balance of creamy sweetness that will leave you craving for more.
Making Cotton Candy Ice Cream: No-Churn Method
If you're worried about the extra step of melting cotton candy, don't fret! Our recipe keeps it simple by using cotton candy flavoring instead. It's a hassle-free approach that still delivers fantastic results. Whether you prefer to enjoy your cotton candy ice cream in a cone, a dish, or even as a milkshake, the choice is yours!
Cotton Candy Ice Cream Ingredients
To create this delightful treat, you'll need a few key ingredients:
Heavy Whipping Cream: This forms the creamy base of the ice cream.
Sweetened Condensed Milk: Adds sweetness and creates the perfect texture.
Vanilla Extract: Use the best quality pure vanilla extract you can afford for a rich flavor.
Cotton Candy Flavoring: The star ingredient that gives the ice cream its distinctive taste.
Food Coloring: Red and blue food coloring create the classic cotton candy colors, but feel free to experiment with other shades.
How to Make Cotton Candy Ice Cream
Now that we have our ingredients ready, let's dive into the process of making cotton candy ice cream. Follow these simple steps:
Add the heavy whipping cream to a large bowl.
Whip the cream using a hand mixer or a stand mixer until stiff peaks form.
In another large bowl, combine sweetened condensed milk and vanilla extract.
Carefully fold the whipped cream into the condensed milk mixture, keeping it light and fluffy.
Divide the mixture into two bowls and add red food coloring to one and blue food coloring to the other.
Stir each bowl until the colors are fully incorporated, adding more food coloring if desired.
Dollop the colored mixtures into a shallow, freezer-safe dish, alternating between the colors without stirring.
Freeze for 3-4 hours or until firm.
These numbered steps match the photos above and serve as a visual guide to help you along the process.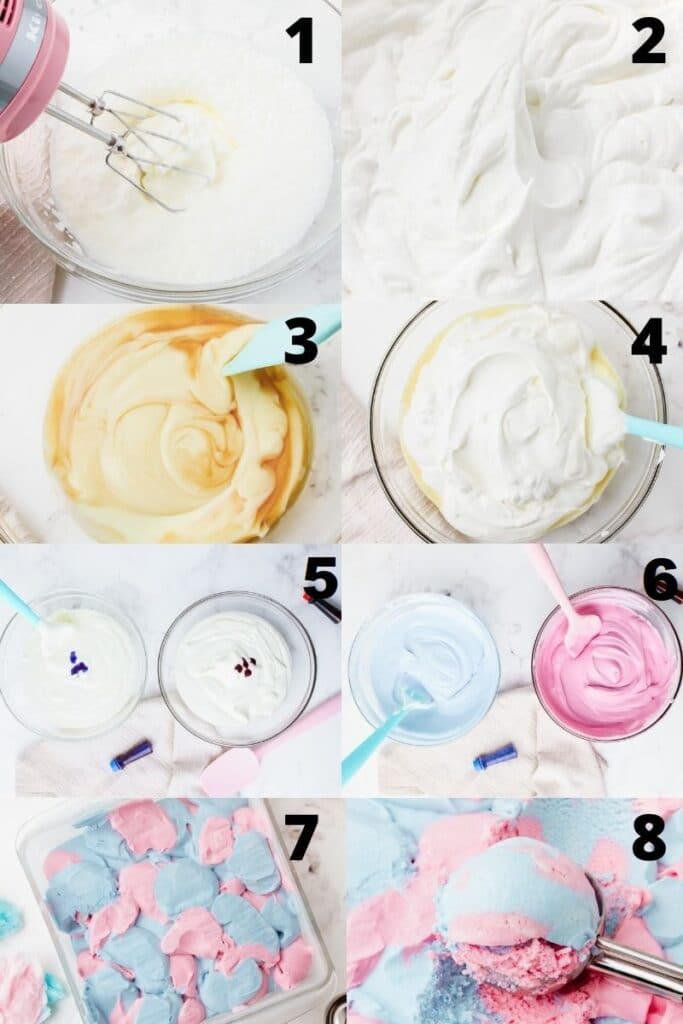 Tips for Perfect Cotton Candy Ice Cream
To ensure your cotton candy ice cream turns out perfect every time, keep these tips in mind:
Whip the cream until it forms stiff peaks, balancing between not whisking enough and overwhipping.
Gel food coloring works best, as it adds vibrant colors without diluting the ice cream base.
At the moment, we don't have a dairy-free alternative for this recipe, but we will update it if we find one that works well.
Store your homemade ice cream in an airtight container, such as our favorite reusable ice cream containers, for up to a month in the freezer.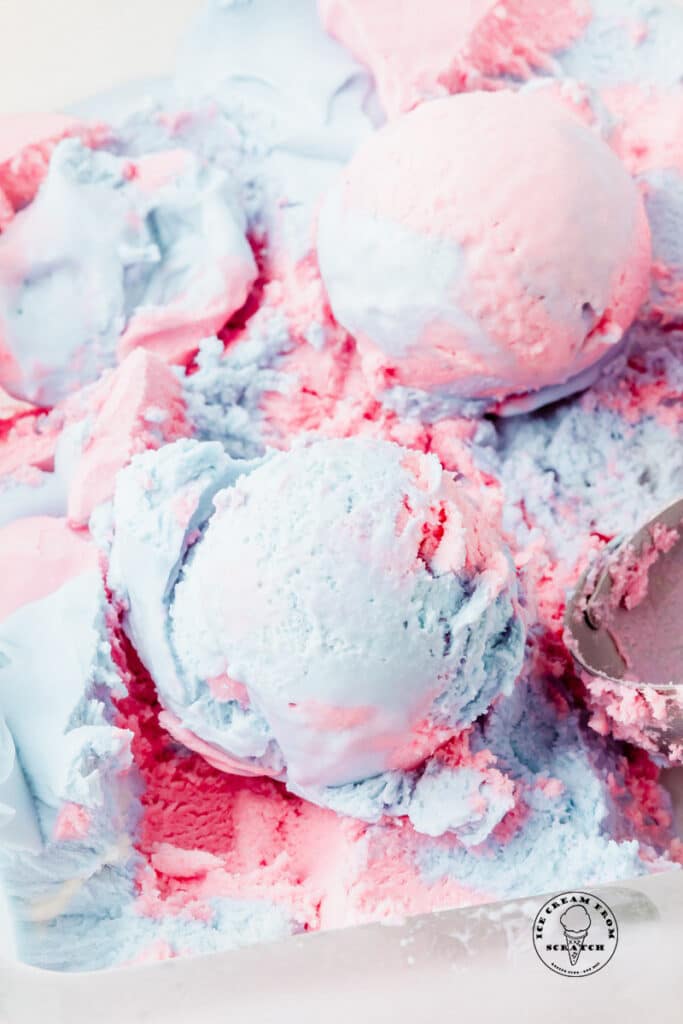 So why not take a break from store-bought ice cream and whip up a batch of homemade cotton candy ice cream? The process is simple, and the reward is a bowl full of colorful delight. Treat your loved ones to this delicious dessert and create sweet memories together!
For the full list of ingredients and detailed instructions, please refer to the recipe below.
---
This article was brought to you by Family Cuisine, your go-to source for delectable family-friendly recipes. Stay tuned for more mouthwatering treats and follow us on Pinterest for daily culinary inspiration. Don't forget to leave a comment below and let us know how your cotton candy ice cream turned out. We'd love to hear from you!
More ice cream recipes you might like:
Dulce De Leche Ice Cream
Red Velvet Ice Cream
Pineapple Ice Cream
Sprinkles Ice Cream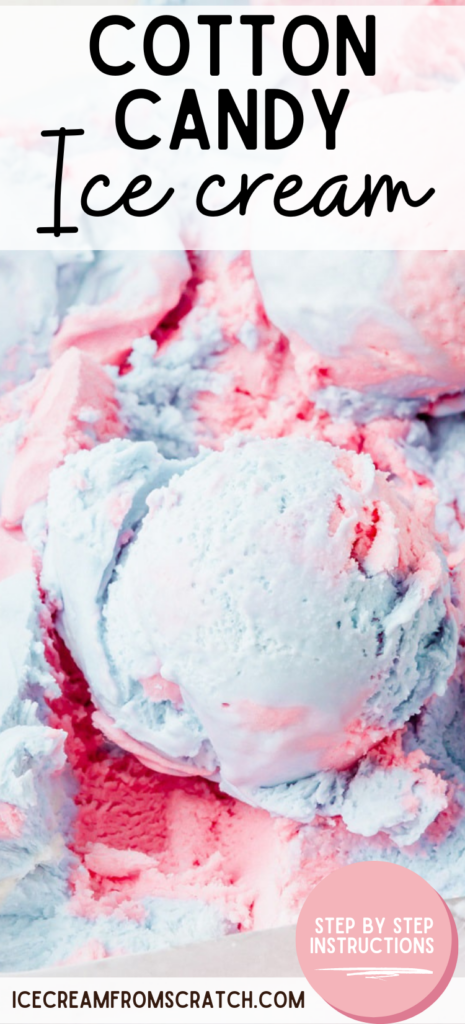 Some of our favorite things for making no-churn ice creams:
Glass Mixing Bowls – We love using these glass mixing bowls for easy preparation.
Loaf Pan – A versatile loaf pan works perfectly for freezing the ice cream.
Ice Cream Scoop – Ensure perfect scoops every time with a quality ice cream scoop.
Ice Cream Bowls – Make your ice cream experience even more enjoyable with fun ice cream bowls.
Ice Cream Containers – Store your homemade ice cream with ease using these practical containers.
Note: Each link will take you to the exact product on Amazon, where we may earn a small commission on qualifying purchases.
Let's get social! Follow us on Pinterest or leave a comment below if you have any questions or suggestions. We value your feedback and can't wait to hear about your cotton candy ice cream experience. Happy scooping!
---
More cotton candy recipes can be found on our website.