This recipe for Mediterranean Couscous Salad with Roasted Eggplant is made with roasted red peppers, feta cheese, and fresh herbs. It's great for a quick and healthy lunch or for any summer picnic or barbecue.
Reading: couscous dish tasty vegetarian
One of the grocery stores that I shop in has a readymade salad section. Their couscous salads always look so inviting.
I bought some the other day and can't tell you how disappointing it was. It was flat and artificial tasting. I didn't eat it. Instead, I started thinking about how I would have wanted it to taste and created my own.
One of the best things about this delicious and colorful salad how easily it's thrown together. It's a healthy salad that's filled with big flavors, roasted eggplant, olives, feta, and roasted red peppers.
If you love couscous, I also make a great 10 minute Greek Style Couscous salad. These salads are really versatile, so feel free to add whatever herbs, cheeses or vegetables you want!
Read more: 15 Delicious Kale Recipes
I hope you enjoy it!
Roast for 15 minutes.
Remove the roasted garlic clove and place it on a separate plate. Using a fork mash it into a paste.
Coat the eggplant with the mashed garlic and set aside to cool.
Put the couscous, water and a pinch of salt into a bowl.
Read more: vegetarian dish made with carrots and green beans
Cover and let sit 5 minutes or until the water is absorbed into the couscous.
Fluff with a fork and if necessary, transfer to a salad bowl.
Add the roasted vegetable mixture, chopped herbs, and feta cheese.
Toss well and prepare the dressing by mixing lemon juice, olive oil, dried oregano, and seasoning.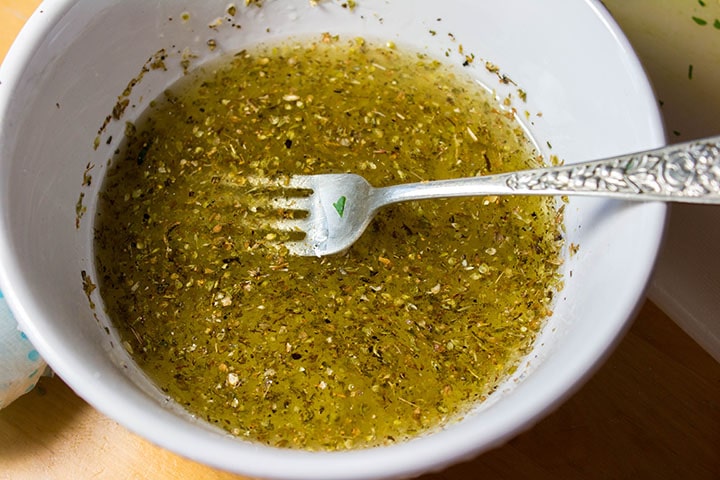 Add the red roasted peppers to the bowl.
Top with the dressing and toss to coat.
Chill for 2 hours or serve warm. It's delicious either way.
Read more: 30 Low-Carb Vegetarian Meals That Are Full Of Flavor!