Sharing is caring!
This Cranberry Jello Salad is a festive-looking side dish, made up from a tasty combination of raspberry Jell-O, cranberry sauce, apples, and pineapple.
With only four ingredients and ten minutes of cook time, your next holiday side dish will be a cinch to prepare!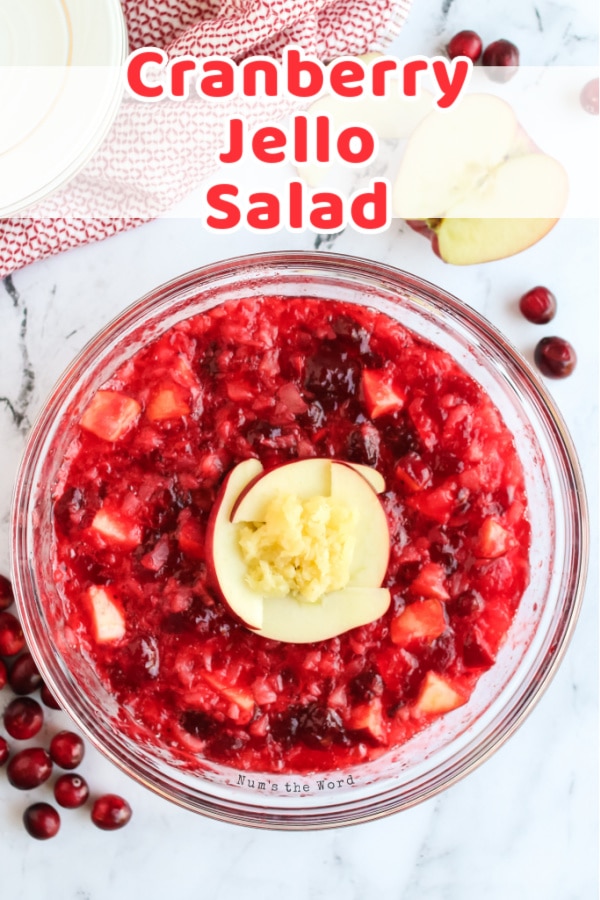 If you're looking for cranberry salad recipes, I've got two for you. This Cranberry Jello Salad and this Cranberry Fluff, which is also known as commonly known as cranberry salad too.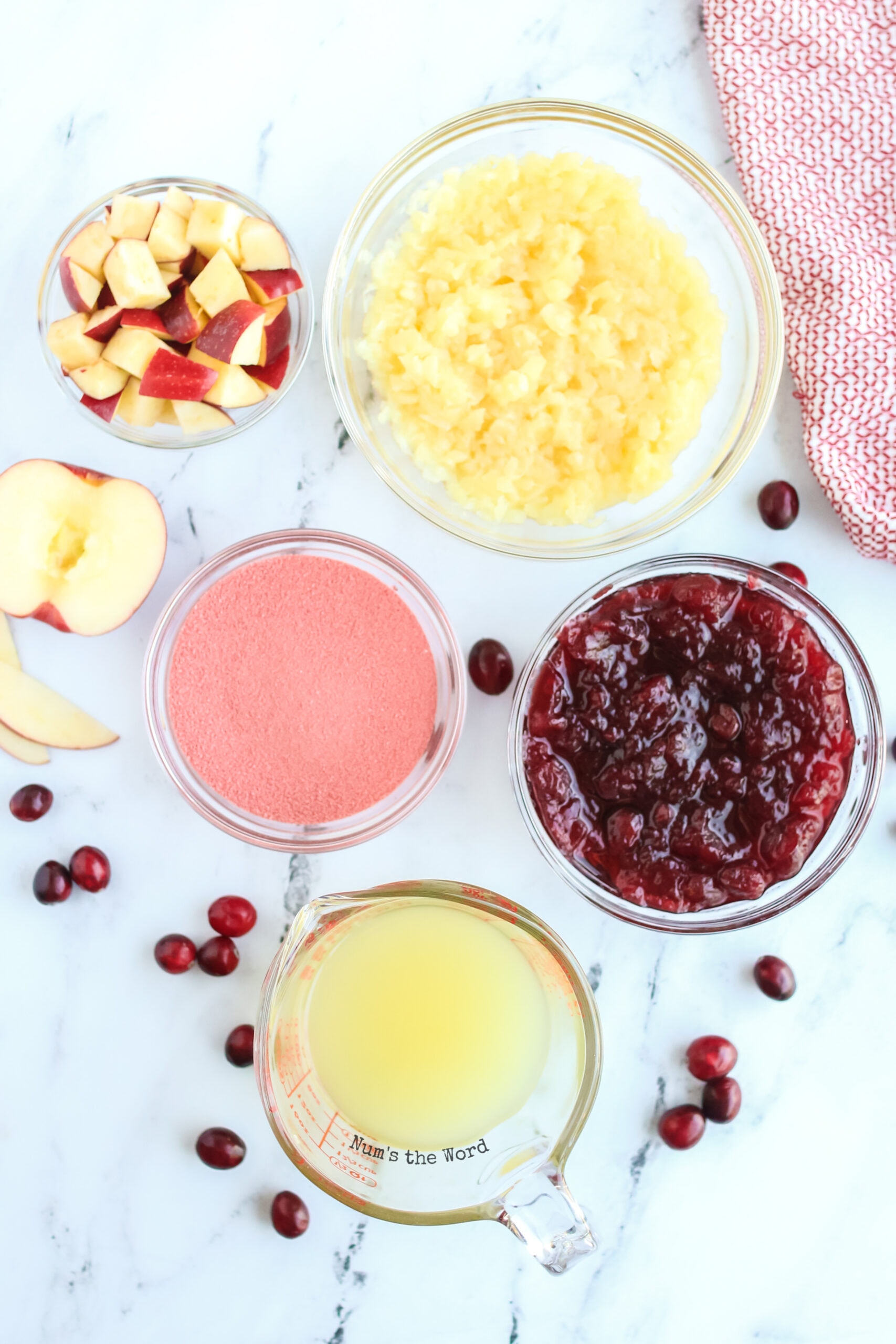 What ingredients are in Cranberry Jello Salad?
Raspberry Jello – Believe it or not, raspberry Jello is the main staple in this cranberry pineapple salad. You may find this misleading, but the name of the salad actually comes from the cranberry sauce and apples found within this recipe. The raspberry flavor of Jello melds beautifully with all the other flavors creating a very popular Thanksgiving side dish.
Crushed Pineapple – canned crushed pineapple is a must have for this recipe. Not only does it add flavor but it also adds texture! Remember to include the juice and don't skimp on this vital ingredient!
Whole Berry Cranberry Sauce – If you've ever wondered what you can do with jellied cranberry sauce, this is one of the many recipes that you could create using it! Our family prefers the whole berry cranberry sauce. However you could just as easily use jellied cranberry sauce too! Don't stress over it. Simply use what you have on hand and enjoy the flavors!
Apple – Apple chunks floating in your cranberry salad, is as traditional as it gets! Choose your favorite apple and dice it up into small chunks. We love a crisper apple but any will do. Whether you leave the peel on or remove it is 100% up to you! My kids are picky about apple skins, so we naturally remove them from dishes like this! However the apple peels won't hurt your recipe at all.
Walnuts – If adding nuts to your Jello isn't your thing, then leave them out! Walnuts in this Jello salad is 100% optional. However if you want to make it the way grandma did when you were a kid, you'll want to include them! It's the old fashioned way!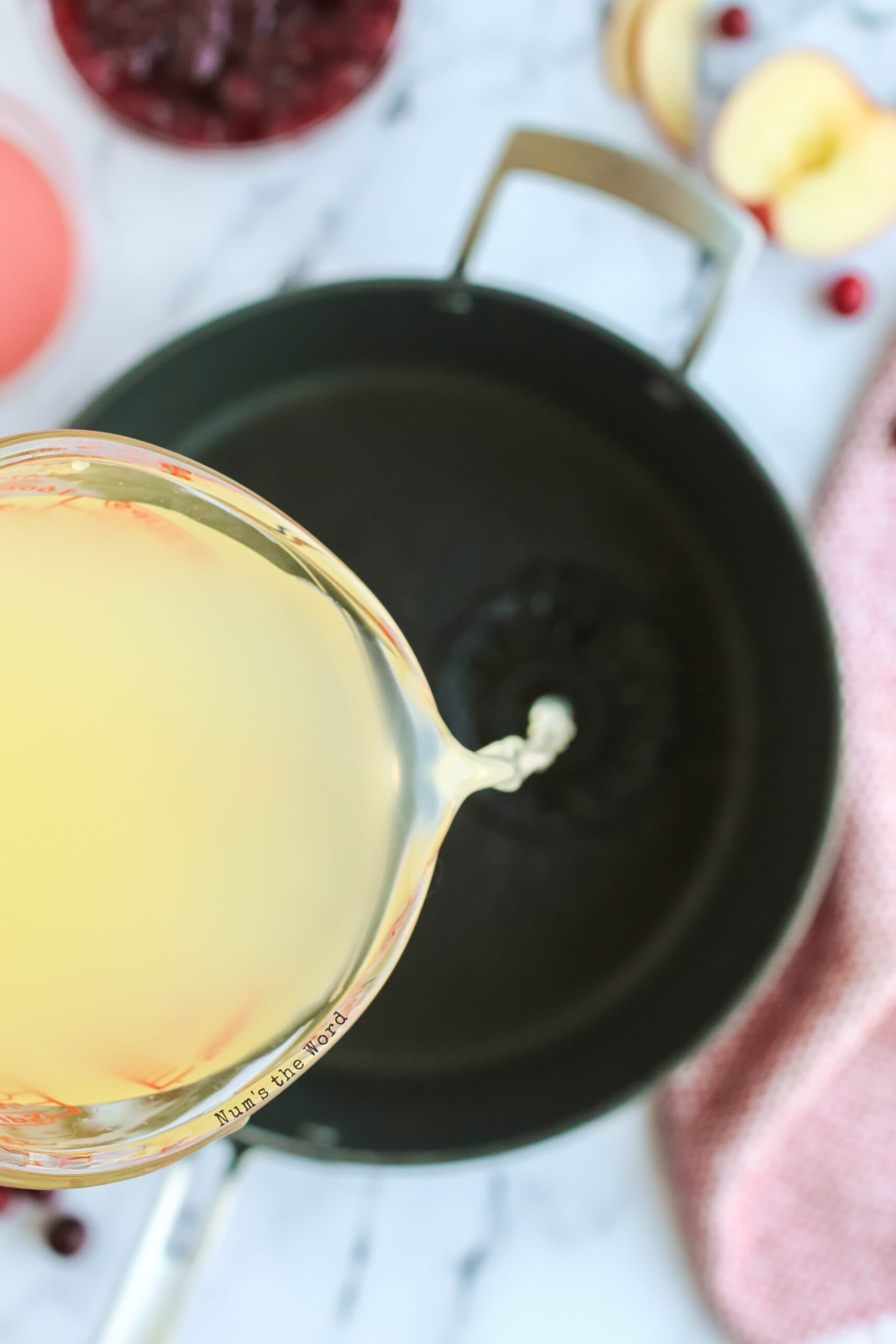 Can I use fresh pineapple instead of canned in this Cranberry Jello Salad?
Also read: Cranberry Jello Salad | Norine's Nest
If this seems like an odd question, then let me give a little background. If you want to try a fun science experience, use fresh pineapple instead of canned in this recipe. The results will be fruit soup.
There is a chemical in the fresh pineapple that prevents gelatin from setting up, thus leaving it it's liquid state.
This is because pineapple and other fresh fruits contain high levels of proteases, which are enzymes that break down the chemical bonds in protein.
In gelatin, that protein is collagen. It's a crucial protein that keeps the Jell-O bound together instead of a sloshy liquid.
However canned pineapple has a different effect. During the canning process, the pineapple is heated up to a very high heat which kills off the chemical that prevents gelatin from setting up. Thus allowing us to use canned pineapple in Jello without any side effects.
If you'd like to have your fresh cranberry salad set up in time for Thanksgiving, then use canned pineapple.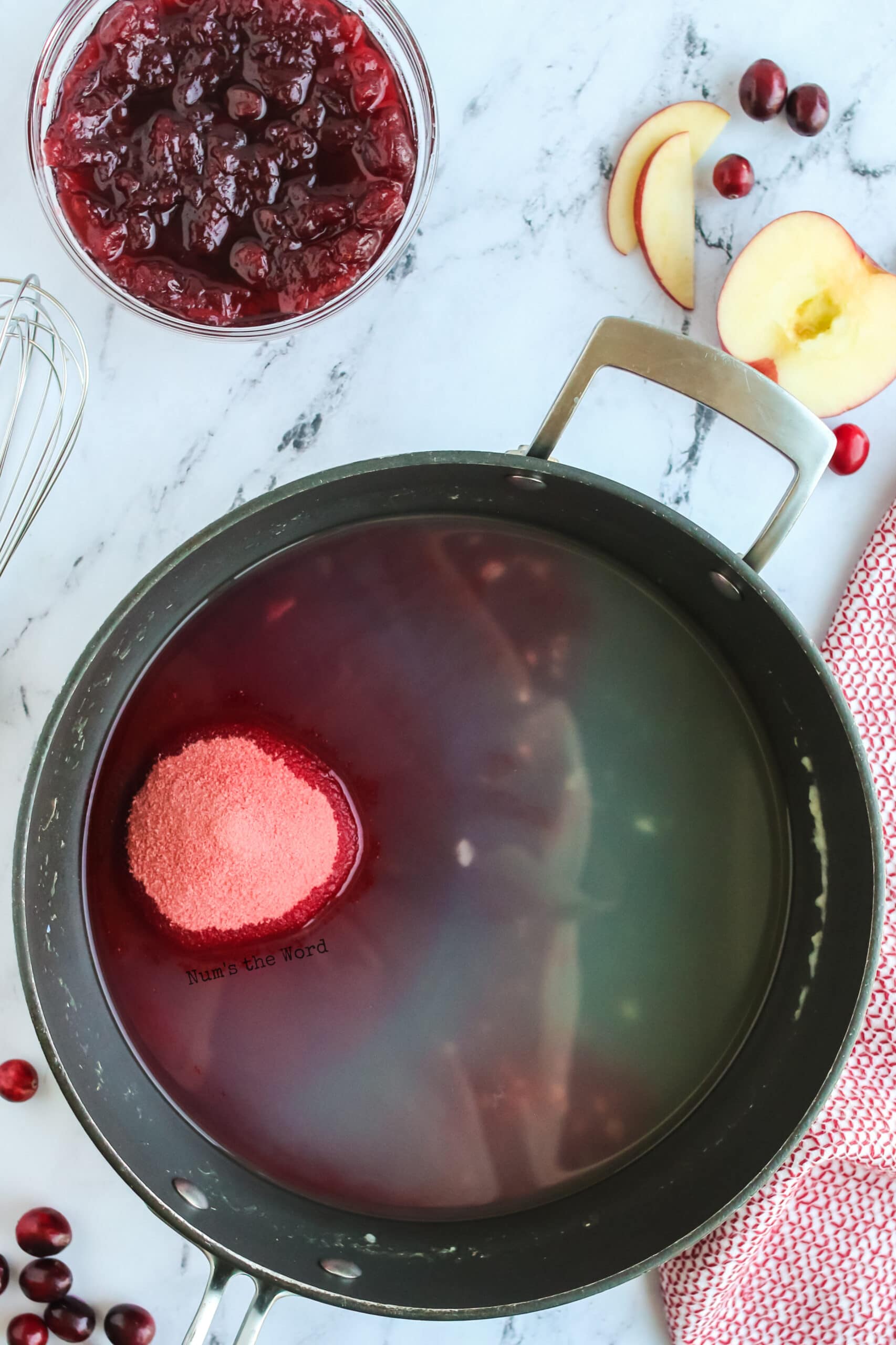 How to make Cranberry Jello mold with step by step directions:
Though you'll be using both the crushed pineapple and juice, you'll first need to separate them. I suggest doing this by straining your crushed pineapple.
Once your pineapple is strained, measure out how much juice you have. Each can will provide slightly different results.
Take your pineapple juice and add enough water to it to create 3 cups of liquid.
Heat liquid up on the stove or in the microwave until boiling.
While liquid is heating up, pour Jello powder into a medium sized bowl.
When liquid is boiling pour over the Jello powder. Mix well, ensuring Jello dissolves completely.
Add cranberry sauce (straight from can) to Jello liquid and stir well, breaking up any clumps. Your mixture should thicken up quite a bit.
How long to wait to add fruit to Jello will depend entirely on what you see right now. If your Jello mixture is fairly thick, you can add your fruit now. If it's still pretty thin, pop it in the fridge for ½ hour – 1 hour or until it begins to thicken (not set). Add drained pineapple, apples and walnuts and mix well..
Transfer mixture to a pretty serving bowl or a Jello mold and refrigerate until set. If using a mold, once ready, remove the lids and allow the Jello to slide out onto your platter.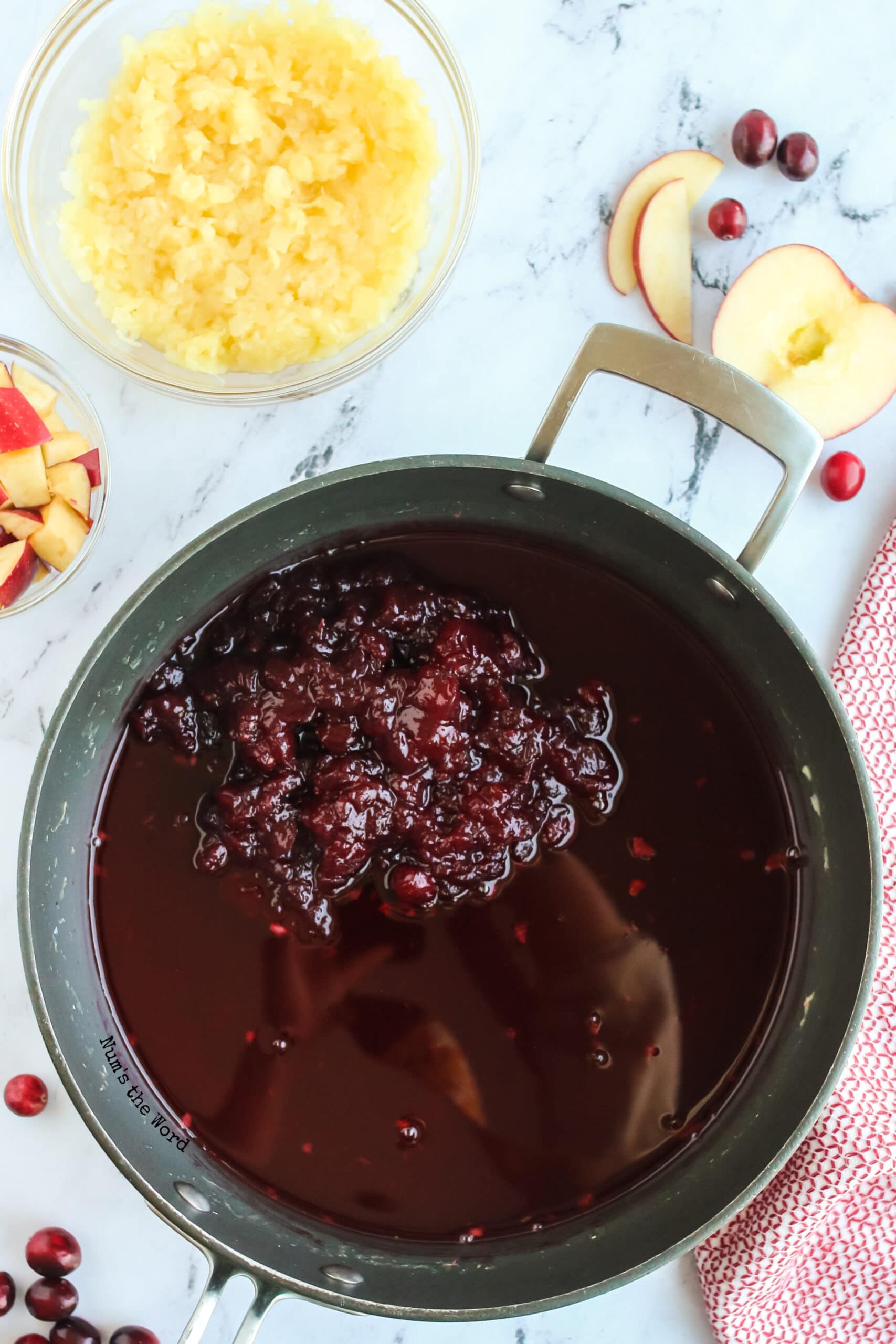 Can you freeze this Cranberry Jello Salad recipe?
Also read: Cranberry Pineapple Jello Salad Recipe
Yes you can. However the flavor and texture may be affected. I suggest making this several days in advance and keeping it in the fridge rather than freezing.
We are all about making life easier when it comes to a big dinner party, but in this case I suggest using the fridge instead of the freezer.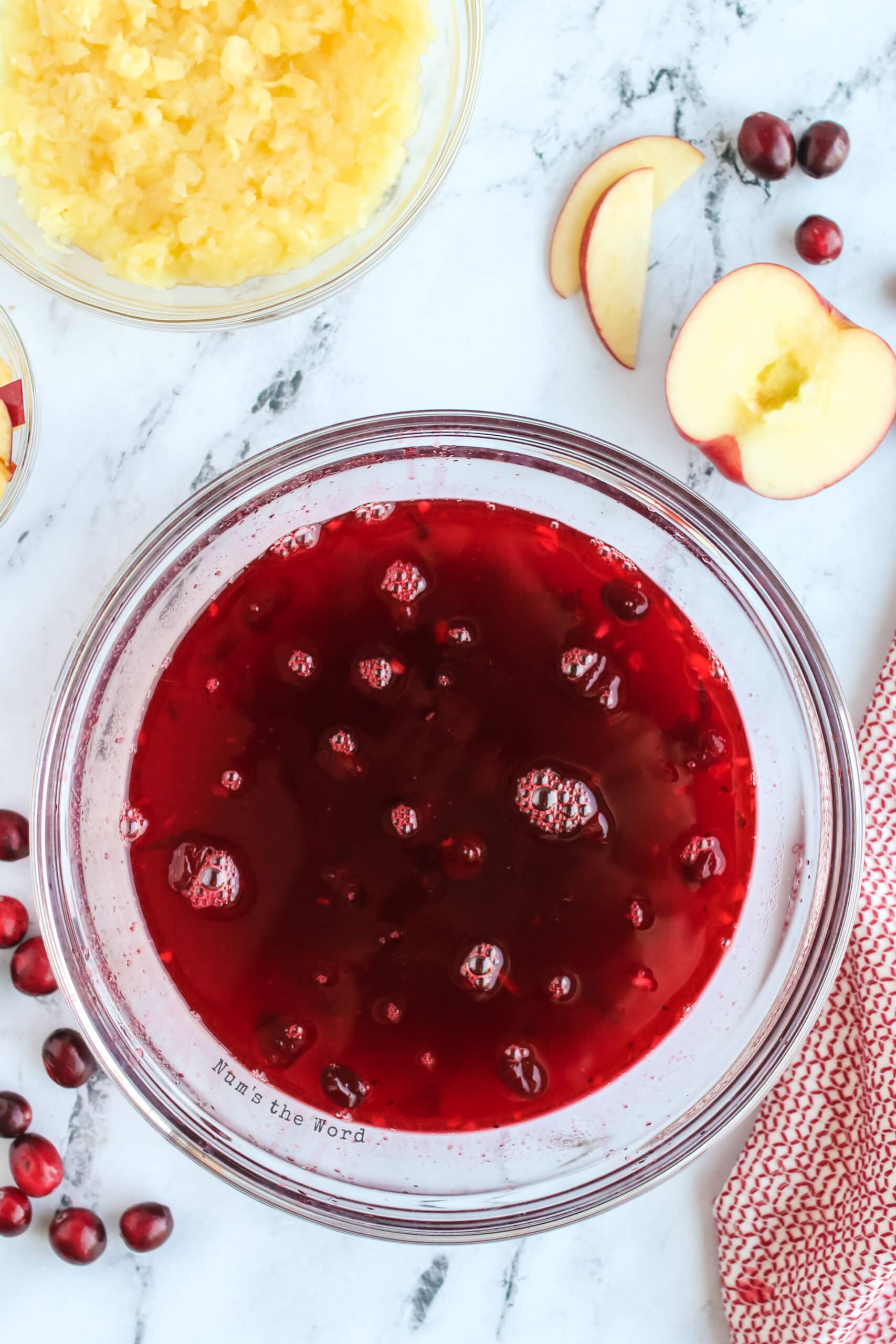 How long does this Cranberry Jello Salad last in the fridge?
From the day it's made to the day you toss it, you've got between 5 – 7 days to enjoy your easy cranberry salad. So if you want to make this in advance AND save the leftovers, I suggest making it 2 – 3 days in advance and using it within 3 – 4 days after your dinner. This gives you a total of 5 – 7 days with the Jello.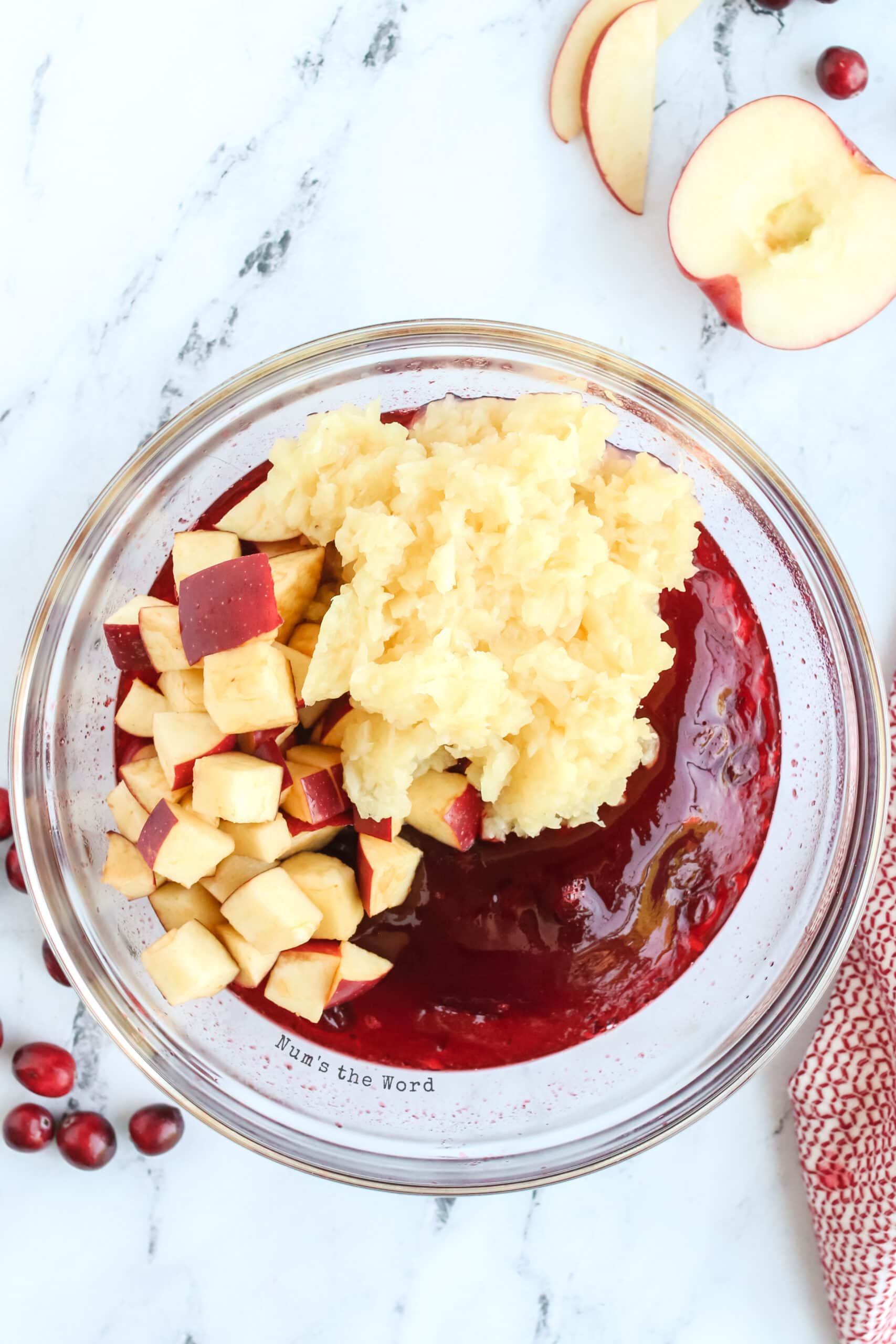 PRO TIP: If you plan on making this in advance, using a traditional bowl (not jello mold) then you'll want to cover it well. To do this, place a layer of plastic wrap ON TOP OF (touching) your cranberry salad.
This will help prevent any odors from your fridge from touching or seeping into your jello. Once you place a layer of plastic wrap on your dish, then add a second to the top of your bowl ensuring a nice tight seal.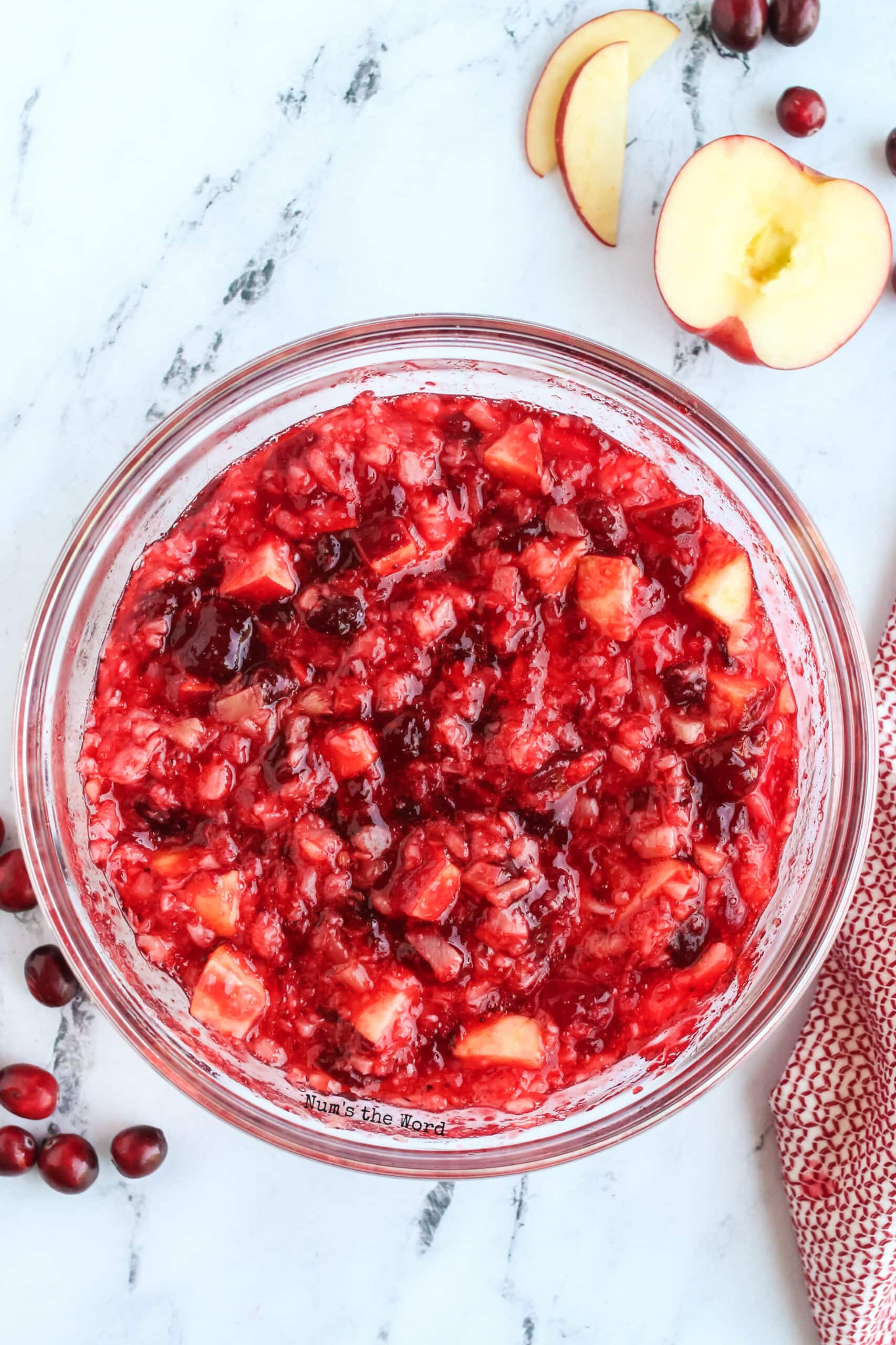 What kind of fruit can you NOT put in Jello?
Also read: Fresh Cranberry Salad Recipe – Food Storage Moms
Because of a natural chemical reaction, there are certain fresh fruits like pineapple that cannot be mixed in with Jello. These are:
Fresh Pineapple
Kiwi
Fresh Papaya
Fresh Mango
Guava
Fresh Figs
Ginger Root
If you've got your heart set on using one of these fruits then you have two options.
Buy canned fruit. During the canning process the fruit is heated up to a very high heat killing off the enzyme that reacts to gelatin.
Boil your fruit before adding it to your Jello. Though this isn't a guarantee of perfect setting Jello, it may just work. The downside is that your fruit may be mush instead of beautiful chunks.
This Raspberry Cranberry Jello Salad has become a family staple at our Thanksgiving dinner. It's a great make ahead side dish that brings the festive flavors of cranberries to the table with a pop of holiday color!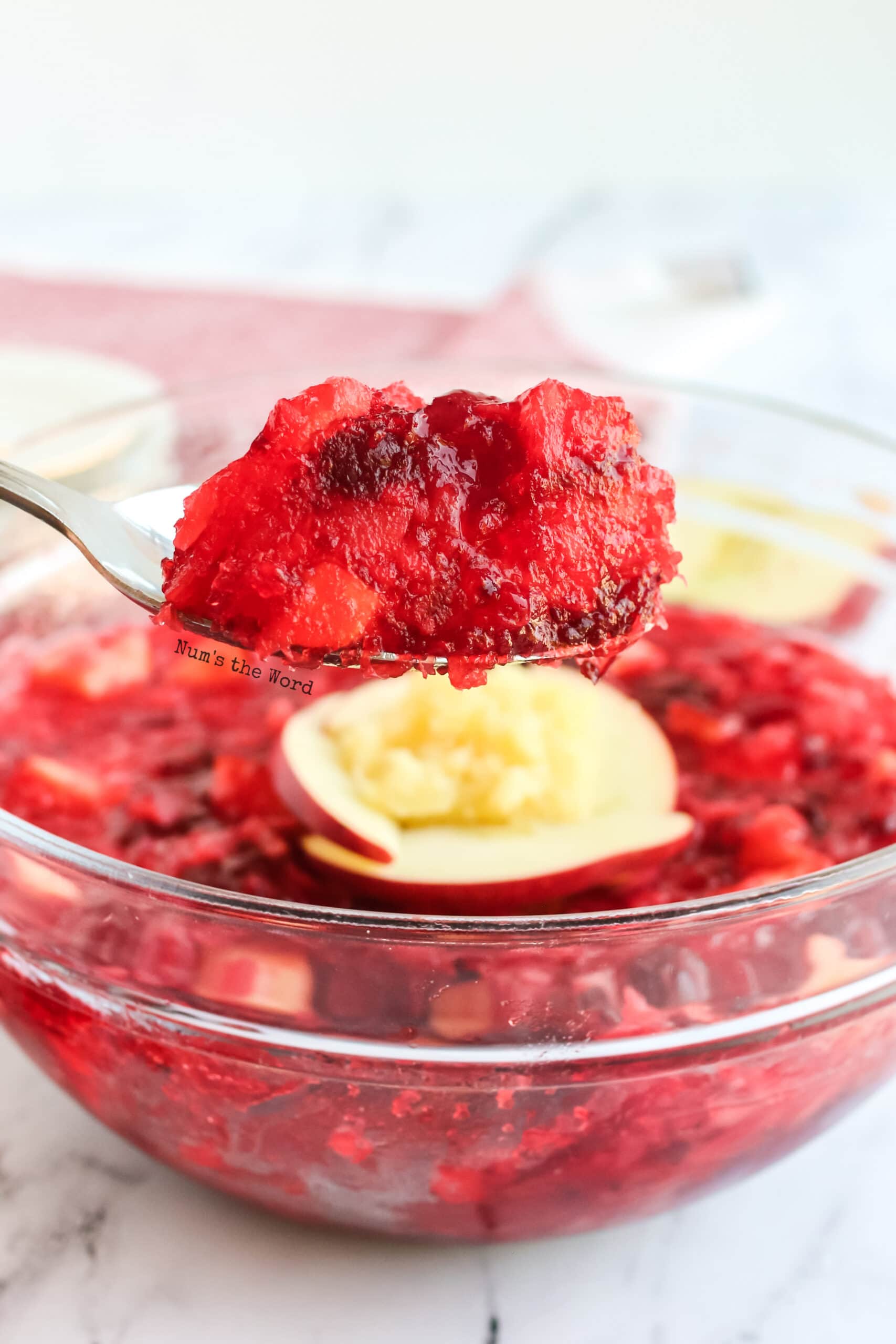 More Cranberry Recipes You'll Love…
Cranberry Apple Crisp
BBQ Cranberry Meatballs
Cranberry Pot Roast
Orange Cranberry Bread
Cranberry Bars
Cranberry Raspberry Sauce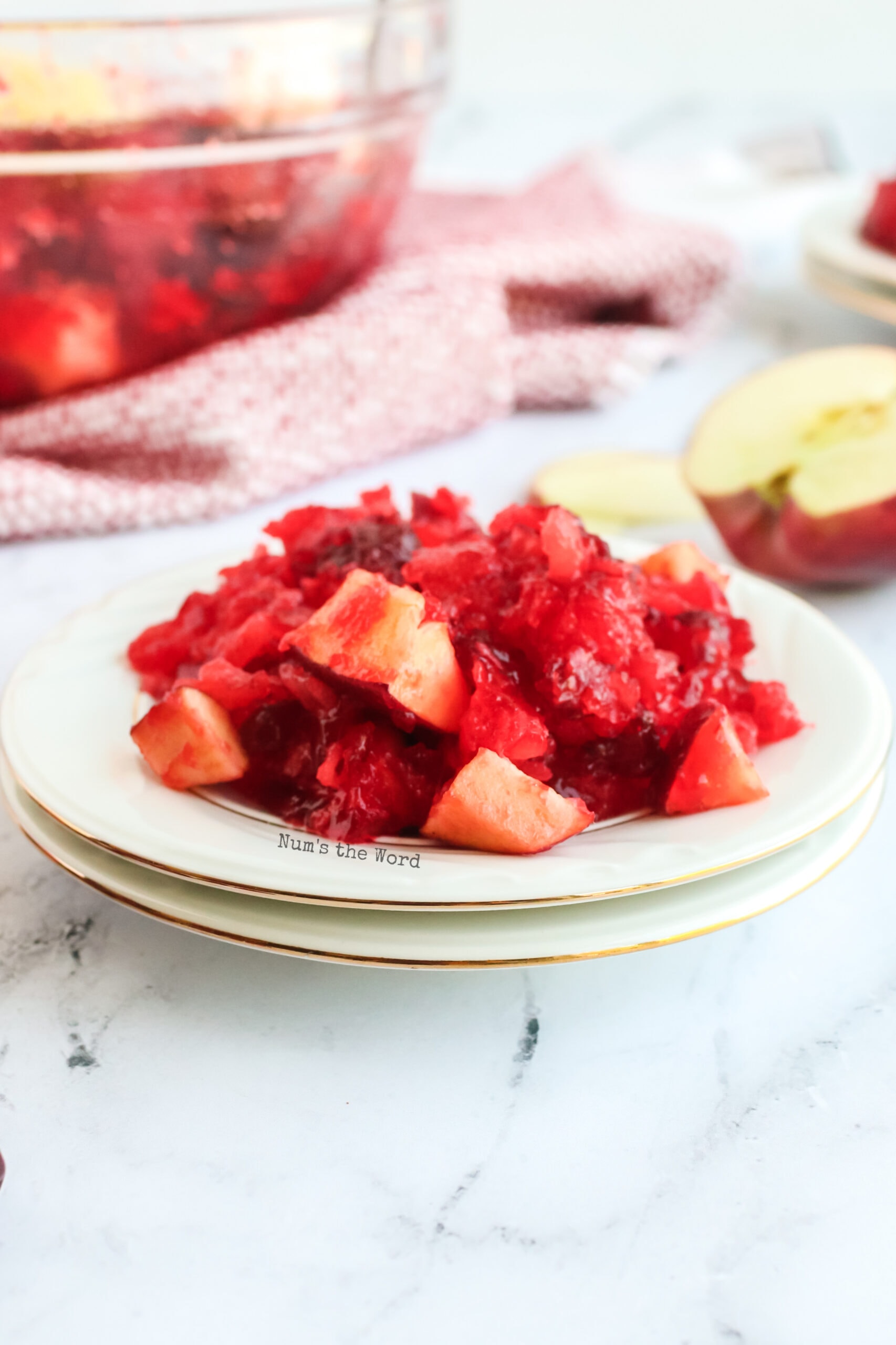 More Thanksgiving Dishes You'll Love…
Sweet Potato Casserole with Marshmallows
Green Bean Casserole with Bacon
Crockpot Mashed Potatoes
Honey Baked Ham
Dinner Rolls
Chocolate Pie
Broccoli Casserole
This Cranberry Jello Salad is a vintage recipe that has never gone out of style! Easy to make, packed with flavor and texture and always requested! It's an easy make ahead side dish that wont take up room in your oven!
Originally Posted: November 7, 2014
Photos & Text Updated: October 27, 2020
Sharing is caring!
Through this article, we hope to help you understand Fresh cranberry salad with jello