A classic creamy bacon, egg & potato salad recipe that is so quick and easy to make – the ultimate summer BBQ food. Made with just a few basic ingredients – this salad is absolutely delicious!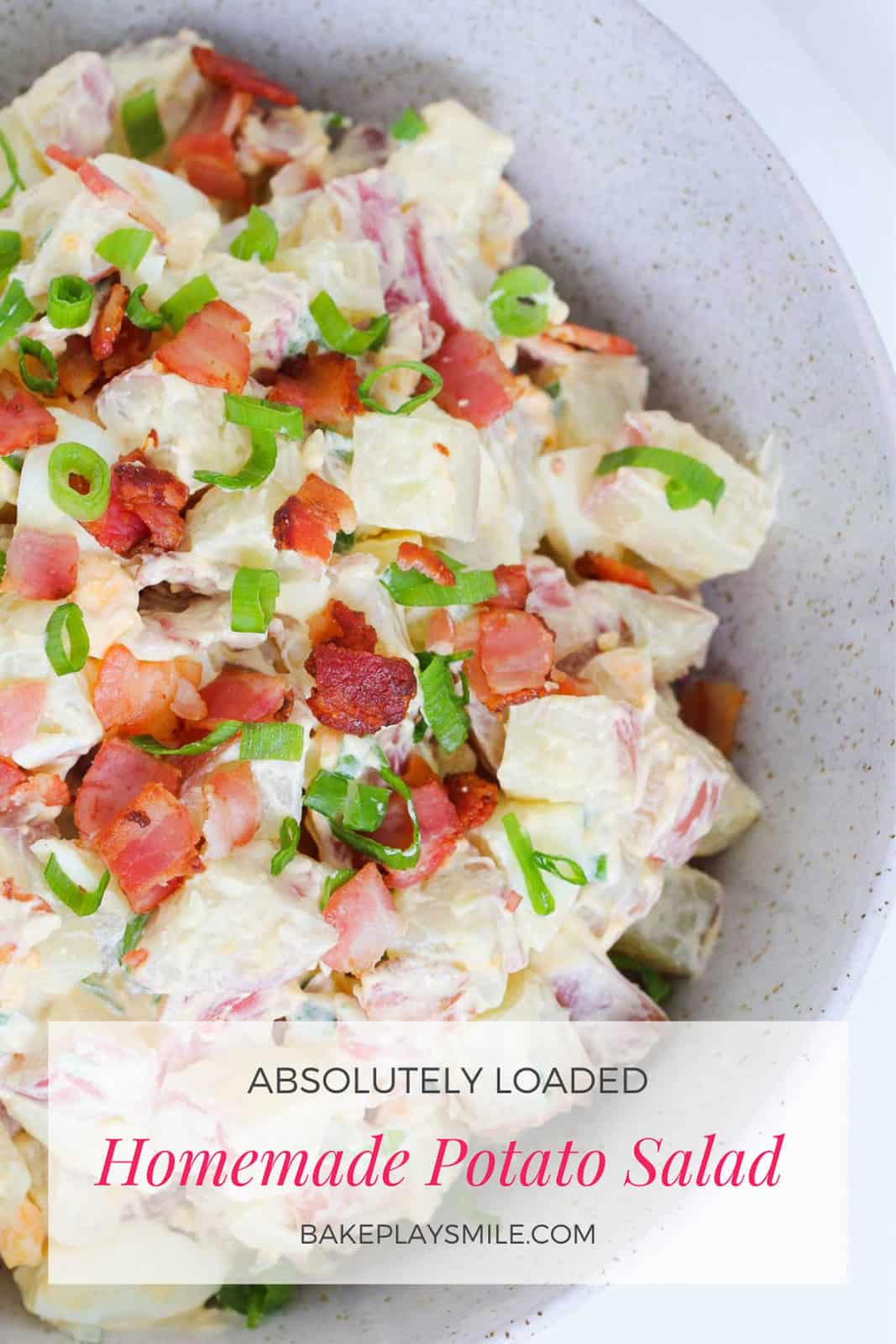 Everyone has a few classic recipes that they make over and over again… and this super creamy bacon, egg & potato salad is one of those recipes!
Just like my Mum used to make, this salad has the perfect combination of ingredients, smothered in a creamy sour cream, mayonnaise and dijon mustard dressing.
Whether you're serving this at a BBQ, on the side of a simple family dinner, taking a dish to a party or a celebration, this salad is always an ABSOLUTE WINNER!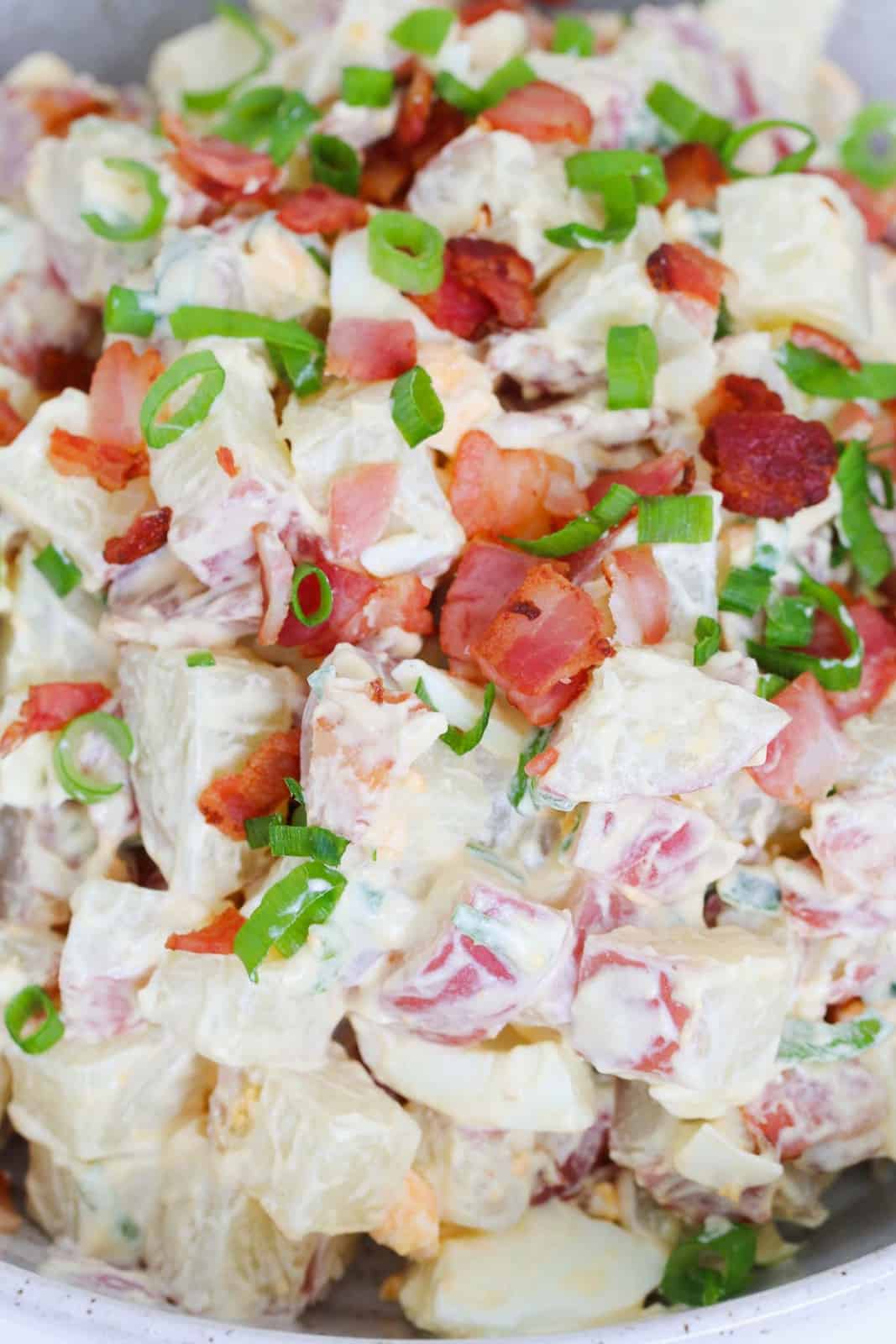 The BEST Potato Salad Recipe
I know this is a big statement, but this truly is the BEST bacon, egg & potato salad you'll ever eat.
Here's why it's SO good:
basic ingredients – this is the perfect last minute throw together salad made from ingredients you'll find in your pantry and fridge
creamy dressing – the creamiest dressing is made using a combination of sour cream, mayonnaise and dijon mustard. It's so delicious – you'll want to eat it with a spoon!
bacon, bacon, bacon – bacon is totally deserving of it's very own food group! And this potato salad is packed FULL of crispy bacon.
eggs – the perfectly boiled eggs give this salad the ultimate classic taste. See my tips below for the easiest way to boil eggs to perfection!
feeds a crowd – this makes a BIG bowl of potato salad – perfect for BBQs, family dinners or holidays
make ahead of time – you can prepare the salad up to 1 day in advance and leave in the fridge until needed (in fact, it's even more delicious the second day)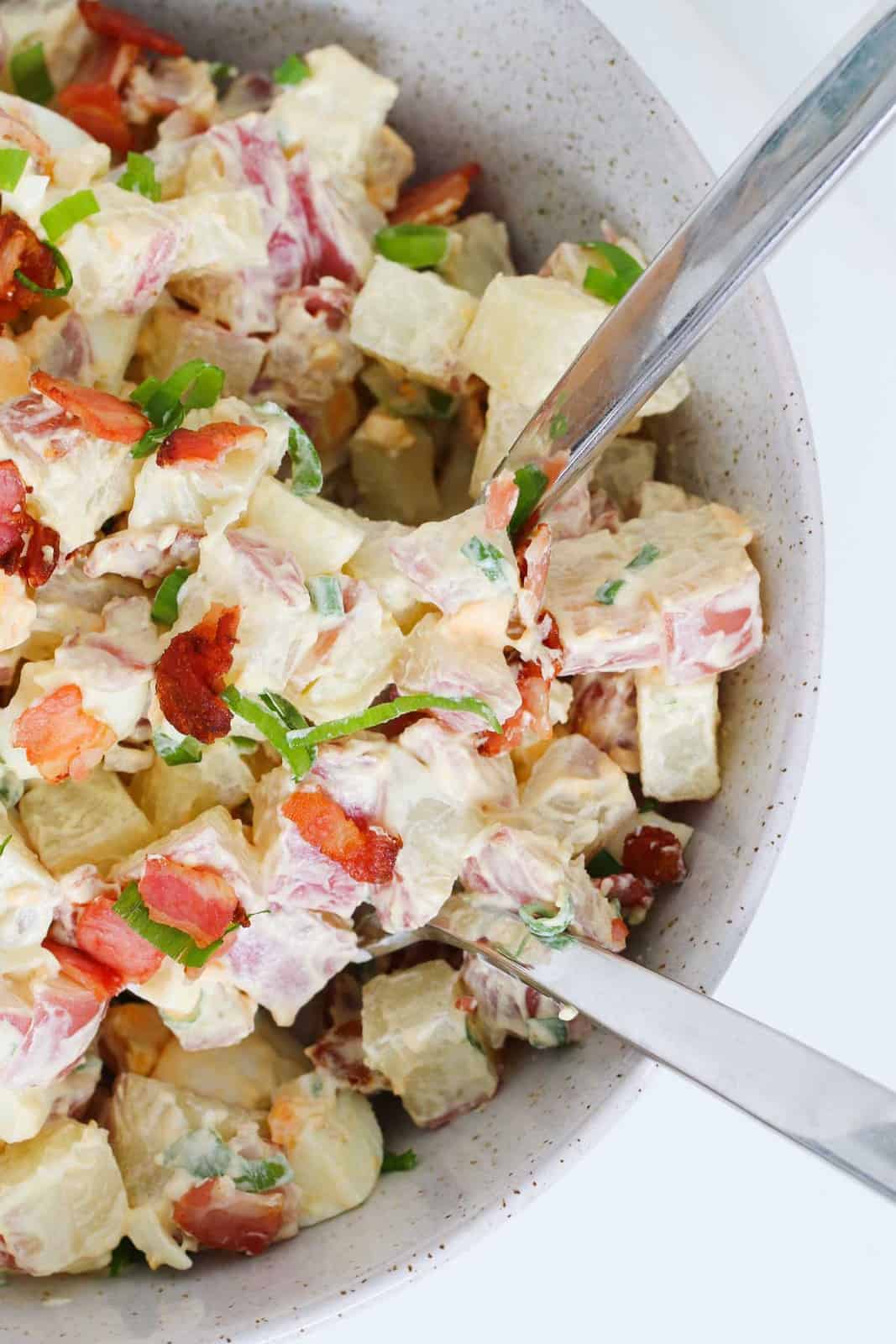 Potato Salad Ingredients
Forget fussy or complicated recipes, this potato salad is just simple and delicious.
Here's what you need:
potatoes – I recommend using a potato that stays firm and keeps it's shape when cooked. The best potato varieties for potato salad are: desiree, red pontiac, sebago, red potatoes, yokon gold, round white potatoes, long white potatoes or russet.
bacon – the crispy bacon takes this salad to a whole new level. Choose streaky bacon (long strips of bacon with fat through it) as it has the best flavour and turns super crispy when cooked.
eggs – see my tips below for boiling perfect eggs every single time – you won't believe how easy it is!
spring onions – also known as scallions. Finely chop the spring onions to give the salad a light and fresh kick.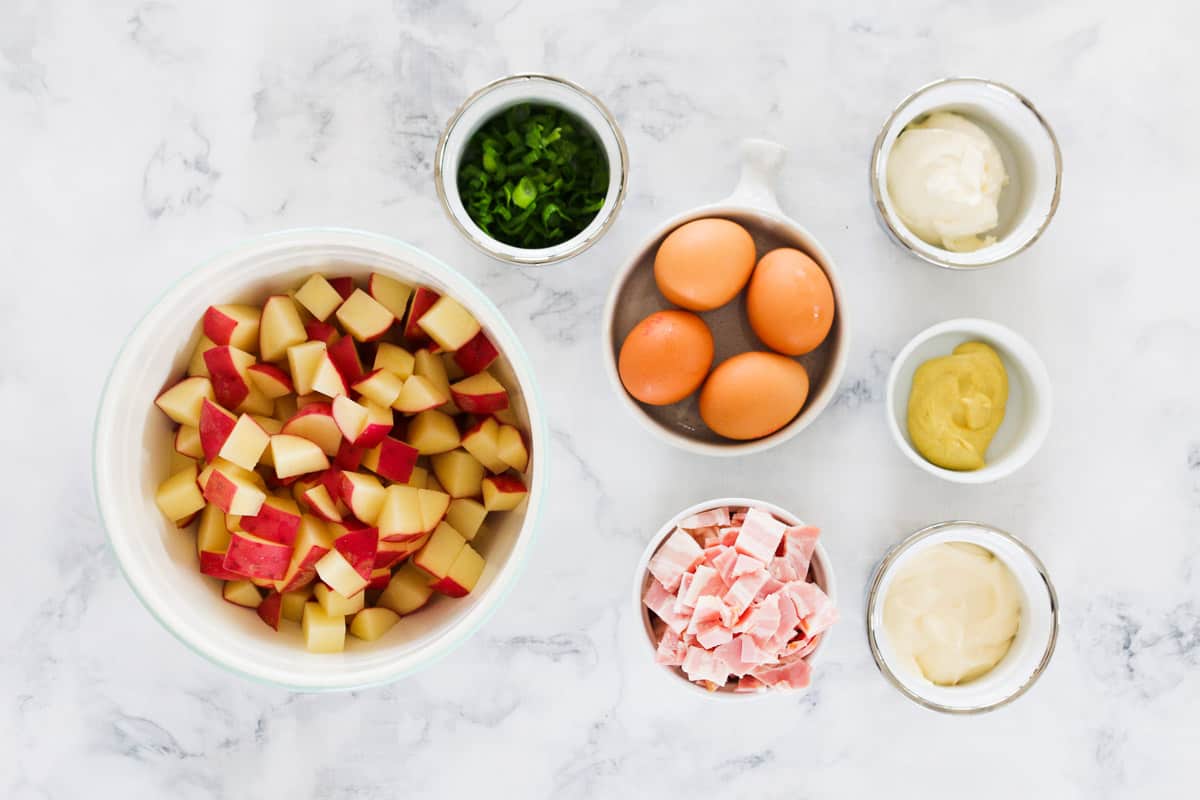 The Ultimate Creamy Dressing
This is going to become your all-time favourite dressing!
Not only is it perfect for potato salad, it's amazing on burgers, as a dip for fries or vegetable sticks.
Also read: Bacon Egg Potato Salad – Binky's Culinary Carnival
The AMAZING flavour of this creamy dressing comes from a combination of sour cream, mayonnaise and dijon mustard.
The result is a creamy, sweet, zesty dressing that you won't be able to stop eating!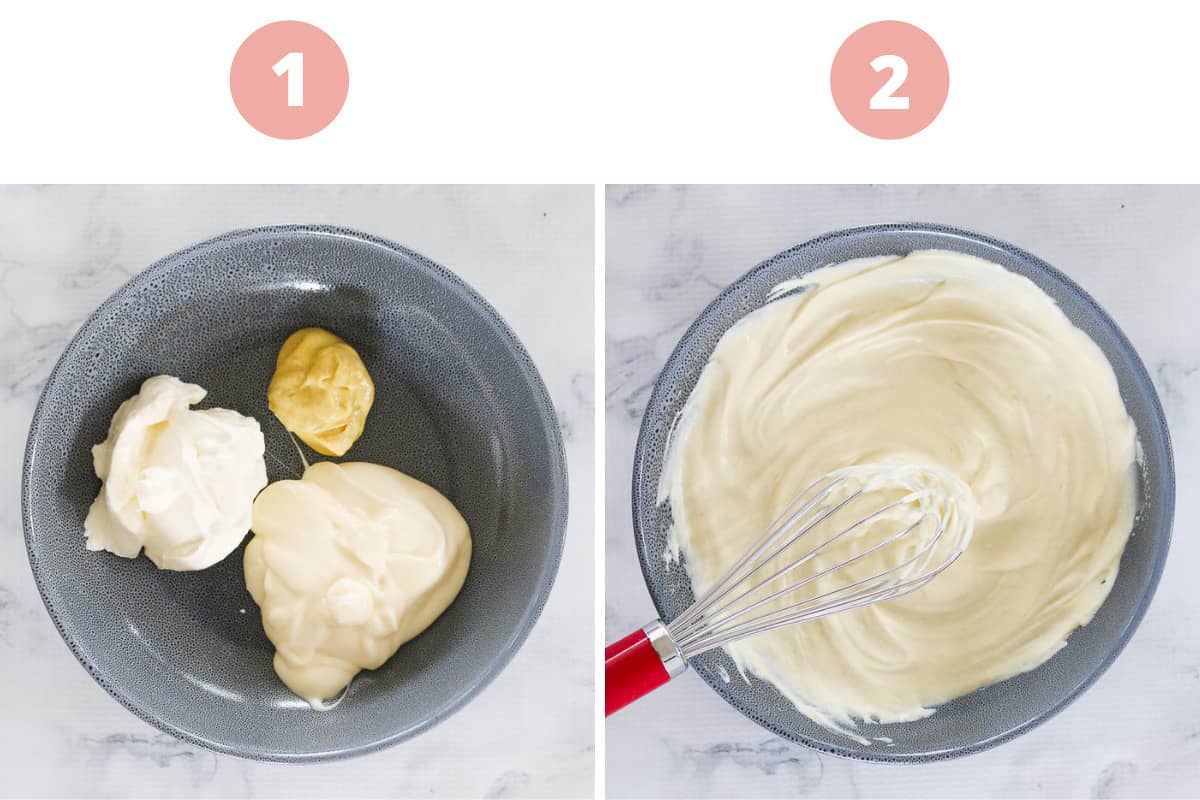 To make the dressing, simply whisk the ingredients together until smooth and combined. Season with salt and pepper.
Assembling The Salad
This salad takes 15 minutes to prepare in just a couple of simple steps,
Cook the Bacon
Cook the chopped bacon until crispy.
TIP: place the cooked bacon onto paper towel to drain any excess oil.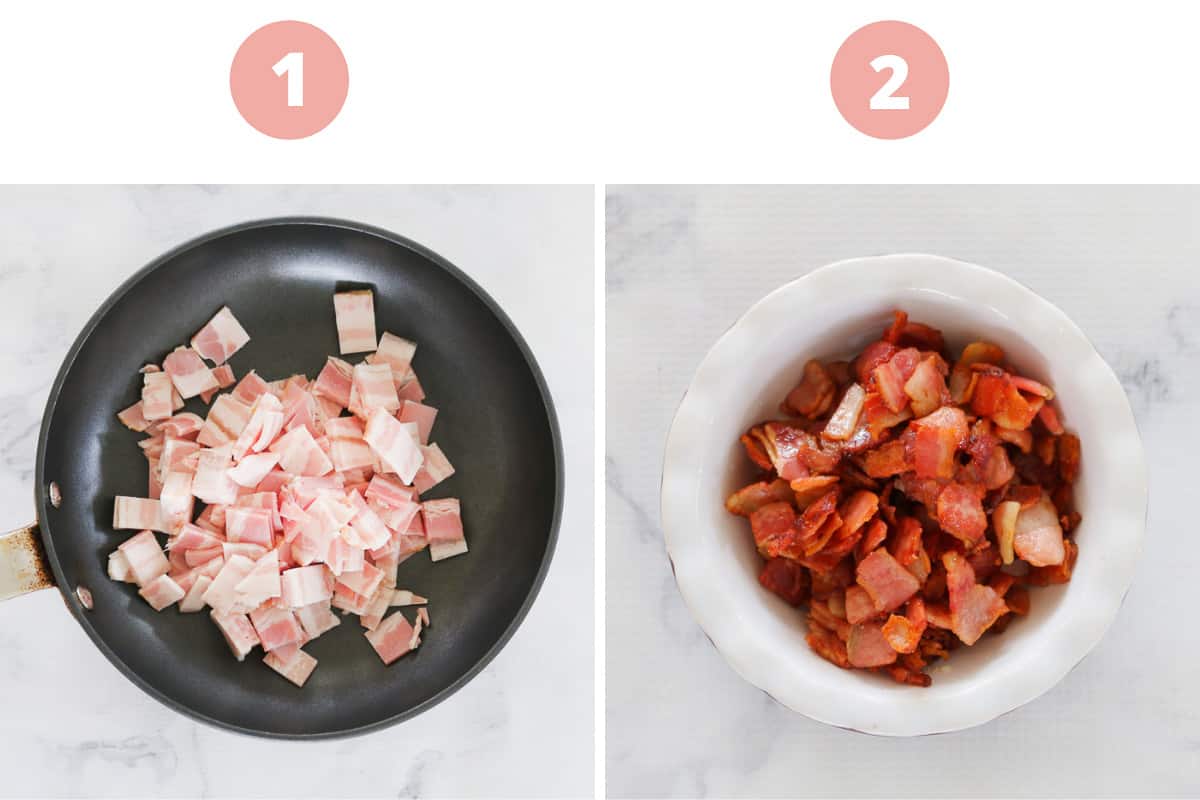 Cooking The Potatoes
I like to leave the skin on the potatoes – however you can peel them if you prefer. Cut potatoes into small cubes.
Boil the potatoes for 5 minutes and then drain and set aside to cool.
TIP: Don't overcook the potatoes or they'll become mushy in the salad. Allow the potatoes to completely cool before adding the dressing – otherwise the potatoes will soak up the dressing (rather than coating them) making them soft and mushy.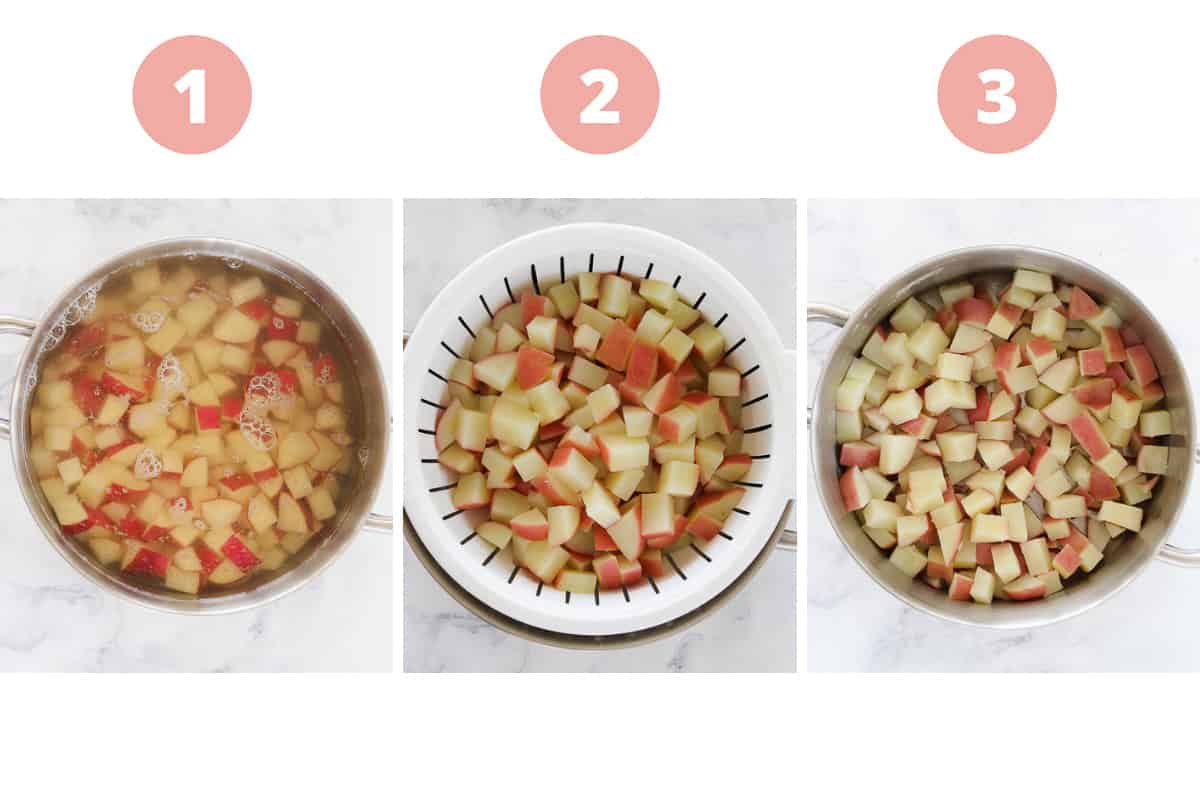 Boiling The Eggs
Want to know the easiest and completely foolproof way to boil eggs?
Also read: Sour Cream and Bacon Potato Salad
Simply place the eggs into a saucepan and cover completely with water. Bring to the boil, then turn off the heat, cover with a lid and leave for 12 minutes.
That's it! No cracked eggs ever again!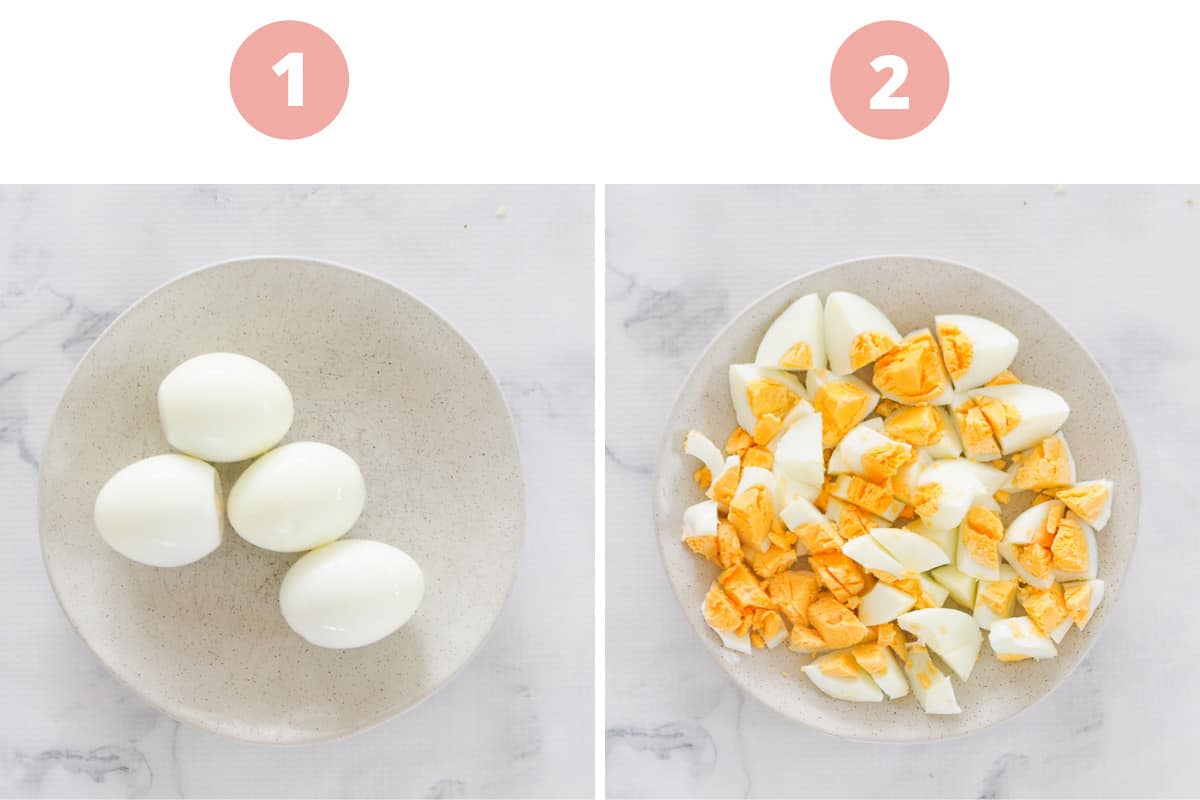 Mixing The Salad
Place the cooled potato into a bowl, add the eggs, crispy bacon and spring onions. Pour over the dressing and gently mix through.
TIP: For a restaurant quality appearance – reserve some bacon and spring onions to sprinkle over the top of the salad.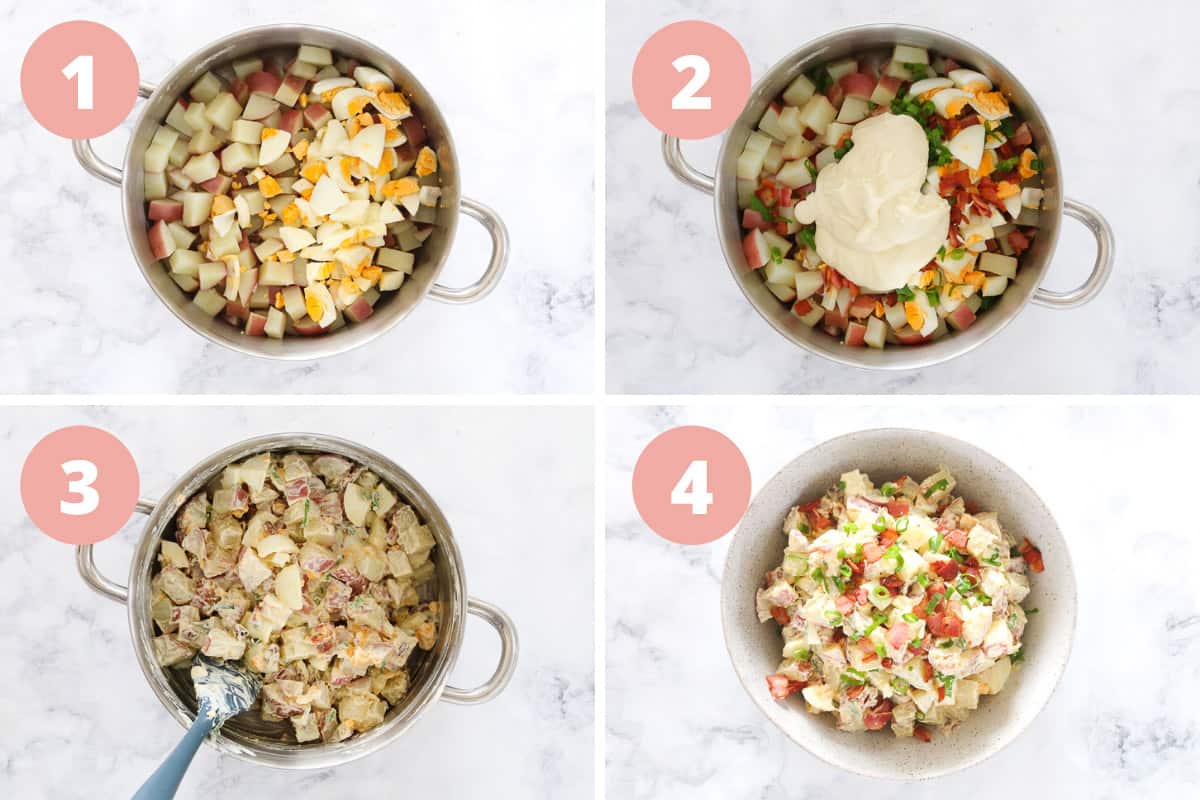 Tips For Making Bacon, Egg & Potato Salad
Use a variety of potato that stays firm when cooked
Desiree, red pontiac, sebago, red potatoes, yokon gold, round white potatoes, long white potatoes or russet are great options.
Don't overcook the potatoes
To avoid a mushy salad, only boil the potatoes for 5 minutes.
Bring the water to the boil before adding the potatoes
Adding the potatoes to boiling water (rather than cold water) ensures that they cook evenly.
Also read: Potato Salad with Bacon and Egg
Cool the potatoes completely
Drain the potatoes and allow them to cool completely before adding the dressing. If you use the potatoes while they're still warm, they will soak up the dressing, making the salad mushy.
If you allow your potatoes to cool completely, the dressing will coat the salad perfectly, giving it the best possible taste and texture.
Make the salad a day ahead
If time allows, this salad is best made the day before serving. This allows the flavours to develop overnight.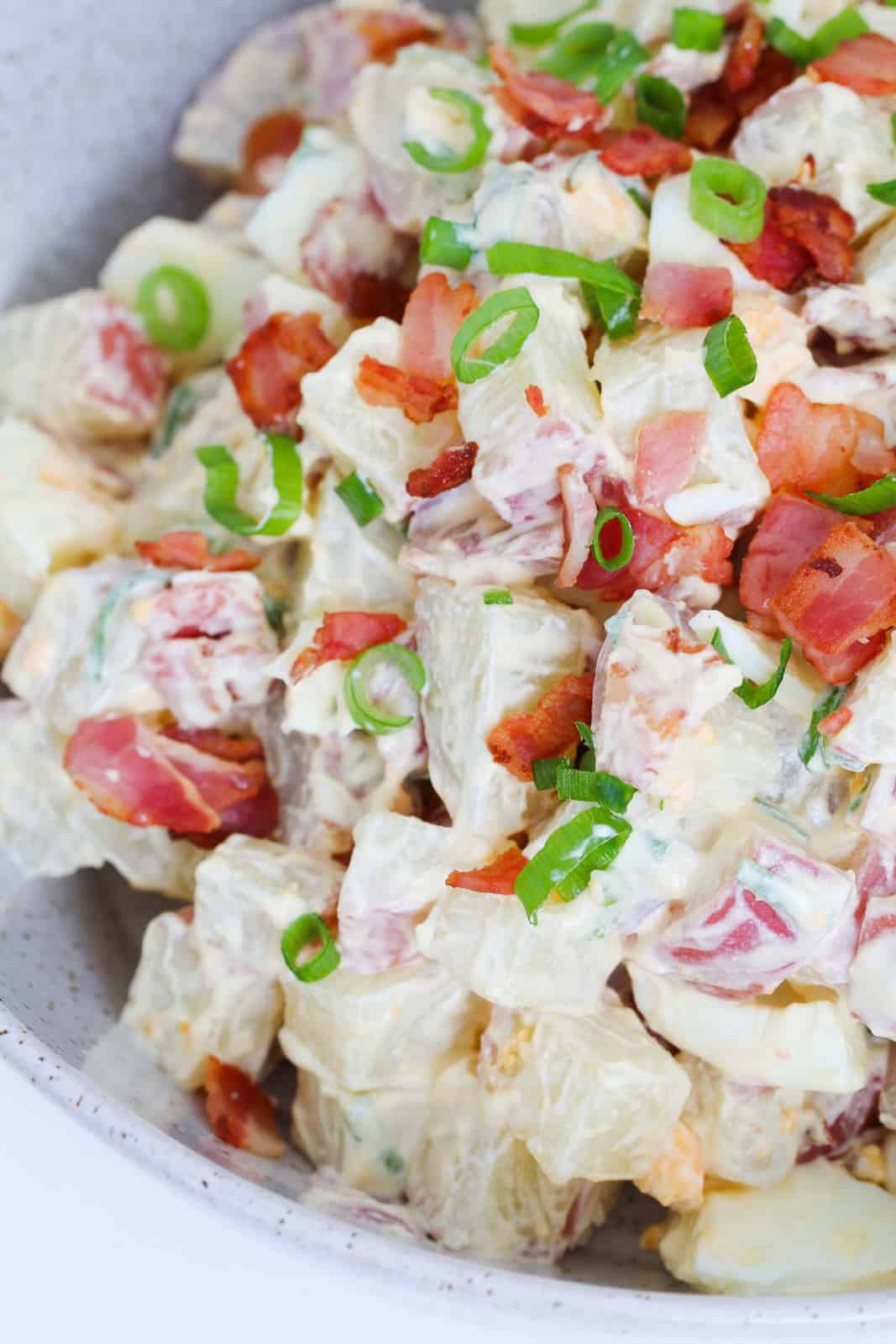 Storing & Serving
This bacon, egg & potato salad should be stored in the fridge and consumed within 2 days.
It's great made a day ahead too as the flavours will develop overnight.
This salad is perfect served with:
grilled chicken
sausages or burgers
baked fish or salmon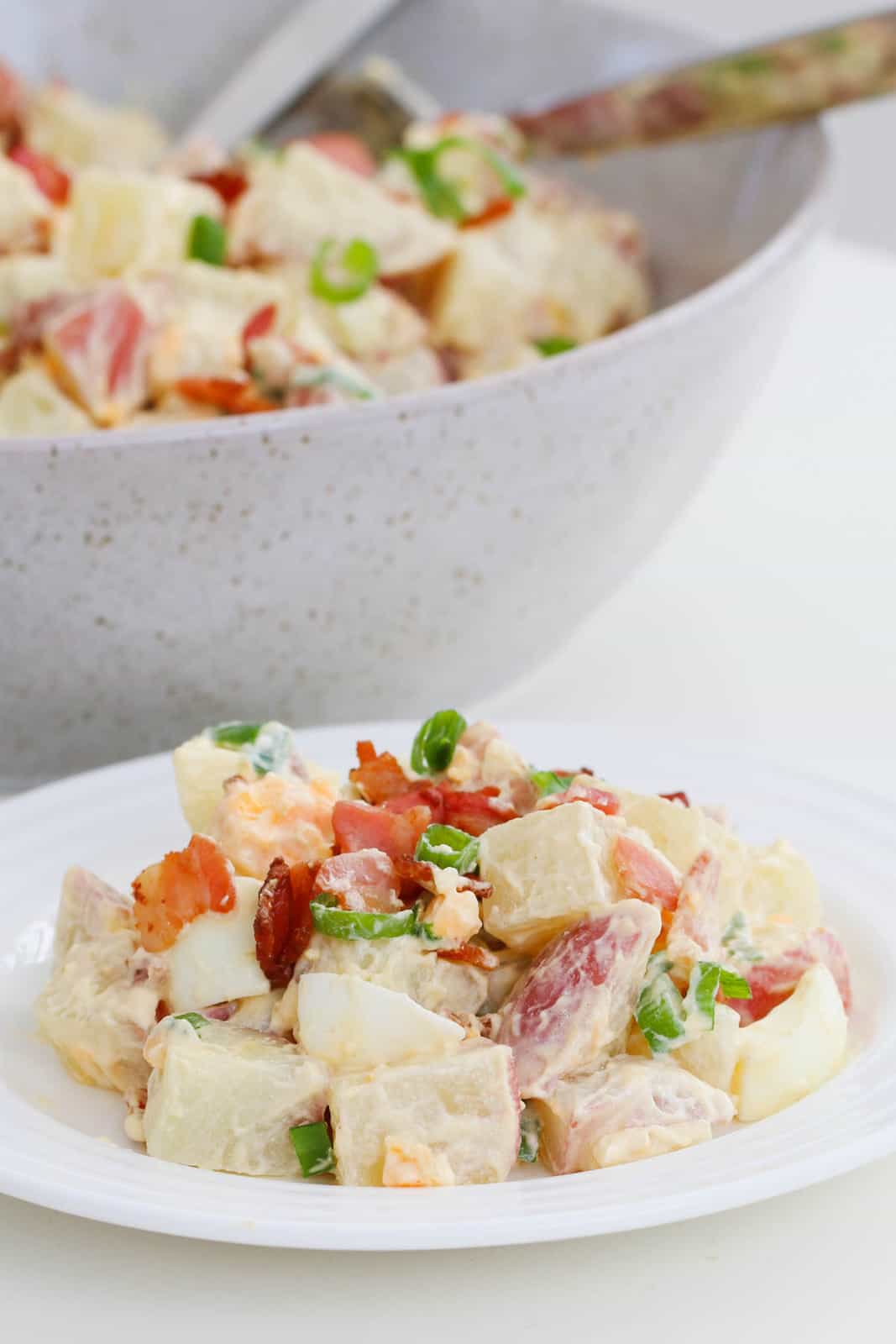 More Simple Potato Recipes
Potatoes are the perfect comfort food! These easy recipes are family-friendly (and fussy kid approved!)
crispy potato wedges – seasoned potato wedges that are better than your restaurant favourites!
oven baked cheesy mashed potato cakes – a delicious lunch or light dinner. Serve with sour cream and sweet chilli sauce.
potato and leek soup – a creamy, nutritious and hearty winter warming recipe.
smashed and loaded crispy potatoes – topped with bacon and sour cream!
WANT EVEN MORE DELICIOUS RECIPES? Subscribe to my newsletter or follow along on Facebook or Instagram. And if you love baking, then please come and join my Facebook cooking club group or subscribe to my YouTube channel.
Please see more list about Potato salad with bacon and egg