Creamy German Cucumber Salad, or Gurkensalat, is a fresh and simple side dish featuring thinly sliced cucumbers in a sour cream and dill dressing!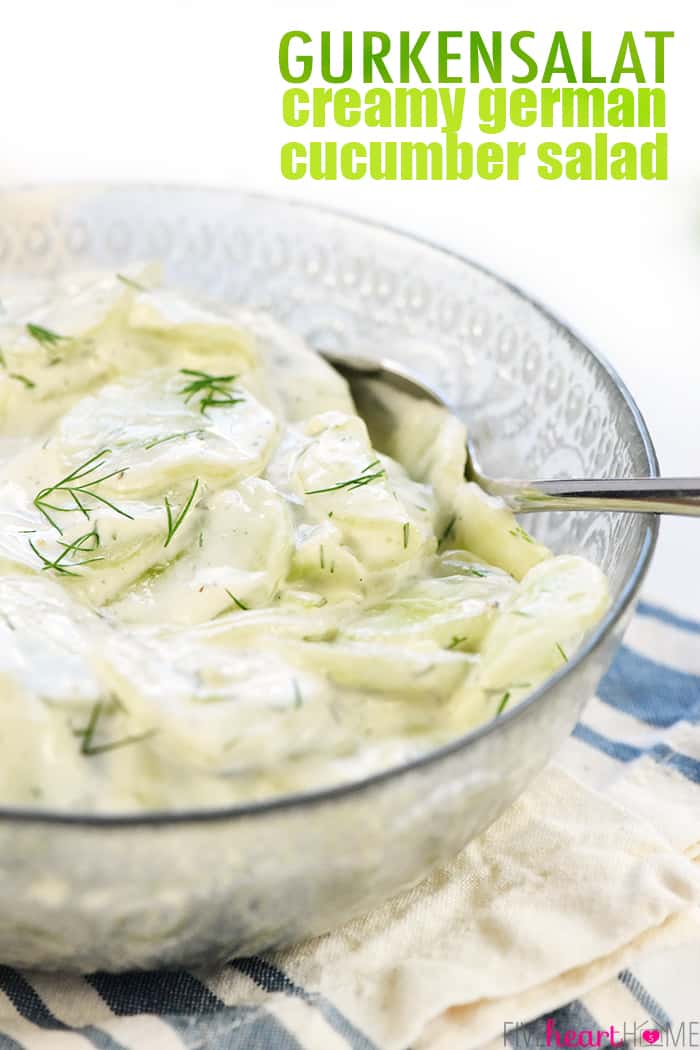 My mom is a native German, so every few years we trek back to the homeland to visit her side of the family. It's always fun to spend time with the relatives and take in the glorious German countryside and villages, but I'd be lying if I didn't say that one of my favorites things about Germany is the food. 😉
Traditional German fare is typically hearty, but fortunately, salads are also aplenty. I'm always amazed at how delicious German salads are for being so simple. When one of my German relatives dresses a salad of green butter lettuce with oil, vinegar, salt, and pepper, I can never figure out why it never tastes as good when I try to replicate it at home.
One dish that I have figured out how to copycat, however, is Gurkensalat, or Creamy German Cucumber Salad. Through memories of eating it in Germany, consulting with my mom, and poring through half a dozen German cookbooks, I've finally come up with a version that I feel meets the mark…and my whole family loves!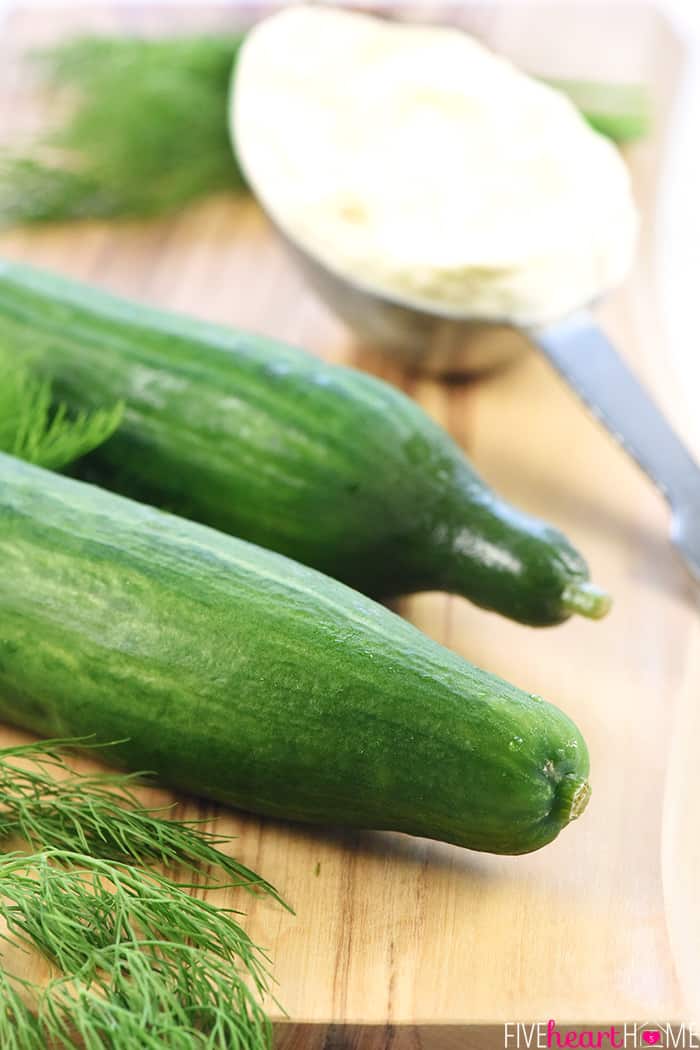 The Best Gurkensalat
Now, let me just preface this by saying that I realize everybody's German Oma makes this traditional recipe slightly differently. I've tried to stick to the basics of Gurkensalat while making a few easy modifications which, in my humble opinion, make this cucumber salad even better!
Most of the German cookbooks I consulted direct you to slice the cucumbers, combine with the dressing, and serve immediately. My issue with this is that I think the flavors of the salad are better if the ingredients have some time to hang out together for a while. But the problem with allowing the salad to chill for several hours is that the cucumbers weep and then the dressing gets all watered down. What to do…what to do?
After experimenting with various methods, I finally came up with my ultimate favorite way to make Creamy German Cucumber Salad. There are a few extra steps as compared to slice/combine/serve, but I say they're worth it since the final salad has such great flavor and texture.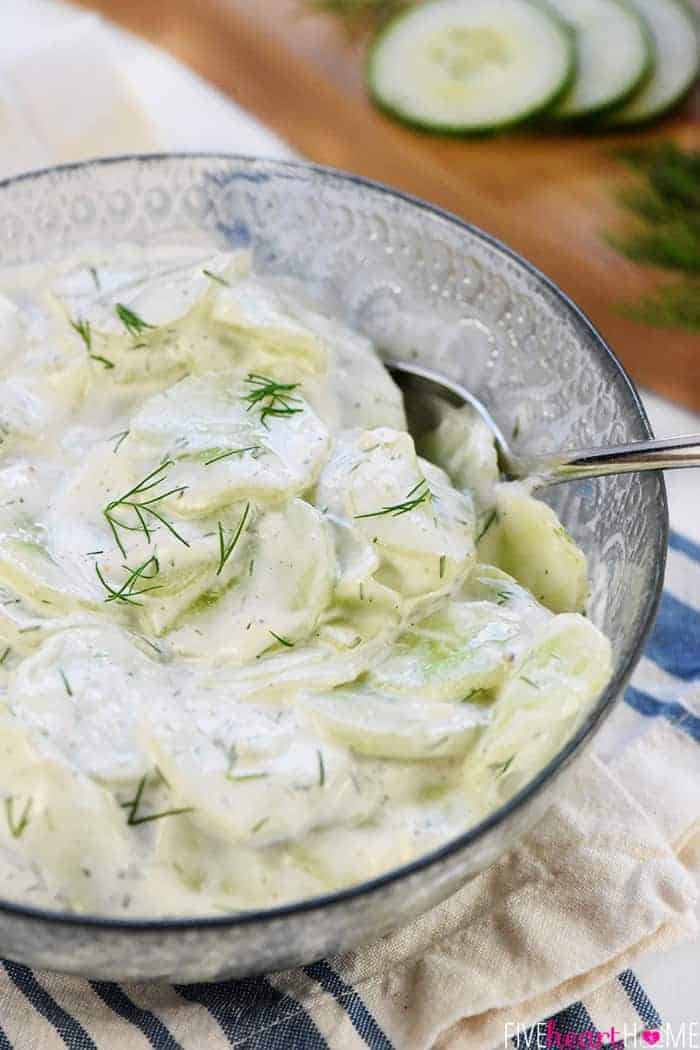 How to Make German Cucumber Salad
First, make the dressing. In a medium bowl, whisk together ½ cup sour cream, a couple tablespoons of white wine vinegar, a tablespoon of fresh minced dill, a clove of pressed garlic, a pinch of sugar, and some salt and pepper. Cover and pop in the fridge to allow the flavors to start melding.
Next, peel and thinly slice about a pound and a half of cucumbers. Cucumbers with small or minimal seeds are recommended, such as "baby cucumbers" or English cucumbers (I used the latter, with two large English cucumbers weighing about 1 ½ pounds). The first time I made this recipe I sliced the cucumbers on a mandoline, which gave me paper-thin slices. On my second go, I sliced the cucumbers as thinly as possible using a sharp knife, which resulted in slightly thicker (but still very thin) slices.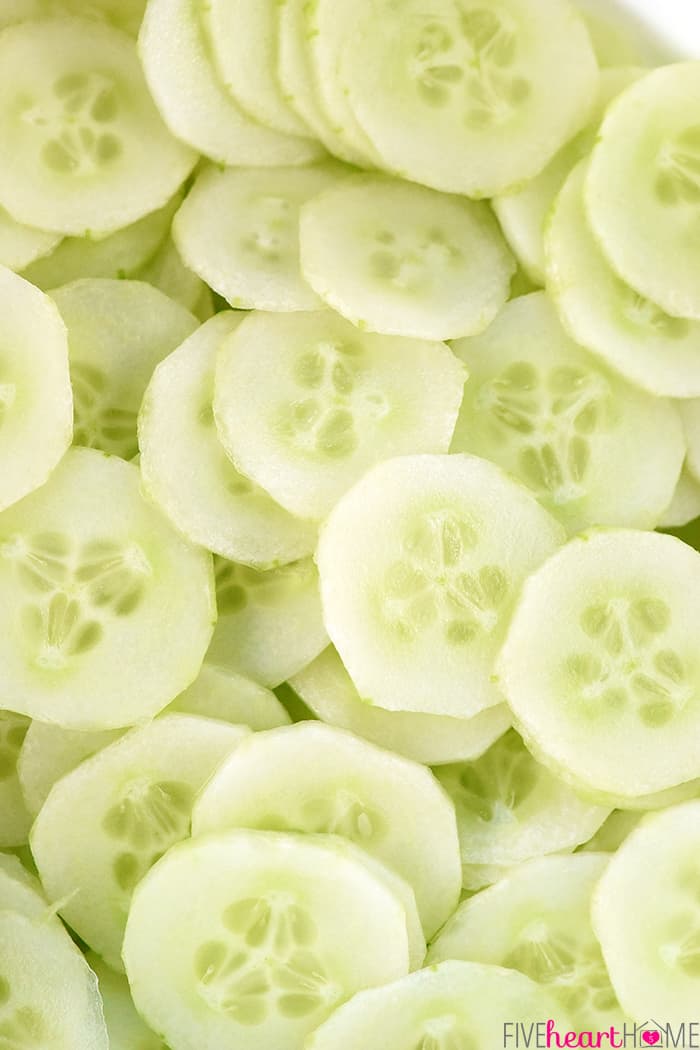 After tasting both variations, my mom said the paper-thin cucumbers reminded her of the Gurkensalats of her childhood. On the other hand, I slightly preferred the thinly-hand-cut slices, as the resulting cucumber salad had a bit more crunch.
Once the cucumbers are sliced, place them in a colander and sprinkle with a teaspoon of salt, stirring well so that the salt gets evenly distributed. Set the colander over a deep bowl, lay a paper towel over the top, and allow the cucumber slices to drain for two hours, stirring occasionally.
After a couple of hours, press down on the cucumbers to extract any extra moisture and then spread them out on some paper towels and pat dry. Once the cucumbers are dry, take the bowl of dressing out of the fridge and stir in the cucumber slices until they're nice and coated. Then serve immediately or return to the refrigerator for an hour or up to overnight.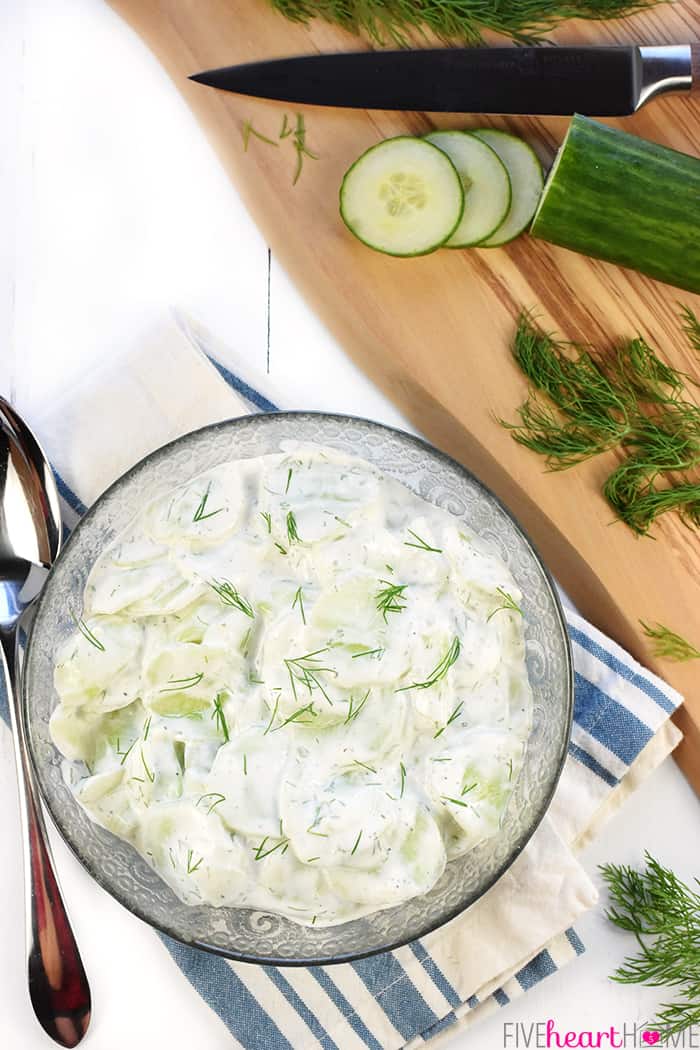 Variations
Keep in mind that the longer your Creamy German Cucumber Salad marinates, the stronger the flavors and the more tender the cucumbers will become. The dressing will also thin a bit as the salad sits, because the cucumbers will continue to release moisture, but it shouldn't become too watery since the cucumbers already drained for a couple of hours.
There are a few variations to this recipe that you can try based on personal preference. My mom says that lots of Germans make Gurkensalat with yogurt as opposed to sour cream, which would be a great way to make this salad even healthier. I'd probably recommend using Greek yogurt over regular for a thicker dressing.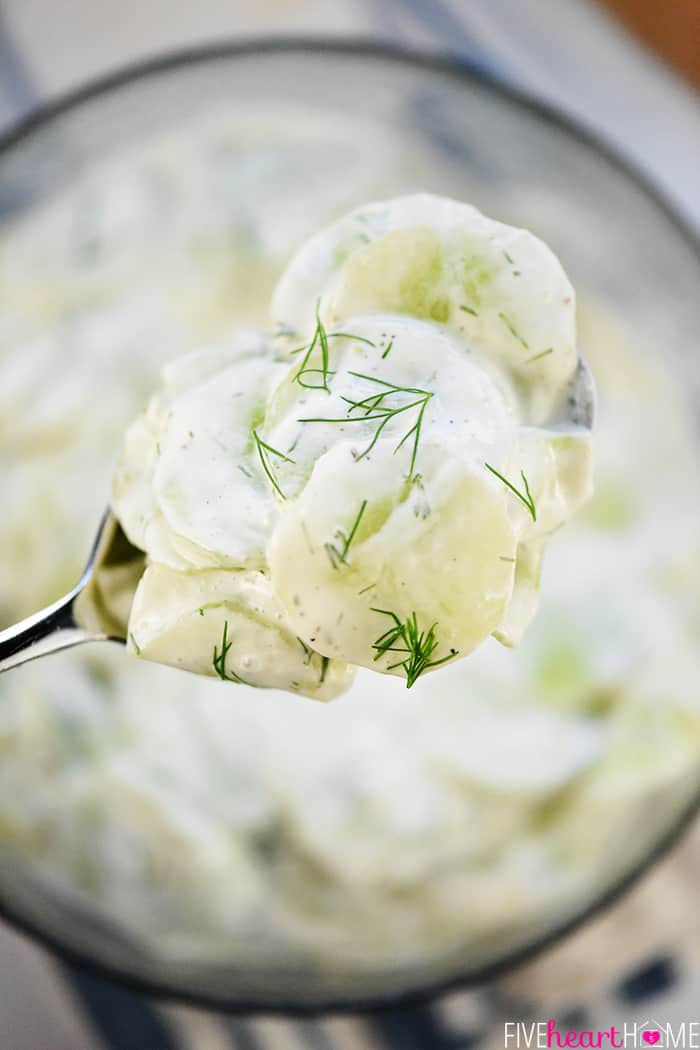 Sometimes Gurkensalat recipes omit the garlic or include onions. If you decide to add onion, I'd recommend stirring in about half of a thinly sliced onion at the same time you combine the drained cucumbers and dressing. Then pop the salad in the fridge for at least an hour or two – as opposed to serving it immediately – so that the onions have a chance to mellow and slightly soften.
You may also swap out the fresh herbs in this recipe, for example, incorporating some parsley and/or chives in addition to (or in place of) the fresh dill. Go wild with your herb-lovin' self!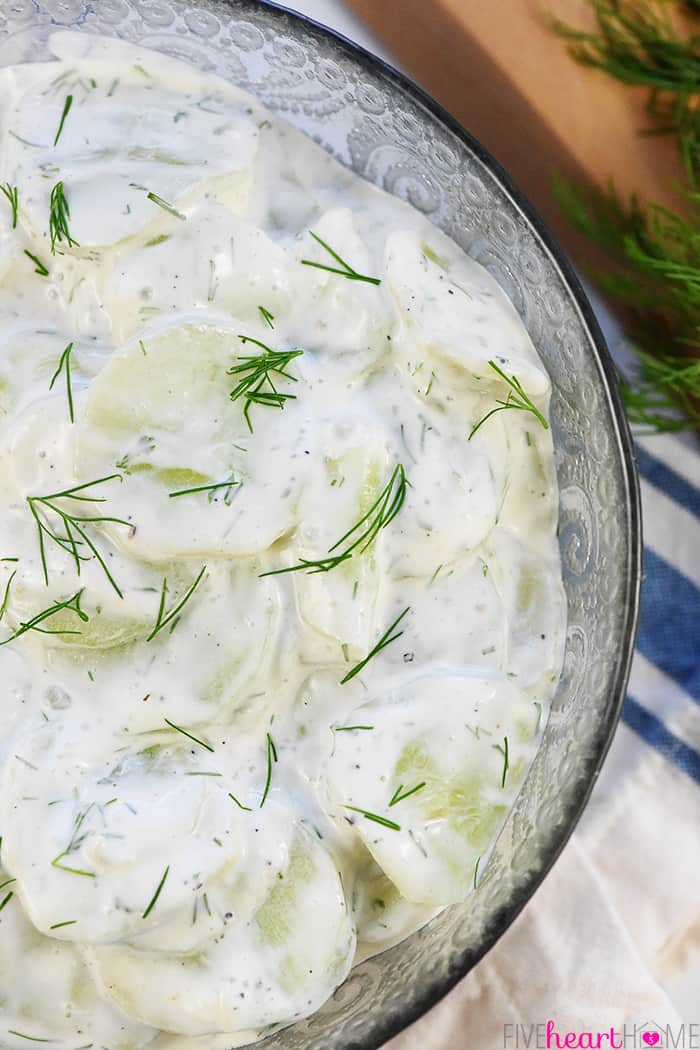 Have I just about covered everything? I really hope you enjoy this half-German's interpretation of Gurkensalat, AKA Creamy German Cucumber Salad. 😉 It's a cool and refreshing side dish to so many entrees, perfect for when summertime cucumbers are at their peak…but equally delicious year-round!
More German Recipes
Slow Cooker German Lentil Soup with Sausage
Simple German (Swabian) Potato Salad ~ Schwäbischer Kartoffelsalat
Peach German Pancake
German Potato Salad
Save
Save
For more information please see the list of German cucumber salad sour cream
Detail: 🔗