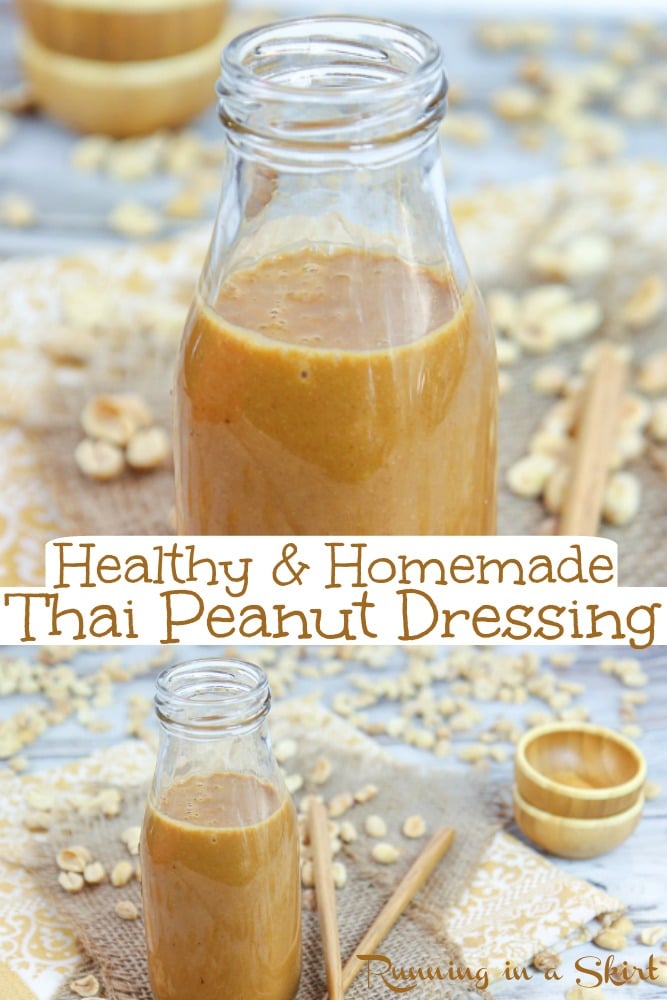 Healthy Thai Peanut Salad Dressing recipe: An irresistible Thai Peanut Dressing made with creamy peanut butter, ginger, sesame oil, soy sauce, and garlic.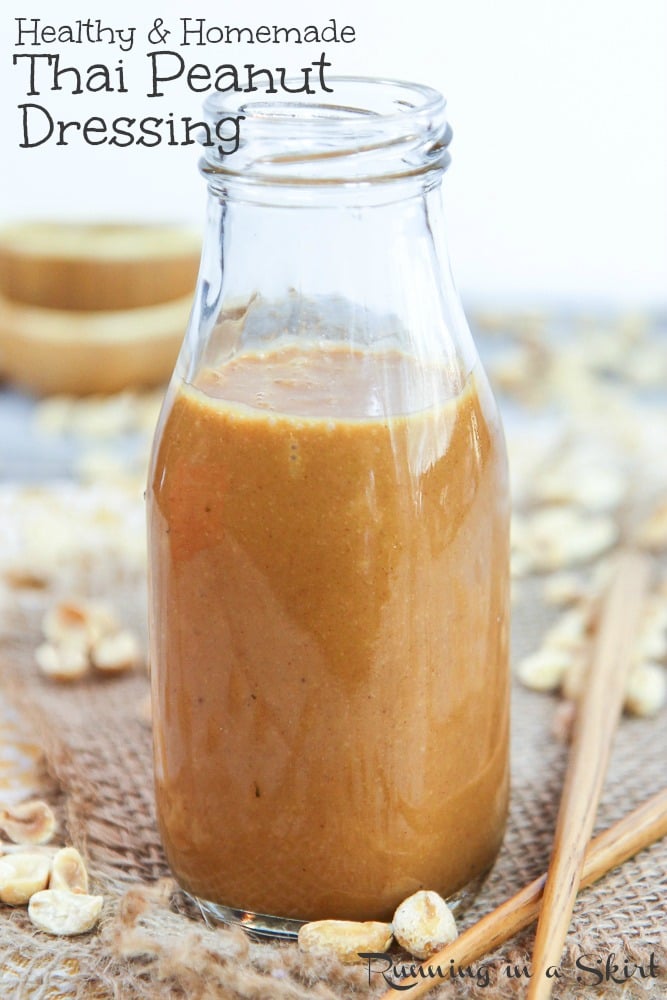 Hi guys!
I have a soft spot for any restaurant that offers a Thai or Asian style dressing with any sort of salad or dish. I'll order it anytime I see it. There is a local Vietnamese restaurant that has a perfect version along with those tasty spring rolls in rice paper. I've had secret urges to slurp the entire little container of sauce they give you… it's that good.
Thai Peanut Dressing
I thought that making this my own Thai Peanut Dressing would be super complicated and not worth the effort but after some trial and error I came up with a combination that is not only totally slurp-worthy BUT surprisingly easy to whip up. It was too good not to share. I know some of you love the sauce too and will absolutely want to try this at home!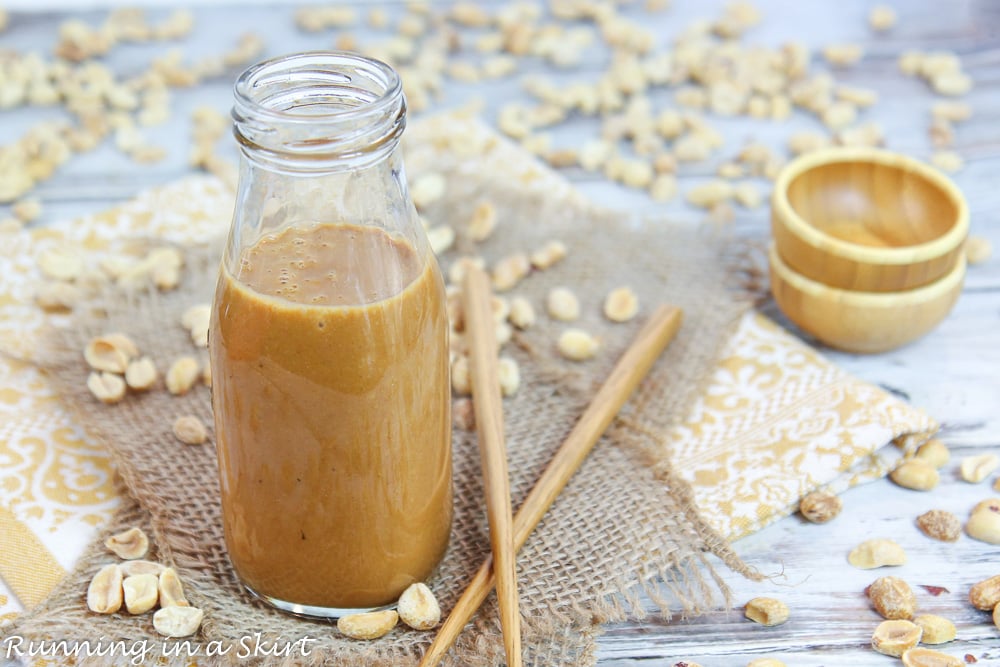 Why You'll love this Healthy Thai Peanut Salad Dressing recipe…
What's so great about this homemade version of the super yummy sauce is you can control the ingredients! It uses a lot of staples you probably already have at home like garlic, peanut butter, soy sauce, and sesame oil.
The one thing you'll need special is ginger! You could totally mince up fresh ginger but I love a good shortcut and tried the already minced tube of ginger in the produce section. It's kind of like the pre-minced garlic. It worked like a charm and was SO much easier to manage. AND now I have an entire tube in my fridge for when I want to make this again.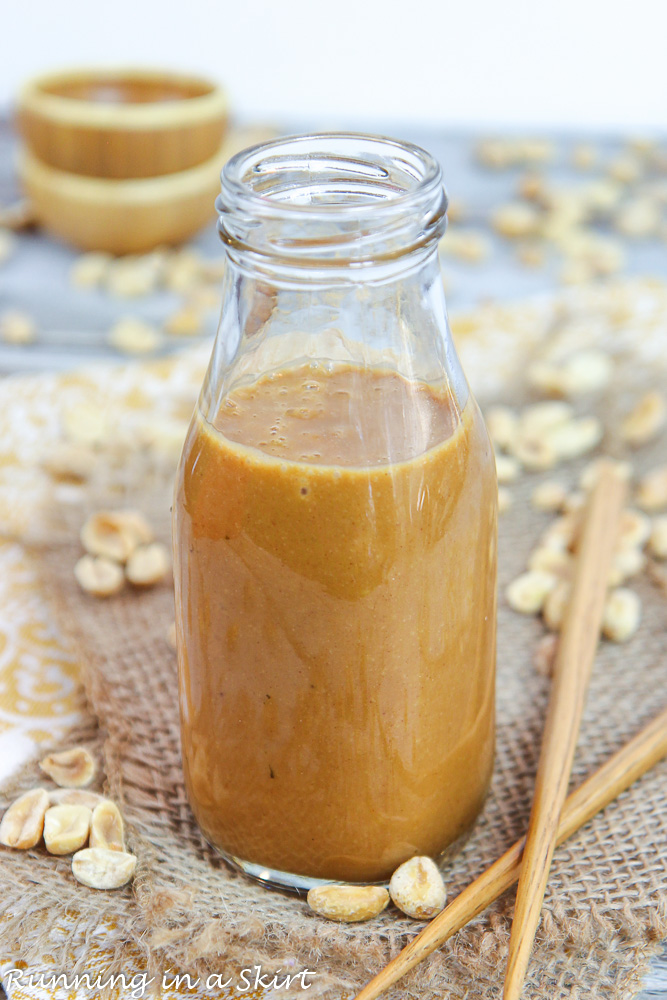 The flavor in this is smooth, creamy, and perfectly salty. I added the juice from lime to give it a burst of freshness and flavor. It's unexpected and so delicious.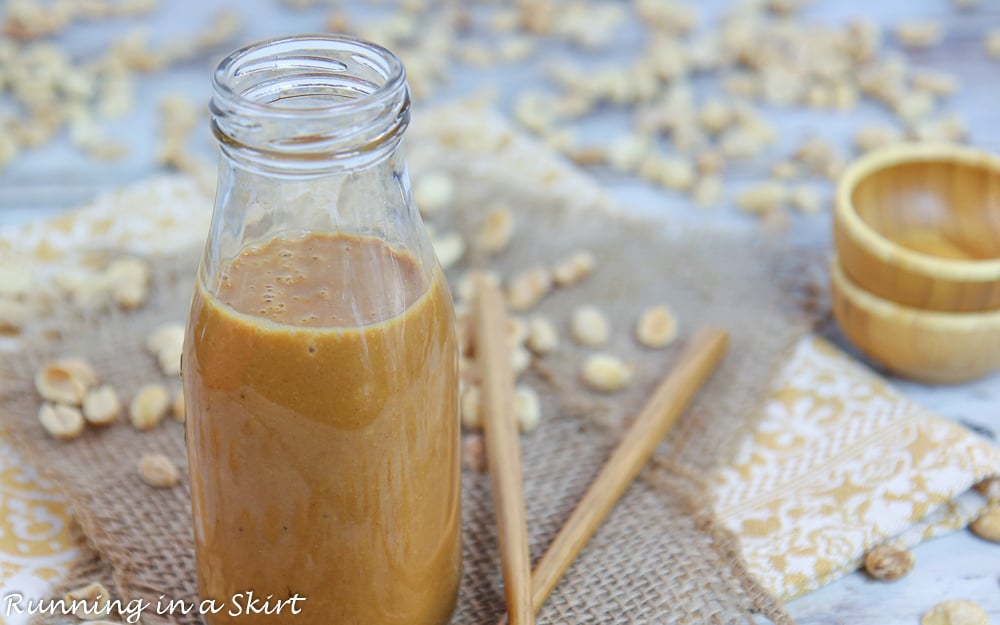 What's in this Healthy Thai Peanut Salad Dressing recipe?
All sorts of yummy and easy to find ingredients!
Minced Garlic: You can mince your own or use the kind that is pre-minced.
Minced Ginger: Fresh ginger is great but if you are short on time feel free to swap out the type in the tube sold in the produce department.
Creamy Peanut Butter: Use your favorite brand.
Soy Sauce: I like to use low sodium for this.
Rice Vinegar: Keep this in your pantry to create lots of flavor for Asain dishes.
Sesame Oil: Sesame Oil gives this dressing the rich feeling you are craving.
Honey: The Thai Peanut Dressing needs just a touch of sweetness.
What is Thai Peanut Sauce Made Of?
This dressing is just like the Thai Peanut Sauce you love from takeout. It's made from peanut butter, soy sauce, ginger, garlic, rice wine vinegar, sesame oil. Honey gives it a touch of sweetness.
Variations:
If you want to make this recipe vegan try using agave nectar instead of honey! I think it needs just a touch of sweetness to get the right flavor.
If you want a spicy Thai Peanut Sauce, add chili garlic sauce or sriracha.
If you want a thinner sauce you can add a touch of water.
A squeeze of lime juice adds a nice zest to this recipe.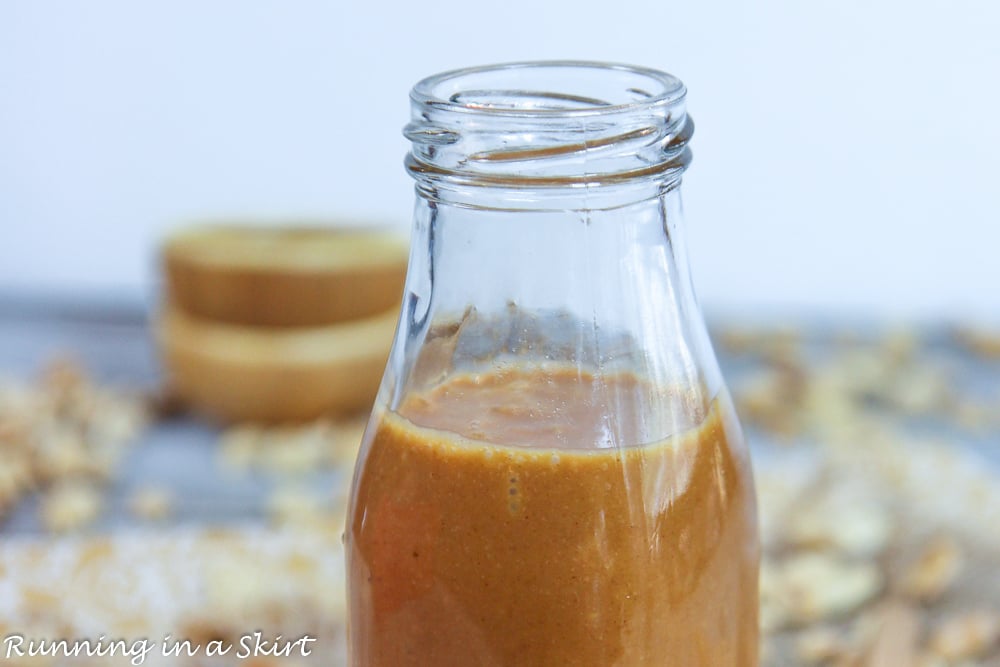 How to make this healthy salad dressing…
This is a simple, no-cook dressing or sauce!
Put all ingredients into your food processor.
Blend until smooth.
Add more water until you get the right consistency.
What is this Healthy Thai Peanut Salad Dressing recipe good with?
This healthy salad dressing is perfect with any type of salad! It's also tasty on noodle dishes and as a dipping sauce for veggies. If you are feeling extra fancy you could even make those pretty shrimp spring rolls like the Vietnamese restaurants.
I love it on my easy to make Thai Noodle Salad.
Fun Fact: What is Thai Peanut Sauce Called?
This commonly used sauce is actually called Satay Sauce in Asian cuisine including Thai, Malaysian, Indonesian, and Chinese cuisine.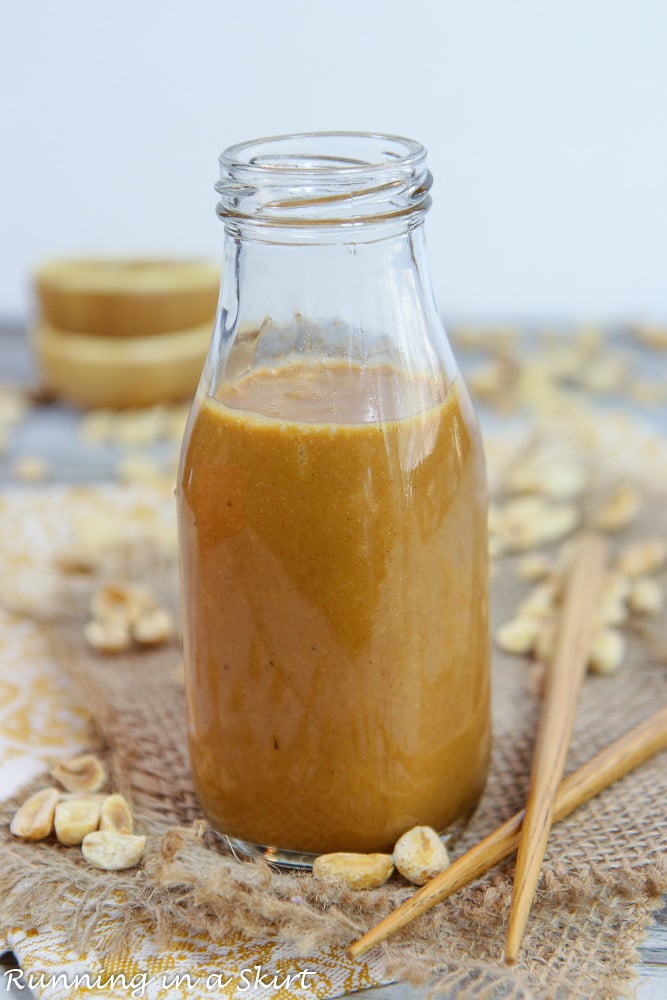 I love this salad dressing and hope you will give it a try. As always, let me know what you think in the comments below.
Love homemade salad dressings? Also, try…
Healthy Greek Salad Dressing
Healthy Avocado Lime Dressing
Healthy Greek Yogurt Ranch Dressing
Homemade Lemon Tahini Dressing
Healthy Greek Yogurt Chipolte Lime Ranch
If you make this recipe, I'd love to hear what you think! Leave a comment and a star rating ★ below. Make sure to follow me on Instagram, Pinterest, and Facebook too!
Pin for later…
Please see more list about Asian peanut dressing for salad
Detail: 🔗