Sunday Supper is an Amazon Associate and may receive compensation for purchases made through affiliate links.
If you're wondering what to do with leftover prime rib or steak, you've found the best recipe for it! Our Creamy Penne Pasta with Prime Rib is a restaurant-style dish that's so flavorful and yet so easy to make in less than 30 minutes using leftovers.
I'm not sure what my family looks forward to more – the prime rib dinner or this delicious leftover pasta dish!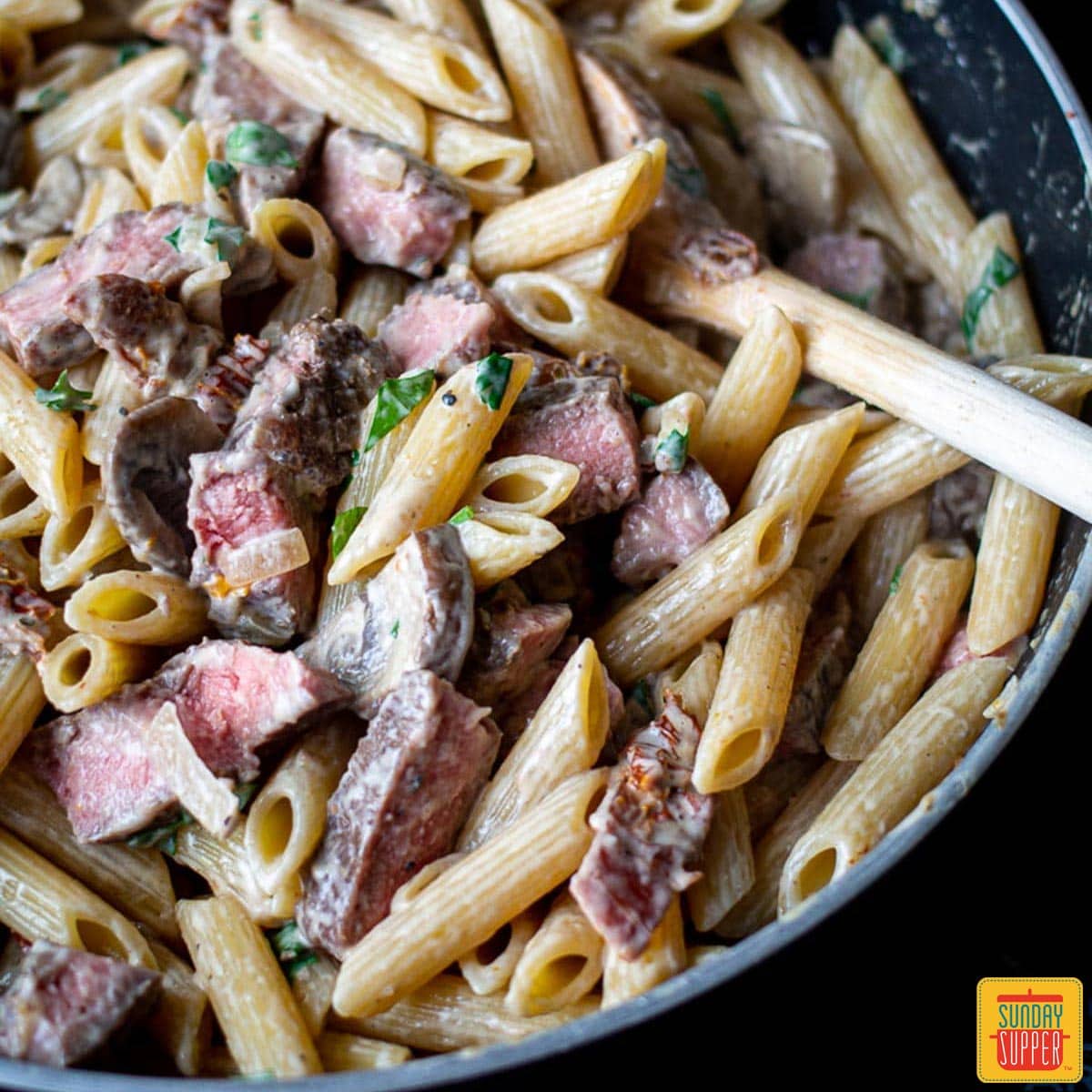 Jump to:
What to Do with Leftover Prime Rib or Steak
Best Prime Rib Leftover Recipe
How to Make Leftover Prime Rib Penne Pasta
FAQs
Leftover Prime Rib Pasta Tips
Substitutions
How to Reheat Prime Rib Pasta
Best Prime Rib Recipes
📌 Pin it for later!
Reviews
📋 Recipe
💬 Reviews
What to Do with Leftover Prime Rib or Steak
In my house, we look forward to a prime rib at least once a year over the holidays. There is nothing I love more than juicy roast beef and a little au jus to dip it in.
But of course, what to do with prime rib leftovers? I like making hot roast beef sandwiches with remoulade sauce, or heating it up with a side of mashed potatoes, but one of my favorite leftover recipes of all time has got to be this Creamy Penne Pasta.
Best Prime Rib Leftover Recipe
It's just like Applebee's creamy penne pasta with sliced prime rib, but even better! Honestly, it's so delicious, I make it year-round using leftover steak. It's one of my favorite steak pasta recipes.
I know you're going to love it. My family always asks me to make this dish when we have leftover steak or roast beef, and I'm happy to make it. It's just so easy!
This was amazing!!! My family agrees that this recipe was even better than having the Prime Rib the first time around. My teenage son said it was one of his favorite top meals ever!!! Thank you very much! ❤️

Sarah on Pinterest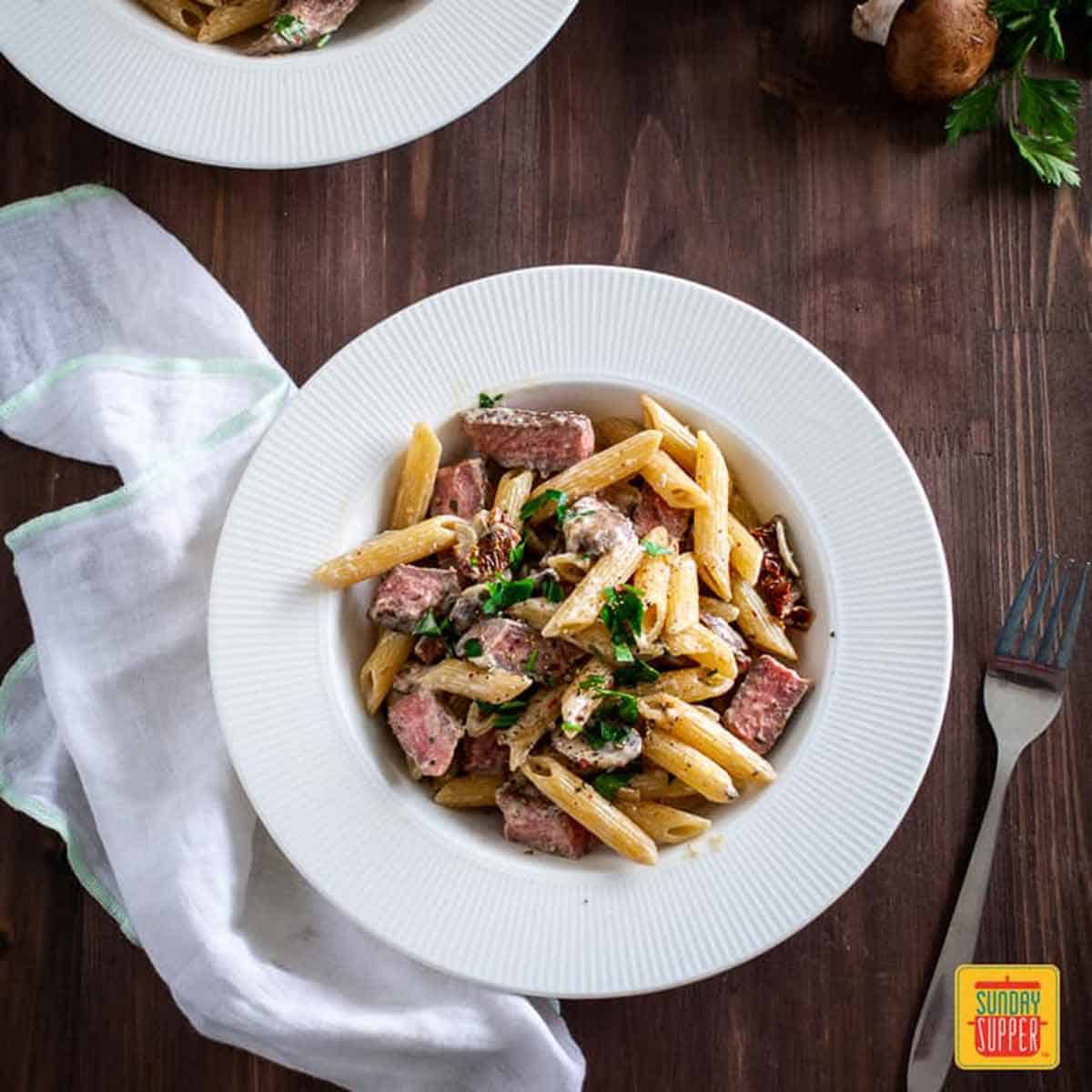 How to Make Leftover Prime Rib Penne Pasta
Heat olive oil in a skillet. Add onion (chopped) and sauté until translucent.
Add garlic (minced) and cook for about one more minute.
Then, add ⅔ lb. sliced cremini mushrooms and the butter and cook until tender, about 5-6 minutes. Stir continuously to avoid burning.
Pour in heavy cream and lower the heat. Let simmer for about 5 minutes until the liquid is reduced.
Add chopped sun-dried tomatoes, salt, pepper, and parsley to taste. Stir and remove from heat.
Slice the prime rib or rib eye steak into thin slices.
Cook penne pasta in a large pot with boiling water and salt.
Remove from heat about 2 minutes before the time indicated on the packaging so it is just slightly underdone (al dente). Drain the pasta in a colander.
Add the penne to the skillet with the sauce and stir. Then add the sliced prime rib. Return to heat and stir for about 1 minute in order to incorporate all the flavors.
Serve immediately with parmesan cheese, more fresh parsley and freshly ground black pepper to taste. Enjoy!
FAQs
Leftover Prime Rib Pasta Tips
For a real Italian experience, cook the pasta in boiling salted water and leave it a bit "al dente", as it will cook additionally in the skillet. Once it is cooked, drain it immediately and add it to the sauce.
Don't let the pasta sit in the colander, or it might stick together, and will continue cooking in its own heat.
Substitutions
Heavy cream can be substituted with half and half if you prefer your leftover prime rib pasta lighter.
Grated Parmesan is optional for this recipe as the sauce is already creamy and buttery enough, but you can add it for extra richness!
You can also use mixed mushrooms if you prefer.
Leftover steak works perfectly in this recipe, too!
Add Crispy Air Fryer Bacon for an even richer pasta!
You can even use Leftover Ham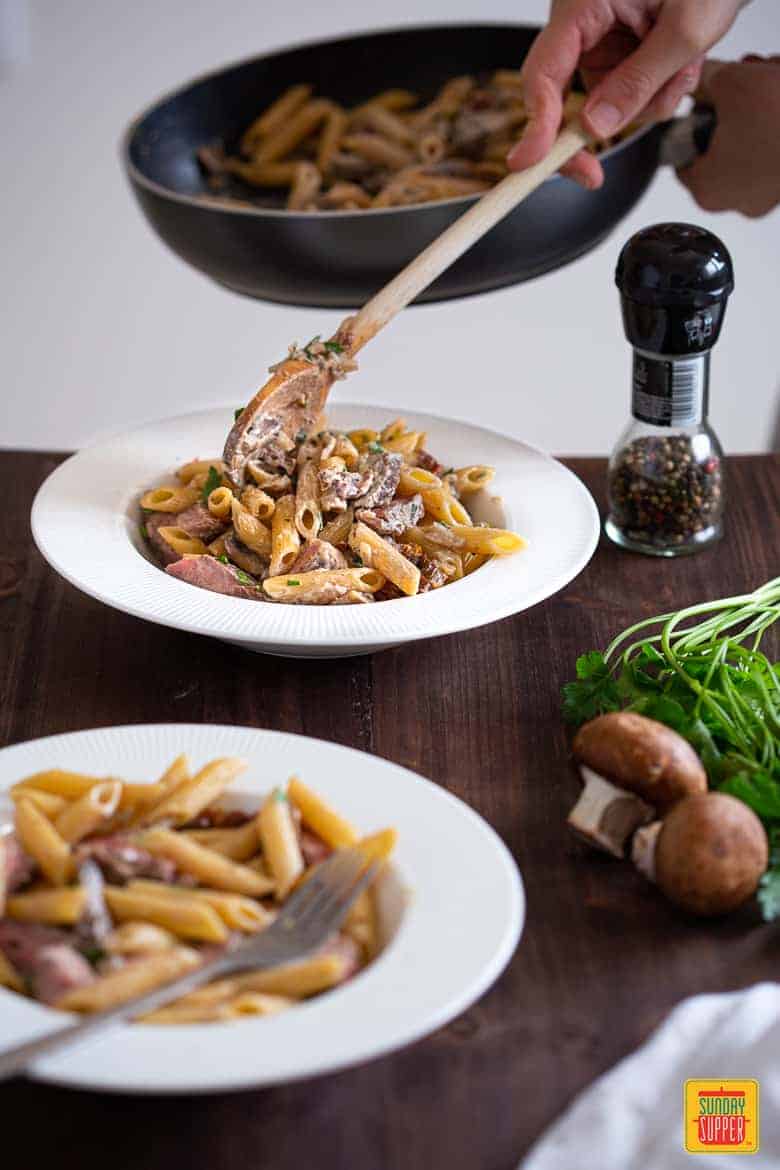 How to Reheat Prime Rib Pasta
You can reheat this dish easily in a skillet on the stove.
Just add a bit of olive oil or butter to the skillet and stir continuously while reheating for approximately 10 minutes. It reheats really nicely.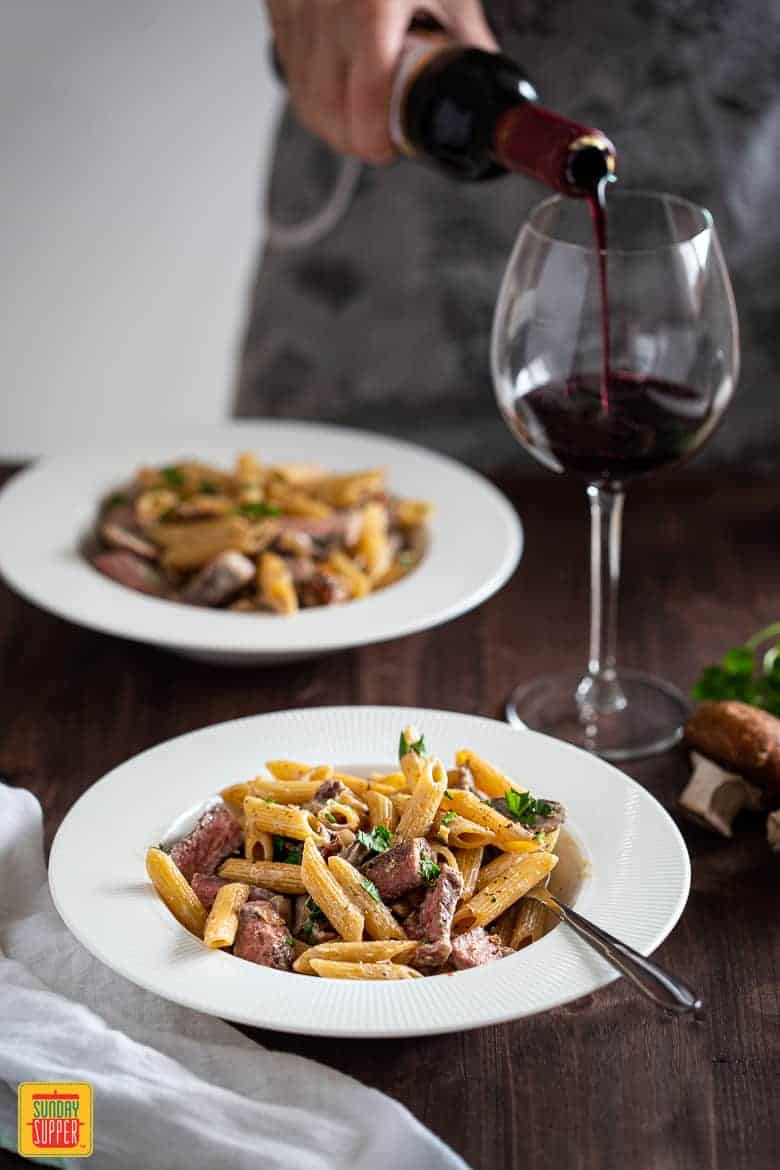 Best Prime Rib Recipes
Slow Roasted Prime Rib
Standing Rib Roast
Boneless Prime Rib
Instant Pot Prime Rib
Sous Vide Prime Rib
Grilled Prime Rib
Smoked Prime Rib
My family loves a good rib roast any way they can get it!
Reviews
I will definitely be making this again. My family loved it. Thank you for the New Meal Planning Idea.

Mary
Yum. Super good and easy.

Kelley
Did you try our creamy penne pasta with prime rib? Let us know in the comments below! We love to hear from you.
📋 Recipe
Photography by Daniela Lambova
For more information, please see more information about Prime rib roast leftovers recipe
Detail: 🔗