This Creamy Potato Salad is made with Baby Potatoes and loaded with Bacon, Chives and Hard Boiled Egg. Potato Salads don't come more irresistible than this!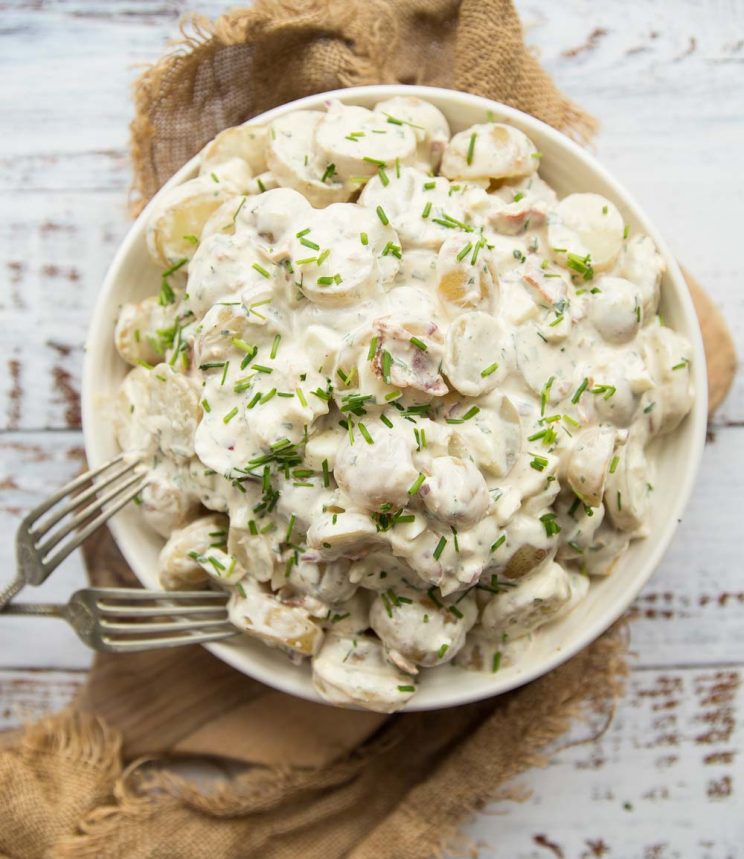 Reading: Potato salad with bacon and egg
Baby Potato Salad
My go to potato to use in a potato salad is always the beautiful baby potato. I like to slice them up into 1/4″ rounds, just for something a little bit different. You could however just half, quarter or keep them whole. Just keep the skins on (extra flavour) and adjust the boiling times accordingly. You could also substitute any other waxy/starchy potato.
Boiled Potato Salad
In all cases you want to boil the potatoes until fork tender. My two top tips for boiling potatoes are:
Salt – A heavy seasoning of salt in the water as they boil is essential. Whilst the dressing is nicely seasoned, this will merely be wrapping the potatoes. You want to season the potatoes themselves.
Cold Water – To ensure the potatoes cook evenly, make sure you start with cold water and bring to a boil from there. If you pour boiling water straight in, the outsides are going to be overcooked before the centre is fork tender.
Read more: Curry Chicken Salad with Grapes
From there, you want to steam dry the spuds.
How to boil potatoes for a potato salad (quick summary)
Slice them up into 1/4″ roundups.
Pop them in cold water with a tsp of salt. Bring to boil for around 7-10mins or until fork tender.
Drain in a colander and leave to completely steam dry.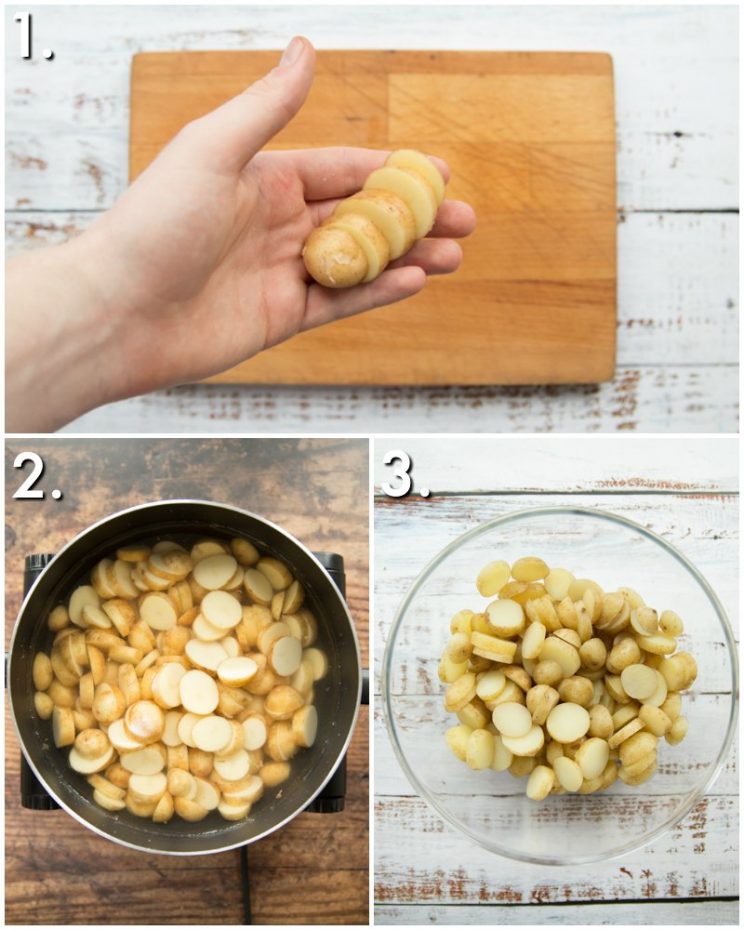 Creamy Potato Salad
For me, a potato salad ain't a potato salad if it's not wrapped in a creamy dressing. For the dressing I use mostly mayonnaise, with a dollop of sour cream just to sooth it out. Here's the other essentials for the perfect potato salad:
Herbs – Here I use Parsley and Chives, both of which go perfectly with potatoes. I highly recommend using fresh herbs for a potato salad.
Hard Boiled Egg – When Egg Mayo and Potato Salad collides, beautiful things happen.
White Pepper – Gives a nice little bit of heat to the dressing.
Bacon – Do I even need to explain this!?
How to make a Potato Salad (quick summary)
Add all of your dressing ingredients in a small bowl.
Stir until evenly combined. Taste for seasoning and adjust accordingly.
In a larger bowl, add your potato salad ingredients.
Combine with dressing, then garnish with chives.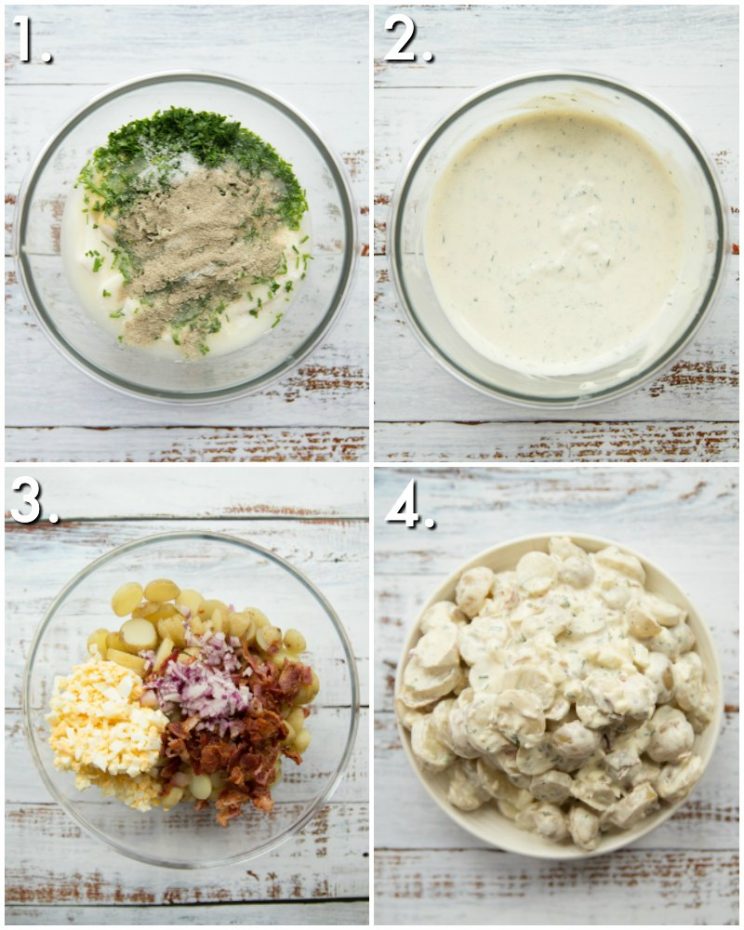 Read more: Fresh Fruit Salad with Whipped Cream and Pimm's
Hey, whilst you're here why not check out my other recipes?
Baby Potato Recipes
Roasted Baby Potatoes
Lemon Browned Butter Baby Potatoes
Mini Twice Baked Potatoes
Crispy Smashed Potatoes
Summer Salad Recipes
Pesto Pasta Salad
Broccoli Salad with Bacon
Chicken Waldorf Salad Bites
Watermelon and Mozzarella Salad
Chicken Bacon Ranch Pasta Salad
Alrighty, let's tuck into the full recipe for this creamy potato salad shall we?!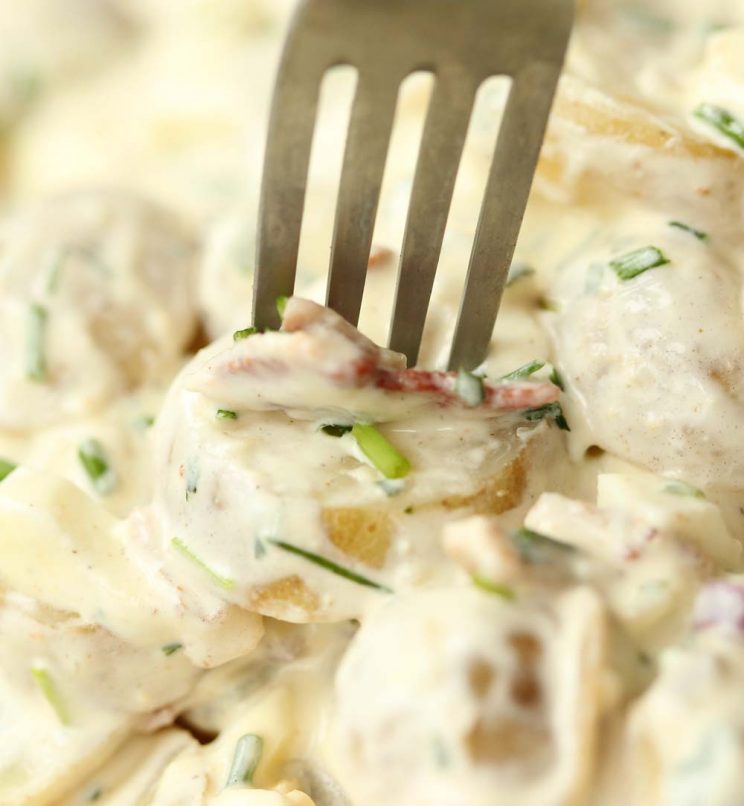 How to make Creamy Potato Salad with Bacon (Full Recipe & Video)
If you loved this Potato Salad Recipe then be sure to Pin it for later! Already made it or got a question? Give me a shout in the comments and pick up your free ecookbook along the way!
Read more: Classic Memphis-Style Coleslaw – Barefeet In The Kitchen
Please see more list about Potato salad with bacon and egg
Source: https://www.dontgobaconmyheart.co.uk/creamy-potato-salad-with-bacon/