Crock Pot Beef and Noodle Soup ~ Easy Slow Cooker Beef Stew with the Addition of Pasta! Loaded with Stew Meat, Carrots, Celery, Mushrooms and Egg Noodles!
PIN IT HERE!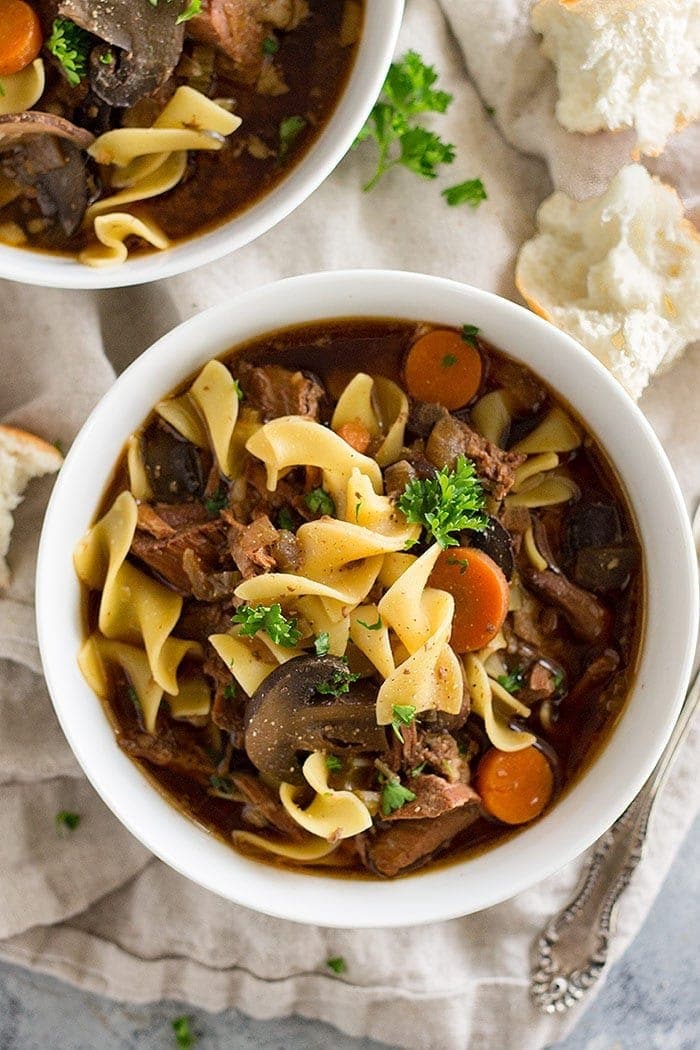 Reading: Crockpot stew meat and noodles
This Crock Pot Beef and Noodle Soup is a great alternative for all of you that may be tired of chicken and noodle soup. I love that you throw stew meat, carrots, celery, mushrooms and a few spices in the crock pot and let it cook all day long then add noodles right before serving! A total winner when you have a busy night ahead.
We haven't had much soup weather here in Colorado this winter but when we have this slow cooker beef stew has been on the menu! In fact, it's been really hard to even call it a winter its been more like spring!
But for those of you in need of some heart warming soup, you can also try out this 30 Minute White Chicken Chili, Easy Taco Soup, or this Slow Cooker Spaghetti Meatball Soup.
Ingredients Needed for Crock Pot Beef and Noodle Soup
Onion
Carrots,
Celery
Baby portabella mushrooms
Garlic
Tomato paste
Beef bullion
Beef stew meat
Beef broth
Egg noodles
This soup is super easy to make too!! If you can chop a few vegetables then you can definitely make this soup! And because we are using the crockpot you can throw everything in before you leave for work and let it work its magic! The meat will be fall apart tender and the soup will be full of flavor! The only thing you will need to do is shred the beef and add in the egg noodles to cook for 10-15 minutes. Otherwise, it is a pretty hands off meal!
Read more: how to get sand from clams before steaming | Family Cuisine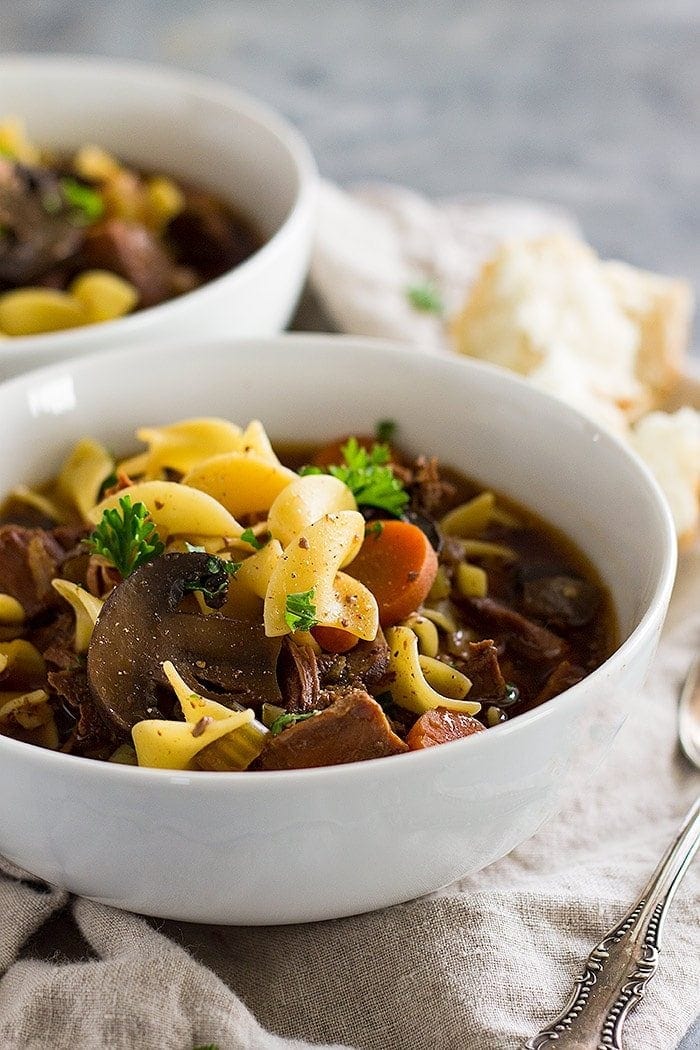 Tips for Making Crock Pot Beef and Noodle Soup:
If you don't have stew meat feel free to use any tough cut of beef. The crockpot is great for tough cuts of meat!! A chuck roast will work great and you can place the whole thing in the crockpot and shred it at the end.
Be sure to add the egg noodles at the end of cooking or they will become mushy from the long cook time. They only need about 10-15 minutes on HIGH to become tender.
I like to serve this with some crusty french bread. It would also be great served with a simple side salad.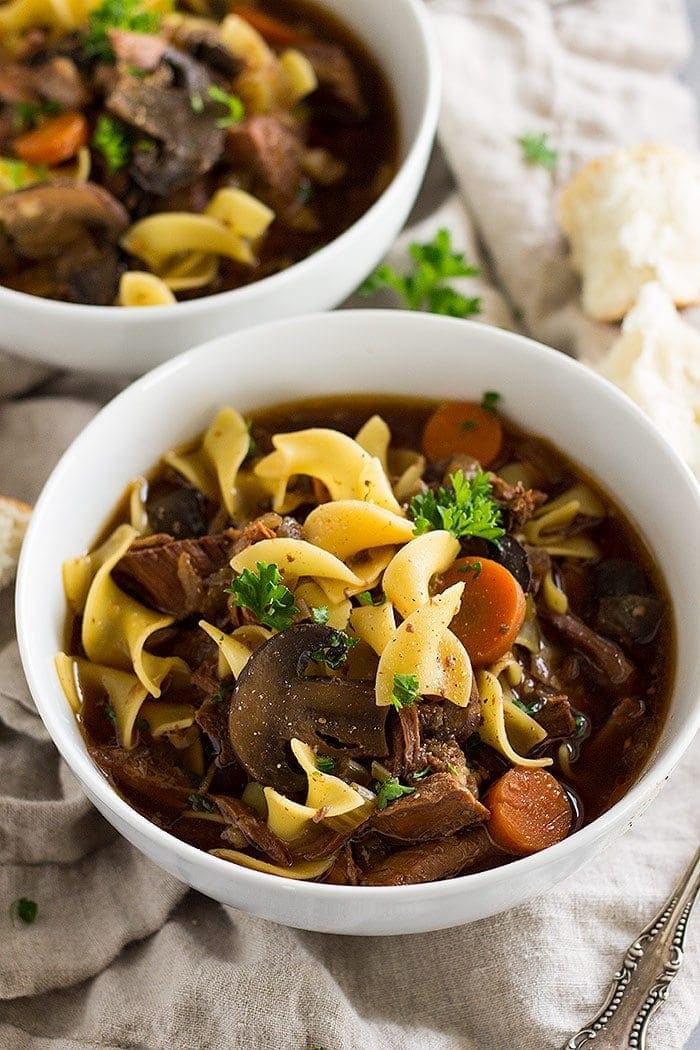 If you are looking for a big bowl of hearty soup to warm up with on a cold winter night this is the perfect slow cooker beef stew. I love the addition of noodles because carbs make everything better don't they?
Plus, my kids always eat things better with noodles if you ask me. Half the battle is getting them to eat dinner right?
A few of my kid's favorite pasta laden recipes are Hamburger Stroganoff, Chicken Alfredo Stuffed Shells, and Ham & Cheese Bowties! You know, in case you need any inspiration to get your kids to eat dinner!
I'm sure you don't. I mean I'm sure I'm the only on that struggles there, like every night. Right?
Do you ever feel like a short order cook? Trying to make something different for everyone? Once again, I'm sure not because it's probably just my kids!
Read more: Pioneer woman beef stew recipes
If you are looking for a meal that will satisfy the entire family make sure to grab your Slow Cooker and make this delicious and hearty Crock Pot Beef and Noodle Soup!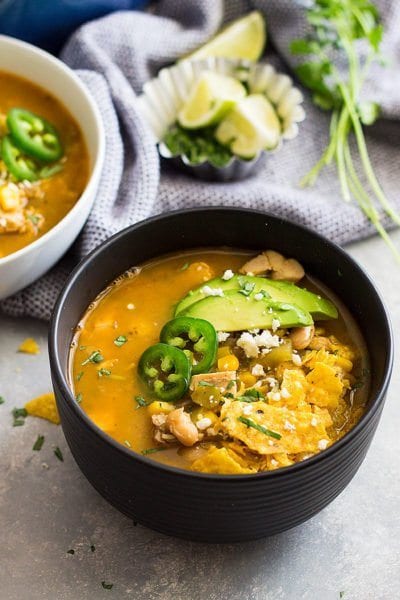 30 Minute White Chicken Chili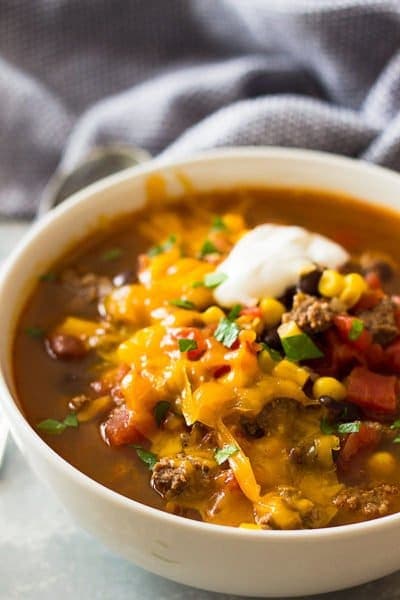 Easy Taco Soup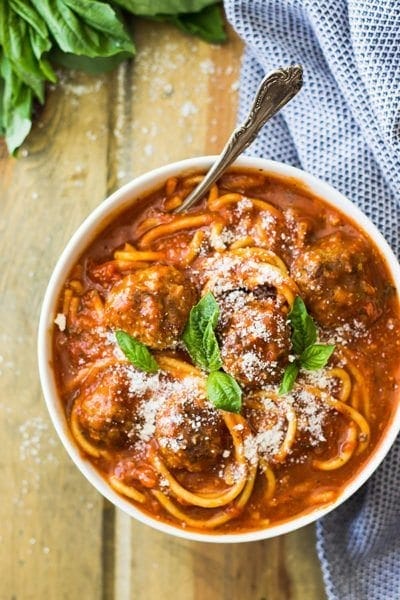 Slow Cooker Spaghetti Meatball Soup
Read more: Hearty Chicken Stew
Please see more list about Crockpot stew meat and noodles
Source: https://www.julieseatsandtreats.com/crock-pot-beef-and-noodle-soup/