Crock Pot Beef and Noodles is classic Midwestern comfort food that sticks to your ribs. Rich and flavorful, this family favorite recipe is affordable and easy to prepare in the slow cooker!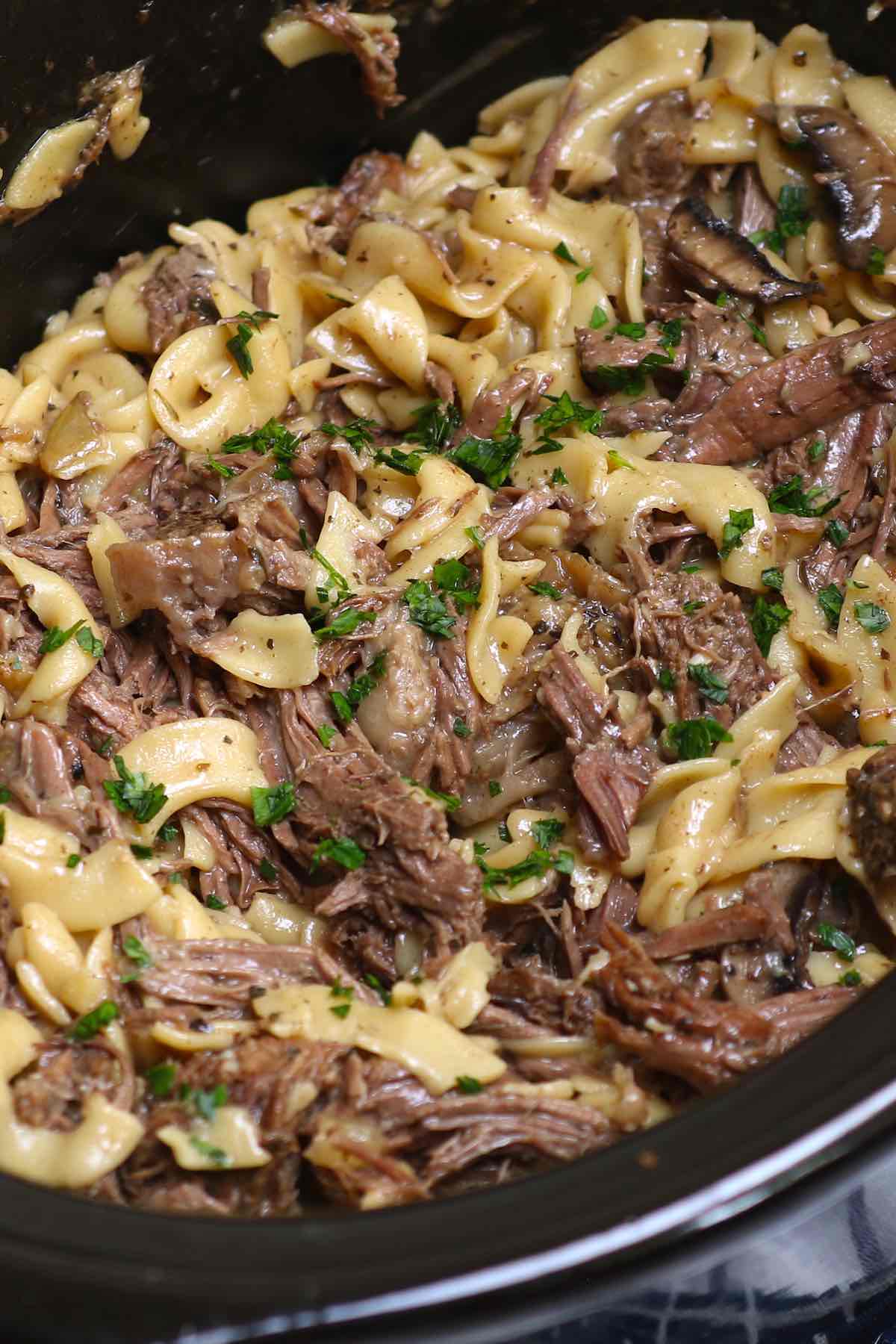 Beef and noodles is old-fashioned Midwestern dish that's stood the test of time! It's a hearty meal that's popular with the entire family, picky eaters included! Leftovers make a delicious lunch to take to work or school.
The best part? This recipe only requires 15 minutes of prep before the slow cooker works its magic. If you're in a hurry, try making it in the Instapot in just 45 minutes. So let's get started!
Ingredients
Today we're making beef and noodles from scratch with no soup mixes, cheese or fillers. Here are the key ingredients you'll need: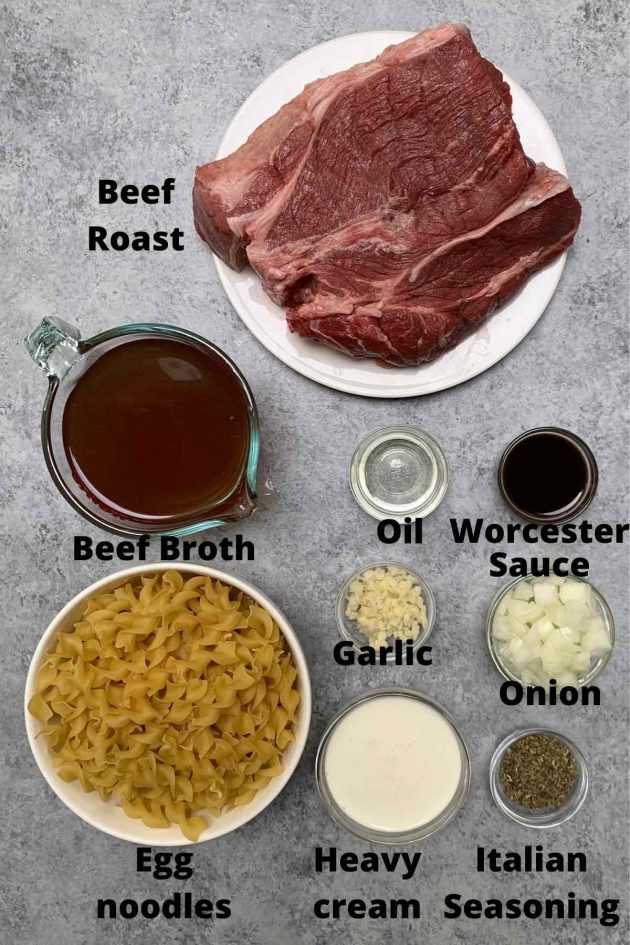 Beef: A chuck roast is the classic cut, but you can also use eye of round, top round, sirloin tip, rump roast or another lean cut. Both boneless and bone-in will work.
Broth: Low-sodium beef broth is ideal for controlling saltiness, and you can also use water if you don't have any. If you use a no-sodium broth, add a pinch of salt to help tenderize the meat.
Italian seasoning: I used Italian seasoning, but you can also use a mix of oregano and thyme.
Worcestershire sauce: To build flavor, or substitute soy sauce.
Garlic: Freshly minced garlic gives the best flavor, but garlic powder will also work.
Onion: A minced yellow or white onion.
Egg noodles: You want to use wide egg noodles here, and they can be dried, frozen or fresh so use what you can find. (Note: some egg noodles contain food coloring, so check the label.)
Cream or cornstarch: To thicken the sauce into a gravy, you can use some heavy cream or a cornstarch-water mix.
Fresh mushrooms are an optional addition that makes this taste closer to beef stroganoff.
If you're using frozen beef, the USDA recommends thawing it completely before use to avoid the risk of spoiling in the crock pot.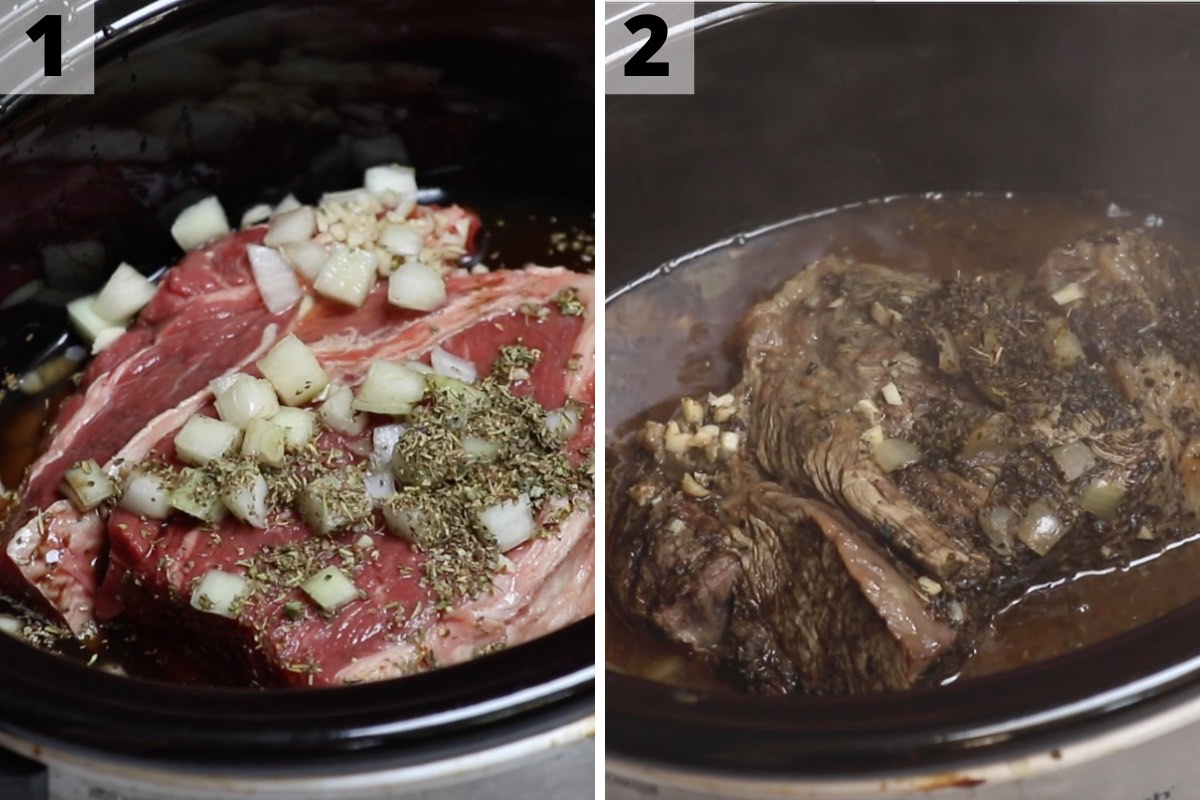 How to Make Crock Pot Beef and Noodles
This recipe is made from scratch without onion soup mix, cheese or fillers. You can add extra flavor by browning the meat in a skillet for a few minutes before slow cooking, but this step is optional.
Put the meat in the slow cooker along with the broth and seasonings. Cook for 6-7 hours on Low (recommended) or 4 hours on High until fork tender.
Use two forks to shred the meat into bite-size pieces, and then add the noodles to cook for 10-20 minutes until al dente. Note: this time will vary based on the noodles you're using.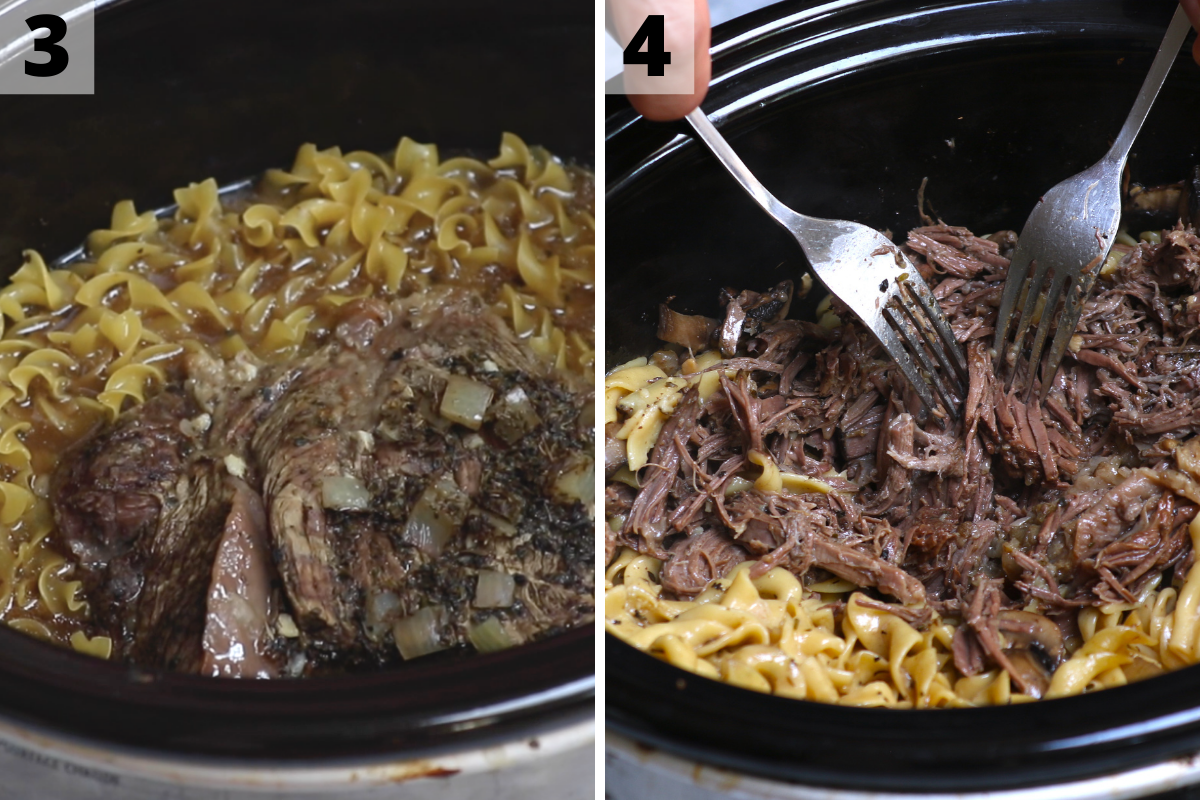 If you want to include sliced mushrooms or some green peas, add them to the slow cooker along with the noodles.
How Do You Thicken Beef and Noodles?
Once the noodles are al dente, the sauce may still seem watery. To make it into gravy, there are two options:
Cream: Adding a ½ cup of heavy cream will thicken the sauce and make it silky and creamy. After adding it, let the sauce bubble in the crock pot on High for several minutes to thicken.
Cornstarch slurry: This is a lower calorie option that works well. Mix 1 tablespoon cornstarch with 1 tablespoon water in a teacup. Stir into the crockpot and let it bubble on the High setting for up to 5 minutes.
Remember that the gravy will thicken even more as it cools, so I usually stop as soon as the sauce starts to coat the back of a spoon.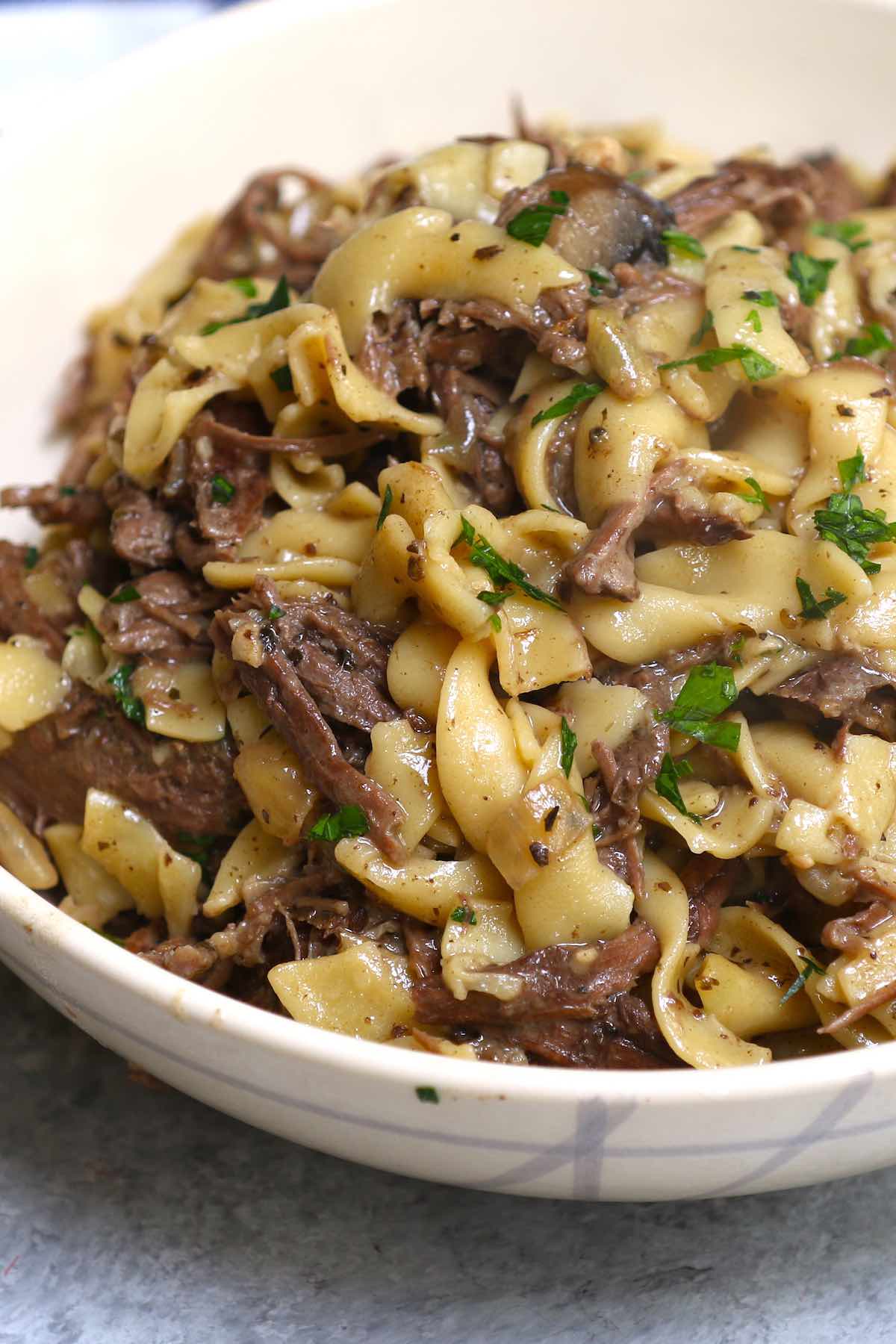 What to Serve with Beef and Noodles
You can serve slow cooker beef and noodles on its own as a one-pot meal. It also goes well with crusty bread or garlic bread to mop up extra gravy, or a side vegetable of broccoli or green peas.
Can I Use an Instant Pot?
Yes, and it only takes 45 minutes from start to finish. There are two modifications required: 1) you'll need to slice the beef into 1 ½ inch pieces, and 2) cook the noodles separately on the stovetop.
Start by browning the beef in the Instant Pot on Sauté mode. Then add the broth and seasonings. Cover and set to Manual High pressure for 30 minutes followed by a natural release, which will take about 10 minutes.
During this time, cook your noodles according to the package directions. Drain and stir them into the beef. Thicken the same way with cream or the cornstarch slurry before serving.
More Slow Cooker Beef Recipes: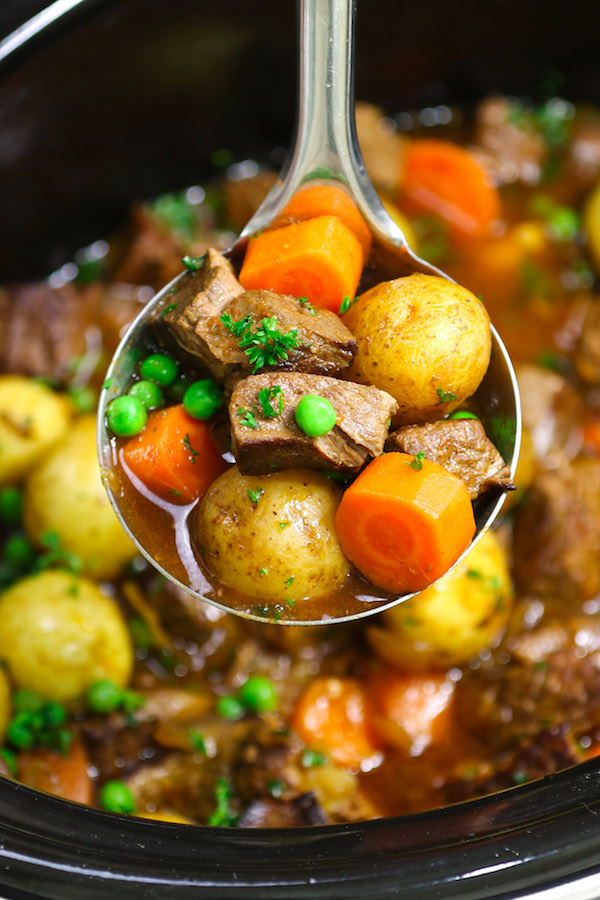 View all slow cooker recipes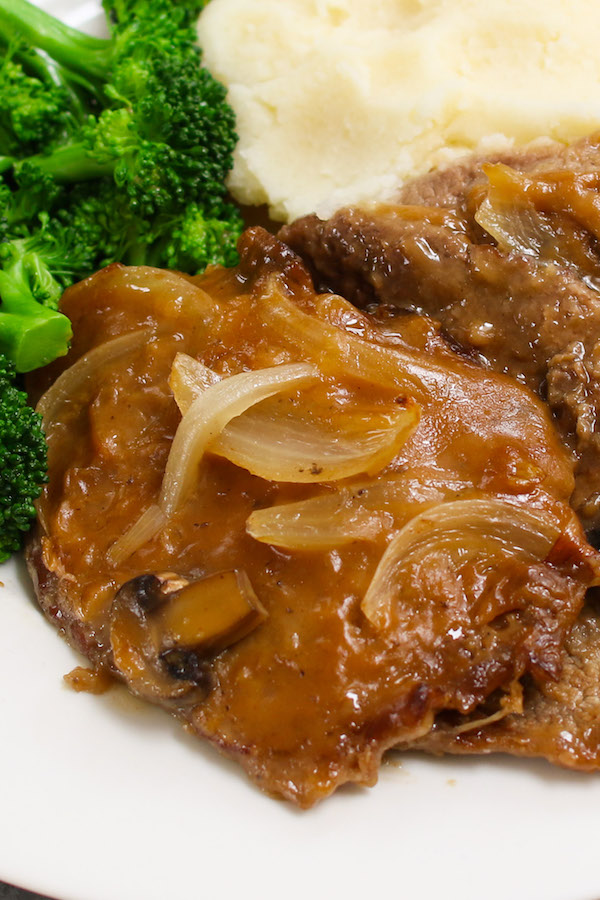 Through this article, we hope to help you understand Crockpot stew meat and noodles
Detail: 🔗