Tender, shredded Italian Beef with pepperoncini loaded on toasty sandwich rolls with melted provolone cheese. With just a few minutes of prep, you can have these comforting Crock Pot Italian Beef Sandwiches on your menu on even the busiest of days.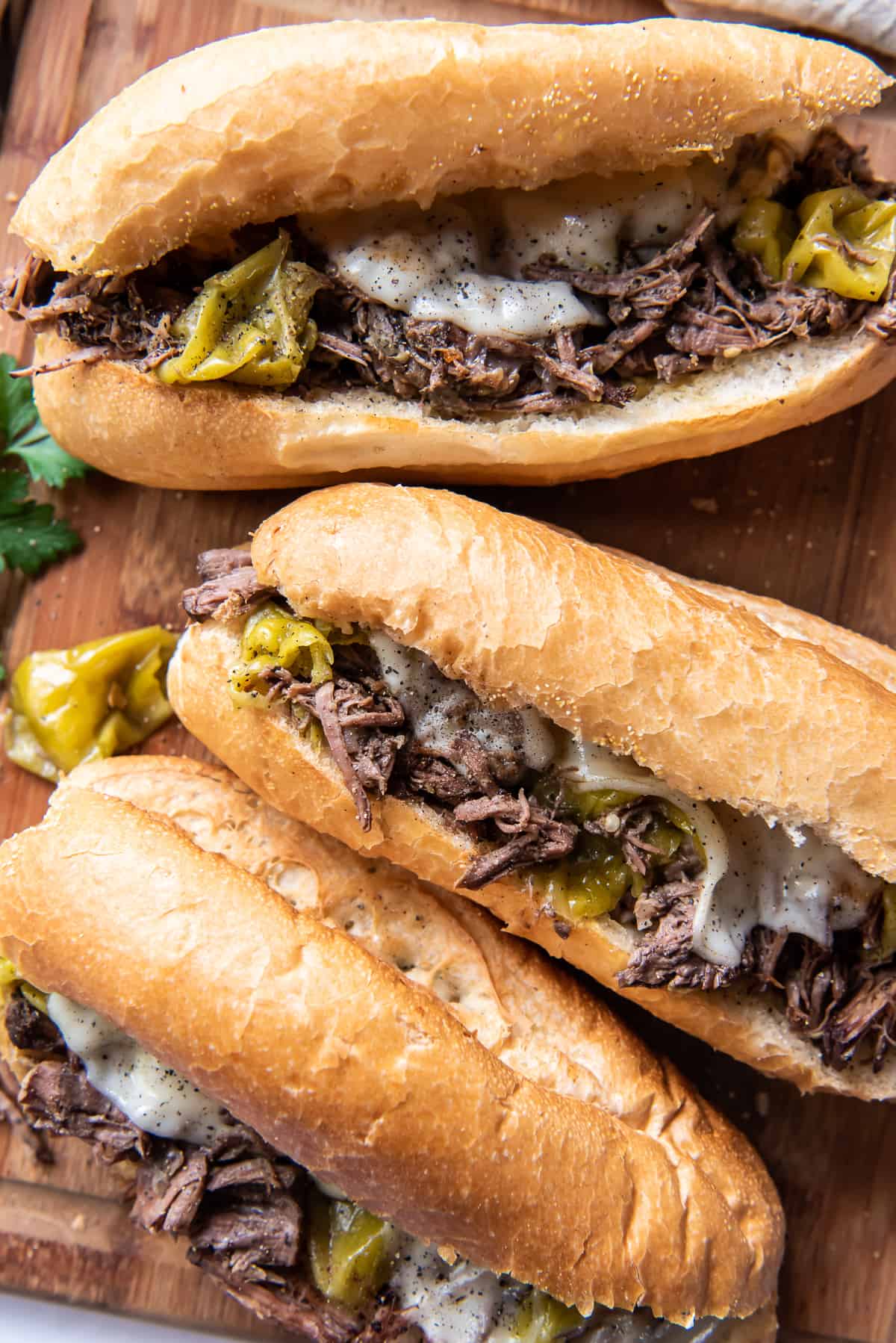 Versions of this slow cooker Italian Beef Sandwich recipe have been making the rounds for decades. It's one of those recipes a co-worker scribbles on a piece of paper for you, or a neighbor brings to the pot-luck and then you beg for the recipe. It has made its way through countless kitchens of home cooks who have added their own special touch and made it their own. This is my take on this delicious classic.
Reading: Roast beef sandwich crock pot
Read more: Top 10+ how to cook a pork tenderloin roast
It's no surprise this easy pepperoncini beef recipe has stood the test of time. It takes just minutes to get it started in your slow cooker early in the day and then it's completely hands off until it's time to assemble the sandwiches at dinner time. This low and slow method creates the most tender, flavorful shredded Italian roast beef and it's just so gosh darn easy!
Ingredient Notes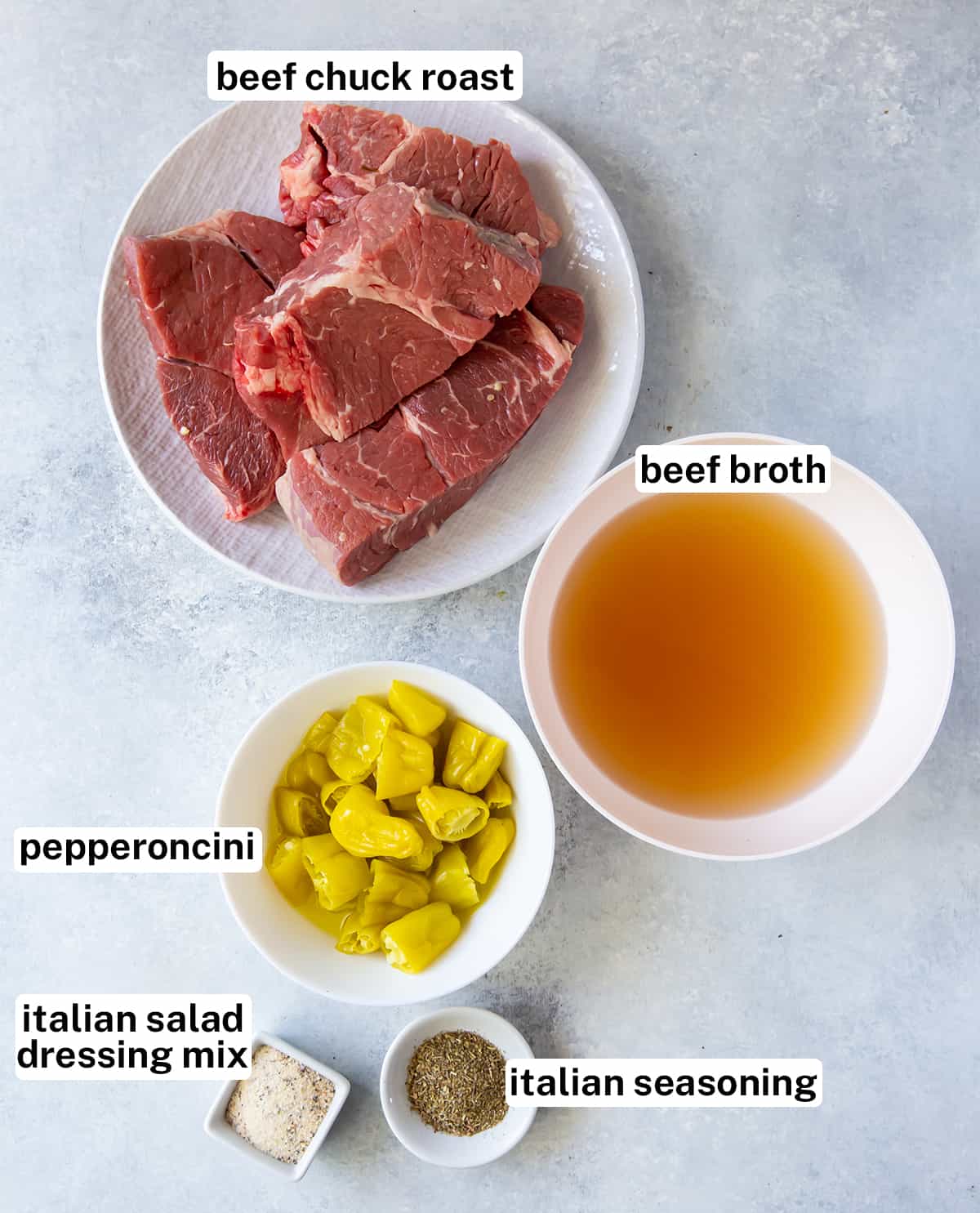 Boneless chuck roast – I use a boneless beef chuck shoulder roast (sometimes labelled as chuck shoulder pot roast) for this recipe. This cut is typically pretty easy to find but any boneless chuck roast will do. I pick up two-packs at Costco when they've got them in stock.
Low sodium beef broth – It's important to use low sodium broth in this recipe since there is plenty of salt in the dressing mix to season the beef.
Italian Dressing Mix – One packet of Good Seasons Italian Salad Dressing and Recipe Mix.
Pepperoncini – You'll find jars of these pickled yellowish-green pepperoncini peppers in the condiment section of your store. They add a tangy bite, great flavor and they're not at all spicy.
Italian Seasoning – A store-bought blend like McCormick.
To assemble the sandwiches you'll need some nice, crusty sandwich rolls and sliced provolone cheese.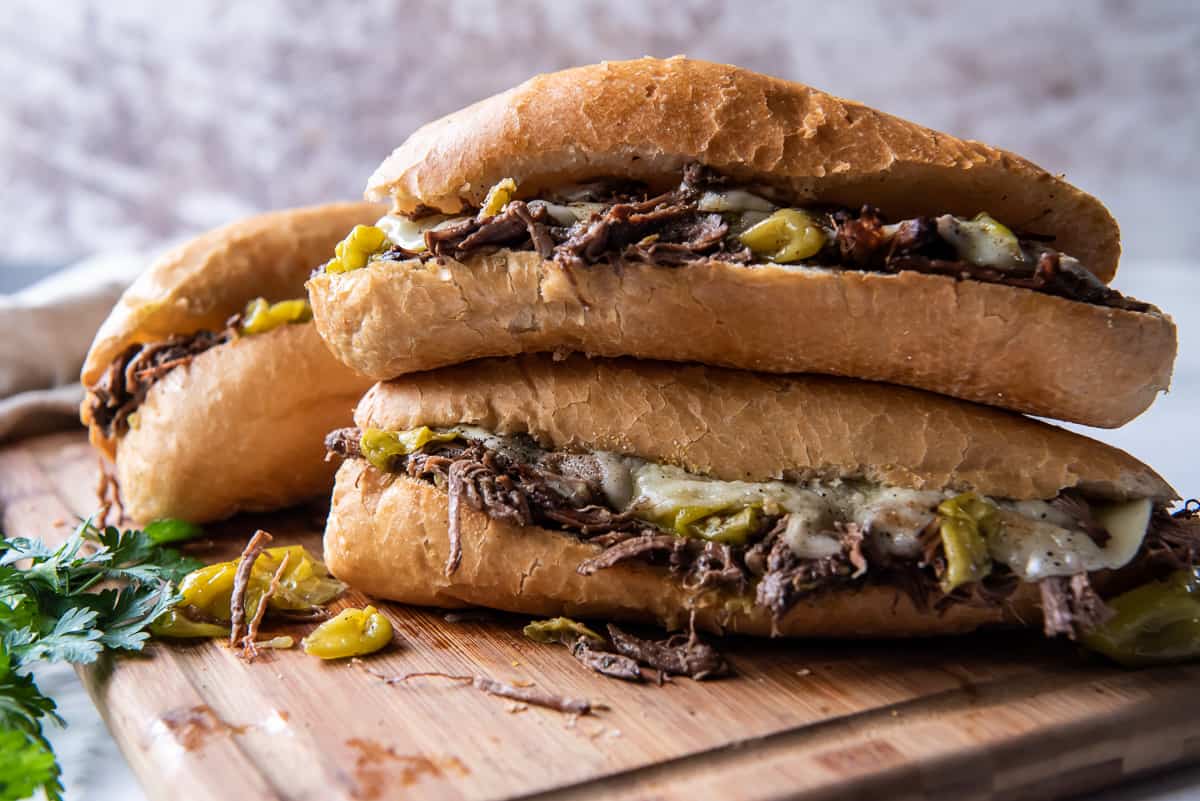 How to Make Crock-Pot Italian Beef Sandwiches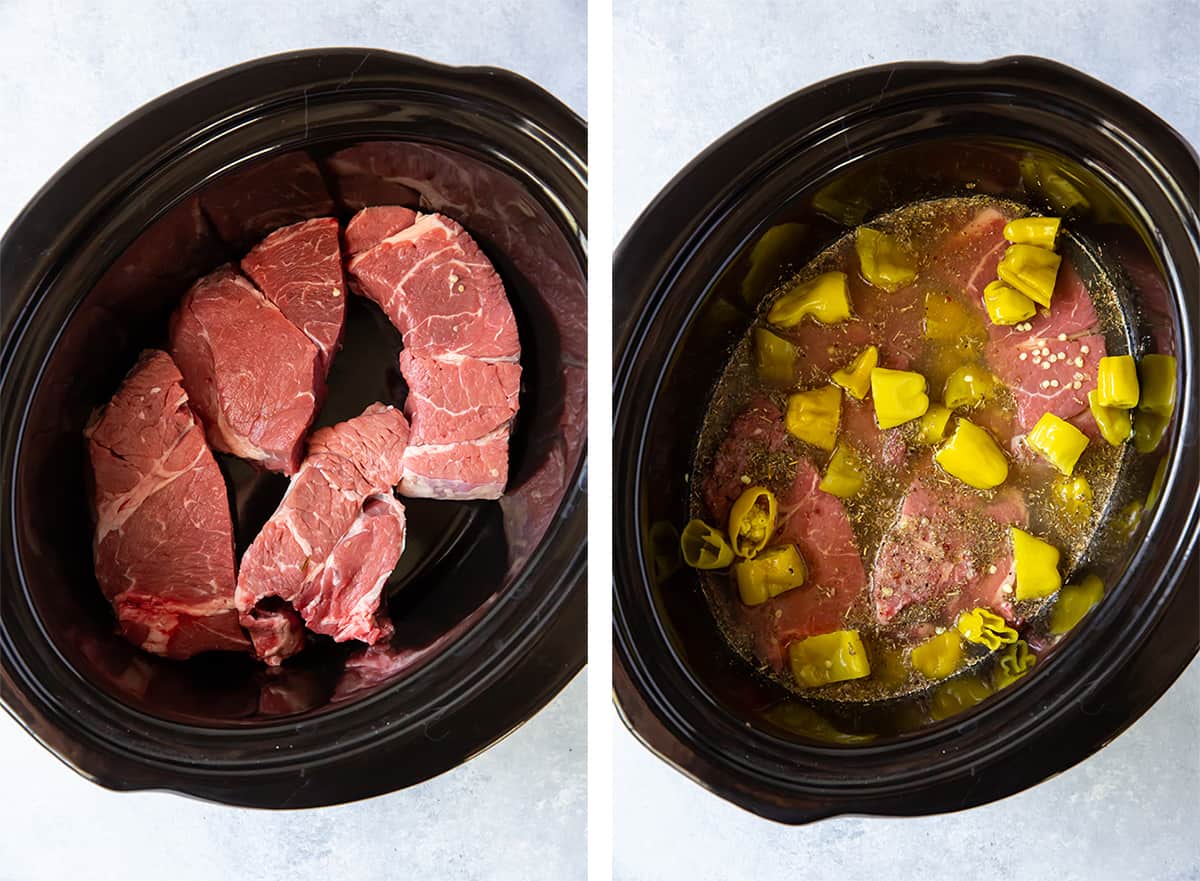 Cut the roast into chunks, trimming any excess fat from the edges of each piece. Transfer the beef to a 6 quart Crock Pot.
Whisk together the beef broth, packet of the Italian salad dressing mix, and the Italian seasoning and pour it over the beef in the slow cooker. Add the stemmed and chopped pepperoncini and some of the liquid from the jar. Cover the Crock-Pot and cook on low for 8 to 10 hours or high for 5 to 6 hours.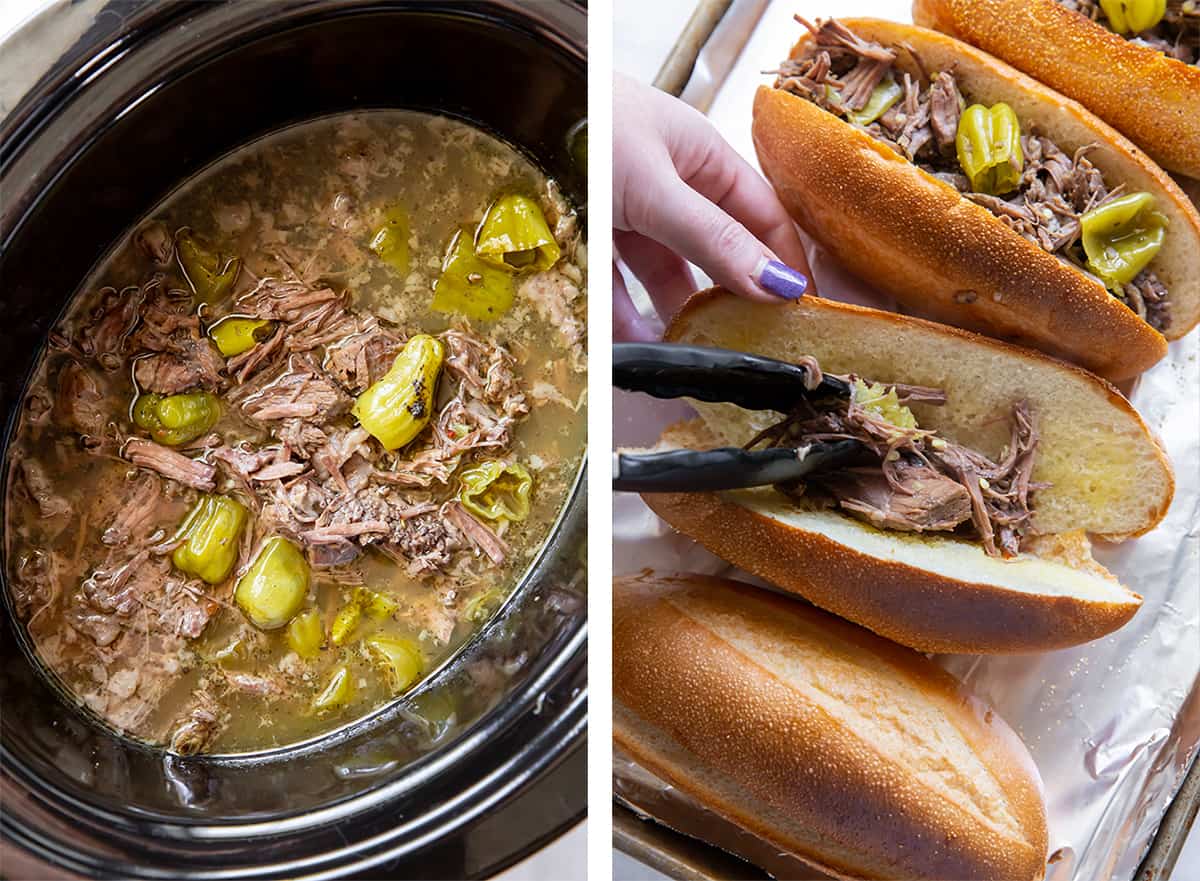 You'll know the Italian Beef is ready when it easily shreds with a fork. Mix the shredded meat into the luscious juices.
Use tongs to load toasted hoagie rolls with the tender shredded beef and pepperoncinis and place them on a baking sheet. Top with sliced provolone cheese and place under the broiler for just a minute or two to melt the cheese.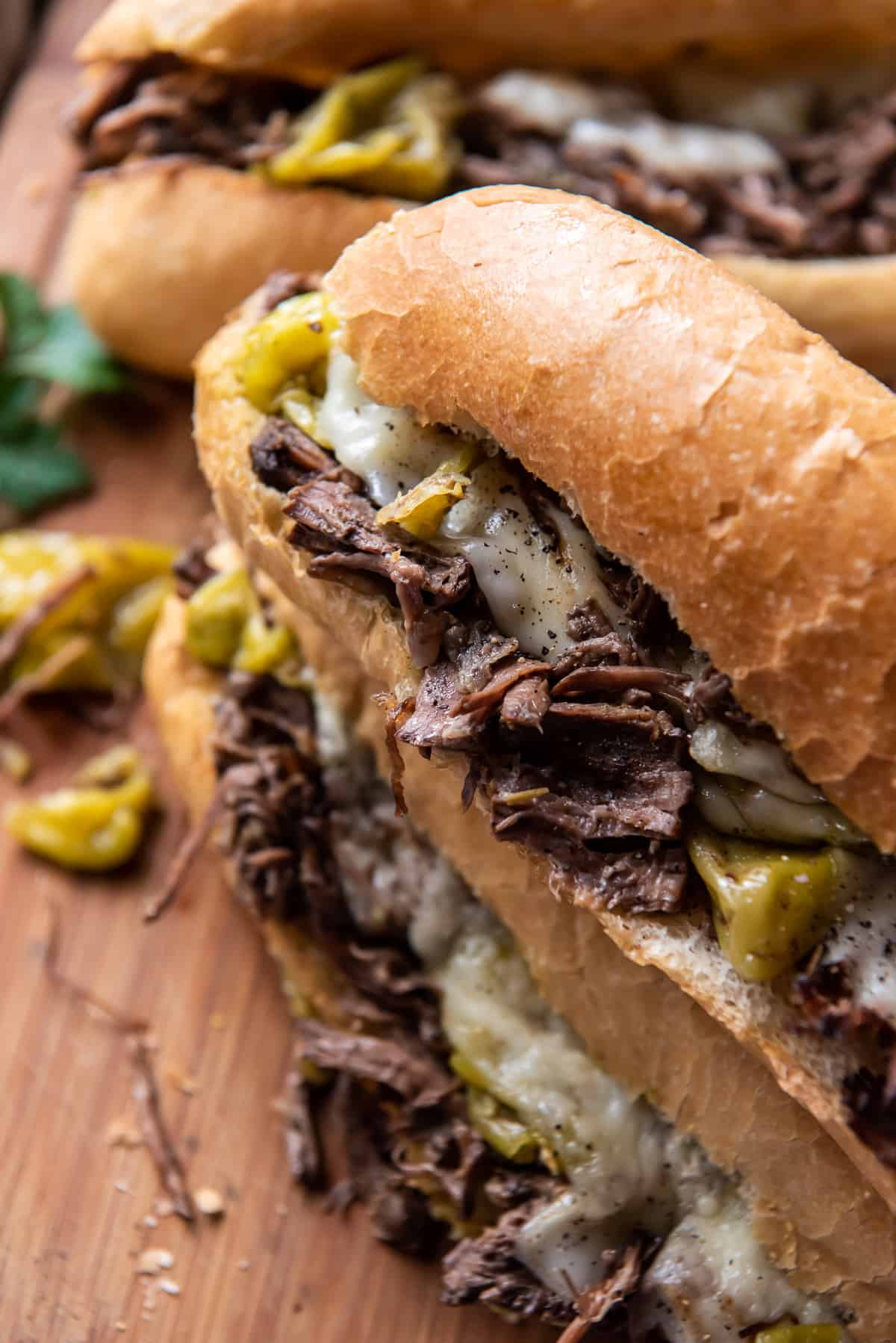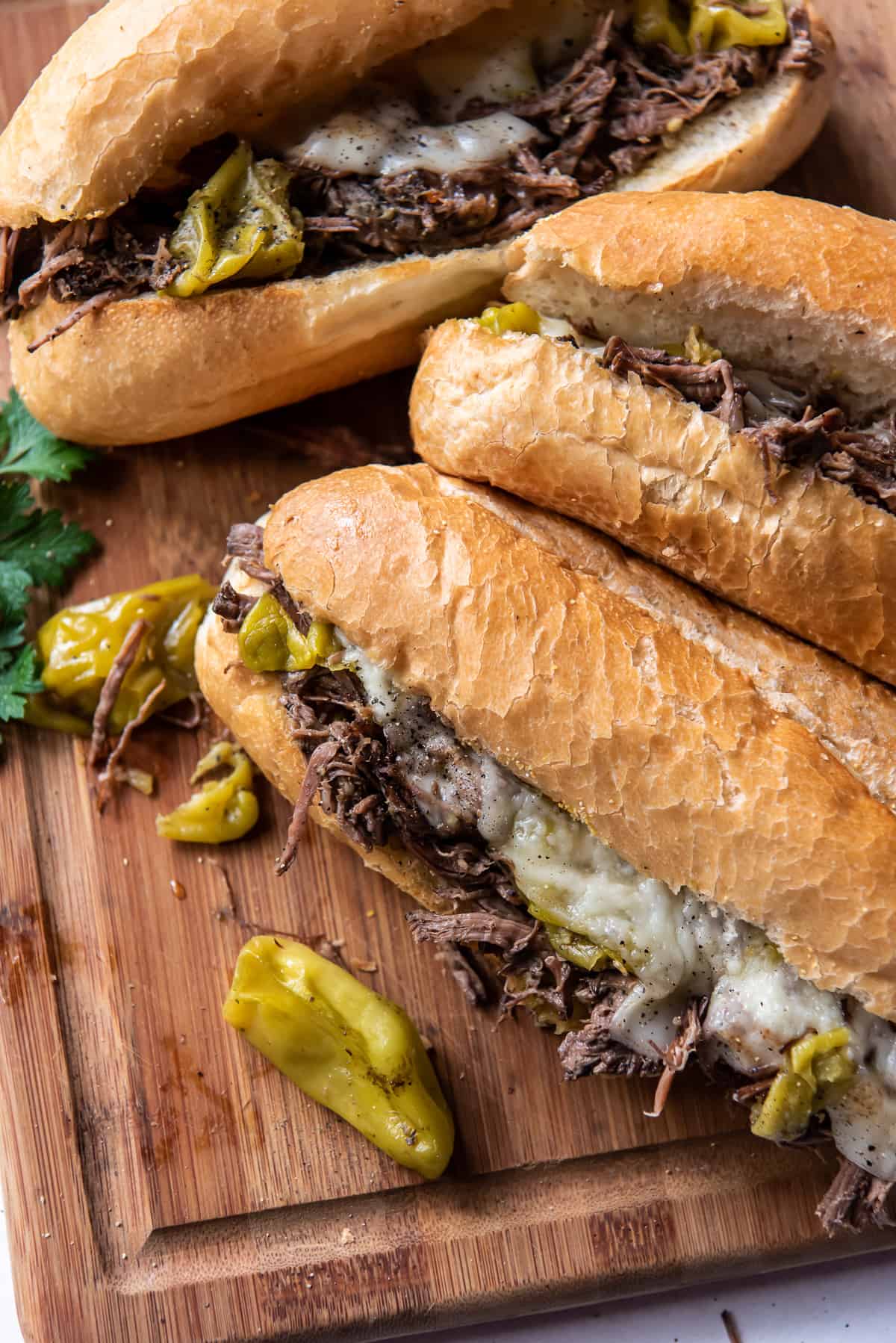 Storage Tips
Store leftover beef and pepperoncini in an airtight container with some of the cooking liquid to keep it moist and transfer to the refrigerator promptly. It will stay fresh and tasty for 3 to 4 days. Reheat leftovers gently on the stove or in the microwave.
Proof positive that these Crock-Pot Italian Beef Sandwiches are a family favorite. Way back in 2013, I somehow managed to get all four boys over to the house at the same time so I could take the annual Christmas photos. This is never an easy task to accomplish! They all have busy lives, college, work, etc., but I wisely promised them lunch if they came and jackpot! They all arrived, on time, nicely dressed, with smiles on their faces. This, my friends, is the power of food.
Read more: The top 10+ best brine for roast chicken
These Italian Beef Sandwiches are just the ticket on a day like this. They're warm, substantial, and absolutely delicious. All the work is done in advance. Just set out some sandwich rolls and a side dish or two and get out of their way! I love an assembly line style meal.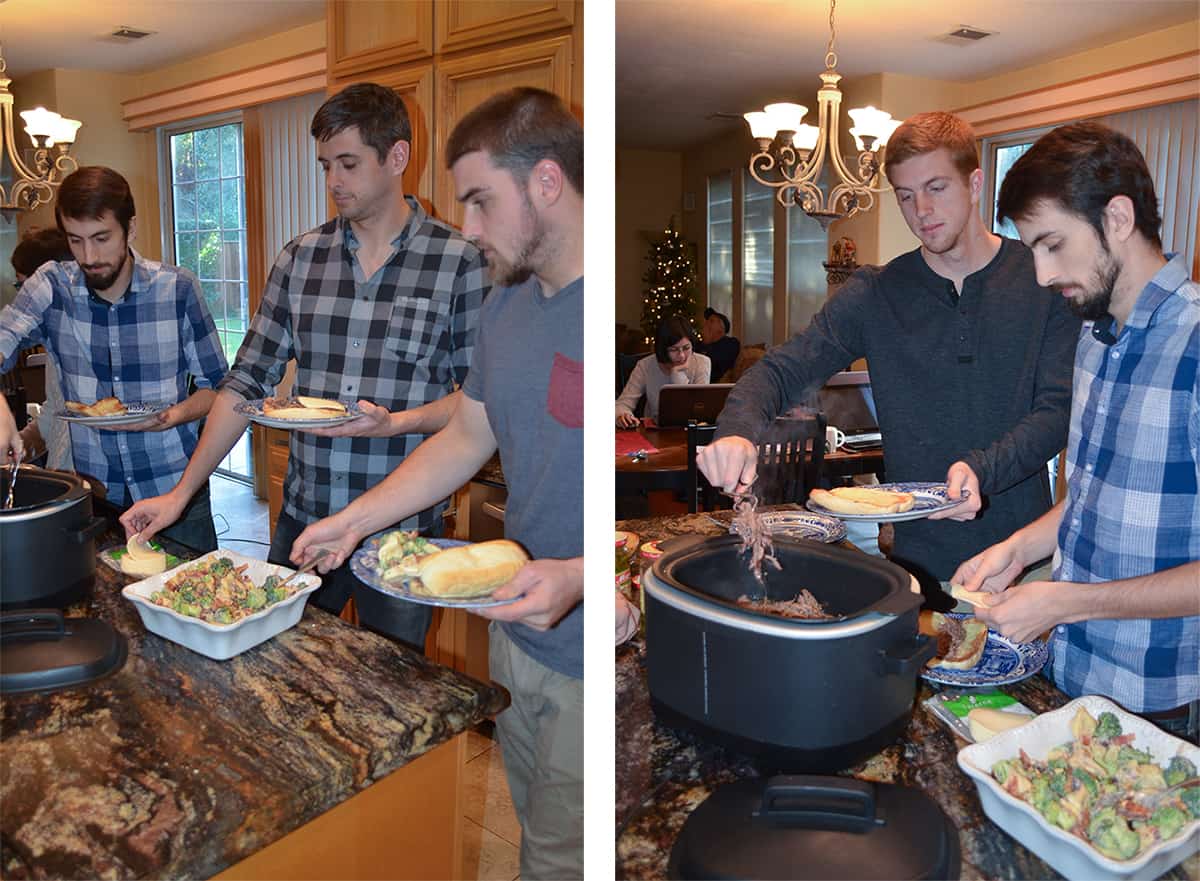 The boys, with the pups, on a gorgeous, sunny California day in December.
Serving Suggestions
Tortellini Broccoli Salad (pictured with the boys above)
Macaroni Coleslaw
Orzo Salad with Roasted Red Peppers, Spinach and Feta
California Coleslaw
Old Fashioned Potato Salad
This post was originally published December 28, 2013. It has been updated with new text and images.
Read more: Types of Beef Roasts : All You Need To Know – Grillasmoke.com
For more information please see the list of Roast beef sandwich crock pot
Source: https://www.fromvalerieskitchen.com/crock-pot-italian-beef-sandwiches/