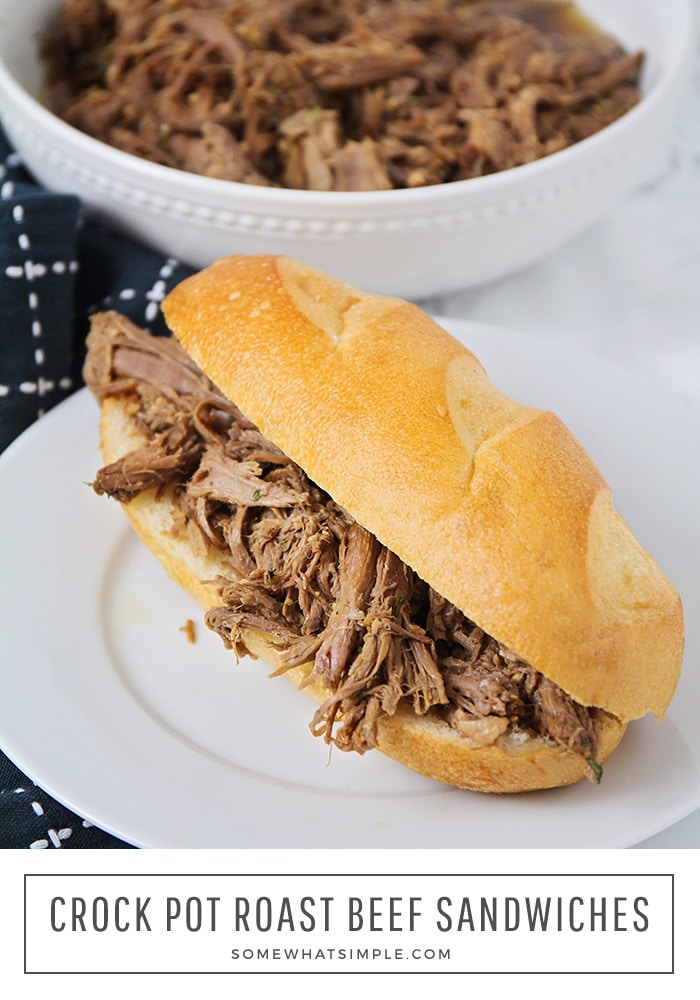 Crock Pot Roast Beef requires less than 5 minutes of hands-on time! The balsamic roast beef flavors are rich and savory, and taste amazing! This recipe is absolutely delicious and so simple to make!
Looking for more recipes to toss in your crockpot and have ready for dinnertime? Here are a few of our favorites – 3 Ingredients Crock Pot Chicken Tacos, Crock Pot Beef Stew, and Crock-Pot Sweet and Tangy Meatballs.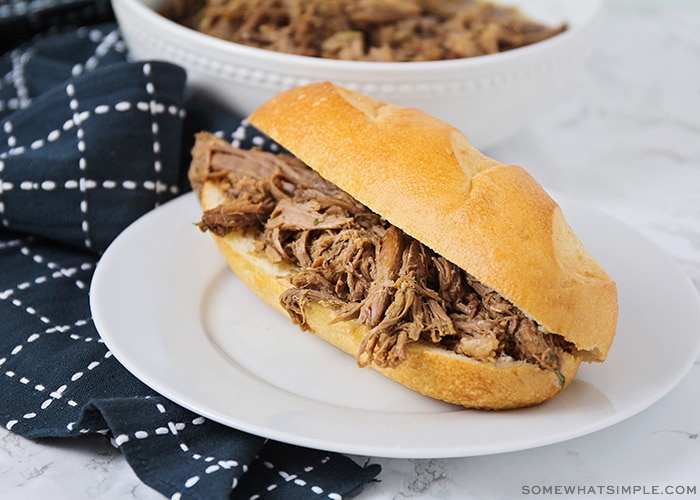 Crock pot roast beef sandwiches are perfect for busy weeknights and relaxing Sunday dinners. This recipes is perfect because it only takes about 5 minutes to pull together. The flavor is both sweet and tangy, but not overpowering at all. It is easy to prepare and practically effortless. Just toss a handful of ingredients into the crock pot and watch as the magic happens!
How to Make Crock Pot Roast Beef
Cut Of Meat – For this recipe, you will need a 3 pound roast. I usually just use whatever cut of meat is on sale when I'm at the store. Some cuts are tougher than others but when it's cooking in a slow cooker all day, every cut turns out nice and tender. This time I used a round roast for this recipe and it turned out great! Once you have your cut of meat, place it in the crock pot and then set it aside while you make the broth.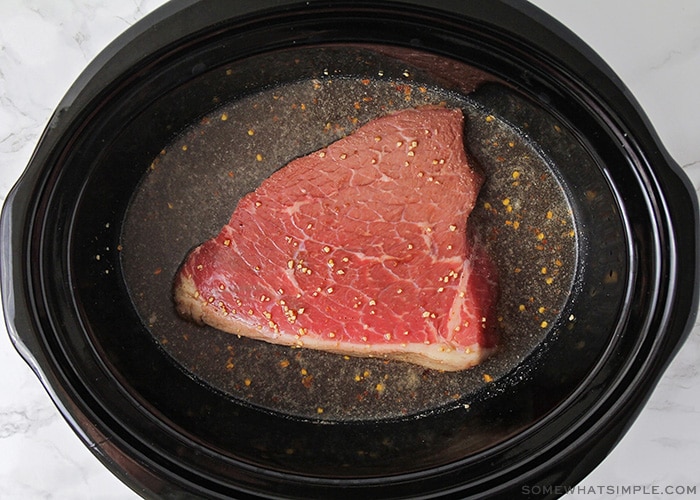 Make The Broth – In a separate mixing bowl, whisk together some beef broth, balsamic vinegar, Worcestershire sauce, soy sauce, honey, red pepper flakes and garlic.
Add The Broth – Pour the sauce over the meat in the crock pot. The meat won't be fully submerged but that's totally fine.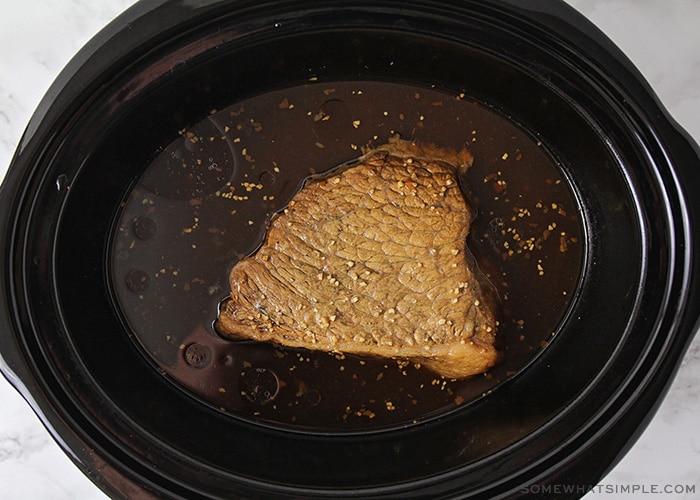 Heat It Up – Cook the roast in the crock pot for about 3-4 hours on high or 6-8 hours on low.
Shred The Beef – Once the roast beef has fully cooked, remove it from the crock pot. Using two forks, or some meat claws, shred the meat and then place it back into the crock pot. Then continue cooking the beef for an additional 1/2 hour so that it fully marinates.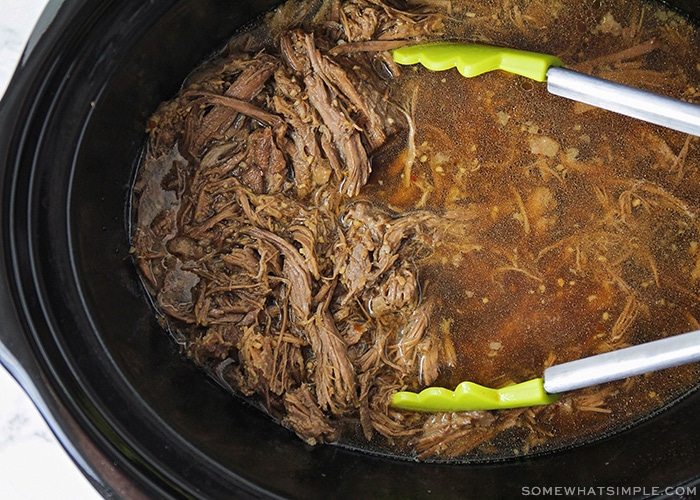 Serving – Serve the shredded beef on top of toasted french rolls or ciabatta bread. Ladle the remaining gravy over the beef for added moisture. I also like to serve a side of the broth in a ramekin to dip my sandwich while I'm eating it.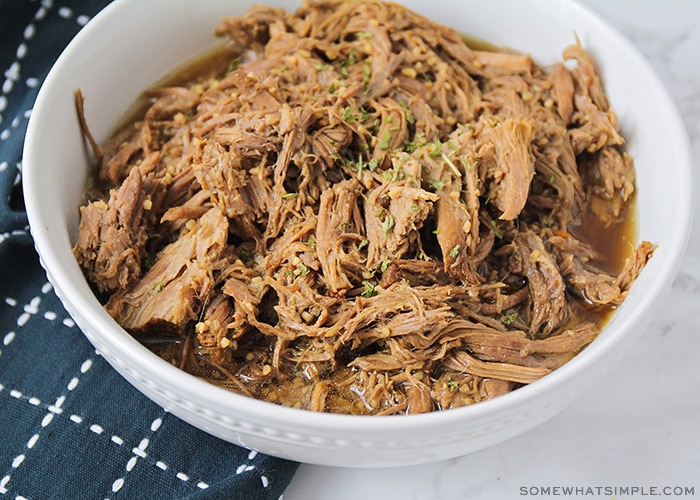 Favorite Toppings
To dress these roast beef sandwiches up a bit and add a little more flavor; here are a few popular toppings to include:
Cheese – my favorite is to add a couple slices of provolone cheese
Bell Peppers – both red and green are fantastic
Grilled Onions
Pepperoncinis
Pickels
Horseradish Cream Sauce
Mushrooms
Side Dish Recommendations
Here are a few of my favorite side dishes to serve with these delicious roast beef sandwiches:
A Loaded Baked Potato
Fresh Garden Salad With Chicken
Sweet Potato Fries
Cheesy Mashed Potatoes
Oven Roasted Vegetables
Here is the simple recipe. Leave us a comment and let us know what toppings you put on your sandwiches!
For more information please see the list of Roast beef sandwich crock pot
Detail: 🔗