This post may contain affiliate links. Read my disclosure policy.
Slow Cooker Pot Roast with Mushrooms is hearty, comforting, and easy to make in a crockpot or even your Instant Pot. It's a classic recipe with an Italian-inspired twist. The melt-in-your-mouth beef and tender veggies are sure to be a family favorite. Toss everything in your crock pot for a comfort food dinner on a busy weeknight. Or enjoy this balsamic beef pot roast recipe as a classic Sunday supper that's also gluten free.
Reading: Slow cooker roast beef in instant pot
I should have known at some point I'd be a foodie. Yes, as a kid I was super picky. But even when I hardly ate anything, I would go into my grandma's bedroom, gather all her bottles of perfume, boxes of jewelry, and knick-knacks, and pretend they were my ingredients and kitchen gadgets while I watched The Frugal Gourmet.
In high school, after I finished my homework, I would sit in my room to watch Too Hot Tamales and How to Boil Water. And though I started to learn some techniques and cook more, I didn't really get too adventurous until after I graduated from college.
And now?
Well, I take recipes from world-renowned, expertly-trained celebrity chefs and turn them into something completely different. However, I usually make them easier, and they are still just as delicious.
This Balsamic Beef Pot Roast recipe is based on Giada DeLaurentiis' Stracoto with Porcini Mushrooms. I have made this recipe several times, and it has always been a hit. But I wanted to simplify it while keeping all of the amazing Italian flavors.
Read more: Have you cooked a turkey on convection roast?
Instead of braising on the stove, this is all simmered in a crockpot. Though don't skip the pan-searing. That browning step really amps up the deliciousness.
And she takes all of the juices and veggies and purees them into a gravy. It's delicious, but a bit cumbersome and messy. And personally I love having veggies with my pot roast and a thinner sauce that is just enough to keep the meat moist and tender without being too rich and thick.
Balsamic Beef Pot Roast Recipe
A little chopping, a quick sear, and then pouring everything into your slow cooker. Then just come home at the end of a long day, and all you need is some polenta, potatoes, pasta, or even just bread to soak up all the flavorful juices.
And if you want to do it all in one pot and have time to make your meal right before you serve it, you can make it in your Instant Pot too!
What is in this pot roast recipe?
Olive oil
Cornstarch
Salt and pepper
Beef roast – I use a beef eye round or top round, but you can also use a chuck roast.
Onion
Garlic
Beef broth
Balsamic vinegar
Tomato paste
Dry red wine – I have used Merlot and Red Zinfandel. If you do not cook with alcohol, you can use additional broth.
Carrots
Rosemary
Mushrooms – I like baby Bella or cremini mushrooms, but white button mushrooms work well too.
Frozen peas
Slow Cooker Beef Pot Roast Recipe PRO TIPS and Frequently Asked Questions
Do you have to brown a roast before putting it in the crockpot?
Technically browning the pot roast is not a required step. However, this step really does make the flavor even better. That browning adds a deep, rich flavor that you can't get any other way.
What is the best cut of meat for pot roast in a crock pot?
I've made this recipe using beef eye round or top round roast. This is a leaner cut, which I prefer because that means the sauce is less oily and you don't have to go through the process of skimming or straining it.
Since it is braised for a long time or cooked in a pressure cooker, the meat is tenderized quite well, and the liquid keeps it moist.
Many people prefer to use a chuck roast. This cut has more fat, so it does produce an even moister and juicier end product. You can use the one you prefer.
Why is my roast tough?
Read more: Easy Grilled Garlic
Both undercooking and overcooking will lead to a tough pot roast. If it has not cooked long enough, there has not been enough time for the meat and fat to fully break down. So you'll need to return it to the slow cooker or pressure cooker for additional time if you find that you can't break it apart easily with a fork
In this recipe, overcooking should not be a problem as there is plenty of liquid that will stay sealed in your slow cooker or Instant Pot This is more of a problem when you are braising pot roast on the stove and the liquid evaporates.
Also, is you make it in your Instant Pot, be sure to let the pressure release naturally for at least 10 minutes before doing a Quick Release of the remaining pressure.
Does meat need to be submerged in slow cooker?
No, as long as your lid fits properly, your liquid comes partway up the meat, and it does not fully evaporate while cooking, there will be enough moisture in the crockpot to keep the meat moist.
Should meat or vegetables go in crockpot first?
Some people prefer to have their veggies at the bottom to form a base for the meat, I actually prefer to put them at the top. This allows them to cook and absorb some flavor without getting too mushy.
When should I add mushrooms to slow cooker?
While you technically can add all of your vegetables at once, this will result in quite soggy mushrooms and overcooked peas. If possible, I recommend adding them about 30 minutes before you plan on serving the meal.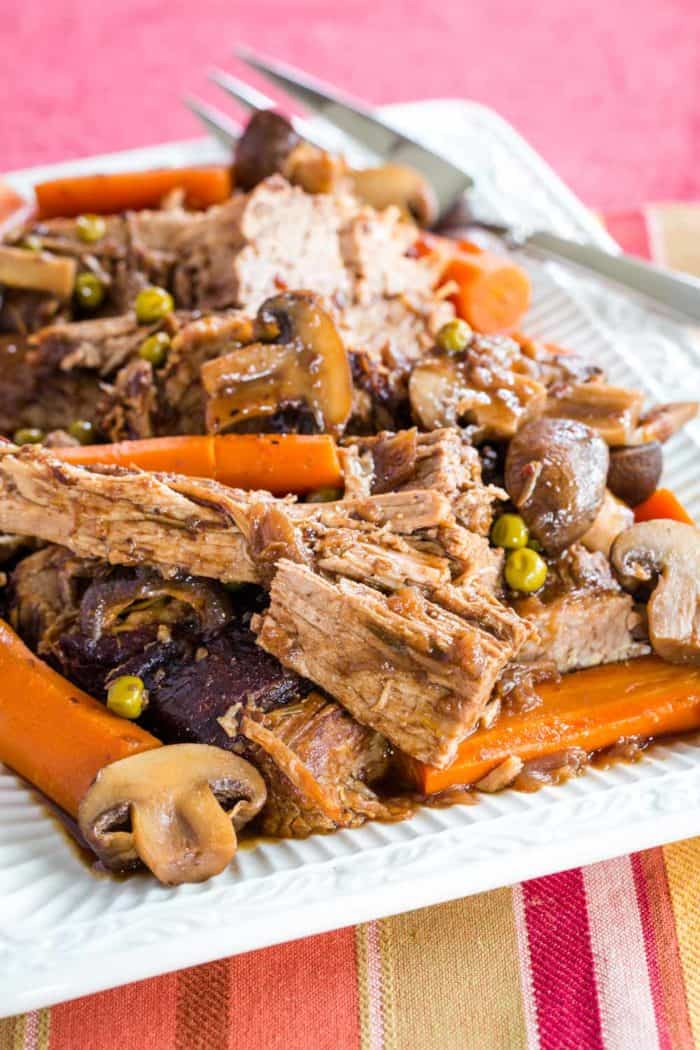 What do you serve with pot roast?
Serve it over rice or polenta.
Have it with Parmesan Caramelized Onion Mashed Potatoes or cut out some carbs with Horseradish Cheddar Mashed Cauliflower.
Enjoy a salad with a Creamy Balsamic Dressing.
Have another Giada-inspired recipe and make Garlic Toasts with Red Pepper Aioli.
Have a gluten intolerance? Try Spinach Artichoke Cheesy Cauliflower Breadsticks.
More slow cooker beef recipes:
Slow Cooker Mongolian Beef Stew
Crockpot Corned Beef
Keto Stuffed Pepper Soup
Slow Cooker Steak Pizzaiola
Crockpot BBQ Beef
More classic comfort food recipes:
Best Lasagna Ever (or Gluten Free Lasagna)
Easy Beef Shepherd's Pie
Chicken Corn Chowder
Best Chili Recipe
Rosemary Bricked Chicken
Slow Cooker Balsamic Beef Pot Roast with Mushrooms
Your classic comfort food gets an Italian-inspired twist with the addition of balsamic vinegar and mushrooms. So rich in flavor with plenty of vegetables, but your crock pot does all the hard work. And if you don't want to let it cook all day, you can make it as an Instant Pot Pot Roast recipe.
Enjoy!
Read more: "Sexy" Crispy Roasted Cabbage Recipe (with Dukkah and Tahini)
For more information please see the list of Slow cooker roast beef in instant pot
Source: https://cupcakesandkalechips.com/slow-cooker-beef-pot-roast-with-mushrooms-inspired-by-giada-delaurentiis-for-sundaysupper/