These Crockpot Beef Tacos are so easy to make! You only need a few ingredients plus your favorite taco toppings for a festive dinner you can throw together in no time.
For more easy crockpot recipes, be sure to check out my Crockpot Cream Cheese Chicken Chili, Crockpot Ham and Bean Soup, and Mississippi Pot Roast.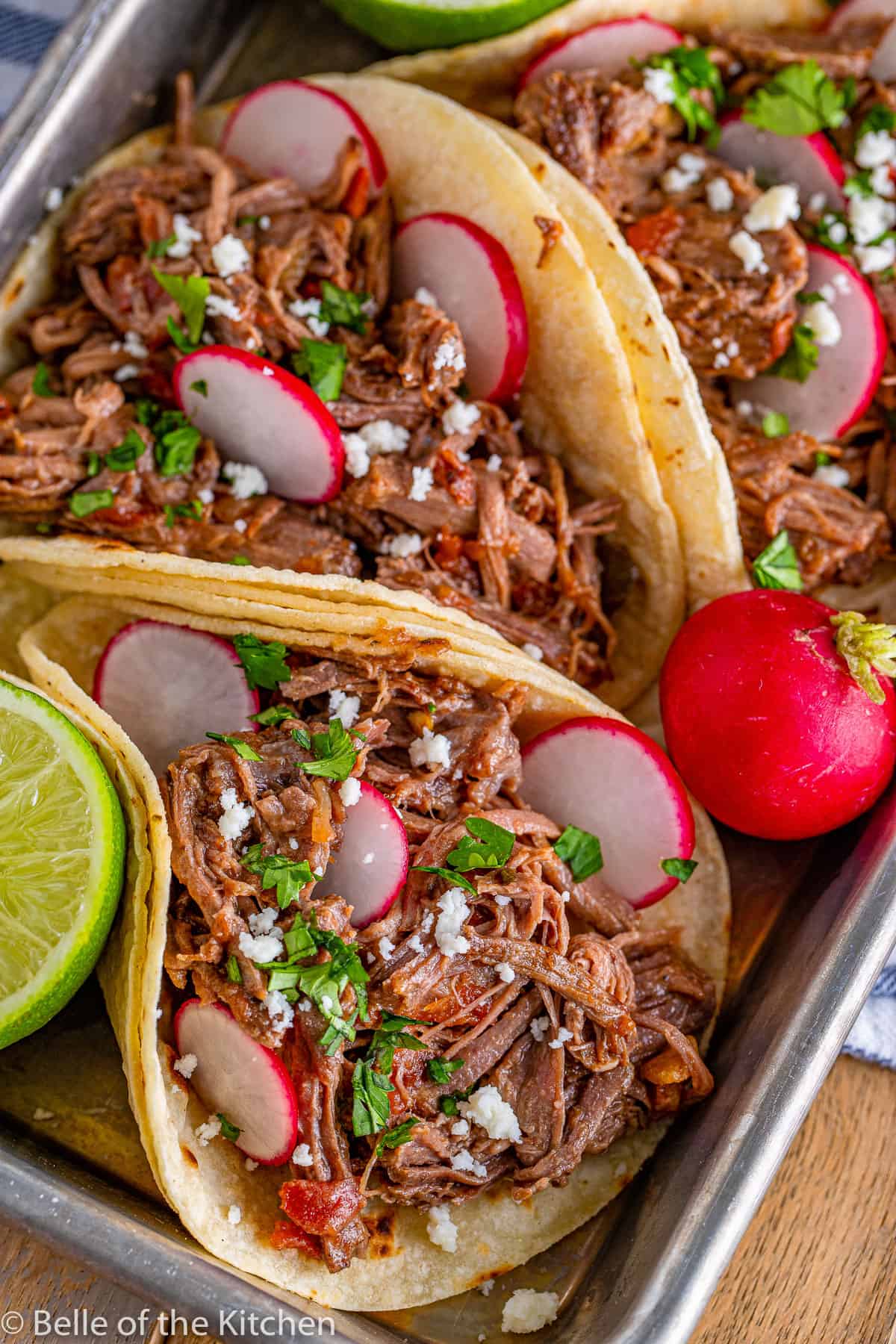 In our home, "Taco Tuesday" has become a main stay in our family's weekly meal plan. It could mean we're having chicken verde enchiladas, fish quesadillas, beef burritos, or any other Mexican dish that comes to mind.
We like to mix it up so it's not our standard ground turkey tacos week after week. It's become a fun tradition that our kids look forward to each Tuesday.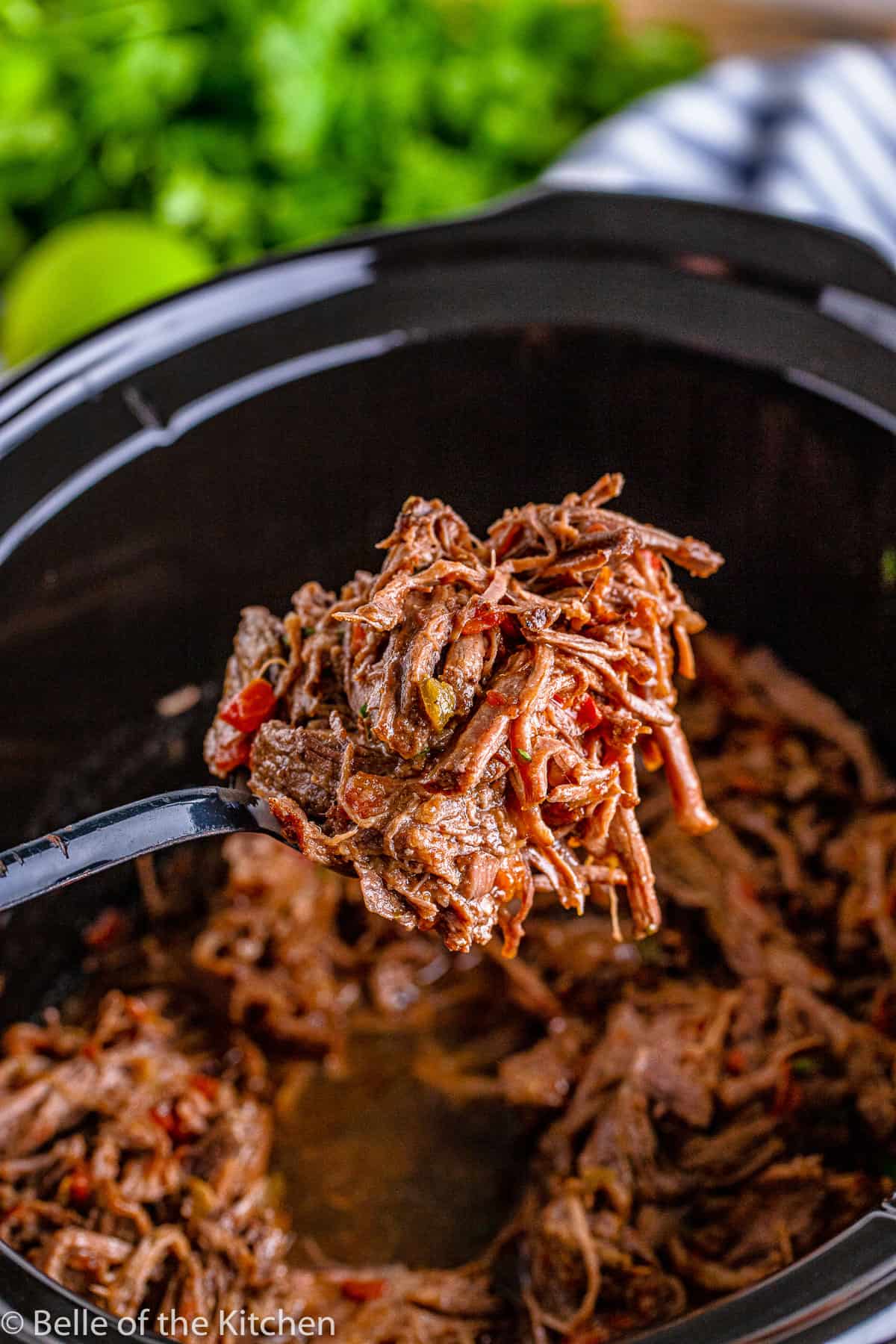 This Crockpot Beef Tacos recipe is very easy to make and would be perfect if you're hosting a get together for a crowd, or just having "Taco Tuesday" at home with your family like we do.
To make this shredded beef recipe, just put a large seared beef roast in your slow cooker, top it with some seasonings and a jar of salsa, and let it cook all day. It's really that simple!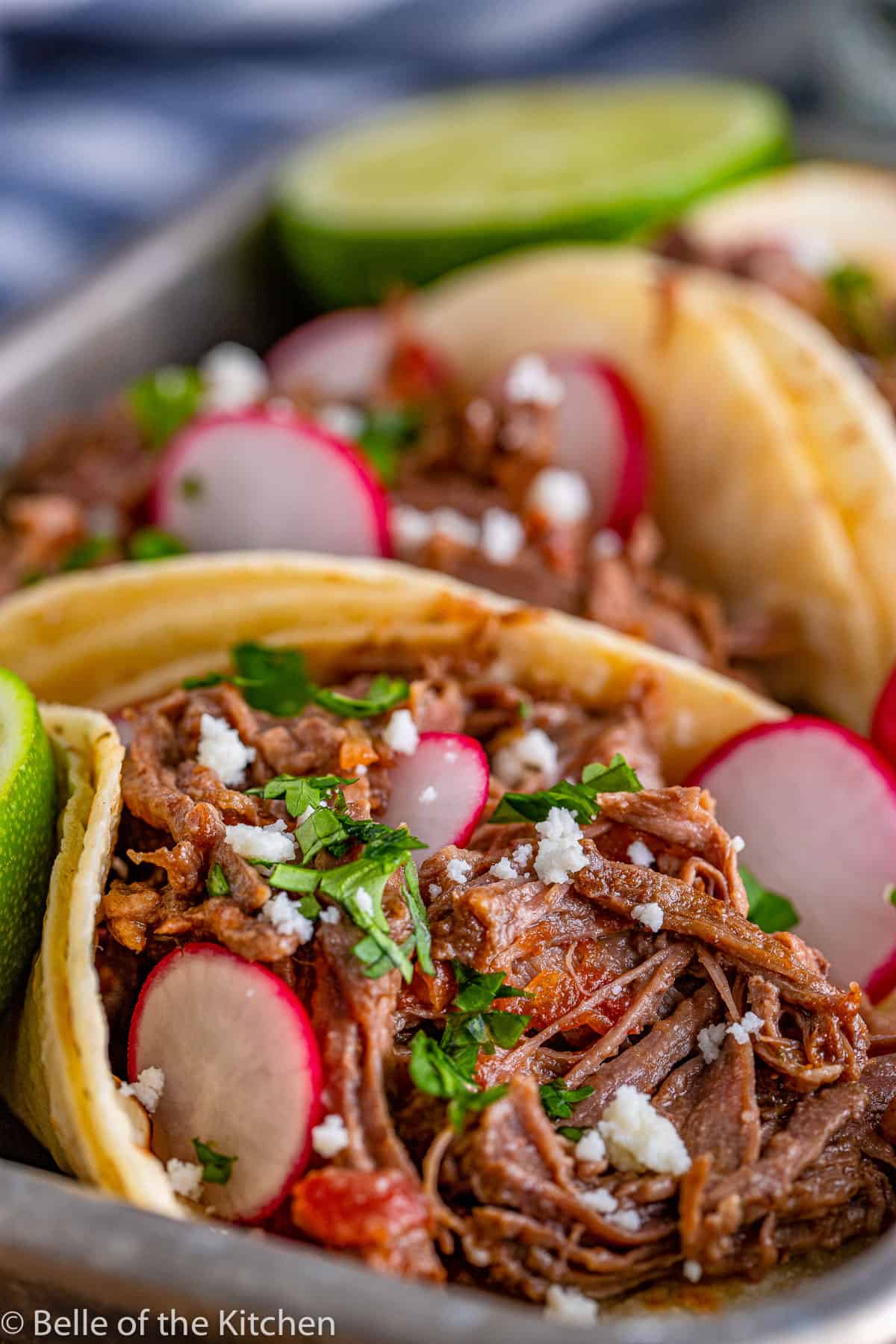 Ingredients for Crockpot Beef Tacos
chuck roast
kosher salt
black pepper
vegetable oil
garlic powder
cumin
onion powder
jarred salsa
tortillas, for serving
taco toppings, for serving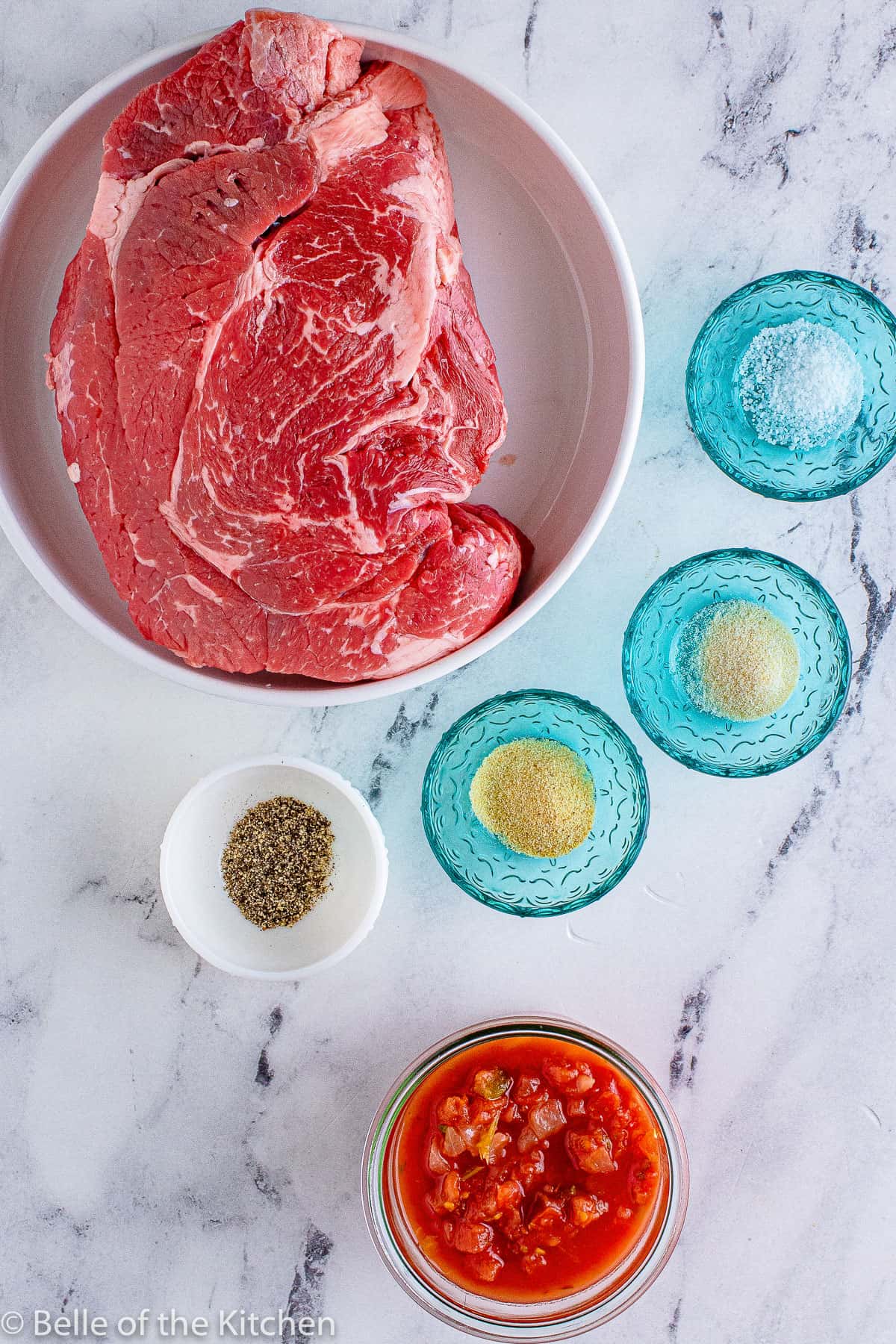 How to Make Crockpot Beef Tacos – Step by Step
Step 1: Season chuck roast
Season the chuck roast on both sides with the salt and pepper.
Step 2: Sear chuck roast
On the stove, heat a large skillet to medium-high heat. Once hot, add the vegetable oil. Sear the roast for about 3-5 minutes per side, or until a deep golden brown.
Step 3: Slow Cook
Place the seared roast into a 6-8 quart crockpot. Sprinkle the garlic powder, onion powder, and cumin on top. Pour the salsa directly on top of the roast. Cook on low heat for 7-8 hours or high heat for 4-5 hours, until shreddable. The longer you let it cook, the easier it will shred.
Step 4: Shred and serve
Remove the roast from the crockpot. Shred the meat, discarding any fatty bits. Place the shredded meat back into the crockpot and stir it with the accumulated juices. Taste and add more salt if necessary. Serve your crockpot beef tacos immediately with tortillas, along with your favorite taco toppings.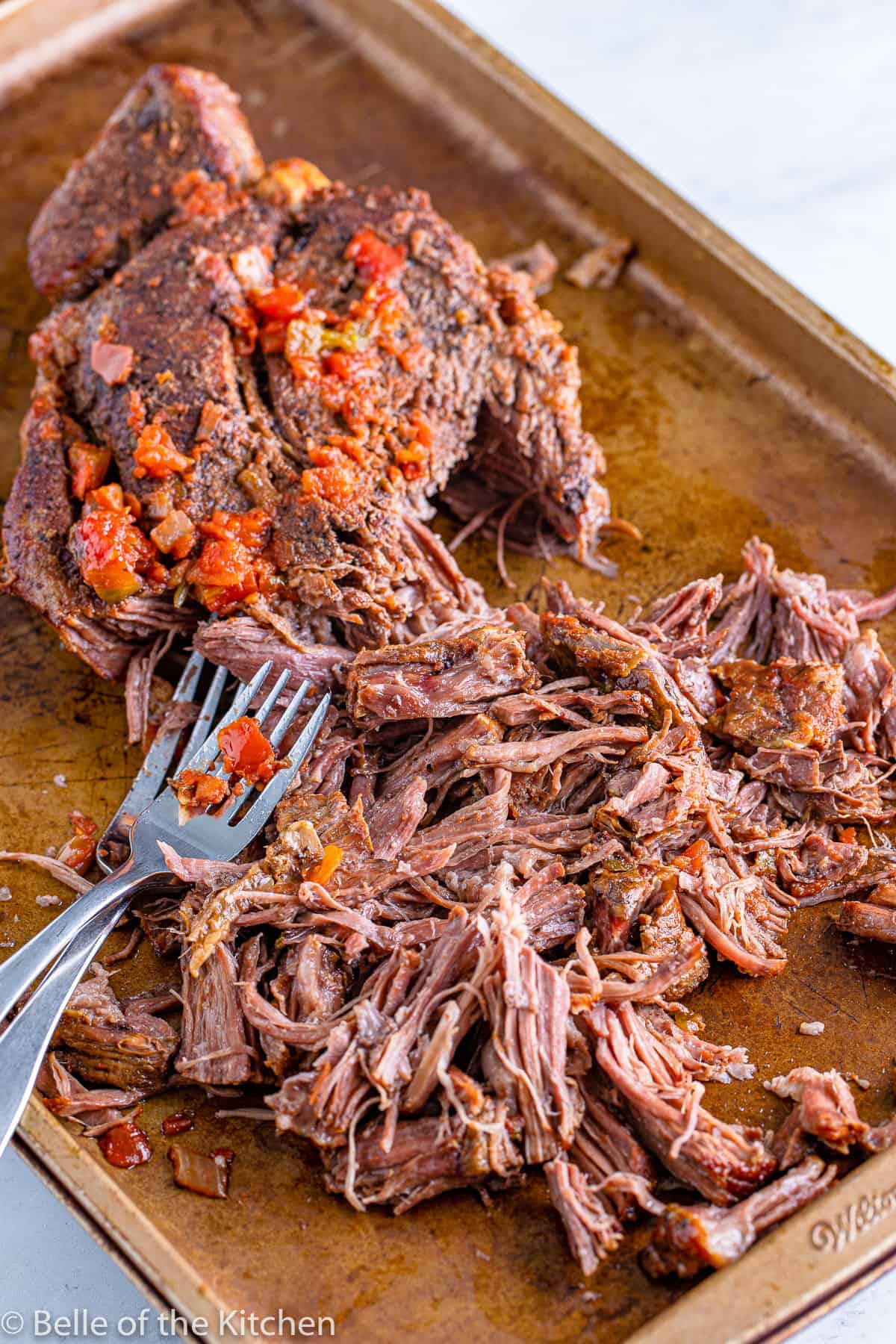 Crockpot Beef Tacos – Tips and Notes
Searing: You can skip the searing step if time doesn't allow. I do highly encourage searing the meat, however, as it adds a ton of extra flavor.
Salsa Recommendations: Feel free to use your favorite salsa in this recipe. I personally like to use a mild chunky salsa. Also be sure to taste the meat and add more salt if necessary right before serving.
Instant Pot option: You can also make this Crockpot Beef Tacos recipe in the Instant Pot! See my instructions for this step below.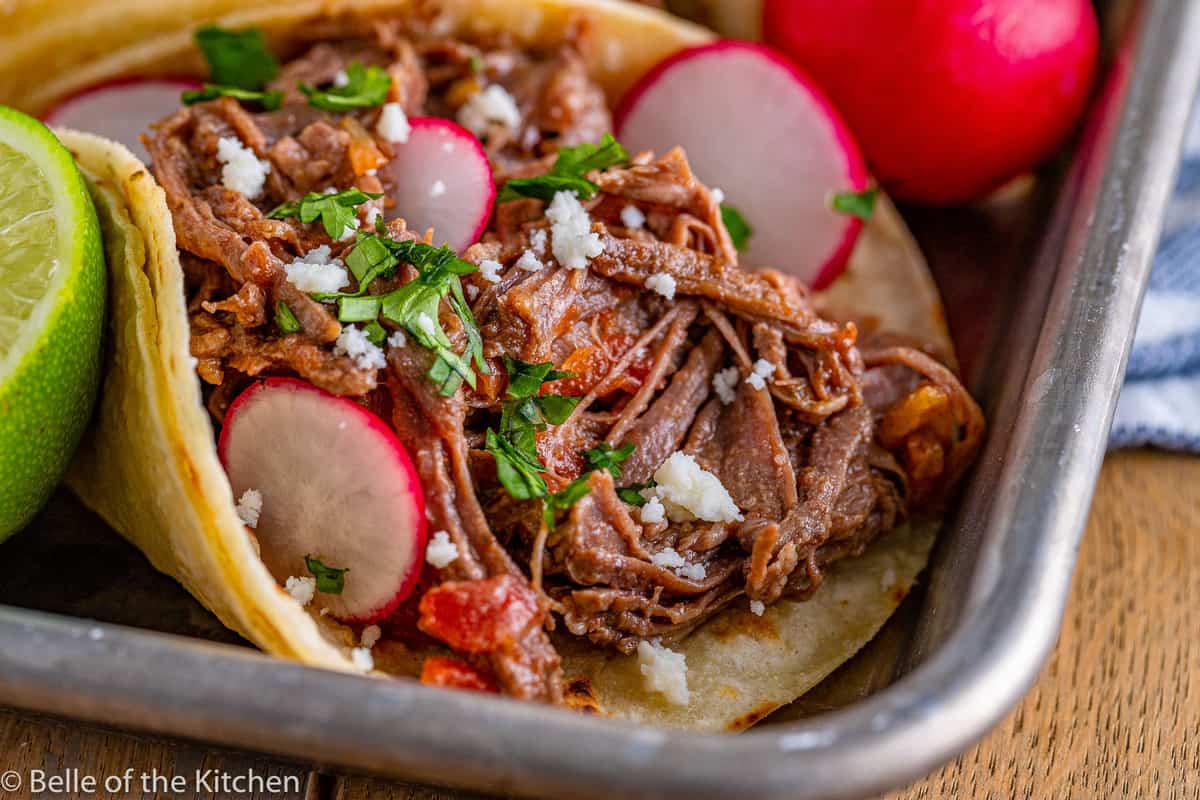 Hot to Make Instant Pot Shredded Beef
Sometimes the day gets away from me and I forget to add my ingredients to the crockpot. On those days, I like to make Instant Pot Shredded Beef Tacos. All you need to do is add your ingredients to your Instant Pot, add about 1 cup of beef broth or water, then cook over manual high pressure for one hour. Let the pressure release naturally then open the lid and shred the meat.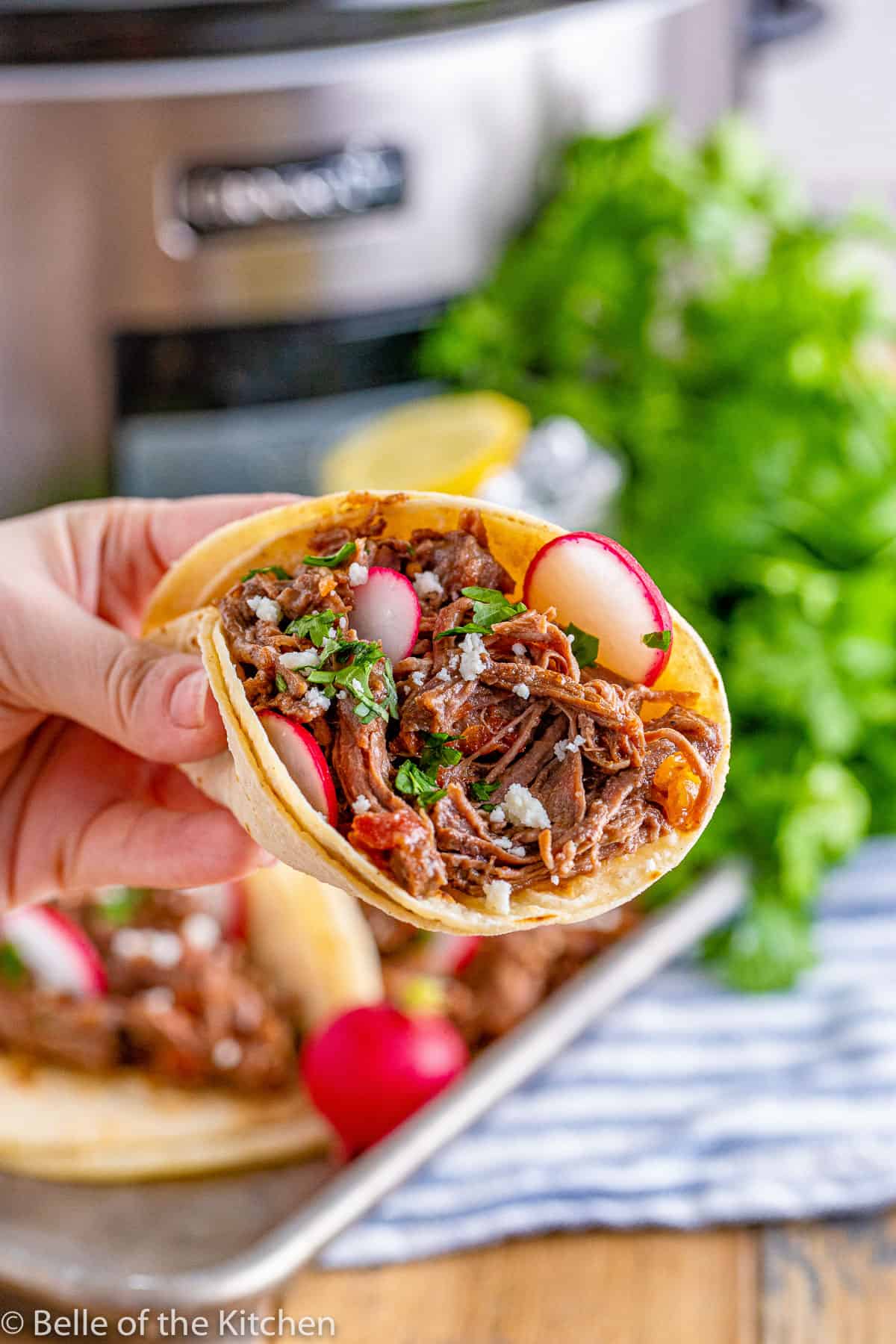 Storing Leftovers
Store any leftover shredded beef in an airtight container in the refrigerator for up to 4 days. Reheat on the stove over low heat, in the microwave, or in your crockpot using the warm setting.
Freezing leftover Crockpot Beef Tacos
Because this recipe makes a lot of meat, I usually save about half of the meat for another meal like enchiladas, salads, etc.
Once your beef is cooled, add small servings to individual ziplock bags and squeeze out the air. Lay flat and place in the freezer for up to 3 months. Thaw in the refrigerator overnight then reheat on the stove over low heat, in the microwave, or in your crockpot using the warm setting.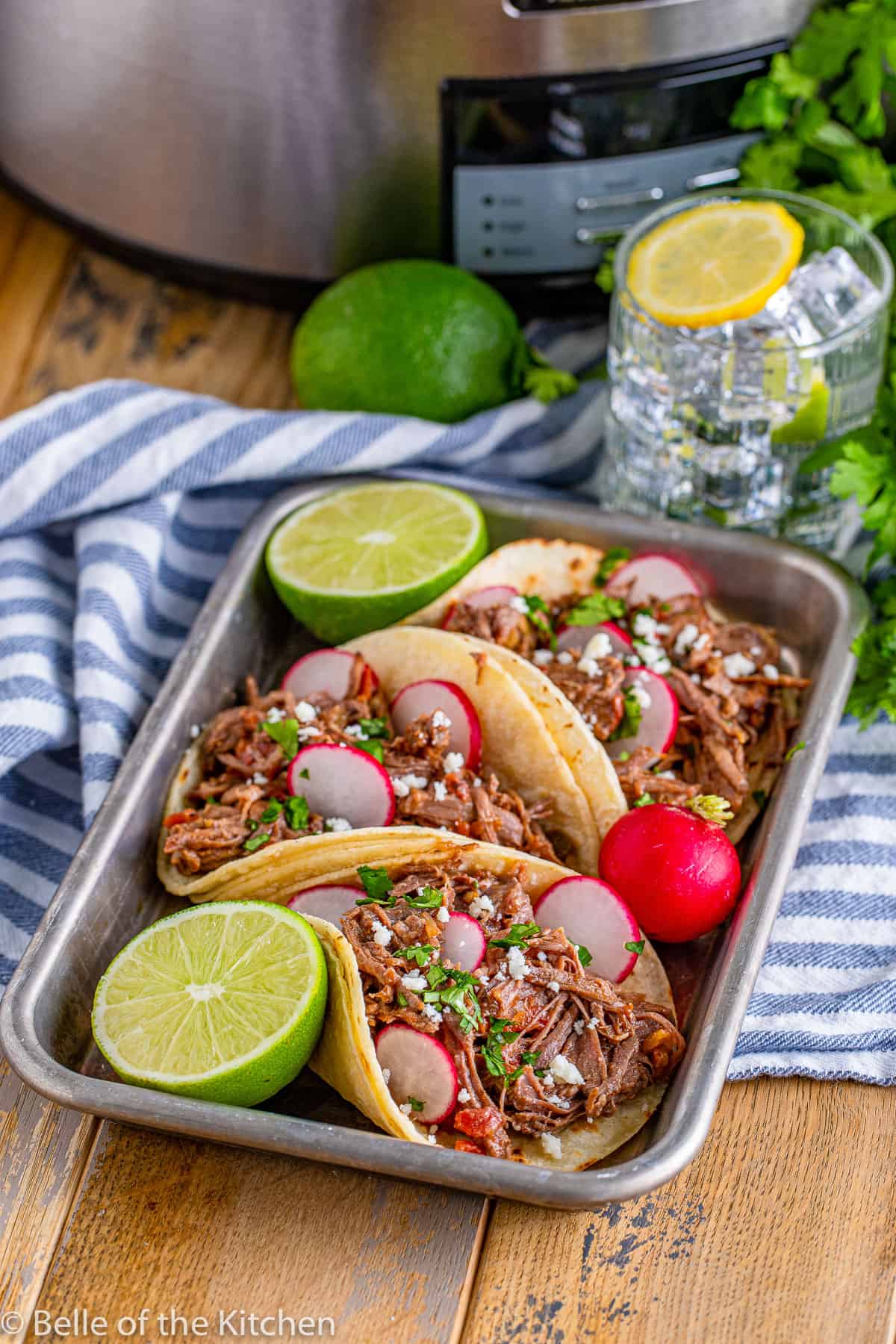 Other Shredded Beef Recipe Ideas
Crockpot beef tacos would be delicious with tortilla chips and guacamole or a side salad. While it's easy to serve this shredded beef recipe as tacos, you could also use it in many other ways:
Use shredded beef instead of ground taco meat in burritos, enchiladas, quesadillas, or a Mexican casserole.
Serve it as a sandwich on a large bun with a slice of cheese and sautéed onions.
Put it on toasted bread. Cover with shredded or sliced cheddar cheese and bake in the oven for an open-faced shredded beef melt sandwich.
The meat from these Crockpot beef tacos also freezes well to save and use in future recipes for easy weeknight meals.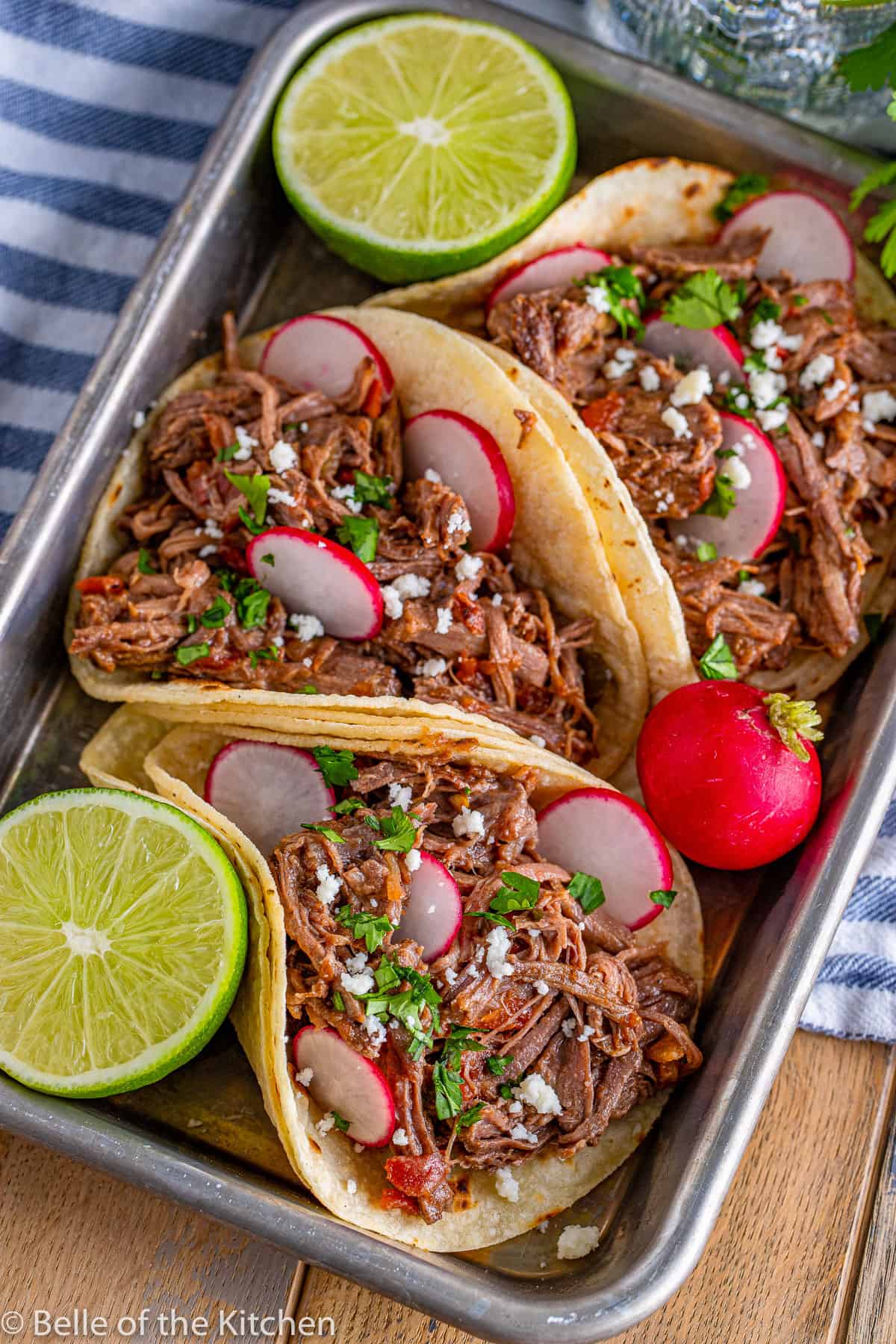 More Mexican Inspired Recipes You Might Enjoy!
Creamy Chicken Enchiladas
Southwest Sautéed Red Cabbage
Chipotle Corn Chowder
Slow Cooker Cilantro Lime Chicken Tacos
Air Fryer Taquitos
NEVER MISS A RECIPE! SIGN UP FOR EMAIL UPDATES HERE TO HAVE FRESH RECIPES DELIVERED STRAIGHT TO YOUR INBOX.
*If you try this recipe, please leave a comment and rating below. I love to hear from you and always appreciate your feedback!
Please see more list about Slow cooker chuck roast tacos
Detail: 🔗