Enjoy hearty and comforting beef stew made from fall-apart-tender beef and chunky veggies in a thick and savory broth. Prep is SO easy in your Instant Pot or slow cooker!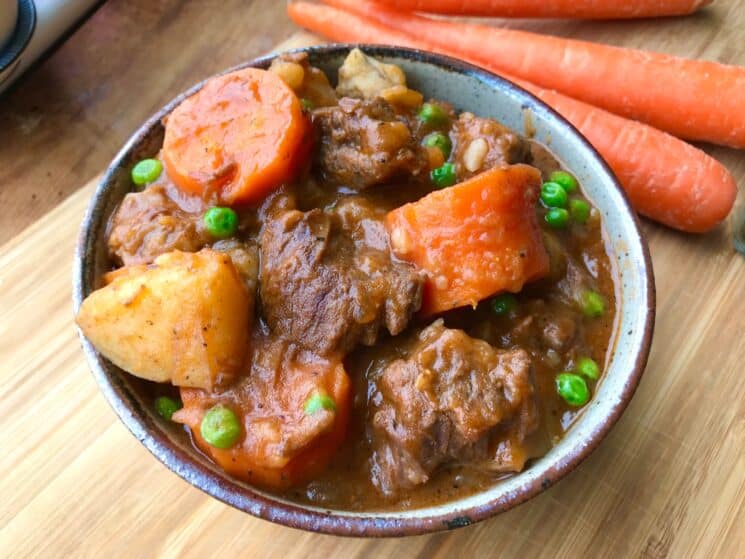 There's just nothing quite like hearty beef stew! All those slow-cooked flavors and ultra-tender textures of meat and veggies are just about the coziest thing you can put in a bowl.
Reading: Beef stew healthy crock pot
Read more: How to substitute worcestershire sauce for beef broth?
Usually, beef stew is more of a weekend affair. It takes time to tenderize all the goodies on the stove. But with this delicious Instant Pot or Crockpot version, you can have have amazing stew with minimal prep (and half the time compared to stovetop stew, if you're using the IP!) So beef stew can go on your weeknight menu. Yes!!
How to Make Beef Stew in Your Instant Pot
The magic of the Instant Pot is that it creates SUPER tender meat and veggies, in a fraction of the time it takes to cook on your stove-top (or anywhere else, really!) And when you make this stew in the Instant Pot, you can do all your cooking in one place. Here's how to do it:
First, brown your meat in the Instant Pot, using the Saute button.
Next, add your onions and garlic, and let those aromatics sizzle for a couple of minutes to develop their flavor. Then add the beef broth, Worcestershire sauce, tomato paste, and herbs, and lock the lid. Set your IP to cook on high pressure for 20 minutes.
When the timer beeps, let your IP rest for ten minutes while you chop your carrots and potatoes. Then release the remaining pressure, remove the lid, and stir in the veggies.
Now lock the lid and cook under pressure for five more minutes. This is all the time your veggies need to get good and tender!
When the timer beeps again, flip the valve, open the lid safely, and add a small amount of corn starch and water to the pot. Stir it up and voila! Your stew will thicken magically.
Then just stir in your frozen peas until heated through, and you're ready to eat!
How to Make Beef Stew in Your Slow Cooker
The slow cooker version of this stew is just as delicious! It may even be a little bit more straightforward in the prep department (you don't have to pop in midway to add the veggies.) The trade-off is, it takes many hours more for the stew to be ready. And you'll need to use one extra pan to brown your meat. Choose the method that works best for you! Here's how to make this delicious, savory beef stew in your slow cooker:
Use a large skillet to brown your meat on the stovetop, then transfer it to your slow cooker.
Add all the remaining ingredients, except the corn starch and frozen peas. Put the lid on the slow cooker, and cook on low for 8 hours, or on high for 5 hours.
Open the lid and stir in the corn starch and water slurry until the stew thickens.
Add the peas and stir until they're heated through. Serve and enjoy!
Storing Leftover Beef Stew
Read more: Instant Pot Pork Cider Stew with Root Vegetables – Crumb Blog
Leftovers taste great the next day! Store in the fridge and reheat in a saucepan on your stove. Leftovers will keep well for about four days in the fridge.
You may also freeze this stew, but you might find that the potatoes change their texture a bit and are a little less desirable reheated from frozen.
Try More Hearty Instant Pot / Slow Cooker Recipes!
Veggie-Powered Slow Cooker Beef ChiliAll-in-One Instant Pot Chicken and Brown RiceSlow Cooker or Instant Pot Chicken Tortilla Soup
Read more: Classic Stovetop Beef Stew | Valerie's Kitchen
Through this article, we hope to help you understand Beef stew healthy crock pot
Source: https://www.superhealthykids.com/crockpot-beef-stew/